Your new movie H.P. Lovecraft's The Beast in the Cave - in a few words, what is it about, and what can you tell us about your character in it?
In the film The Beast in the Cave I play a man who tours the Mammoth Cave and gets separated from his guide and becomes lost. Things quickly turn desperate when his torch burns out and he hears strange footsteps coming toward him.
What did you draw upon to bring your character to life, and how much Wynn Reichert can we find in him?
As an actor, I try to put as much of myself into the character as I can. Then live it out truthfully under the imaginary circumstances Iím given. As for The Beast in the Cave, I was fortunate enough to have a real life cave to act in. And when youíre in a dark, dank crevice of the earth, inching along on wet, slippery rocks, you donít have to do a whole lot of pretending. It made for great fun.
You pretty much carry the movie entirely on your own, and mostly acting to your own voice-over - so what kind of a strain was that, actually?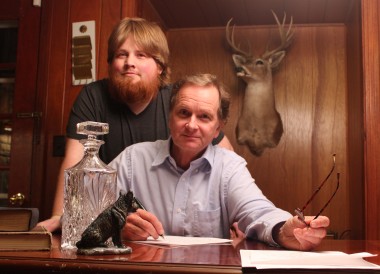 Wynn with Cameron McCasland
Oddly enough, it was very freeing. After reading the script many times, and recording the voice-over, I was very familiar with the beats of the scenes. Once we knew what weíre looking for in each shot, I just tried to put myself in that moment. And working with Cameron was easy. It made for a safe, comfortable space to play in.
How did you get involved with the project in the first place? And are you privately into the works of H.P. Lovecraft at all?
I had worked with the director Cameron McCasland [Cameron McCasland interview - click here] on a couple feature films he produced. I also do a weekly radio show in Nashville, TN called Nashville Film Radio, and I had Cameron on the program as a guest. Then one day, Cameron mentioned he was doing another film, and that there was a role he thought was a good fit for me, and would I like to get involved. I didnít think twice. As for the works of H.P. Lovecraft, I knew of the name, but was not familiar with his works or Beast In The Cave. But living so close to the actual Mammoth Caves in Kentucky where the story takes place, I couldnít pass it up. It was a real treat.
What can you tell us about your director Cameron McCasland [Cameron McCasland interview - click here], and what was your collaboration like?
First let me say, I have met very few people in my entire professional life that are as passionate about their craft as Cameron McCasland. He loves movies. Loves everything about them. He likes to watch them, talk about them, but most importantly, he likes to make movies. And he does. Cameron goes from one project to the next. Heís a go-getter, and as I said, passionate. And when you love what you do, and are as talented as he isówell, heís gonna make a film thatís as good as he can make it. And with all the awards heís won, other folks feel the same way. As for working with Cameron on set, it was very smooth. He knew what he wanted, and was able to clearly convey that to me, which allowed me to do my best work. Did I mention it was fun? We all had a blast working on this film!
Do talk about the shoot as such, and the on-set atmosphere!
The film takes place in a cave. A real, honest to goodness, cave. And this cave is as dark as most caves usually are. And it was wet, and slippery. So you can imagine the logistical problems. And with a camera operator, sound man, a director and actors, it made for some cramped quarters. A good portion of the cave zigs and zags through the rock crevices, and is quite narrow, with some of the opposing walls not more than 3-4 feet across from one another. And quite a bit of the cave was not tall enough to stand up straight. And weíre working with minimal to no light, so you had to be real careful as you made your way through the cave. All that said, it was nothing compared to the dangerous trek we made just to get to the cave. I was walking along this trail, which was nothing more than mud and mashed down grass, and not carrying a thing as I recall. But Cameron and Larry [Larry Underwood interview - click here] and some of the other crew guys were carrying the camera, equipment, food, you name it. As we made our way through the rugged terrain, along the wet, muddy path, itís a wonder no one slipped and fell into the creek below. And all the while Iím thinking, we have to do this all again when weíre done. But we made it to the cave and back to civilization without any major mishaps. As for the on-set atmosphere, Cameron is a very positive, upbeat guy, and he has a very calming presence. Which made for a fun shoot under tough conditions.
Any future projects you'd like to share?
I have a short film, Shades of Scarlet, which I wrote and act in, that is just beginning its festival run. It was directed by the talented Wendy Keeling [Wendy Keeling interview - click here]. The film will have its world premiere at the Alhambra Theatre Film Festival on April 6th in Evansville, Indiana. Coincidentally, The Beast in the Cave will be screening the Alhambra festival as well. So I am excited to see the audience reaction to both films. I have a role in the upcoming feature film Beauty Mark, shot entirely in Louisville, Kentucky, written and directed by the talented New Yorker, Harris Doran. It stars Auden Thornton, Laura Bell Bundy, Jeff Kober, Catherine Curtin, and should be making its debut sometime later this year. Another feature film that is currently in post-production is Tennessee Gothic, based on the Ray Russell novel American Gothic. The film was shot on 16mm film and directed by the talented Jeff Wedding.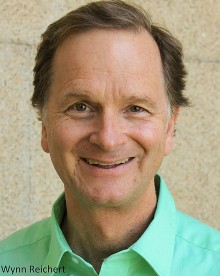 What got you into acting in the first place, and did you receive any formal training on the subject?
I was working as a golf pro in Los Angeles. One day, after a round of golf with a well-known actor, we discovered we each wanted to do what the other was doing. So I decided to go for it. The next day I started looking for acting classes, getting headshots, finding an agent. I got real lucky. I was taking this acting class for commercials. And while I was there, I asked this actress if she knew of a good acting class. She did, and said I should try it. So I did. I studied at Playhouse West with Robert Carnegie. He taught the ďMeisnserĒ technique, named after Sanford Meisner, one of the two major purveyors of ďMethodĒ acting. It was a Godsend.
Besides acting, you also write the occasional script - so do talk about that aspect of your career for a bit, and what prompted you to pick up writing?
I started writing plays many years ago in Los Angeles as a way to stay creative between acting gigs. It also gave me the opportunity to create my own work. Then I decided to take a stab at screenwriting. I wrote my first script in 3 days. At the time I thought it was pretty good. But it wasnít. It was nothing more than car chases, gunfire, pretty girls and bad guys. Then I wrote two more screenplays based on my experiences as a competitive golfer. I thought they were both pretty good, but in retrospect, they were still not near as polished as they needed to be. I put screenwriting aside and took a detour. I became a stand-up comedian. Which gave me another reason to write. Over the course of more than a decade as a touring stand-up comedian, I wrote countless jokes. Most of which never made it into my act. Basically for every 100 jokes you write, only 3 or 4 will make it into your act. The upshot of all that work was that it taught me how to write. Then I decided to try screenwriting again. Once again to give myself more acting opportunities. I wrote a bunch of short scripts and was lucky enough to have three of them produced. But I felt, if Iím going to put all this effort into writing again, I should write feature length screenplays. So I did. At present Iíve written a dozen or so full length screenplays, several of which have won awards at film festivals in the United States, as well as internationally. One of my recent screenplays, Happy Birthday Alvin, was just named a semi-finalist at the 2017 Nashville Film Festival. Gas Station Condoms has been named a Finalist at the 2017 Laugh Or Die Comedy Festival. And another screenplay has been optioned by a production company.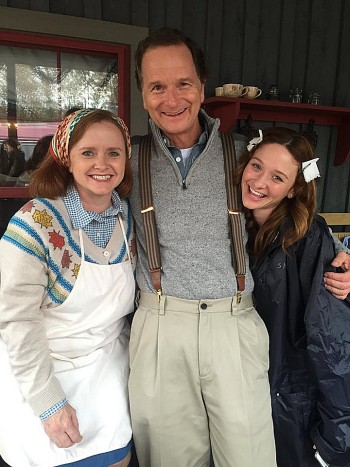 behind the scenes shot from Still the King with Lee Ann Maloney, Chelsea Talmadge
What can you tell us about your filmwork prior to H.P. Lovecraft's The Beast in the Cave, in whatever position?
Iíve been very fortunate the past couple of years. Last fall alone, three feature films I had the opportunity to be in, were all on the big screen. Remember The Goal, Iím Not Ashamed, and the Jared Hess comedy Masterminds, where I had the distinct privilege and pleasure to work with the comic geniuses Zack Galifianakis and SNLís Kate McKinnon. Also in 2016, I was in an episode of Billy Ray Cyrusís very funny TV series Still The King. Over the past 30 plus years Iíve got to work with a lot of great people. A few years back I got to work with director Randall Wallace on Secretariat. And one of my favorite experiences was working with the late Elizabeth Montgomery on the TV movie Black Widow Murders.
Besides making movie, you've also toured the country as a stand-up comedian - so do talk about your brand of comedy for a bit, and how does doing stand-up compare to acting in movies, how does the one influence the other?
I loved doing stand-up comedy. It was a tremendous amount of fun. Thereís nothing better than when itís going well. Unfortunately, thereís nothing worse when itís not. You either ďkillĒ or you ďdieĒ. Thereís really no middle ground really. Luckily, once you get to a certain point, ďbombingĒ is something that happens very infrequently. But the possibility is always looming. As for my act, I was once described by a comedy club owner as ďif Robin Williams and Don Rickles had a baby - and then gave him a guitar.Ē I did a lot of self-deprecating jokes, but I also involved the audience. I was silly, but I was also fearless, irreverent, and a bit brash. After several years of doing straight stand-up, I added the guitar to my act and did a few funny songs to end my shows. Iím frequently asked what the difference is between stand-up and acting, and if one influences the other. Doing stand-up in front of a live audience is quite different from working in front of a camera on a sound stage. But the lessons Iíve learned from doing stand-up have helped me immensely as an actor. Iíve gotten to do a lot of comedic roles I might not have if it wasnít for my comedy training. One thing that stand-up and acting have in common is the need for focus, concentration, and relaxation. And one art form definitely feeds the other.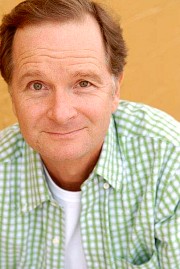 How would you describe yourself as an actor, and some of your techniques to bring your characters to life?
I think if you asked some of the folks Iíve worked with over the years, theyíd probably say Iím hard working, enthusiastic, professional. Itís funny. Iíve spent a lot of time trying to figure out my niche so I could work more, but the truth is, everyone sees us a little differently. With the work Iíve done so far in my career, Iíd like to think I can move back and forth between drama and comedy. I certainly enjoy doing both. As for technique, for me, every role requires something different. Some are emotional, some are not. A lot of times, itís instinctual. When itís not, technique and the training get me there. Comedy and drama are very different. But you have to play them both the same. You have to make it real. In the end, itís all acting.
Actors, writers, comedians, whoever else who inspire you?
I have always loved Humphrey Bogart, Montgomery Clift, Marlon Brando, Robert Mitchum. Iím also a huge John Wayne fan. The ďDukeĒ was never thought of as a great actor, but he was quite good. Just watch The Longest Day, In Harmís Way, , and his final film, The Shootist. Very good work. Emotional, believable. Just really good. As for Robert Mitchum, that guy could do anything. And be believable and likeable. Thatís tough to pull off. Montgomery Clift and Marlon Brando, both ďMethodĒ actors, and did some extraordinary work . On The Waterfront, A Place In The Sun. I can watch their movies over and over. As for my comedic influences, I would say Rodney Dangerfield, Don Rickles, Johnny Carson, and Joan Rivers. Thereís too many to name, but I was and have been influenced by many comedians and actors.
Your favourite movies?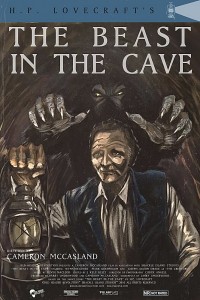 Feeling lucky ?
Want to
search
any of my partnershops yourself
for more, better results ?

The links below
will take you
just there!!!


My favorite movies? Thatís a tough one. I like a lot of movies. And Iíll watch them over and over. Okay, hereís a small, eclectic sampling. Casablanca, To Have and Have Not, The Young Lions, Diamonds are Forever, From Here to Eternity, Saboteur, El Dorado, His Kind Of Woman, The Hustler, and Where Eagles Dare.
... and of course, films you really deplore?
This is a tough one. There are a lot of bad movies out there. But I truly believe no one goes into a project trying to make a bad movie. There are actors who have been said to have ďwalkedĒ through their roles, or done them strictly for the money. But I think most actors are trying to do a good job. No actor wants a bad review. Ever. That goes for directors and everyone else. I canít imagine anyone purposely doing a bad job.
Your website, Facebook, whatever else?
IMDb Ė http://www.imdb.me/wynnreichert
Facebook - https://www.facebook.com/wynnreichert
Twitter - https://twitter.com/wynnreichert
Anything else you're dying to tell us and I have merely forgotten to ask?
Iíve been blessed with so many wonderful opportunities over the years, and have had the pleasure of working with some really talented people. I am so grateful for each and every one them. I love what I do and would do it every day if they let me.
Thanks for the interview!