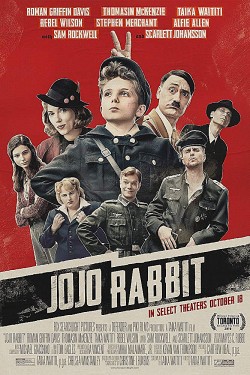 Some small German town, 1945, with the war on its last leg, and the Germans losing - and yet, Jojo Betzler (Roman Griffin Davis) couldn't be a more loyal Nazi if his life depended on it, he loves the Arian race, hates the Jews (even though he has never seen one), and he wants to become part of the German Army as soon as possible. He also has an imaginary friend - none other than Adolf Hitler (Taika Waititi) himself, who advises him in all things Nazi. Also, Jojo is a mere 10 years old, and knows little of the world. But he knows enough to make his mother Rosie (Scarlett Johansson) let him join the Hitlerjugend - but after being found out to be a coward and being almost blown to pieces by a handgrenade, he's suspended. But the leader of the town's chapter of the Hitlerjugend Captain Klezendorf (Sam Rockwell) has taken a liking to the innocent yet fanatic boy, so he lets him run errands for the Third Reich - nothing big though, mainly putting up poster and collecting scrap metal for the war effort.
Eventually, Jojo hears noises from upstairs in his room, and finds out his mum is hiding a Jewish girl, Elsa (Thomasin McKenzie) in the attic. He's at first appalled as he was taught to be by authorities, but he can't really tell on her because then he'd also tell on his mother, he can't kill her (as he was taught) because she's stronger and has better reflexes than him ... so eventually he decides to interview the girl about what it's like to be a Jew, as he wants to write a book about how to tell them apart from Arians - and she tells him a big bag of bullshit which he's only too ready to believe. But against all odds, he starts to take a liking in her, so much so that he starts writing her fake loveletters from her fiancé. That said, he's mighty confused.
Eventually, Jojo finds out that his mum works for the resistance, and it's not long before the Gestapo shows up at his house. They thoroughly search the place, but when they find Elsa, she pretends to be Jojo's sister - something that's against all odds supported by Captain Klezendorf, who just happened to stop by, and who proves to have a bigger heart than most. A few days later though, Jojo finds his mother hanged, and now Elsa's all he has really.
The very final days of the war, Jojo's hometown is bombed and pretty much overrun by the Americans - and Jojo feels more lost than ever, now that even his best (imaginary) friend Hitler has betrayed him by committing suicide ...
Jojo Rabbit raises the age old question once again, is it ok to laugh about Hitler, about Nazi atrocities, about genocide - and even if Taika Waititi's film is far from the most subtle film on the subject, one tends to answer with "yes." Basically for the most part Waititi does what he's good at, making comedy that mixes slapstick with more sophisticated humour, without paying too much heed about good taste but never going full gross-out. And having said that, there are scenes in this film that are genuinely touching, even if many of them end in punchlines, and the final battle, with all its sight gags, really packs an emotional punch. Plus, Waititi's performance of Hitler is rather hilarious in itself, surrounded by a cast that mostly play it straight.
So it this the best Hitler-comedy ever? More likely than not no, but it's really funny beginning to end, and has a lot of heart to accompany its hijinks.