Your new show Horror House, in a few words, what is it about?
DB - Itís an old style hosted horror show where we present the goriest, sexiest and most bad taste Aussie short movies we could find. Itís co hosted by Count Funghoula and Mistress Boobiyana. Unlike the dad jokes you find in the old hosted horror shows, we have taken the humour a bit further.
David, what inspired you to launch the show, and how did the project fall together in the first place?
DB - I saw a lot of very good short Aussie horror movies at local film festivals and short movie nights and was totally amazed. I couldnít believe how good some were and just had to meet the directors. Some of them told me that they were unlikely to get shown at a cinema or released on DVD due to being too short. Basically, the night that I had seen them at was one of the few times that these gems would be seen.
I was a bit troubled by that and came up with the idea of grouping these short movies together and having a host presenting them. I grew up with our local hosted horror show, Deadly Earnest, and always wanted to do something like that. I mentioned my idea on Facebook and Bosworth Entertainment jumped right at it. Adam said that it was a winning idea and he would like to pitch it to the TV stations.
Tritia, how did you get involved with Horror House?
TDV - David initially asked if he could screen my experimental short The Kali Geisha Erotica Grotesque on the pilot while he was conceptualizing the show. Several months later, I heard he was looking for a co-host so I put my hand up and it went from there J
Since Horror House is, as the title might suggest, a horror show, is that a genre that's dear to you both?
DB - I love a lot of genres, such as action, sci-fi and comedy, but yes, horror is closest to my heart. When I was a kid, the TV stations used to turn off the signal around 10:30 pm, except on Friday 13th. That night, one station would broadcast horror movies all night. They would start with the old Universal horror movies and by midnight they would be onto the Hammer House of Horror stuff. It was magical and the horror genre has meant a lot to me since then.
Oh, except for one time. When I was 15, I took a girl to see Deadly Blessing. When that body suddenly fell from the ceiling, with a noose around its neck -- she jumped! She slapped one arm against the arm rest with full force, but the other arm missed and hit me right in the nuts!!! Aside from that, all memories are good.
TDV - Indeed, I am a big action, fantasy, sci-fi & horror girl. I love blood, gore, SFX, supernatural mystical ideas & I think that the horror genre & all creative arts/expressions (film, art, novels, etc) are a wonderful way to explore the darkest recesses of our psyches in a healthy & imaginative way & explore the most perverse and find the beauty within, if we only have the right eyes to see.
Please do talk about your respective characters for a bit ... and how much fun was it playing them?
DB - I play Count Funghoula. Heís a bit of a crossover between the Max Shreck and Bela Lugosi [Bela Lugosi bio - click here] versions of a vampire, but totally hammed up. Heís also a bit of a pervert. It was fun to play him but itís also a bit difficult because you canít take your concentration off of the character for even a second. He is so animated with his hands and eyes moving all the time. Originally, I was practicing just his movements and expressions everywhere, so that they would become second nature and I would have a bit more head space for the lines. I had to stop though because it was freaking people out at the tram stop and on the train and then it really got me in trouble while waiting in the queue at the bank.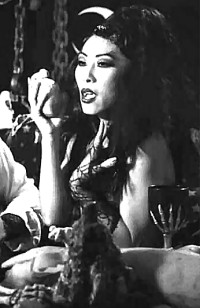 TDV - Mistress Boobiyana is a blast to play. She is styled like Elvira from the old horror shows, but sometimes speaks with a colloquial ĎStrine (Australian) accent as she has spent a bit of time in Australia. The character is similar to a lot of the characters I play as well as parts of myself, so I have a lot of fun just hamming it up with David & taking things to the extreme as we workshop & develop scenes J
When shooting your scenes of Horror House, do you usually stick to the script rather slavishly, or is there improvisation involved?
DB - The script is just a guideline. Itís impossible to keep it fresh and stick to it verbatim. Improvisation is necessary anyway as stunts donít always go exactly to plan. E.g. thereís a scene where one of my eyeballs is being bounced around by Mistress Boobiyana with a big knife.The eyeball was supposed to bounce a few times on the knife but it bounced just once and flew off behind the couch. The lines that were to follow wouldnít quite have fitted if they had been followed. Thatís where a bit of off the cuff humour just has to come in.
TDV - It's scripted so that we can keep it snappy as we only have a few minutes in between each lot of films to play around, but within that scripting there is quite a bit of room for improvisation & we keep things fun & flowing.
What can you tell us about the brand of humour of your Horror House-segments?
DB - Ok, my answer here is just going to throw everyone. Many have heard the term ďShlock HumourĒ and probably just think that means bad taste/black humour. They might even feel that it is an American thing and associate it with Lloyd Kaufman of Troma pictures and Mel Brooks. Maybe even with Gene Wilder too. Thing is, shlock is a Yiddish word, and this isnít far off the Jewish humour that I was brought up with. Few of the older people that used this humour with me would admit it, but it was just that widespread in whispered jokes. Itís a combination of absurd, bad taste and unthinkable actions.
The other part is slapstick. Once again, another Jewish influence on me. I grew up with the 3 Stooges, so when given the chance, I just had to add that in. Mistress Boobiyana assaults me with big knives, hits me over the head and cuts off body parts all the time.
TDV - Yup. Slapstick humour, definitely Davidís idea. My own style is much more dark, mystical, epic action fantasy, so I just follow Davidís lead & just throw in ideas & bounce & expand off his original suggestions & scripting. This is the 1st time Iíve done slapstick humour, so itís quite a bit of fun for me.
What's a Horror House-shoot usually like?
DB - Weíve just done the pilot so far but it was very similar to the other shoots that Iíve directed. By comparison to other directors, I donít stand up and take charge. I donít give the usual welcome spiel at the start or farewell at the end. I prefer to catch up with people individually or in small groups and chat to them first. After that, I throw out many of the decisions to the crew about how they would like to do things and get everyone collaborating. It makes for a friendlier, laid back sort of shoot and brings out the best skills of all involved.
Btw, so far, we havenít actually talked about the movies before showing them. Count Funghoula and Mistress Boobiyana just get up to crazy stuff and then one or the other just says something like - ďroll the moviesĒ and we then cut to them.
You of course also have to talk about the movies shown on your show for a bit, and what kind of quality are you looking for when choosing which shorts to play? And is there any way to submit one's shorts for your show?
DB - I donít put people through big formalities. If they send me the link via Facebook chat, I then put it into the Horror House work group where everyone can watch it and give their opinion.
The $64-question of course, where can your show be seen?
DB - The show has been picked up by Foxtel Aurora, to be shown in early 2018 across Australia. Foxtel is a huge national TV company and Aurora is their community station. Iím hoping that we build enough of an audience over the first series that they renew Horror House for a second series. Beyond that, all plans are with Bosworth Entertainment.
Any future projects you'd like to share?
DB - Iíve always got things on the go, but Horror House will do for now. It will take up a lot of my time until the end of year to tape the next 5 episodes.
TDV - Yes itís pretty exciting whatís happening with Horror House. I guess I could plug my fantasy short Inanna the Queen of Heaven here, a 10min epic that I wrote, produced, starred in & directed, which is currently in post, & should hopefully be finished by early next year, you can check it out at www.facebook.com/Inannathemovie. Another one to keep an eye out for woud be Tracy - https://www.facebook.com/Tracymovie -, a new Australian indie feature by Derek Erskine, which I play a supporting role in, that should probably be out in a few months time.

Feeling lucky ?
Want to
search
any of my partnershops yourself
for more, better results ?

The links below
will take you
just there!!!


Your/your show's website, Facebook, whatever else?
DB - At the end of each Horror House episode of the first series is a music video clip by my band Darkness Visible, so Iíll share the Darkness Visible Facebook page, as well as the Horror House one.
Horror House Facebook page - https://www.facebook.com/HorrorHouseShow/
Darkness Visible Facebook page - https://www.facebook.com/DarknessVisible/
TDV - https://www.facebook.com/TritiaDeViSha.official/
Thanks for the interview!
Thanks Michael J