Your new movie Lizziehead - in a few words, what is it about?
Itís about a desperately transgressive 20-something woman who is seeking her long-lost father, but her mother who she despises holds all the answers but is standing in the way of Lizzie having any success, so she must take another route in to find him, and all this coupled with her failed love life, fascination with sex magick, BDSM and her fascinated dreamy love loaded best friend Daisy.
What were your sources of inspiration when writing Lizziehead?
Fleabag, the first series of Black Mirror, The League of Gentlemen, Smack the Pony, Curb your Enthusiasm, Brass Eye and Jam.
To what extent can you actually identify with Lizziehead's lead Lizzie, and the situations she gets herself into?
For me personally, Lizzie is about both everything that is me and everything that isnít me, haha, her just wanting to be loved I think is in all of us to some extent. Regarding some of the situations she seems to unwittily stumble into I have 100% been there, I think sometimes experimenting with new things can backfire as Lizzie proves in some places. She always seems to retain that air of nihilistic ultra cool and ultra chic even when sheís at her lowest ebb.
Do talk about Lizziehead's brand of humour for a bit!
Well, without giving too much away, her brand of humour is defiantly an acquired taste, thatís for sure. It crosses taboo boundaries that others just wonít go into but itís all fun at the same time. As this is a dark comedy drama, we see her in hilarious mode and also in sadness mode as she is very thin skinned when it comes down to it and hurts very quickly. Her giving it back verbally to her boyfriend is more a blend of a coping mechanism and showing off in front of Daisy at the same time.
A few words about your overall directorial approach to your story at hand?
It was the most directing Iíve done so far, but it needed that as its so intricate too. My approach as always was to go in there and just take it apart in my mind and lock fully into directing the scenes as they came, like a walk-through on video game is how I planned it in a kind of peripheral sense, so when Iím in there directing I can visualise it all as it comes at me and then wrestle with it, make last minute changes and decisions, solve problems, invent new directions on the spot and bring the whole thing from the script into into the room. The biggest buzz about all this for me still is the actors and myself all bringing the characters and script alive in the room, it's just such a beautiful thing.
What can you tell us about Lizziehead's cast, and why exactly these people?
Iíve worked with lots of the cast before and some were new. Charlotte Gould is so funny off camera, so that gave me the idea for this script back in 2019, she IS Lizzie. Renee Eskildsen was perfect as Daisy and played the role amazingly, and for me personally it's her best ever performance that Iíve seen. Tom Coulston as Lizzie's boyfriend was superb, and he was the only choice I had from the beginning for Lizzieís boyfriend Ben as he is so good. First time Iíd worked with Kathy Griffiths, who plays Lizzie's mother Constance, and she just blew the roof off! So brilliant. Olivia James Woods was amazing as sheís never acted before and she was 10 years old when we did the closing days filming, she really did put everything into it, and she wants to act more now which is so cool. Kimberley Thornhill was excellent and hilarious as the slave, Sean Ruttledge was new and he brought the Angus character alive like no one else could do, a total master butÖ the real surprise among all the pro actors was Carolyn Burns, who had 48 hours to learnt her part as an amateur actor after someone pulled out from the role, and Carolyn came down from Liverpool and was phenomenal, she really did knuckle down and learn her part, and for me it's Carolyn's first real film that I have written and directed. Thomas Willamson was also so great as creepy cousin Andy. All the extras too in garden party scene were all excellent.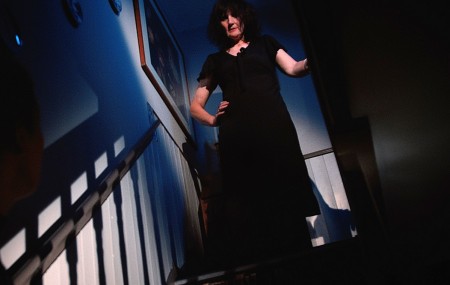 Do talk about the shoot as such, and the on-set atmosphere!
It was hard work, challenging, hilarious, stressful, and dragged on as we filmed 3 days in 2022 and 2 days in 2023 including a double filming day. The atmosphere was brilliant, and Charlotte and Renee kept us all laughing as they are so hilarious and crazy, it was an absolute riot at points. We all worked so hard, the master himself, DOP Nicolai Kornum was as always just brilliant and pulled everything together. The sound recordists Denise, Filipe and Joel all done an amazing job.
The $64-question of course, where can Lizziehead be seen?
Lizziehead just won the jury award at the World Independent Film Awards Los Angeles and was a finalist in the Cannes short film completion. If itís at a festival near you, go see it.
Anything you can tell us about audience and critical reception of Lizziehead?
People love it, which is amazing. Comments like a dark version of Bridget Jones and Mike Leigh on crack are so funny. It has both surprised and shocked people, which is a great combination in my book.

Feeling lucky ?
Want to
search
any of my partnershops yourself
for more, better results ?

The links below
will take you
just there!!!


Any future projects you'd like to share?
Iím currently working on a new film but far different to Lizziehead.
Your/your movie's website, social media, whatever else?
Instagram: @mwdanielsfilms
Anything else you're dying to mention and I have merely forgotten to ask?
Just to say thanks to much to you, Michael, for the interview, and Iím so happy you enjoyed Lizziehead.
Thanks for the interview!
Stills and poster by Nicolai Kornum