Your new movie Subject - in a few words, what's it about?
It's a surveillance-style creature feature that follows Willem, played by Australian screen actor Stephen Phillips. On his way to prison, Willem gets intercepted by a secretive government agency who task him to monitor a secret experiment in exchange for commuting his sentence.
How did the project come into being to in the first place, and what attracted you to it?
It was the weirdest, darkest script I had read. My first thought was, "this is too messed up and unconventional," and then my sadistic side said, "you should try and make this work." As I dove further into the process, I realised the true genius writer Vincent Befi had instilled in the script. I'm surprised he's not psychopathic; he's actually really lovely.
What can you tell us about Subject's screenwriter Vincent Befi, and what was your collaboration like?
Vincent applied to a script writing competition that my company, Continuance Pictures, runs called The Continue Short Film Initiative, which basically gives an opportunity for people who have feature film scripts to shoot a short proof-of-concept. We support a certain amount of short films each year, whether it be financially or physically during production. Vincent's script came up, and it was like one of the top 20 scripts of that year, and we realised very quickly that we could make this film very quickly and affordably. Vincent got on board and began rewriting his original script. So from the time we decided we'd make it, Vincent did rewrites and we got it financed and brought Steve on board. That all unfolded in a three month period, so it was a very quick turnaround. We were able to build a set in that time as well.
Do talk about the creature in Subject, and how much of a say did you have in its creation?
The monster in Subject is the embodiment of that trauma. At first we were going to have several actors play the monster as it evolves. But we shot in 10 days back-to-back, so eventually we decided to have just the one actor, Joey Lai. We knew Joey from VCA, he was a couple of years below me, and he has worked with Steve on other productions. Joey offered such versatility to that character because he's a giant. He must be seven feet tall. [Laughs] So instead of casting so many other actors, the idea came to us that we would slowly progress him to the giant form of the monster that you see towards the end of the film. That's Joey's full height. Aline Joyce was our special effect and makeup artist, and she did an amazing job. Aline was there prepping him for hours before set every morning at 4:00am in the middle of winter in a cold warehouse in Melbourne, so truly the monster embodied trauma on set.
A few words about Subject's approach to horror?
David Lynch's Mullholland Drive was the first thing I thought about whilst reading the script. Immersing myself in the surreal and enigmatic world whilst a monster shares the space with the main character for the vast majority of the film. I was captivated by the unsettling and dreamlike nature of his works, particularly how it sometimes felt like daytime TV before being plunged into something so real and visceral, like the infamous jump scare of the homeless monster like after the diner scene. Embracing the essence of Lynchian Horror, Subject danced on the fine line between reality and illusion, inviting viewers to question their own perceptions. I wanted to leave the audience feeling like they themselves could be the "subject."
Park Chan-Wook's Oldboy left an indelible mark on my creative canvas. Its raw, unapologetic exploration of vengeance and human nature struck a chord within me. Drawing from its intricate storytelling and powerful visuals, Subject embraced the dark, psychological complexities of its characters, leading to a gripping and visceral experience for the viewers. We fed our character one egg a day inspired by the few dumplings provided in this film, and the set design of the bedroom was heavily inspired by the motel room in Oldboy, not to mention the messed up nature of family relationships.
David Fincher's Panic Room exuded a relentless sense of tension and claustrophobia. Drawing inspiration from its taut atmosphere, Subject sought to trap its characters and the audience alike in a suffocating and eerie setting. The film's mastery in creating an intense and confined environment influenced the tone and pacing of Subject significantly.
Being Aussie, The Babadook by Jennifer Kent delved into the psychological torment of motherhood, resonating deeply with my desire to explore the complexities of human relationships. Subject embraced the raw, emotional core of parenthood and the cyclic nature of trauma, channelling the fears and anxieties that lie dormant within the hearts of its characters, and distilling them into a monster.
John Erick Dowdle's The Poughkeepsie Tapes pushed the boundaries of found-footage horror, unearthing the depths of human depravity. Subject drew from its chilling and visceral approach to storytelling, infusing elements of psychological horror to leave a lingering sense of unease long after the credits rolled.
With Subject being restricted to only a handful of locations, what were some of your techniques to keep the thing visually interesting throughout?
I wish I could say it was our lighting and art departments, which all definitely helped, but it really is Stephen Phillips' performance that keeps the viewer on their toes. He goes through an unbelievable journey and sustains us the whole way.
What can you tell us about your overall directorial approach to your story at hand?
It's somewhat meta: If I was in control of someone in a government facility, how would I mess with them in that environment to reveal previous emotional trauma? It's kind of a messed up director/actor relationship. [Laughs]
You also appear in front of the camera - so what can you tell us about your character, what did you draw upon to bring him to life, and how much Tristan Barr can we find in Dalesky, actually?
Dalesky is actually a caricature in my mind. He represents a mysterious scientist. I almost viewed him like a cartoon or an actor in a bad daytime TV movie. That was part of the fun. I also got to have a disgusting moustache.
A few words about the shoot as such, and the on-set atmosphere?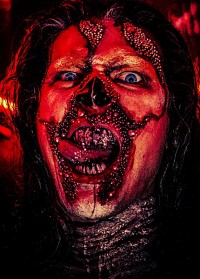 Feeling lucky ?
Want to
search
any of my partnershops yourself
for more, better results ?

The links below
will take you
just there!!!


This is what our main actor Steve had to say about it: "It was quite pervasive. I spent a lot of time in this small space. The space that the guys created was just too good to not use all the time. I wanted to get that experience of confinement, so I spent a lot of time in there. The dreams that I started to have weren't specifically about monsters, but it was just about the fractured camera angles. Visually, the dreams were extraordinary, and they were relentless. I used to sleep a lot, but I would wake up exhausted. I lost six kilos across the shoot too, which was another side effect of just how intense and pervasive the stimulus of this process was. It was really relentless. They often say as an actor that the work can enter your subconscious. We shot 10 days straight, so by the end of it, it was transformative psychologically and physically. And I couldn't eat another egg for a very long time.
The $64-question of course, where can Subject be seen?
It's actually a 0.99 cent question! It's on Screambox, go check it out!
Anything you can tell us about audience and critical reception of Subject?
We had a few people faint and walk out because if you have sleep paralysis it can be triggering. Generally people like the experience of being creeped out so some people have been so generous. My mates tend to think I'm fucked in the head now.
Any future projects you'd like to share?
We are shooting a few features soon. Be sure to follow our YouTube channel for all of our short films as well: youtube.com/@continuancepictures1518
Your/your movie's website, social media, whatever else?
continuancepictures.com, or find me at @trisbarr
Thanks for the interview!