Your new anthology 9 Ways to Hell - what's the overall concept to it, and were there any guidelines to adhere to when making your respective segments?
Nick Dragon (executive producer; writer / director of Betrayal): 9 Ways to Hell was inspired by Dante's Inferno. Nine filmmakers telling nine stories, each based on a Circle of Hell. It had to be horror or horror/comedy. It had to be set in the present day. Ideally, each story was to have some connection to one or more of the other stories. And it had to be ultra-ultra low budget, pure guerrilla filmmaking.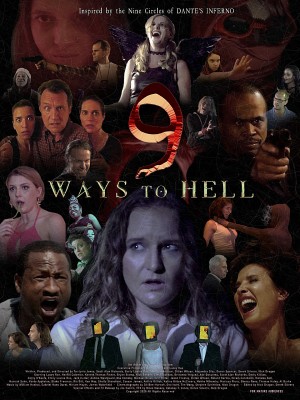 Lacey Rae (executive producer; actor in Betrayal): My goal was to get together this wonderfully talented group of people who all wanted to create, and actually create! Nick and I first bonded over our love of horror, so what better genre to choose when doing an anthology – which are quite popular now anyway! We tried very hard to differentiate 9 Ways to Hell from other anthologies under a loose umbrella by threading them all together with props, actors, characters, and various other call-backs throughout. If you look closely, you'll see a lot of Easter eggs. Also, as a female, it's particularly awesome to see so many female writer/directors on board – four of the nine, plus myself as an executive producer – as well as more behind and in front of the camera.
How did you all get involved with the project?
Lacey Rae: In pursuing my acting career, I fortunately met a group of like-minded, goal-oriented, and just fantastically creative people in a guerrilla filmmakers group here in Hollywood. We made several short films together and then, one day, Nick and I were talking about how to progress, and we came up with an anthology that could combine several filmmakers' visions, as well as be a coherent whole. We really lucked out in our writers/directors, crew, and cast.
Tai-Lynia Jones (writer / director of Limbo): I became involved with 9 Ways to Hell through an invitation from Nick, who came up with the concept. I met Nick back in 2015 when I first arrived in Los Angeles. We are some of the founding members of the Hollywood Guerilla Film Club. Nick and I worked together on numerous projects so I was happy that he thought of me as worthy enough to work on this project.
Shelly Skandrani (writer / director of Greed; actor in Fraud): I was called to action. I was scared of directing a horror film because I'm too chicken to even watch them, but I was told numerous times by Nick that I was awesome and I could do anything. So I jumped on board, and had a blast in the process! I guess that sometimes, as an artist, as a woman, as a human, we just need to be told that we're awesome!
What can you tell me about your individual segments in terms of respective story, inspiration, approach to horror, cast, and the shoot?
Betrayal?
Nick Dragon: I cheated! As an executive producer and originator of the project, I claimed Betrayal and the wraparound segments for myself, while everyone else had to pick their sins out of a hat! In the '90s, I had started work on a screenplay based on the Inferno, but gave up almost as soon as I began. Over time, I came to feel that had been a kind of betrayal of self, of my own aspirations. I saw my part of this anthology as a shot at redemption. My style is more Twilight Zone-esque than some of the others. A supernatural journey with a twist that leads to a personal revelation. In the writing, I was determined to create connections to the text of the Inferno, though that happens more in background details and Easter eggs than through story (keep an eye on the graffiti). Some of Dante's themes are there, though it might take some mental gymnastics to recognize them. Lacey Rae is my Muse of the Macabre. I couldn't not cast her as the lead. Putting her in terrifying situations, getting her to run through dark streets, making her scream... it's what I do.
Limbo?
Tai-Lynia: I just thought of being in limbo and being trapped. However, I wanted to ground that idea in reality so I chose to have my main character be trapped by his own thoughts and past discretions. I am a fan of horror when it's not cheesy. This was my first experience writing horror and it was a considerable challenge but I am happy with the result.
Lust?
Scott Richards (actor / writer / director of Lust): Lust is a romantic comedy about a dimwit who gets his heart broken by an adorable drug dealer hooker. Our hero sells his soul for true love but gets paired with a vengeful dark angel. I wanted Lust to be disturbing and hilarious, with lovable damaged characters. There's horror and bloodshed, but first there's raunchiness and heart. Casting was a blast. All cast members are sharp comic actors and actresses I've known or previously worked with. Kind people who are beyond brilliant. The crew was equally fantastic. Very talented, very kind. I love horror comedies. If a movie is too dark I feel guilty for watching. But with horror comedy I get the best of both worlds! My horror movies are more Gremlins than Texas Chainsaw.
Gluttony?
Emily Louise Rua (actor / writer / director of Gluttony): I knew right away that I did not want to go the obvious route of just focusing on overeating. Gluttony does not just focus on food, but overindulgence in many aspects of life. It concerns an empty excess in everything at the expense of the people around you. I also loved the imagery of tormented souls in putrid, black slush! Gluttony is a sin that I believe hits a nerve with women in particular – women are objectified and judged based on their weight, how they look, how much makeup they wear, their jewelry, etc. I wanted to highlight this pressure and ridiculousness through the relationship of the drop-dead gorgeous Stephanie (played by Ginny O'Keefe) and the plain, average-in-every-way woman Becky (yours truly). I enjoyed subverting expectations and portraying a little karmic justice in this piece. One of the best parts of directing is being able to cast yourself, so I wrote the role of Becky knowing that I would play it in all its self-deprecating glory; I enjoyed the challenge of playing someone so meek and timid – far different than my outgoing and confident personality. Ginny O'Keefe really stood out in her audition for the role of Stephanie. From the moment she walked in the room, she owned the space and was able to deliver her lines in a few variations – which was great because I love to play with delivery for different takes. The mysterious delivery man was portrayed by Jack Cutler. He was one of the first actors to audition for the role and he set the bar for the character.
Greed?
Shelly Skandrani: Writing Greed was a bit of a challenge for me. I knew nothing about horror films. I wanted something that had personal meaning to me. The idea of people fighting over money was just not interesting. I grew up in an all-girls school in London, England. Those are very common in England, the idea is to promote female education without male distraction, or societal pressures. When I came to LA, I was hit with a crazy culture shock! Some women spent hours on their hair and make-up, thousands on clothes and procedures, hours at the gym. It was nuts. The expectations were so high, it didn't seem fair: Why should women work so hard, while men can throw on a torn T-shirt and go? So Greed is about that. It's about a stunning trophy wife, Melissa, played by the gorgeous and incredibly talented Ashiko Westguard (A Dark Matter). What she values the most is her own beauty, as this is what society (and her husband) values in her. It overrides all other aspects of her life, it's her obsession, because her beauty gives her a sense of security. It also creates a distance between herself and her tomboyish daughter Olivia, played by the powerful Mia Komsky (Cold Case Files). Olivia's character is how I was as a kid, playing with the dog, getting muddy, hair disheveled. Olivia wants her mom's affection, and when she doesn't get it, she wants the beauty that Melissa is obsessed with. Let's just say, it gets violent. Very. And bloody!
Wrath?
Dillon Wilson (actor / writer / director of Wrath): Wrath was inspired by the Philando Castille shooting done by police officers. It takes the audience on a socio-spiritual journey as we follow the events that unfold after Mark, the police officer, shoots Martin. I cast an actual police officer to play the lead role of Mark because I knew he could relate to the police officers in the Philando Castille shooting and do them justice. The part of Dark Man I played myself because I knew I could feel what the character would feel going through this whole ordeal up to and including exacting universal justice. My approach to horror is one that is reality-based and inspired by human intuition and spiritual beliefs so that the audience already somewhat believes what they see happening on the screen. This way they 'feel' the horror and ideally never forget it. The shoot was very emotional for many of the people involved as we were confronting an old battle of bigotry and racism that has long been anchored in history here in the United States.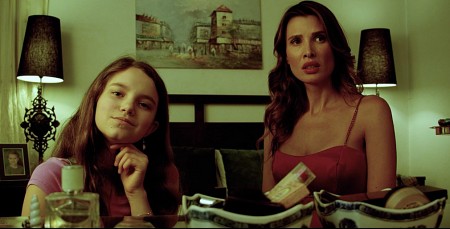 segment Greed
Heresy?
Alejandra Diaz (writer / director of Heresy): Since this was my first time directing something based on an existing (and very well known) work, this represented a huge challenge for myself, so that's where the main inspiration came from, to make justice to what Dante had masterfully accomplished. Heresy was co-written and directed by my best friend, who was also a key member of the cast. The goal of this project was to keep it simple, let the performance of the cast communicate the emotion and drive the story - creating a more realistic atmosphere and story. I think this approach was successful, as the segment hits the marks of the horror genre, while at the same time employing more depth and meaning than is normally found in these types of films. You could say my true passion is communicating - telling stories through film, music, and art. This philosophy is what guides me through my life, allowing me to see beyond what is there, and truly understand the world around me.
Violence?
Deven Spencer (writer / director of Violence): This was actually my first attempt at horror. I'm more of an action/sci-fi kind of guy. To be honest, I was really nervous. Initially Violence wasn't going to have any dialogue at all. I wanted to bring the scary with just sound and visuals. However, after a couple of rewrites I decided some dialogue was needed to move the story. I was really fortunate to find Ria Gill. Working with her was a lot of fun. A total professional who brought a lot to the table. I've also been lucky enough to work with Ken May on a few different projects, always a blast to work with. The coolest thing about shooting Violence was shooting at night. I've become a huge fan of night shoots because of it. I don't know what it is. Maybe it's the staying up late "working".
Fraud?
Derek Silvers (writer / director / digital effects of Fraud): I wanted my segment to avoid the most obvious forms of modern-day fraud, which would be things like credit-card fraud and identity theft. I thought that it might be interesting to depict a "good" form of fraud. Since getting tortured in Hell is an extreme form of punishment for any crime, depicting "good" fraud would be my way of showing a gray area, where someone is punished for technically committing fraud, even though she hasn't actually hurt anyone. In this case, the "good" fraud is acting, since actors pretend to be other people for entertainment. The character's punishment is that everyone thinks she is someone else, even though she knows she is herself. I thought that this fit with Dante's ideas about poetic justice in Hell. The idea of filming the whole segment from a first-person perspective went hand-in-hand with this. Casting the lead role was tricky, since the actress would have to operate the camera while performing. Anthia Gillick definitely impressed me in rehearsals and during production because she was able to follow technical camera directions from the cinematographer Gil Ben-Harosh and I, without sacrificing her performance. She was able to do this even when she had to bend her neck at weird angles to get certain shots!
With 9 Ways to Hell being a horror anthology, is that a genre you're all fond of, and why (not)?
Lacey Rae: I am a horror fanatic! My parents taught me to love Halloween at a very young age, and it's only progressed from there. The intensity and physicality the actors need in a horror film; I love being pushed by my directors. Creating a horror film was a perfect fit for me, and what Nick Dragon and I originally bonded over.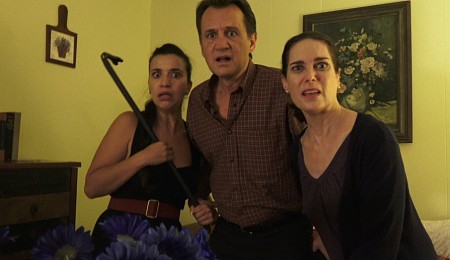 segment Fraud
Alejandra Diaz: Horror is one of my favorite movie genres, I have always been afraid of trying it though, cause I think there's a thin line between a masterpiece and something ridiculous; I like how horror can be approached on so many levels and my main goal would definitely be to leave a mark on the audience.
Derek Silvers: Horror has a lot of sub-genres within it, like slasher movies, zombie movies, ghost movies, etc. Overall, horror is a very wide genre that allows low-budget filmmakers to be creative while still being accessible to mass audiences.
Shelly Skandrani: As I mentioned, I myself can't watch a horror film to save my life! I'm such a scaredy-cat! Even sitting with Nick and editing my own segment was tough! Nick would laugh every time I jumped because of some effect he was showing me. I never believed I could direct horror, but Nick believed in me, and I trusted him. I'm really glad I did. It was such a fun and empowering project for me to be involved in!
Anything you can tell us about audience and critical reception of 9 Ways to Hell?
Lacey Rae: When I first saw the film, I was seriously dumb-struck by how well it turned out, especially on such a low budget and having seen the production troubles that plagued us. Perfect for a 2am Shudder or Netflix watch, I am absolutely thrilled that the reception has been as positive as it has been, and I'm so thankful for and proud of the writers/directors who put their all into their segments.
The $64 question of course, where can 9 Ways to Hell be seen?
Nick Dragon: Good question. We're currently making the festival circuit, hoping to catch the eye of some good distributors.
Shelly Skandrani: We've been the official selection of a few festivals in the USA and Europe, been nominated for quite a few awards and even won a few, including Best Feature at the Hollywood Blood Horror Festival. The LA Live Film Festival is hoping to screen us in November in Los Angeles, but with the pandemic going on, it's hard to know if there will be screenings at all, or where the film lands. I loved working with the other directors and filmmakers, a lot of heart and soul went into this film and we hope that it will get its moment in the sun (or full midnight moon). This film has been an opportunity to focus on the positive, to remember that even during a pandemic, there are ways to progress, to create, and to connect. It's been a hard and complicated time for millions of people around the world. We share in, and appreciate the struggle, and hope that films like 9 Ways to Hell offer a little escape, and a little entertainment, to our audience.
Thank you so much for the opportunity to share our passion with your readers. Let's all stay safe and take care of our well-being!

Feeling lucky ?
Want to
search
any of my partnershops yourself
for more, better results ?

The links below
will take you
just there!!!


Please follow our progress here:
https://www.imdb.com/title/tt6621768/
https://www.facebook.com/9WaysToHell/
https://www.instagram.com/9waystohell/
Thanks for the interview!