Your new movie Kill Kane - in a few words, what is it about?
The film stars Vinnie Jones as Ray Brookes, a family man and teacher whose life is ripped apart when his wife and children are brutally murdered by gangsters at the horrifying conclusion of one very long, torturous night. Unhinged from the ordeal and with nothing to lose, he puts all his energy into hunting down the perpetrators and exacting revenge.
How did the project fall together in the first place?
Done In, my first film as director, was incredibly well received by critics and audiences alike, which I will always remain incredibly grateful for. There was a bit of buzz and as a result I got talking to a few producers. I was sent the script for Kill Kane to consider, which at the time was called Retribution, and thought it was a solid read. Just a few days later I officially got involved and got straight to work on a rewrite of the script. I've been closely associated with British crime movies for the last couple of years through my work with Jonathan Sothcott, so I think it's fitting for my first feature as director to have done one.
What were your inspirations when writing Kill Kane? And what can you tell us about your co-writers and the writing process?
I can't take credit for the actual story or original screenplay as I only put my spin on the material after it had gone through two other writers. The original script was by a chap named Christian Sellers, and then it went through a draft by the producer. I have no idea how the material differed between the writers, but it was a condition of me signing on that I had free will with the text, which thankfully I did. I took the opportunity to work on the dialogue and essentially do what I could to further strengthen the parts of the story that I thought really stood out in terms of quality. I also wrote a few new scenes and tried to flesh out the characters, especially the gangsters, to give them their own personalities, which I think is quite effective, especially compared to similar films where the tough guys are sort of interchangeable.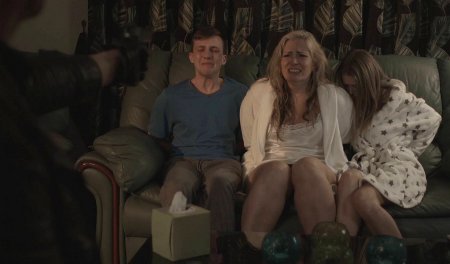 The villains in Kill Kane are a gang led by Frank Noonan, a crime boss whose intellect is more menacing than his appearance. His second-in-command is Kane, who is much more of the classic archetypal British gangster. He's more of a mercenary who will get the job done no matter what. Then you have the street soldiers so to speak, Billy and Connor. Connor's twisted; a real deviant scumbag who gets off on the pain and suffering he inflicts. As for Billy, he's a junkie who will do anything to guarantee his next fix. He's in way over his head, but he's a slave to money. The baddies are really the most interesting characters in the film.
To what extent can you actually identify with the film's central theme, street justice?
It's certainly a timely question with the headlines we see in the news today with gun crime and street thugs seemingly on the rise in "Broken Britain", but I think unless you've actually experienced something as dreadful as Vinnie's character in the film, you never really know for sure how you'd react, but it's easy to see how someone might. I think in most cases the victims would want revenge for the rest of their lives, but they wouldn't act on it for obvious reasons.
Kill Kane sounds like a very action-packed movie - so do talk about the action scenes in your film for a bit, and how were they achieved?
Making convincing action scenes is certainly a complex job to achieve. Kill Kane was shot in 9 days, which is truly insane for a film that's fairly action-heavy and ambitious in terms of scale for a low-budget independent film. You'd normally have 3 or 4 weeks to shoot a film like this, not a week and some change. When you're filming on such a tight schedule, you have to break the scenes down and simplify the action as much as possible. It was beneficial to have a stunt co-ordinator on hand in the form of Dan Styles, who was able to choreograph the action as safely and realistically as possible, while enabling us to shoot around it accordingly. On just the second day alone, we were shooting an entire fight scene in a tiny car in a garage that said car just about fit inside. Talk about tight spaces.
Vinnie Jones ... what made him perfect for the lead role? And what was your collaboration like?
It was a caveat of the project coming together that a name like Vinnie came aboard, so he was the only enforced casting decision. Originally though, he was set to play the Frank Noonan bad guy role, but really identified with the Ray Brookes character to the point where he cleared his schedule just to play the lead instead. I thought he'd be interesting in the role so changed the character from an English teacher to a PE teacher as a little nod to his past, and ended up rewriting Noonan to be the more subtly scary villain. Vinnie's an intense character as you would expect, and he likes to work at a fast pace.
What can you tell us about the rest of your cast, and why exactly these people?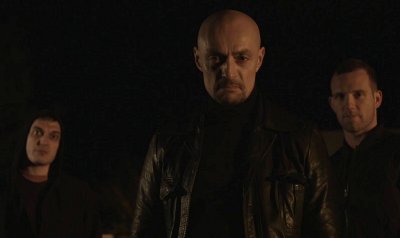 Hundreds upon hundreds of actors were interested in the film and I went through all of them with a fine tooth comb, but there really weren't many tough decisions when it came to actually deciding who was going to get the roles. With the fantastic cast we managed to assemble, it just seemed obvious, and as a director you just know when certain actors are right for the film. The result is a really interesting mix of experienced performers such as Vinnie, Nicole Faraday [Nicole Faraday interview - click here] and Sean Cronin, and new blood with the likes of Sarah Alexandra Marks, Benjamin Way and Conor Boru. The hardest – and last – part to cast was Frank Noonan because of how against-type the character is, so naturally a lot of those who auditioned were portraying a sort of generic East End baddie, which Noonan very much isn't. Dan Richardson, who plays him, came as a recommendation from Sean Cronin. I can't remember if I even auditioned him, but what I do remember very strongly is our very first phone call, which was absolutely music to my ears because he understood the character 100%, and was coming up with all these ideas that were so subtle yet so perfect. I truly adored working with Dan.
Do talk about the shoot as such, and the on-set atmosphere?
Hectic is probably the best word to describe it. As I said, 9 days is unheard of for a film of this scale, even for an independent British production. You have a lot to get done in absolutely no time, so you're working as fast as possible while trying to do the best job you can. I think what we achieved is a film with really high production values that certainly looks like it cost a lot more than it did.
The $64-question of course, when and where will the film be released onto the general public?
The film arrives on DVD on January 18 in the UK, with a US release being March 1, 2016.
Any future projects you'd like to share?
There are a few feature ideas that I'm developing that I'd like to write in the near future. As for something concrete, I'm just waiting for the stars to align in terms of scheduling to get the ball rolling on a new short I'm doing in 2016 that's sort of a spiritual sibling to Done In.
What got you into filmmaking in the first place, and did you revceive any formal training on the subject?
I took film studies for a year in college but it is what it is – film studies, so I can't say it was beneficial to my then-aspirations to actually make films. By that time I was already writing my own scripts and, without sounding like an idiot, was a million miles ahead of anyone else in the class, which is about the only class I can say that about, so give me that! Other than that I'm pretty much self-taught. Nothing can really prepare you for the challenges of an actual working set, so it's just something you sort of have to do to experience properly. In terms of screenwriting, I think being self-taught is absolutely the only way to go. The best thing you can do is to read produced scripts. It's obvious. Don't take any notice of these screenwriting books or classes because the people behind them aren't working writers, hence they're selling books because they can't sell scripts!
What can you tell us about your filmwork prior to Kill Kane?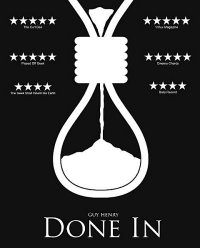 Feeling lucky ?
Want to
search
any of my partnershops yourself
for more, better results ?

The links below
will take you
just there!!!

Find Adam Stephen Kelly
at the amazons ...

amazon.com

amazon.co.uk

amazon.de
Looking for imports ?
Find Adam Stephen Kelly here ...
Something naughty ?
(Must be over 18 to go there !)

My film before Kill Kane was in fact my debut as it were – Done In, my award-winning little drama with the sledgehammer ending as The Daily Record put it. I'm incredibly proud of it as it was immensely successful with the press and audiences worldwide, and we managed to premiere it as part of the Cannes Film Festival back in 2014.
How would you describe yourself as a director?
The best part of being a director is working with actors. I love discussing their characters in more detail than you'll ever seen on the screen and hearing their own ideas. Of course, when you're working at such an insanely frenetic pace as we were, there really wasn't enough time to work as closely with the actors as I'd have liked, but I relished the time we had together, and I'm thankful to have forged friendships as a result.
Filmmakers who inspire you?
So many. The spectacle of Spielberg, the precision and grace of Jack Clayton, the haunting beauty of Del Toro. I could go on...
Your favourite movies?
My all-time favourite is Jaws but I'm also a big Star Wars obsessive. There truly isn't another franchise like it. I'm beyond excited for The Force Awakens. Other favourites include The Innocents and Pulp Fiction.
Your/your movie's website, Facebook, whatever else?
I'm easily reachable on Twitter at @adz_kelly
Thanks for the interview!