First of all, why don't you introduce yourself to those of us who don't already know you?
I am Adrian Bustamante a working actor living in Los Angeles CA, I am originally from Northern CA where my family still reside. And I have been doing this crazy career of mine for about 4 years now.
You've recently starred in the short My Night with Andrew Cunanan. In a few words, what is it about?
The film is actually based on a true story lived by my co star/ director/ producer Devin Kordt-Thomas. Devin actually met Andrew Cunanan just a couple weeks previous to Cunanan's murder spree and then eventual killing of fashion designer Gianni Versace. The film in my eyes is about choices and how a small encounter with some one you don't know (in this case, Devin's encounter with Andrew) can change everything. It's an amazing short film and has been received very well by film festivals overseas and domestically.
In My Night with Andrew Cunanan you play the title character, the infamous Versace-killer. What do you draw from when playing such a role, to what extent do you rely on research (and is there ever a point where you deliberately ignore research), and how does playing real-life characters (even if in fictional situations) differ from playing fictional characters?
In the beginning I did try to do research on the character, because in my mind if I am going to play a real life character I want to be as true to that person as possible. But when looking into who Andrew was I found out there really wasn't a lot to information about him. Just a little about his childhood and what people had said about his personality... so I basically had to build a character from what I had found online and from what I thought Andrew might have been like as well. Which to me was even more fun than just pulling out a bio or an interview and try to mimic him.
What was your collaboration with writer/director Devin Kordt-Thomas like, and what can you tell us about the actual shoot?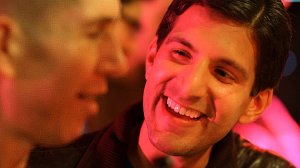 Devin Kordt-Thomas, Adrian Bustamante in
My Night with Andrew Cunanan
Working with Devin was great, he is such a talented actor and director. It is always a good experience when you work with someone of a high caliber because I feel like it drives you to be better. As a director he was great because he knew exactly what he wanted and he was coming from an actor's point of view which is always helpful. The shoot itself was three days and nights of trying to cram in as much as we could. The rest of the cast and crew were amazing as well and in the end we put together a great film.
Let's go back to the beginnings of your career: What got you into acting in the first place, and did you receive any formal education on the subject?
The thing or person I should say that got me into acting was my friend Chris Hoff. Chris and I worked together at a real estate company (our profession at the time) and he was thinking about getting back into the the entertainment business. Chris actually used to own his own Talent Agency for a while. He knew that I had a love for TV and film and wanted to know if I would like some help getting into the business. I said yes and he began helping me learn the business side of things and what to expect in auditions. After a month or so of meeting he kicked me out of the nest and the rest is history. In regards to formal training, no I never went to school but I taken some courses and classes in the past.
What can you tell us about your very early film and television work, and can you still remember your first ever shoot?
I remember it consisting of a lot of sweating and being nervous... ha ha. No it wasn't that bad but it was close, my first shoot ever was for the Fine Living Channel for a short video they were shooting call Tips to Throw a Great Party. I remember it so well because they actually let us drink real alcohol on set. It was a fun shoot to say the least.
As far as I know, your first major role was on the medical drama series Trauma - what can you tell us about the series and your work on it?
That show still holds a lot of fond memories for me, not just because it was my first major show to work on but because of all the relations I made with the cast and crew. I really lucked out in regards to the show, I originally started on the show as a background EMT working about three days per week. We worked on the show so much that they started giving a few of us lines and character names. It was such a great learning experience so early in my career and I believe it shortened my learning curve by so much.
You've also made a couple of appearances on the daily soap The Young and the Restless - how does working on a soap of this kind differ from working on a weekly series or a movie?
Soap work is so much different than working on a film or weekly series. Reason being is it shoots so fast and you are usually given your lines the same day so you have to really be on your game. I honestly had a preconceived notion prior to working on the soap that soap actors were bad actors - that can't be further from the truth.
You just have to talk about your work on the Japanese series Sekai Gyoten News for a bit!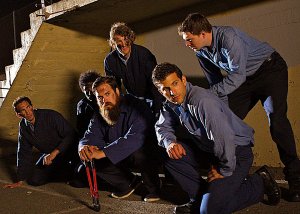 I (Almost) Got Away with It - Got to Escape the Rock
Ha ha... The show isn't by any means the high light of my career but I would do it again any day of the week! It is one of the highest rated shows in Japan, the show reenacts crazy stories from all over the world. The show's title in English translates to "The World's Most Astonishing News". It has shot and still shoots up in San Francisco, CA. I have played everything from a police officer to a killer on the show.
Of late you have also turned in quite a few appearances on the Discovery Channel-series I (Almost) Got Away with It - what can you tell us about working on that one?
That show is similar to the Japanese show in that it is a reenactment show, but it deals solely in crimes that happened in the US and takes itself a lot more seriously. Most recently I played the main character, the criminal William Van Poyk, the episode was called Got to Escape the Rock. I got a chance to work with some old friends on the cast and crew especially a great director and friend Ted Leonard and another good buddy of mine who was the assistant director Brandon Hieght. The show is one of Investigation Discovery's highest rated shows, so that was a plus as well.
Any other films/TV-shows of yours you want to talk about? Any future projects?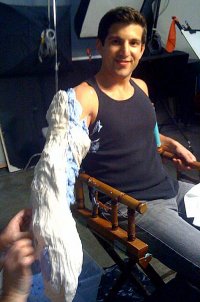 getting plastered up for
Dark Harvest
I could talk for hours about my past experiences and work but I don't know if we have the time ... but I just feel very lucky to have done the work I have been able to do so far. Future projects-wise I will be shooting a new film called Dark Harvest later this year it's a really fun sci-Fi horror film, with a great cast. The film is being directed by another good friend and very talented man by the name of Sinohui Hinojosa of Emerging Artist Productions. So keep any eye out!
You've also been in a number of commercials. How does acting in a commercial differ from acting in a movie/TV-show? And how do the sets and the on-set atmosphere differ?
Yeah, commercial work keeps me busy in between the film and TV work. Commercials can be different because you really don't have to dig deep to find the character, you can relax a bit more and just have fun. But that doesn't mean everyone doesn't work as hard if not harder on those sets.
How would you describe yourself as an actor? What do you base your performances on? And how do you think you have evolved as an actor over the years?
When I'm on set I love to have fun, I like to turn it off and turn it back on between takes, whereas more method type actors will stay in character the whole time. I don't believe there is any right or wrong way, just the way that works for you. Performance-wise I base it on the work I have done on my character prior to shooting, whether that be a back story I have built on that person or if I'm basing that character on someone or multiple people in particular.
Over the years I feel I have just gotten stronger as an actor and I feel that everyday I am acting I am learning new things that are helping me get better at my craft.
Roles you'd just love to play (no matter how unlikely) but never had the chance to (yet)?
Honestly I love doing this so much that any role is so fun me, but if I had to pick one at this moment I would have to pick to be in a baseball related film. Something where I could act and get a chance to play the sport in a major league stadium. I love baseball, loved playing the sport, and always wanted to be a major leaguer. So I feel like that would be the closest I can get right now to the real thing.
Actors who inspire you?
I grew up admiring our current legends, Al Pacino, Robert De Niro, the late Dennis Hopper. They made me want to be an actor and still help me to aspire to be better. Current actors I'd have to say people like Cate Blanchett, Adrian Brody and Clive Owen, because to me they are fearless, not only when acting but fearless when it comes to just choosing films they want to do not only films people want them to do.
Your favourite movies?

Feeling lucky ?
Want to
search
any of my partnershops yourself
for more, better results ?

The links below
will take you
just there!!!

Find Adrian Bustamante
at the amazons ...

amazon.com

amazon.co.uk

amazon.de
Looking for imports ?
Find Adrian Bustamante here ...
Something naughty ?
(Must be over 18 to go there !)

That is always so hard for me, I know it sounds like a cop-out but I love all genres of film and there really isn't one film that is my go to favorite. But I'll say films I can watch over and over again are films like (500) Days of Summer, Jurassic Park, Alfie (the remake), and any Arnold Schwarzenegger film ha!
... and of course, films you really deplore?
Hmmm, films I deplore? I have to say I really cannot stand watching The New World... I really like Terrence Malick as a director but that film is so long and drawn out with so little dialogue that it just kills me. Sorry Mr. Malick!
Your Facebook, website, whatever else?
Please follow my journey at the following places:
https://www.facebook.com/AdrianactorBustamante
http://www.imdb.com/name/nm3580041/
https://twitter.com/rbustamante25
Anything else you are dying to mention and I have merely forgotten to ask?
No, I think I am good. You have been great, I really just appreciate your time. And thanks to all my family, friends and fans that have and continue to support me.
Thanks for the interview!