Your movie Report 51 - in a few words, what is it about?
Giuliano Tomassacci & Alessio Liguori: We could define it both a science-fiction, supernatural thriller and a human journey. Itís about four friends just searching for some holiday and fun that inadvertently get involved in an extraterrestrial plan of destruction. Their confrontation with terror and unknown soon turns out to be confronting also with their real feelings, their relationships and their sincere emotions. An inevitable step into awareness and responsibility. Itís a movie about friendship and love, fear and courage, otherworldly threat and human willpower.
What were your inspirations for writing Report 51, and is the alien invasion genre a genre at all dear to you?
GT & AL: Yes, we have always shared a great passion and interest for sci-fi in general and for the alien invasion/abduction subject in particular. We drew inspiration from various sources, spanning from movies to literature and serials as well as popular belief and collective thought.
How did the two of you meet in the first place, and what was your collaboration on Report 51 like?
GT & AL: We first met some ten years ago on the set of a feature, we were both at the beginning. Some times later we have started collaborating respectively as a cinematographer and a director. During the years our partnership grew, and so did our mutual esteem - we collaborated on diverse projects including short movies, commercials, TV-programs and videoclips. When, by the end of 2010, we sought the chance to develop a personal project we jumped at it. We conceived, wrote and produced Report 51 together. Apart from that itís been as always: Alessio directed and Giuliano lensed.
AL: I knew Giuliano for a long time, we worked together a lot. I was long pondering to shoot a feature but I never thought about a found-footage. One day I was having a walk, I phoned Giuliano and quite toying with the idea I said him: ďYou know, it would be great if someone would shoot a found-footage with the aliens. Nobody has ever done one (so it was at that time).Ē Giuliano, usually very pragmatic and prudent, that time, without thinking twice about it, suddenly told me: ďLetís do it.Ē I stood speechless. From there Report 51ís long journey began.
Why did you choose the found footage-approach for Report 51? And especially regarding the many CGI effects, what were the major challenges of this approach?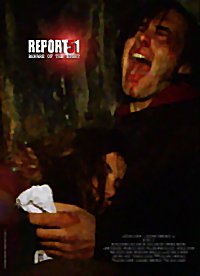 GT & AL: We chose the found footage-approach for a couple of reasons. First of all we were pretty much interested in the kind of POV-style language of the genre. Films like Paranormal Activity, Cloverfield and REC really tickled us a lot, especially for what concerns the possibility in terms of narrative and shooting. We were also interested in experimenting and expanding the approach including other shooting-devices. Secondly, unfortunately here in Italy science-fiction is kinda of a taboo genre at the moment. It would have been quite impossible to find a production interested in the project, let alone we also decided to shoot it English (another rarity in Italy) to reach as much audience as possible. The found-footage approach was optimal in this sense because the style and the necessity of realism allowed us to limit the production expenses and allowed it to produce it by ourselves on a budget as an indie movie.
The CGI effects are vital to this kind of movie. And considering we were making a found-footage flick a very high level of integration with the live-action was mandatory. And still we were on a budget: so we opted for having a much longer post-production than usual to reach the best results.
AL: I would like to add that a found-footage movie is a unique experience that a filmmaker or an actor should try at least once in a lifetime. Itís an extreme experience, without filters. Youíre inside the movie at the highest possible levels. The long shots with the camera operated most of the time by the actors and the diegetic cinematography at the moment of action make you a privileged and invisible viewer. Not one of the set, but one of the film itself. Sure youíre deeply concentrated in your work but the narrative modality reduces to the minimum, if not totally, the filters between you and the action. For actors it's even more extreme both physically and emotionally.
Speaking of the effects: You just have to talk about the effects work in your movie for a bit!
GT & AL: Thereís only one sequence shot in green-screen Ė the levitation sequence - and a couple of effects done in-camera with the old-school methods. By the way all the aliens footage is CGI. Itís been a complex work and Real Vision reached some incredible results in terms of compositing considering the hand-held, shaking camera effects that dominate this genre and that obviously complicate all the tracking and rigging job in each frame. Furthermore, some scenes needed a particular work of picture-in-picture to simulate the specific function of an on-screen device. Spirito Soundís detailed sound-design work furthermore increased the level of integration and realism.
I think the locations are a key factor of Report 51 - so how did you find them, have you written the movie with the locations already in mind, and what was it like filming there?
GT & AL: Concerning the Italian locations, we relied on the greatly suggestive estate of our location and set manager Silvano Di Murro: SDM Farm in Montelovesco, a wonderful countryside land in Umbria that includes some vast woods and a typical farmstead that we used both for the house interior and exteriors. By itself the estate and its backgrounds are breathtaking, also we got one of the hugest snowfalls in recent years while filming in December 2011. This further contributed to the stunning scenario. We wrote almost the entire plot outline just before scouting locations in Montelovesco and surroundings, but we tripped back and forth while we were writing the screenplay, so we functionally wrote or adapted scenes to fit the confirmed locations. This helped a lot also in enhancing and improving the script. Originally our plan was to shoot the ending of the movie in another location in Italy, but bureaucracy and some other issues obtaining the permits to shoot finally forced us to abandon the first idea and turn to Belgium. Our first assistant director and dialogue coach Emiliano Manzillo submitted us a lot of interesting locations all over the country: we finally chose the high-school institute SISA/Stedelijk Lyceum and Fort Bornem in Antwerp, along with some capital exteriors in the abandoned city of Doel. All in all we think the replacements fit even better than the originals. We also adapted and extended the screenplay in order to get the best from those incredible places.
What can you tell us about your cast, how did you find them and why exactly these people?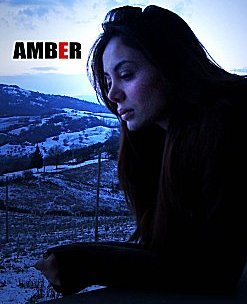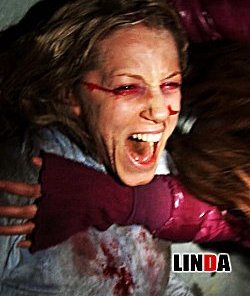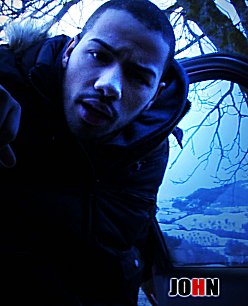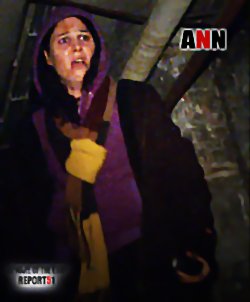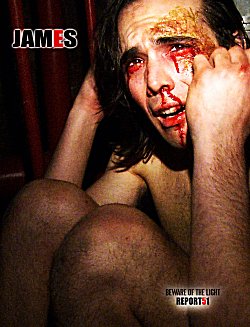 GT & AL: The cast is the heart and the engine of Report 51. We couldnít be more pleased and grateful to them for the stunning work theyíve done. Not only did they have to act in another spoken language, but they also had to stand some incredibly demanding physical efforts in adverse temperature and climate, not to talk about the fact that they operated the camera for almost the whole movie. All of the cast were our first choice for their respective roles.
We first worked with Michela Bruni (Amber) on the short movie La Rete, back in 2010, and we were highly impressed by her excellent, multilayered performance. We also had the occasion to met Viola Graziosi (Linda) on another short and to experience her tremendous dramatic skills. Damiano Martina was among the protagonist of an American singer videoclip we worked for and his acting attitude was just perfect for John. Ann Pierssens (Ann) was introduced to us by 1st AD Manzillo and we had the chance to witness her acting during the shooting of the short Nigredo, that he directed just prior to the shoot of Report 51. Luca Guastini was the only exception in the sense we didnít know him nor have worked with him prior to entering production. We were pondering some candidates for the role but still hadnít contacted anyone when Michela suggested Luca, whom she previously worked with on stage. We were pretty much impressed by his showreel and by our first meeting with him we knew we had found James.
All the cast also collaborated to the dialogue, something we thought was crucial to better stress the realism of interactions and relations of the characters needed for this kind of movie.
Do talk about the shoot as such for a bit, and the on-set atmosphere?
GT & AL: The set was a great adventure and a one-of-a-kind experience, both professionally and humanly. Knowing most of the cast and crew from previous projects already, having prepared much of the work together when still in pre-production and being a smaller crew than usual due to the production and shooting approach, led us to easily establish an extremely positive mood - which was good considering that, for the very same productive and shooting reasons, it was also a tough and very demanding adventure. Principal photography took a week in Montelovesco and three days in Belgium. Apart from some of the interior, we showed the cast each location for the first time only just before starting to work to the corresponding scene. We were on a tight schedule and we kept adjusting it on a day-by-day basis mostly due to the climate changing, but we finally made it all as planned. We usually started each shot by blocking the scene while actors went over the script with our dialogue coach, then we blocked the scene again with them in order to explain directional and photographic guidelines. It was not a typical, technical rehearsal because the action had to be also explained in term of camerawork and detailed as a sort of choreography, being the actors were also the operators on most of the coverage. Subsequently, after the blocking they left the set to join our great make-up artist Annalisa Liuzzi to be prepared for the scene. Once ready, just a last general rehearsal and we were ready to shoot. As evident, the movie is made up of some lengthy continuous-takes and this added difficulty to the shaping and accomplishment of each sequence and to the actors' work. In some cases the complexity of a shot reached considerable levels. There is a sequence where Amber rushes alone in an abandoned school in search of a map. We shot it late at night and it was an exterior/interior. Itís an example of how demanding a shot could be for the actors. Michela had to run round-trip through an entire wing of the school, examining each classroom while operating the camera. Due to the context of the scene, the dramatic needs in terms of acting were at the top. As always the camera movements had to follow a precise path, including some halts at pre-marked points. Plus, to accommodate some abrupt variations from the diegetic lights of the school to the exterior and vice versa, she had to duly perform some iris-shifts on the run, as smoothly as she can. Last but not least, the sequence called for three different aliens appearances, to be obviously added in post-post-production and so to be only imagined by the actress on the set according to Alessio's indications. After she mastered the shot with us for a while, we did a series of complete takes in a row. It was exhausting for her but not only the takes were very good, each one was better than the previous. Not to say, shortly after, the very same night, she was ready for another sequence with Luca. This is what happen when you have such a great cast and they believe in the film, trusting your vision. The same abnegation and professionalism are the basis of some incredible, bravura performances Viola delivered in prohibitive weather conditions, again within conspicuous long-takes, and to a much challenging nude sequence Luca managed at the peak of his character complexity. Damiano and Ann also did an incredible job confronting with some elaborate effects shots and frenzied ones that, having also to be later composited with the aliens in CGI, challenged them to realistically interact with invisible opponents. They all succeeded greatly in every hard task, and sometimes their personal touch originated by the acting momentum and by the reaction to the environment enormously enriched the final results. And 99 percent of the time the result was not as the two of us envisioned it or wanted it, it was better. Thanks to them.
In addition to this, another test which the entire cast was subject to must be remembered: physical suffering! The extreme experience they underwent included physical effort and endurance, long racing in long-takes (sometimes keeping another fellow in their harm), in the frost wearing few clothes, in confined wet, snowy, muddy and rocky spaces. Memorable and moving is Amber and James escape sequence from the farmstead. An emotionally strong scene in which James is shocked by physical problems due to his kidnapping and Amber has a psychological breakdown. All on a hill covered with inches and inches of snow, among branches, at night and with bare hands. At the end of the long shot their hands were frozen and they were shaking but their only concern was to know if we were satisfied with the scene. Working with such a cast is a great privilege.
What can you tell us about audience and critical reception of your movie so far?
AL & GT: Report 51 has been a winning bet for us. We both had a learning about cinema market and trade in general, but the movie has been a unique and formative experience. We relied on our skills but most of all we had to learn many new things, trusting our instinct at the same time. We soon started a precise campaign in order to draw attraction to the movie. First of all we unleashed a viral: a clip from the movie in which we hear the shouting of the two unfortunate protagonists as they enter a room in a crumbling military structure. They are recording all in POV with their camera. Suddenly you hear some barefoot steps and aback a window an angry alien Ė a Ďgreyí one Ė pops up. We pretended this clip to be uploaded by a fake scientistís account who claims he purloined the video from authorities and wants to share and reveal this discovery. The clip was presented as ďclassifiedĒ. So at the beginning we didnít reveal the videoís real nature and we left it to circulate on the web as a presumed non-fiction document. An intense and interesting activity has then sprung around the video, which has been shared, posted and commented many times. This great advertisement flywheel made possible for us to create an audience that we then directed on the movie's official site (initially a ufology board then transformed in a proper site for the film) and then on the trailer, which over time has surpassed the one-million viewings. At that point we also released numerous press-releases, posters and character-poster with predetermined cadence. All this activity attracted various sales-agents. We are particularly happy with our actual agency, EuroObscura, in the person of Marco Magni. He immediately understood and shared our beliefs and our expectations for the movie. Heís doing an extraordinary job.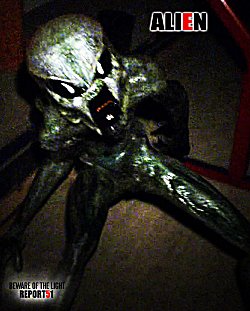 Any future projects you'd like to share?

AL: The projects are really many. The next movie Iím working on is called In the Trap. Some teasers have been already shot - and theyíre online - in order to find producers. Itís a horror movie and it deals with the story of a young proof-reader trapped in his own apartment for two years. Heís convinced an obscure force is trying to enter his apartment but the meeting with Debby Ė the girl from top floor Ė calls everything into question and unleashes disturbing visions of his past. The movie is also the vehicle to start a franchise consisting of a novelization, a comic-book, events, attractions, apps, a TV serial, a sequel and a prequel. In the meanwhile, while having contacts with potential producers, Iím working on the movieís pre-production and shooting videoclips.

GT: Iím concentrating on cinematography and at the moment Iím not conceiving other production/screenwriting project like Report 51. But you never know. Among other works Iíve also had the pleasure and privilege to collaborate again with Alessio shooting two videoclips he recently directed for the band Entropia (for the song La Direzione) and for the pop singer Giacomo Docimo (La Piý Bella del Mondo). Recently Iíve also made a new foray in short-movie lensing the drama Io ci CredevĒ, directed by Vittoria Citerni di Siena.

How did you get into the filmworld to begin with, and did you receive a formal education on the subject?

AL: Since I was a kid Iíve been fascinated by the cinema medium. I saw the birth of the home-video. I saw the growing of the digital era. And still today I get excited as in the past when Iím in a movie theatre or I watch a blu-ray or a dvd. The attentive screening of movies, reading and apprenticeship have been my first, important approach to my work. To see or read what the great and little masters have done and how they have done. I was a young boy when I asked my mother to take me to the first set of my life. They were shooting a movie in my hometown. My mother gently asked a production assistant to let me in promising I wouldnít bother anyone. I was not yet fifteen. And with bright and admired eyes I was seeing this parallel reality taking form, impressed on film. The director couldnít see me, he was very focused, but my eyes were on him with great admiration. I remember every moment of that day. Then the gates opened and I hugged my mother. Still Iím very grateful to her. Then I graduated as director-programmer for cinema and TV at the DAMS in Roma 3 University, in Italy. I learned a lot from the academic studies, all that you canít learn on the field and vice versa. Last but not least the law classes I attended at university have been very useful, along with dance, music and visual education. I also had the fortune to study in workshop with some of the best Italian movie authors. Then again a lot of apprenticeship and studying, always with an eye and a great admiration to the American cinema. I lived as a student and as a spectator all the American cinema wonders of the 80s and 90s, I could not have hoped for more. I worked as an assistant-director. Then I landed to commercials, videoclips and televisions.

In each work Iíve brought with me a wealth of experience and new knowledge. And after some short-movies it finally comes the magic moment for the first feature. Report 51 has been more than a movie to us. An extraordinary experience of life and work. One day we were in the snowy woods, shooting a moving and difficult scene with our protagonists Bruni and Guastini. The atmosphere was rally magic and unique. I was in an high position to watch the long take and from there I realized that the fifteen-years-old boy was still there, hidden in the shadow seeing the magic of a story that comes to life. You have to be a sponge and thatís what Iíve always tried to be. Every experience, concerning life or work, is important. Thatís in brief my training. You should always have thirst for knowledge. And until that fifteen-years-old boy would wake up I would always keep looking with the same wonder at what life would bring to me and I would always be amazed as the first time.

GT: Iíve had a deep interest in movie and entertainment in general since I can remember. I started to receive formal education on cinema and theatre in some supplementary courses during my high-school years and in few summer-stock in England. Iíve attended the biennium at the DAMS University in Rome and then Iíve started training as a cinematographer graduating at a state course and, always in Rome , attending specialization classes at the Rossellini Cine-TV Institute. In the meantime I was already working in small-budget shorts, stage lighting, medium productions, commercials and mainstream features alternating my first works as a director of photography and various operating for ENG troupes with some incredibly formative gaffering and gripping jobs, along with few production duties, having so the opportunity to work with some great cinematographers such as Blasco Giurato, Giovanni Cavallini, Patrizio Patrizi and, last but not least, my course teachers Paolo Rossato and Roberto Girometti. Since 2006 Iíve completely and definitely dedicated myself to direction of photography working steady on short and medium-length movies, commercials, TV productions, serial and videoclips.

What can you tell us about your filmwork prior to Report 51?

AL: Before Report 51 I directed various important commercials broadcast on national TV stations and projected in theatres. I have directed short movies, including the thriller-horror La Rete.

GT: Despite one of my earlier work as a DP was a feature, it has never been released, so Report 51 is actually my first motion picture, not only as a cinematographer but also as a screenwriter and a fully-fledged producer.

Filmmakers who inspire you?

AL: In every filmmakers thereís something to learn from, more or less, but everyone has a particular point of view, a taste in narrative that can enrich you. So to me you must have the most openness but, obviously, always with the proper critical sense. Personally I like very much Alex Proyas, M. Night Shyamalan, Clint Eastwood, Steven Spielberg, Christoper Nolan and Tim Burton.

GT: Probably impossible to list them all. Concerning my profession, directly or indirectly, consciously or unconsciously, the works of James Wong Howe, Gordon Willis, Gianni Di Venanzo, Sven Nykvist, Vittorio Storaro, Derek Vanlint, Roger Deakins, Alex Thomson, Dean Cundey, Don Burgess, Michael Ballhaus, Wally Pfister and Rodrigo Prieto Ė just to name a few - are continuous sources of inspiration, motivation and improvement. In terms of directors, apart from Hitchcock and Kubrick, the list again is very long but definitely Robert Zemeckis, Michael Mann, Roman Polanski, Steven Spielberg, Sidney Lumet, M. Night Shyamalan and Christoper Nolan are among principal favourites.

Your favourite movies?

AL: Dark City, The Dark Knight, Signs, The Village, each for different reasons.

GT: Vertigo, 2001: A Space Odyssey, One Flew Over the Cuckoo's Nest, Jaws, Network, The Tenant, Thief, Back to the Future, Cast Away, The Village, The Prestige. Again, just to name a few.

... and of course, films you really deplore?

AL: I think itís not right and fair from me to answer this question. Even behind a bad movie thereís work and some sacrifice. And this deserves respect anyway. I beg your pardon if I donít answer.

GT: Canít really say if there are movies I deplore. Surely there are movies I donít like. But itĎs a matter of personal taste. As a matter of fact everything lacking a minimum of heart, passion, personality, stimulus, courage and at least a good and interesting way of telling stories by images and sounds hardly appeals me.

Your/your movie's website, Facebook, whatever else?

it.linkedin.com/pub/giuliano-tomassacci/21/b1b/508

Feeling lucky ?
Want to
search
any of my partnershops yourself
for more, better results ?

The links below
will take you
just there!!!

Find Report 51
at the amazons ...

amazon.com

amazon.co.uk

amazon.de
Looking for imports ?
Find Report 51 here ...
Something naughty ?
(Must be over 18 to go there !)

Anything else you are dying to mention and I have merely forgotten to ask?
AL & GT: We would like to underline the great work did by set manager Silvano Di Murro and second assistant director Ivan Fausti. They did a work of big responsibility considering the climate conditions we underwent and that we were a small troupe. A job that requires dedication, concentration and sangfroid. Often the actors walked long distances in continuous-shots and when to destination they were stranded and physically worn. Itís enough to recall Lindaís recovery up a hill. Viola was in the cold, in a robe and covered with a mock amniotic fluid. Silvano and Ivan were always ready and vigilant, overseeing our precious castís and our own health in addition to manage on time the set vast territory (populated not only by us humansÖ). Finally we would like to take this opportunity to underline that we could never have embarked in such a big and hard job without profound trust and respect in each other and here we confirm and renew them. The passion for cinema and the love for our job have been our drive to never give up in the face of adversity. Never. We completely started from scratch and we could not have ever done without our close loved ones' support and help. We would like to take this opportunity to thank from the heart the women who support and inspire us. Thanks Samanta (Alessioís girlfriend). Thanks Silvia (Giulianoís wife).
Thanks for the interview!
GT & AL: Thanks to you.