Your movie All American Zombie Drugs - in a few words, what is it about?
It's about two guys starting a business doing the only thing they think they were ever good at: drugs.
Underneath though, it's about a guy's journey off drugs.
Alex, what were your inspirations when writing All American Zombie Drugs? And is any of this based on personal experience?
Alex - I had friends that were fun as a kid, who would do the wildest things; pranks to make us laugh. I was hoping to capture that silliness in the film. The heart part of the film comes from growing up with addicts; in my family as well as some friends that went down the road of no return. I wanted to explore what would have to happen for someone to make the decision to go to rehab and make it out on the positive side of things. Unfortunately, statistically, the chances of beating a drug addiction are hard. I also believe people do drugs for different reasons. Some do it to escape life, while others really enjoy them. I was hoping to show those contrasts.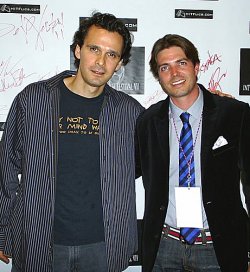 Alex Ballar, Beau Nelson
How much improvisation was there involved when bringing All American Zombie Drugs to the screen, or were you following the script to the letter?
Alex - I come from a theater background, so we did rehearsals before shooting. We shot the film in 10 days, so there wasn't much time for extra takes or improvisation, unfortunately. There were some moments, but for the most part, the improvisation would happen within the lines.
Since with some justification, All American Zombie Drugs can be described as a stoner comedy - is that a genre you can at all relate to?
Alex - I can only speak for me, but yeah. I like anything funny and stoners can be hysterical. They're usually non-violent too. One of my favorite film series was Cheech and Chong. I can still recall scenes from those movies and bust out laughing.
Beau - The interesting thing about this genre is that itís very relatable to everyone. I think everyone has been impacted in one way or another by the stoner mentality; either they have been a stoner themselves or know someone personally who has. The genre seems to make people feel something, and while we know the stoner mentality isnít everyoneís cup of tea, we hope that they can still enjoy the film without feeling as if drugs are being thrown down their throat.
Your personal take on drugs and the drug business?
Alex - I don't do drugs. I actually live very healthy. My true gripe is with the pharmaceutical drug business. Other than that I believe people should be able to do what they want, if they aren't hurting others. That's why I wanted both leads to have completely different roads. Sebastian and Kara love drugs. Vinny and Mellisa is using them to mask pain. He's meant for a different road.
Beau - Iím with Alex. I donít do drugs and mind my own business unless itís affecting me or someone I love. Iím not necessarily against medicinal purposeful drugs if itís legal, but Iím not a huge fan of the pharmaceutical business either. It never ceases to amaze me how many new products come to market where the side-effects section of the commercial is longer than the actual treatment of what it is theyíre promoting.
Beau, what did you draw upon to bring your character to life, and how much of Beau Nelson is in Sebastian?
Beau - Surprisingly, a lot of Sebastian is a lot of me. Sebastian has a pretty confident, free-speaking, I-donít-care-what-anyone-thinks type of perception of life. He strives to be a leader and be the best he can at his endeavors by taking them to the next level. The main difference is Iím not really a drug dealer, but weíre still both in our own industries for the same reason. The trick for me to get into Sebastianís world was behavior. I did a lot of research, watched films and documentaries to get a feel of what the mannerisms were. And then I started playing them out at home under normal situations, which I can only imagine sounds extremely odd. Alex worked with me quite a bit to fine-tune those behaviors before we put it in front of the camera. And then I just went for it.
You of course also have to talk about the rest of the cast for a bit!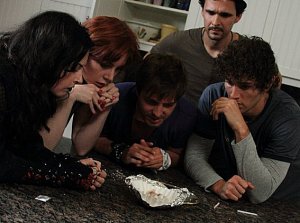 Natalie Irby, Susan Graham, Beau Nelson, Alex Ballar, Wolfgang Weber
Alex - The rest of the cast was wonderful and completely professional. They had to be to get through a movie in 10 days. We were very lucky. I would love to work with almost anyone of them again when the circumstances align.
Beau - Alex is right, we were pretty lucky to be surrounded with such dedicated and talented folks. Not even just the cast, but the set designers and makeup artists and wardrobe stylists. Itís was such a great feeling to be surrounded with such amazing people.
How did the project come together in the first place, and how did you two first hook up to begin with?
Alex - I was originally supposed to make All American Zombie Drugs on a way larger budget and the money fell through, as often happens in this business. I was helping produce/write another project that Beau was cast in. I knew Beau was super talented, instantly. With the right circumstances, I believe, he'll be a big star. He's fearless as an actor and a person. I believe Sebastian doesn't even do him justice, he has amazing natural instincts. He'll try anything. So I pursued a meeting with him, not knowing how any of this would work out. Then, as most movies usually have happened in my experience, we just decided to make it, even if that meant shooting it on a cell phone. Luckily, we didn't have to do that though. LOL. Things just started falling together fast. Friends and talents came on board. In particular, Alexander Berezovsky who we couldn't have made this movie without. He's a workhorse of a producer.
What can you tell us about the actual shoot and the on-set atmosphere?
Alex - For the most part, I remember a lot of laughing. It made me feel we were on the right track. It was stressful at times because of the time constraints, but it definitely, was an amazing experience. I learned a lot. I hope others did too.
Beau - There was a lot of laughing. I think we all enjoyed being there, and that usually sets the stage for how a film turns out. We worked really long days and many times it was at night, even though many of the scenes inside the house take place during the day. Our lighting crew was amazing to make that happen seamlessly. Our zombie section, in particular when Sebastian gets eaten, was actually shot on the 4th of July. We kept popping the breakers on the house, so we ended up firing up a generator. It was a challenge to find 500ft of extension cords from the house to the spot where we wanted to film.
Let's go back to the beginnings of both of your careers: What got you into the filmworld in the first place, did you have any kind of formal training on the subject, and what can you tell us about your early days?
Alex - I originally was in college to be a physical therapist and received a random audition for Bronx Tale with Robert De Niro. I got really close, and my competitive side took over. I then searched out the teachers of the greats and began studying with Actor's Studio teachers. I got close on a few big projects and then decided to move to California to pursue a music career. I found my way back into film raising venture capital for others projects and selling screenplays.
Beau - I actually didnít have much formal training at all. I hated drama class in high-school, but after 5 years of software development, I really needed a creative release. Since I didnít have anything to lose, I made the move to LA. When I first got here, I did everything I could to get more experience and build a resume to be taken more seriously.
Please do talk about your filmwork prior to All American Zombie Drugs for a bit!
Alex - I was fortunate to be in a few SyFy channel originals thanks to my good friend and one of the executive producers of All American Zombie Drugs: Michael Worth. I also started my career in a movie called: I Love You, I Love You Not with a bunch of new actors at the time such as Jude Law, Julia Stiles and James Van Der Beek.
Beau - Prior to All American Zombie Drugs, I had the opportunity to work with Michael Madsen in Madoff: Made off with America, where I played young Bernie Madoff. I also worked with Jeremy London in Q For Death. The Adventures of Roman and Jorge was a comedic episodic that got a little run on a Christian TV Network.
Any future projects you'd like to share?
Alex - Yes, we are both in the upcoming Bring Me The Head Of Lance Henriksen. It's a mokumentary about ageism in Hollywood and stars and feature actors such as Lance, Tim Thomerson, John Saxon [John Saxon bio - click here], Adrienne Barbeau, Cerina Vincent, John Witherspoon, Martin Cove and others.
I also produced and acted in a new Michael Worth movie: Seeking Dolly Parton. It stars the beautiful and talented Kacey Barnfield and Anya Monzikova trying to have a baby.
Beau and I have an untitled psychological alien movie in the works. We hope to shoot it this year.
How would you describe yourselves as actor and director, respectively?
Alex - This is a tough one for me. I would say sensitively intense as a director, because I know what I want but don't want to bull doze my way through people. I prefer to make allies and am open to others creativity. I believe making a movie is a team effort. I also bring a producer attitude, so I am comfortable dealing with the restrictions and not letting my creative side throw tantrums. As an actor, I feel my best work is ahead of me. I haven't been able to truly stretch that muscle yet in film as I have on stage and hope to one day. Acting is therapeutic for me. I love being in the moment and there's nothing better than working with actors who aren't afraid to go there with you. Essentially, it's my drug :-)
Actors and filmmakers who inspire you?
Alex - Too many to list. Off the top of my head, directors: John Hughes, Steven Speilberg, Darren Aronofsky, Martin Scorsese. Actors: Heath Ledger, River and Joaquin Phoenix, Ryan Gosling, Meryl Streep, Charlize Theron. These lists can go on and on. Mostly, for me, it's people who serve the story, take chances and create new paths.
Beau - I agree with Alex. Once youíve been in this business, you learn to respect everyone for their dedication. This is not an easy business to succeed in and because of that, I have a hard time not liking any movie or actor. Mostly because I know how much work goes into making a production. But, since you asked, Johnny Depp was my main inspiration for coming to LA. If I had the opportunity to base my career off of anyone, he would be it. It would be a dream to play those types of characters.
Your favourite movies?

Feeling lucky ?
Want to
search
any of my partnershops yourself
for more, better results ?

The links below
will take you
just there!!!

Find All American Zombie Drugs
at the amazons ...

amazon.com

amazon.co.uk

amazon.de
Looking for imports ?
Find All American Zombie Drugs here ...
Something naughty ?
(Must be over 18 to go there !)

Alex - True Romance, Frailty, Pulp Fiction, The Perks Of Being a Wallflower. I watch a lot of movies, too many probably, so this list could go on forever too. lol
Beau - I could list all day long as far back as The Gremlins and The Goonies to more recent films like Hugo. One of my all time favorites has to be Shawshank Redemption.
... and of course, films you really deplored?
I don't have any in particular. I think getting any movie completed is a huge task, regardless of the intention. But any of the cookie cutter movies drive me nuts sometimes. The ones that have nothing to say.
Your/your movie's website, Facebook, whatever else?
http://www.imdb.com/title/tt1690545/?ref_=fn_al_tt_1
http://www.facebook.com/ZombieDrugs?fref=ts
Anything else you are dying to mention and I have merely forgotten to ask?
Other than thanks so much for the opportunity, no.
Thanks for the interview!