You've recently done stunt coordination for the movie Defarious - so first of all, what's the movie about?
Hi – yes I did. The movie Defarious from R&F Entertainment is about a young lady named Amy, played by Janet Miranda, who suffers from sleep paralysis where she's trapped in her own 'dreams' [night terrors], which for her is her reality.
How did you go about creating the stunts for Defarious, and how rigid were the demands from the producers and director?
With any production, and Defarious is no different, the demand is high from producers and directors because we all want the best. Taking into consideration 'how' comfortable the actors are with the stunts played a key role.
We created the stunts by walking through the each scene of the film and came up with ideas on what would be thrilling to the audience when viewing. Chase Michael Pallante, the producer, director, writer and editor [Chase Michael Pallente interview - click here], and I spent many nights working through stunts with actors Janet Miranda and Jason Torres, who plays the villian, on what we want from the scene. I have to say it was well worth it!
How did you get involved with the project in the first place?
That's an excellent question! I got involved when I was invited to a reading by Janet. Myself, I am, too, an actor. Janet mentioned how excited she was about this role, and thought I would be interested in watching and maybe get back into acting. Plus, I wanted to show my support – that's where I met Chase, he asked me a question on what I thought of the current scene [fresh eyes on it], and the rest is history.
What can you tell us about Defarious' director Chase Michael Pallante [Chase Michael Pallente interview - click here], and what was your collaboration like?
Chase Michael Pallante is a phenomenal person to work with, let's get that right… From when we first met, I could see his passion for what he wants to do. I respect that very much. Chase has this keen sense and the ability to bring his mind's imagery to reality. That's exactly what he did with the film.
Our collaboration was great, of course we had conflicts on ideas – nothing is ever perfect. Again, we spent nights trying to perfect the stunts scenes. One night during a stunt rehearsal, Chase partook in a sequence where I 'threw' him across the room.
Our total vision on what we wanted out of Defarious was magical.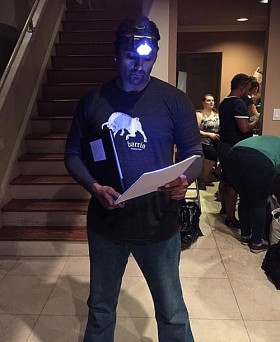 courtesy of R&F Entertainment
Do talk about the shoot as such, and the on-set atmosphere!
When going on any set, for me, you have to feel the essence. You have to feel what you're here to do. As we staged and set the area, a feeling of eerie filled the space.
Everyone involved from make-up to cast worked very hard to make Defarious successful.
Any future projects you'd like to share?
Currently, I'm actually training and mastering Thai Boxing and Brazilian Jiu-Jitsu for more intensive stunts. A few projects I can't speak on at the moment. However I am working with Chase again on a film that is slated for pre-production early next year.
How did you become a stunt coordinator in the first place, and did you receive any formal education on the subject?
That's another excellent question. Being an actor myself, stunts are part of the business. I took it upon myself to train on how to fall 'the correct way' and followed example from actors like Bruce Willis, Jet Li, and others.
How did I become a stunt coordinator? It was organic: On a set of a short film, I said 'I think if we did this move, show this, it would make the film stand out.'
As an actor, you have to have a passion for what you do… a stunt coordinator is no different. I like acting… I like doing stunts.
Stunt coordinators and stuntpersons who inspire you?
Some of those who inspired me are Bruce Willis, Jet Li, Bruce Lee, Tom Cruise, and many more.
Your favourite movies?
Favourite movies are action/adventure, thrillers, comedy, and documentaries.
... and of course, films you really deplore?
Reality types.
Anything else you're dying to mention and I have merely forgotten to ask?

Feeling lucky ?
Want to
search
any of my partnershops yourself
for more, better results ?

The links below
will take you
just there!!!


The cast was great! Working with Janet Miranda and Jason Torres was a pleasure. They understood what we wanted from the scene and they produced! I appreciate their hard work and effort, and long nights and days on set.
The film takes thriller/horror to another level. I know that at least 1 in 10 suffer at least one episode of sleep Paralysis – I know I have suffered from night terrors in the past while growing up!
Defarious is a must see film. If you want chills up and down your spine – you'll get it from the start is the film! Go watch it now at www.DEFARIOUS.com
Follow the film here:
Instagram: www.instagram.com/defariousfilm
Facebook: www.facebook.com/defariousiscoming
Website: www.DEFARIOUS.com
#rfentertainment
Thanks for the interview!