First of all, why don't you introduce yourself to those of us who don't already know you?
Hi Mike, thanks for having me! Sure. So, my name is Aljosha Horvat, I'm an actor. I've acted in Alarm für Cobra 11, which is a German action TV show that's aired all over the world. Americans know it from the network V-me. I was also in Leipzig Homicide and Beautiful Bitch. I'm also known for acting in Ein Dorf Schweigt, Still, Alles Bleibt in der Familie, and Justine.
Very basic question, what drew you to acting in the first place?
(chuckles) That's a good question. I've always been drawn to stories and acting always seemed to me like the most grand way to tell stories - it's what creates the most convincing illusion that the story the audience experiences is actually real, compared to reading or being told a story. Also, my mother used to work as an actress which definitely was conducive for deciding to go down that road.
As far as I know, you started your acting career comparatively early in your life with the movie Beautiful Bitch - so do talk about that movie for a bit, and your early on-set experiences!
That's right, I first started out with Beautiful Bitch, which was kind of my "big break". I was 14 when I auditioned. That was my first film and it was a big role, at the center of the action. The film was about Romanian child thieves that were taken from the streets in Bucharest and brought to Düsseldorf, where they were trained how to steal like pros. It was a pretty intense story and a super intense part to play, especially for a 15 year old. I auditioned at 14 but we shot in the summer of 2006 - I was 15 by then. The boy I played, Constantin Mitulescu, that was my part, was 14 and had a history of substance abuse. He would sniffle glue and varnish. So that was pretty intense to play for me, having been brought up as a privileged white kid in a good neighborhood and art-oriented school… Especially in Düsseldorf, which is this very immaculate city, even by German standards. I really had never been in touch with this kind of severe poverty and hopelessness in kids my age, so that was a culture shock. But I appreciate the education in worldliness working on this movie gave me very much in hindsight.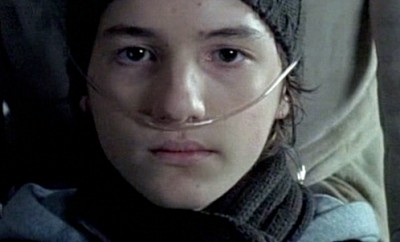 Alarm für Cobra11
I most remember about the character how angry he was. He just felt so screwed… and to powerless to change his situation. Which forced him even deeper into his addiction. I remember, make-up had to apply this silver paint to my fingers and mouth every morning because I was supposed to look like I was smelling at this silver varnish all day long…
In Beautiful Bitch I also had my first closed-set scene. That's when only those teammembers are on set that are absolutely essential. It's a euphemism for sex-scene. In this case it was just me jerking off under the covers. But since I was just 15 and minors doing anything remotely sexual on screen is always kind of iffy, they had to do this carefully and give me a lot of space.
What can you tell us about your actual training as an actor?
(laughs) Believe it or not, I did start young but I also received training. At the William Esper Studio in New York, under William Esper. He was voted best acting teacher in New York twice by the industry paper Backstage.
Do talk about your acting career in Germany for a bit, and how did you evolve as an actor over the years?
Beautiful Bitch was shown at Berlinale and at many festivals around the world, it won the price of the jury at Santa Barbara International Film Festival and then was picked up by a distributor and theatrically released all over Germany in the CinemaXX theatre franchise, which is like AMC and Regals in America.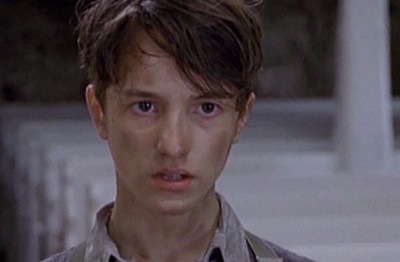 Ein Dorf Schweigt
After Beautiful Bitch, I was offered a lot of parts for a lot of pretty accomplished European shows. The first thing after Beautiful Bitch, I think, was Alarm für Cobra11. That was a pretty sweet gig. The first time I did an action production. I played this kind of innocent kid with a heart disease that finds out that his mother is planning on killing a woman to get that new heart for him. On the way the two deal with a lot of car chases and shoot outs and all that good stuff. That episode I acted in was the season opener, we had almost 20% viewership that night. That episode cost over a million Euros to produce… I was tied to a wheelchair the entire time, but I tell you… Even filming it felt like action (smiles).
I also worked on Ein Dorf Schweigt, which was set in 1945 just after World War two. Completely different to Alarm für Cobra11. I played a denunciator. That is someone who tells on a soldier that deserted the war. Back then you got the bullet for deserting. It was a super interesting part, cause I got to play guilt. Actors love that. Or maybe it's just me. I love playing guilty. In extension, by denunciating, I had killed that other soldier. In the story, I was hiding just outside our village after an explosion that left me presumed dead. Only I wasn't dead; my mother just staged it that way. She was hiding me until I could escape to America (denunciators were presumed Nazis and heavily interrogated by the G.I.s). This film was nominated for best German TV film of 2009 together with only the 8 other best films of the year. That was such an amazing experience.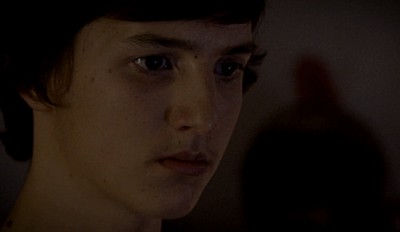 Soko Leipzig
Later, I did Soko Leipzig, where I played a murderer. Super cool! I was 18 at that time and my character only 16. The show was about this boy that was living in his parents house, but on the weekends the parents would host swinger-parties in the basement. And my character would install web cams in the basement to kind of spy on all the patrons. However, he fell in love with one of the females… It was her body that was found at the beginning of the episode and that the whole story was about. My character had confessed his undying love to her but she had refused him. And my character killed her. A very volatile young man. That was also interesting to play, since volatility is rather removed from me.
In the same year, I had another lead in another WWII drama. Still, which was produced by German Film Award winner Lars Kraume and producer and acting legend Jürgen Vogel. I played the oldest of 5 children that had to keep the group together and hide from German soldiers. It was a film about how far you go and what you are capable of under extrem pressure. That, also, was really educative about the human soul in general. There was a scene where one of the younger boys started to uncontrollably cough at a moment when we all had to keep very quiet since we were in ear-shot from soldiers. In the scene I put my hand on his mouth to keep him quiet, but so frantically that I don't see that I am suffocating him. And I accidentally kill the boy. But it's these extreme and psychologically deep characters that make acting the most fun.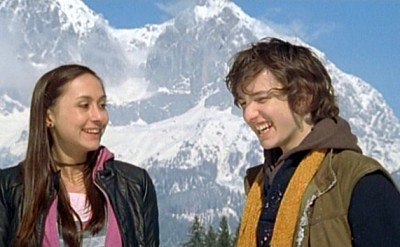 Soko Kitzbühel
In 2010 I had the lead in the season opener of Soko Kitzbühel. Boy, my first day on that set is definitely among the toughest days I've ever had on any set. The crew and the directer were incredibly gifted and accommodating and everyone was so kind. But sometimes days can still become very full simply for scheduling reasons. That day, anyhow, besides that we just had to shoot a huge amount of scenes, much of it had to be done in deep snow. It was so cold, I can't even - my partner and I had to "happily play in and with the snow". I couldn't feel my feet, couldn't feel my hands, my face, I was just one ball of pain. They had to do these 15-minute breaks just for me so I could warm up with two assistants blowing hot air from blow driers on my extremities! Man, I'm kind of a baby when it comes to cold weather. I think that has to do with my Croatian side. I was sick for two weeks after this.
But yeah, I loved Soko Kitzbühel. Fun fact: I had the lead but I didn't have one line of dialogue. That's cause my character was mute. That was pretty interesting to play - such a big part but no words to communicate with.
Eventually, you have moved to the USA - to ask quite bluntly, why?
Expanding my reach to the US really came quite naturally. Many of my earlier, Europe-produced projects were international to begin with, so I did have a presence in the US. Then I was offered to make Justine, a movie about the heroine going by the same name. I accepted and the film became a success, so more offers kept coming.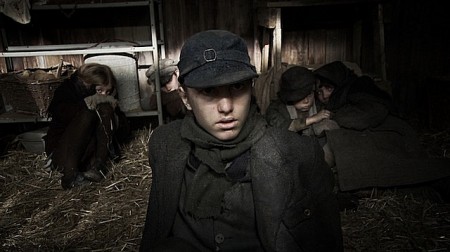 Still
Justine was the first time I wore women's clothes on screen. It was the first time I acted a female character. It's a completely different kind of acting challenge. I worked with a very insightful and patient directer - Eric Shahinian. Although we didn't have much time to shoot he gave me all the time I needed. And with some takes I did need a lot of time. It wasn't only playing a woman - it was also playing an American for the first time that proofed difficult. But Eric and the entire team couldn't have been more professional in giving me what I needed.
Based on your experience, how does the film business in the USA compare to Germany's filmworld?
The US are faster paced. Often you audition for a project only days before the first day of shooting. That's different in Germany, where you're called in to audition often months before a project starts.
As an immigrant, how easy or hard is it to score roles in American movies, actually?
In terms of how hard is it to get parts in the US as a foreign actor I can tell you it's the same as it's everywhere in the world. You either get called in to audition or are offered a part outright. In the beginning in can be a little daunting, because the US are so prestigious when it comes to their entertainment industry. But really the work you have to do is the same
Any current or future projects you'd like to talk about?
Yes, please all tune in to the second season of Super Wings on Sprout network! I play Felix!
How would you describe yourself as an actor, and some of your techniques to bring your characters to life?
There are no hard and fast rules for acting. You just have to go with what feels right. I understand this isn't really fruitful advice for aspiring actors (laughs) but then again I'm an actor and not a teacher. Teaching how to act is an art in itself which I have great respect for.
Actors (and indeed actresses) who inspire you?
Anne Bancroft in The Pumpkin Eater, Al Pacino in Dog Day Afternoon, Jennifer Lawrence in American Hustle, Ralph Finess in Quiz Show.
Your favourite movies?
La La Land (by Damien Chazelle), The Graduate (by your name pal Mike Nichols), The Treasure of the Sierra Madre (by John Huston), Manhattan Murder Mystery (by Woody Allen), Up in the Air (by Jason Reitman), Good Bye Lenin! (by Wolfgang Becker).
... and of course, films you really deplore?

Feeling lucky ?
Want to
search
any of my partnershops yourself
for more, better results ?

The links below
will take you
just there!!!


I wouldn't say I hold grudges against any movies. There are some films I'm just not that interested in. But generally speaking, there is so much work going into making a single film, done by so many different people, that no movie deserves contempt. I can almost always find something I like about a movie.
Your website, Facebook, whatever else?
I don't have a website and I do try to keep my personal Facebook personal.
Anything else you're dying to mention and I have merely forgotten to ask?
Again, thanks for having, it was a pleasure.
Thanks for the interview!