Back in 1988, you starred in the low budget movie Cannibal Campout. What can you tell us about that movie?
Cannibal Campout is a campy, weird, low budget, cult horror movie. It is a about a two naive young couples that go on a weekend camping trip and run into three redneck brothers who have isolated themselves from the rest of the world and swore to their dead mother never to eat processed prepackaged junk food. Instead they hunt and eat unsuspecting campers. The people this movie appeals to fall into two groups, (1) those that love gore and think Cannibal Campoutt has some of the most over-the-top, vile, disgusting scenes they have ever seen (some of the people in this group scare me) or (2) those that think of Cannibal Campout as a goofy splatter movie spoof.
I fall into this second group. I have always thought of the cannibals in our movie as The Three Stooges.
They were all great, especially Rich Marcus. He came up with so many hysterically funny ad-libbed lines. This is a funny movie. Some of funniness was part of the script but a lot of it was unintentional. We all had a lot of fun making this movie and I think that comes across the screen.
And what about your role in the film?
We all used our real names in the movie. I played Amy a young student who breaks the news of her pregnancy to her boyfriend (Chris Granger) while on a weekend camping trip. There is not much character development in the movie so there really isn't too much I can say about her. She screams, runs a lot, and gets bloody, very bloody.
How did you get the role in the film, and weren't you scared away by the title Cannibal Campout?
My friend Carrie Lindell had done some work in TV commercials. Carrie was a drum majorette in a Twix cookie commercial and a punk rocker is a stairwell for a fruit rollup ("Good and Ugly") commercial. She met Jon McBride [Jon McBride interview - click here] at a party, learned that Jon was making a horror movie, and got me involved. I did not know what the title was in the beginning. I just knew it was a horror movie.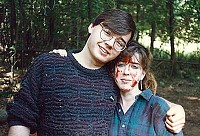 Amy Chludzinski with co-star Christopher Granger
What can you tell us about your experiences whille making Cannibal Campout?
I remember the first day of shooting. Carrie and I got into a car with a strange group of guys whom I had never met before to drive to the site of the shoot. The car was full of very real looking knives and machetes. I remember thinking "Carrie! What have you gotten me into!". The thought crossed my mind that these guys might be making a snuff movie and we might not be coming back. LOL!
I also remember we used to meet at the old Caldor Shopping Center in Ridgefield CT and drive to the shoots from there. One day after a particularly bloody shoot I was dropped off at the Caldor Shopping Center and my boyfriend had forgotten that he needed to pick me up. So here I am sitting on the curb covered in fake blood waiting for my boyfriend to show up and people start gathering around me asking if I'm OK and wanting to call me an ambulance. I tried to explain that I was making a movie and it was fake blood but this one sweet old guy just didn't seem to get it and would not leave me alone. Thankfully my boyfriend finally showed up and got me out of there.
Oh! And you know my scream? The one right after the cannibal played by Gene Robbins pushes my face into Jon's open intestines to force me to eat my friend? That was a real scream! I didn't think they were going to really push my face into that muck.
And then there was the park ranger incident. We were shooting what Jon McBride calls guerilla-style. Meaning were did not have permits or permission to use any of the sites we used. When shooting in a state park one day a park ranger stumbled upon us and sees a guy chasing a girl with a knife. We are lucky the ranger didn't shoot first and ask questions later. Jon explained what was going on and tried to get the ranger involved in the movie but we got kicked out.
Other than most horror starlets, you actually had some training as an actress. How come you never made another film?
The answer quite simply is that no one ever offered me another role, but then again I really did not pursue acting seriously. I suppose that if I had put a little more effort into it I may have gotten a few more roles but I don't think I could have made a living at it.
At one time or another I think all young girls dream of being a star as I did … and then they grow up. It is a long shot. Only a few with the talent, the right look, and a lot of luck can make a living at it. There are 20 millions of want-to-be actors and actresses out there who will put their whole heart and soul into their dream and sacrifice everything despite the odds. I know one or two of these people. They are now actors/waiters pushing 50 and still waiting on their big break. I admire and pity these people. Well maybe pity is not the right word because they are doing what they want … but that lifestyle is not for me.
That said I had a lot of fun doing Cannibal Campout and would think about doing another under the right circumstances.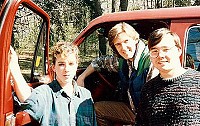 Amy Chludzinski with Jon McBride and Christopher Granger
A few words about the Cannibal Campout's co-director/lead Jon McBride [Jon McBride interview - click here] ?
Jon McBride called me out of the blue in the fall of 2006 to tell me Cannibal Campout was being rereleased on DVD and asked if I would like to shoot and interview and commentary for the DVD. That was the first time we had been in contact for almost 20 years. We still haven't seen each other in person since Cannibal Campout was originally released back in the late 80's. All the coordinating for the DVD was done over the phone or email. What I remember about Jon was he was a great guy with a great off-beat sense of humor. We all worked very hard on the Cannibal Campout but it was Jon McBride's baby. He was very passionate about this project and made it happen.
Jon went on to make many more independent horror films on his own and with the Polonia Brothers but he has also small parts in some mainstream movies and TV as well. Every time I see Running Man on TV I try to catch a glimpse of him. You have to be careful not to blink or you might miss him.
How was the reception of the film upon its original release?
Back in 1988 when Fangoria magazine originally reviewed Cannibal Campout they said "Four bad actors are tormented in the woods by four equally inept thespians. The good guys are forced to eat each other in one of the grossest scenes this side of H.G. Lewis [Herschell Gordon Lewis bio - click here]. What happens to the pregnant girl will probably repulse even the staunchet vidiot." Is that a good reception? Good or bad it was just an honor to even be mentioned in Fangoria.
Were you at all surprised that the film only recently got a second lease of life on DVD?
I am surprised the film had a first lease on life. It blows my mind that it was distributed worldwide and that we are still talking about 20 years later.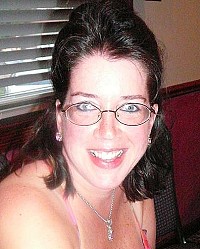 Amy Chludzinski today
Your career (acting as well as otherwise) after Cannibal Campout, and what can you tell us about your life now as a retired horror starlet?
There really isn't much to tell. I am a normal, boring, working mother and wife. It is not like people on the street recognize me and say "Hey! Aren't you Amy Chludzinski from Cannibal Campout?"
Would you ever give acting in a horror film another try?
Yes I would but if it was not a paying-gig it would have to be something that does not interfere with my day job. I haven't exactly gotten rich off Cannibal Campout.
Is horror a genre dear to you or was it just a coincidence that Cannibal Campout was a shocker?
I love all genre movies including horror but it was just coincidence that Cannibal Campout was shocker. I just wanted to act. If someone offered me a love story, action adventure, or comedy I would have been just as happy to do that.

Feeling lucky ?
Want to
search
any of my partnershops yourself
for more, better results ?

The links below
will take you
just there!!!

Find Amy Chludzinski
at the amazons ...

amazon.com

amazon.co.uk

amazon.de
Looking for imports ?
Find Amy Chludzinski here ...
Something naughty ?
(Must be over 18 to go there !)

A piece of trivia: Many years ago you were neighbours with Tom Savini. What kind of a guy is he?
Yes. That is true. When I was a kid Tom Savini was a neighbor. Tom and his partner rented a house on Sunset Pass in Georgetown CT just down the street from my mom's house. My older sister Keli and I were walking around neighborhood one day and we saw a couple of guys doing weird stuff with an axe and fake limbs in their garage so went over to ask them what they were doing. It turned out that they were preparing the gags for the Friday the 13th movie. My sister Keli ended up dating Tom and moved in with him for a while. There was a significant age difference so Tom was as they say robbing the cradle. Keli knew him much better than I did. One thing I remember Keli telling me was that Tom was always sneaking up on her to try to scare her. I did not know Tom well but thought he was a nice, friendly guy who was really into his work.
Some actors/actresses you really look up to?
There are many actors and actresses I wish I could be like. Paul Newman or his wife Joanne Woodward come to mind right now . It might be because it has been in the news lately that Paul might be losing his battle with cancer. I respect and admire them both not just for their talent but for what they have accomplished with their lives. They took their talent turned it into fame and fortune then used their fame and fortune to give back and make a real difference in the world though their charities. And they did all this without making a spectacle of themselves. They are a class act. I imagine Paul Newman now at the end of his life looking back and thinking to himself "I did good". How many of us will be able think that when we leave this life?
Your favourite movies, both recent and all-time faves?
I am a movie addict. I rent about one movie per night and go to the cinema once or twice per month. I like all kinds of movies and have lots of favorites for different reasons. For example I love the movie Against All Odds because my husband took me to see it on our first date. It wasn't the greatest movie but it is special to me. I try not to overload on any one genre of movie because I find I can become desensitized to a genre and it loses its effect on me. Since this interview is about a horror/gore movie I will stick to my favorites in the horror/gore genre:
Phantasm, the original Night Of The Living Dead, the original Dawn of the Dead, the original Halloween, the original Friday the 13th, the original Nightmare on Elm Street, and Hellraiser.
Each one felt familiar like some bizarre horrible nightmare I had once but forgotten about. They all scared the shit out me. I suppose it was because of the time in life when I first saw them. If I were born at a later time I might have other favorites but these were the first really scary movies I remember seeing and they have stuck with me. There are a few exceptions but most of the newer horror flicks just don't have the same effect on me. I changed as I got older. The things that really scare me now are George Bush jr, the greedy morons running some our largest corporations, and terrorists. They are really fucking everything up for the rest of us.
Anything else you are just dying to tell us and I've plain forgotten to ask?
The DVD release has a bunch of extras including interviews with the cast. You get to see what we look like now and hear stories about the making of Cannibal Campout. There is even a music video.
I found a punk band called the Vladimirs on the web (http://www.myspace.com/vladimirs) that wrote a song called Cannibal Campout and learned it was inspired by our movie. I hooked them up with Jon and he included it on the DVD.
Chris Granger who played my boyfriend in the movie now owns his own studio and production company called Granger Musik and VideoWerks (http://www.musikwerks.com/index2.html). Chris, Rich Marcus, Gene Robbins and I had a little mini reunion here and shot some of the interviews that were included on the video. It was great to see those guys again. For that one day it was like the last 20 years never happened.
Thanks for the interview.