Your movie 72 Hours - in a few words, what is it about?
72 Hours is, in the simplest terms, a woman dealing/coming to terms with the first hours and days after the zombie apocalypse.
What were your inspirations for dreaming up 72 Hours? And was there an actual script for the movie, or was it improvised on the spot?
72 Hours was based on my very real fear (and halfway hope) of a zombie apocalypse. I'm hoping a zombie apocalypse would wipe out all the undesirables in the world and what's left, the rest of us would deal with because there would be no law or authority to stop us.mBut...worthless humans wouldn't be all we'd have to contend with. The basics we so take for granted, would become exercises in survival. No more running to the store. Well...it would be in a literal sense, depending on your mode of transport and what you find when you step out of your house. I'm a zombie apocalypse prepper for sure, but I can't help but wonder if I'm as ready as I think I am. So 72 Hours was born out of my own real fears, worries and insecurities.
As for the film... freestyle, no script, no planning. I just sat in my bathroom and shot it, as you accurately guessed, first on my tablet, then switched to my phone.
With 72 Hours being a zombie movie, is that a genre you're particularly fond of?
Always have been, always will be, though I'm seriously disillusioned with what passes for anything "zombie" today.
Reality check: If there really was a zombie apocalypse, how well would you be prepared? And with that in mind, how much of Andrea Dean Van Scoyoc can one find in your character in 72 Hours?
I'd like to think I'm ready... but am I? I want to find out, but there's no dress rehearsal...no do over if I'm not. That scares the hell out of me. The me in the film is the me during a zombie apocalypse. Just a little less tired, I hope. Ha ha!
72 Hours is rather unique within the zombie genre as not one single zombie can be seen or heard - so what was the idea behind this approach?
Generally, as a rule, I detest "found footage" films because it's obvious they're anything but. Check the credits of any of them. If it's footage that someone was shooting on their own, there was a heck of a lot of people involved! Everything is too fake... too Hollywood, which is sad, because Hollywood shouldn't set the standard of what we watch. WE , the viewers and fans, as well as the filmmakers should be telling THEM what we want to see. Not them telling us. So... I set out to do something simple, something that could be any average Jane or Joe dealing with the unthinkable. It's ironic too, because one of the first reviews I got, was from someone claiming to support indie film and the first thing they pointed out was my lack of, what would have been considered, Hollywood worthy, special effects. You can't claim to support indie anything, and want it to be so stylized that it's anything but.
72 Hours was filmed in one long take - so what kind of a strain did that put on you as an actress, and how often did you re-shoot before you got it right? And what can you tell us about the shoot as such, actually?
I've been in the acting and movie world, in one way or another, albeit very minor, for over 20 years and I actually have worked with true indies who didn't have cell phones, tablets, etc, to use. They used the old fashioned, hand held cameras that used VHS tapes - yeah...showing my age. These people truly were indie, truly had little to no budget and no way to utilize anything but very basic special effects (think a step above rattling a metal sheet, for thunder), so I was told very early on that my takes HAD to be done in ONE take. If I screwed up a take, I'd better cover it up, improvise and go on... unless I'd messed up so badly production had to be halted. If I wanted to keep my jobs, I nailed every take, every time, except for once and the director didn't like what I was doing with my hands, during the take, so he wanted a retake, with my hands, still. But that was his choice... so I was relieved. Seems harsh, but, I'm eternally grateful because the minute I step in front of a camera, I'm "on."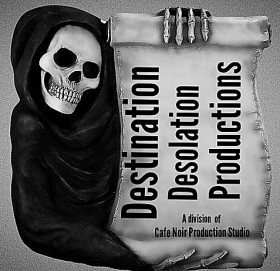 I've given presentations at conventions, I've given 'drop-of-a-hat' media interviews, where a camera and mic were thrust in my face. Without that harsh training, I'd never be able to do that. I can also ad lib better than most pros... because there have been times I HAD to... my job depended on it.
With all that said, the film was shot in two takes... first with my tablet and then with my phone. I filmed with my tablet until the "break" in filming where I pretend the battery or signal, gave out. What actually happened was my dog started whining outside the bathroom door (she used to be the co-host of my zombie movie review show, From Zen to Zombies, so she's used to being involved in everything I do and voiced her displeasure at not being included), so I took that opportunity to improvise the battery/signal failure and then had to do so, again, when a firecracker (I filmed it on the 4th of July) went off outside. I knew my phone mic would pick it up, so, I improvised the comment about the "gunshot."
The $64-question of course, where can 72 Hours be seen?
Right here: https://youtu.be/Vx1ZZ5gVYP0
Anything you can tell us about audience and critical reception of 72 Hours?
Very few people have "gotten" 72 Hours, so the response has been mixed. Those free thinkers, tired of all the crap today, love it. Those who think every film should look like it has at least a mill Dollar budget, don't like it. I guess film fests fall into that category, because I've received nothing but rejections. I run my own film fest, and all I accept are off the cuff and unique films. So... I guess we're a small group.
Any future projects you'd like to share?
I am also a DJ mixologist and one of my songs is currently being used in a short film. I can't give any details because it's still in production, but I'm excited about that.
My newest MP3 collection is out. Neon Abyss is on Amazon, Spotify, IheartRadio and can be heard on various stations around the world. I'll be releasing my second collection (name's a secret until the official release party) on September 1 of this year.
I also plan to, at some point get back behind the camera. I have one more short to film before I take a break to focus more on my music.
From what I know, your main claim to fame is as a writer - so do talk about that aspect of your career for a bit, and about your writing in general!
Not much to tell. I was as rebellious with my writing as I am with my filmmaking. I embraced, supported and promoted self-publishing back when it was a career ender if you went that route. My first book, The Two, was a Borders best seller and my subsequent books, A Man of Two Worlds and Michael, went on to win awards... so I proved that bias to be wrong. Now look at self-publishing. It's everywhere!
What got you into filmmaking eventually, and did you receive any kind of education on the subject?
I'm the biggest opponent of specialized education there is. Education is a waste of time, because it strips you of any of your own creativity, in favor of what is accepted in whatever field you enter. People always were so shocked when they asked what college I went to for my writing skills and I'd laugh. My teachers thought I had no talent for storytelling because MY type of creativity wasn't acceptable. It didn't fit with "normal" standards. Good thing I knew better! As for my films, they are the same way... very short, very strange (I have a penchant for macabre and creepy avant garde), and any attempts I've ever made to try and get ANY of my works filmed (until recently) were disastrous failured. I knew if I wanted my work filmed, I'd have to do it myself. So... I did, thanks to technology and cell phones and tablets. Both of my first films, The Journey and Morningstar, were shot on my tablet. 72 Hours, tablet and phone.
What can you tell us about your filmwork prior to 72 Hours?
My heart loves a good and creepy avant noir, so my first two films are just that.
The Journey can be seen here: https://youtu.be/TrUUJ4kdT7o
Morningstar here: https://youtu.be/jzFIYNumKWA
I also have other microshorts up on that playlist, which is my production company, Cafe Noir Production Studio. My other imprint for odder projects is Destination Desolation Productions. You can find all of my projects on my YouTube channel.
How would you describe yourself as a director?
Truly unconventional, truly independent, truly my own personality.
Filmmakers, writers, actors, whoever else who inspire you?
Unfortunately, none. Far too many folk in all of the above try to fit the mold and just further what's already tried, done and tired. Sigh… Life tends to inspire me. A stretch of road, a tree... artistic eyes come in different guises. Too bad that is shunned rather than embraced.
Your favourite movies?

Feeling lucky ?
Want to
search
any of my partnershops yourself
for more, better results ?

The links below
will take you
just there!!!


Horror... though I really despise what the horror genre has become.
... and of course, films you really deplore?
Chick flicks (gag) and anything romantic. Gag, gag, gag...
Your/your movie's website, Facebook, whatever else?
Just come find me, here: www.thebohemiancelt.com - you'll either enjoy yourself or report me to the FBI... which has been done... twice before because of my book content.
Anything else you're dying to mention and I have merely forgotten to ask?
Find me on Twitter... which is where I do most of my promo, I'm @DJMistressM
Thanks for the interview!
Thank YOU!!