Your new movie Bruno - in a few words, what is it about?
Bruno is a coming of age story about a teenager who grows up in a dysfunctional family and therefore struggles with his own identity and sexual orientation.
What were your sources of inspiration when writing Bruno, and is any of it based on personal experience or the like?
All my art is personal. I couldn't imagine to write, act or direct something that has nothing to do with me. Bruno is based upon my own struggle to accept myself, especially as a teenager. I also had the honour to witness some of my closest friends come out of the closet and I think it's the perfect metaphor for the struggle of authenticity we all have to fight.
As far as I know, Bruno is your first film as a director - so why did you pick exactly this story, and what made you want to try your hand at directing in the first place?
I don't think I picked Bruno, I think Bruno picked me. I had the image of a single mother abusing her children in my mind for a very long time and suddenly I thought about how her children would feel and the rest of the story devolped itself in a train ride from Frankfurt to Berlin. I directed another short movie and two theater projects before. I always loved directing, because I love to take responsibilty and be able to tell the story in my own way. It is awesome to put a team together, create art and then hopefully change the world with it. Making art is very powerful.
What can you tell us about your directorial approach to your story at hand?
Well, I wrote the script, so as a director I already had a good picture of the story, that I wanted to tell. I let cast and crew in on it on a very deep level and they understood, how personal I intended to tell the story. I very instinctively choose the people I wanna work with, not because of their resume, but because I trust their abilities as artists. I let them feel where I want to go and then I let them loose in order for them to show me their ideas. I also make sure that everybody is treated equally on set and that everybody can contribute their individuality to the project. So I, for example, was convinced that being close to the backs of the characters would make the audience feel them very intensely, and when I told this to my DOP, he came up with the idea of showing the mother in the bathroom from a very wide angle, because we loose contact to her. I thought this is brillant, and so we did it. With the actors I worked on scenes that happened before our story, so that they were able to portray a human being and not just deliver some lines. Since I am an actress myself, I really take good care of my actors and make the crew aware of the sensitivity of each scene, so that the crew is focused. Since Bruno is the main character, I probably had the closest relationship with him. We understand each other blindly and so I just made sure that he feels safe enough to open up. Working with him is an incredible blessing and I will definitely continue to do so. I am a passionate but structured director and I make sure that my crew is as well. So every morning I talked to the whole crew and prepared them emotionally for what we were going to shoot. I kind of deliverd a motivation speech like a football coach and they loved it.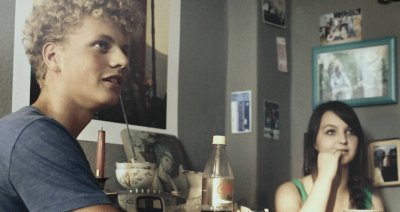 You also play the lead's mother in Bruno - so what can you tell us about the character, what did you draw upon to bring her to life, and how much of yourself do you see in her? And have you written her with yourself in mind from the get-go?
It was clear from the beginning on that I will play Bruno's mom. The character is a troubled and overwhelmed person. She struggles with herself because her husband just left the family and she doesn't know how to handle her kids. As an actress I'm not afraid to go to deep emotional places, so the role was perfect for me. When I was young, I witnessed my own mother going through the same situation and I drew a lot from that memory. I couldn't imagine somebody else doing a better job, so I decided to play the role myself.
What can you tell us about the rest of your cast, and why exactly these people?
I already wrote the story with the particular actors in mind. They are students of my acting school Young Talents and we had been working together for years prior to the shoot. So it was perfect, cause we understand each others abilities, sometimes without saying anything at all. I always wanted to extend our experince from class into something bigger – and so I did. Bruno Bremer (Bruno) is one of the most talented teenage actors I've ever met and it was clear that one day I was going to work with him. He is incredible smart and not afraid to show himself in a vulnerable place, which is perfect for me as a director. Jolanthe Pruefer (Jo) on the other hand represents the perfect teenager for me. She is able to show her anger and strength and she reminded me a lot of myself as a 13-year old. Ricco Boateng (Rick) is a very spiritual human being, who lightens up your day and brings a warmth to every character. I am very grateful to have been able to work with them.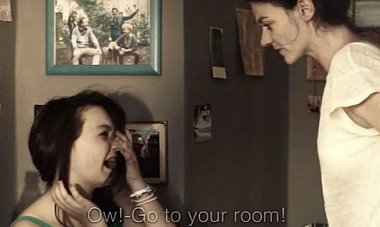 Do talk about the shoot as such, and the on-set atmosphere!
Since I produced the movie myself, I made sure that everything ran very smoothly. After the shot my DOP said to me: 'I've seldomly been on a set so well organized!' And it's really true. Everything was set up very carefully and my associate producer Hendrik Flacke, as well as Thomas Koessler, who produced award winning movies for major companies such as Mitosfilm beforehand, had been great advisers. The whole time the crew was extremely concentrated and focused on the mission to tell the story. They were all incredibly determined. That actually helped a lot.
The $64 question of course, where can your movie be seen?
The movie had its US premiere at the Out on Film in Atlanta on September 30th, its European opening night at the European Filmfest in Berlin on October 6th and its NYC premiere at the NewFilmakers on November 23rd. We also have been invited to the Kids First Festival in New Mexico and the Garden City Filmfest in India. This means Bruno will be screening worldwide, which is a major achievement for me as an actress, director, producer and writer at the same time.
What can you tell us about audience and critical reception of Bruno so far?
The press loves the movie. I gave interviews in Atlanta and Berlin and everybody is very excited about the unique and subtle way the movie is told and the combination of me being writer, producer, director and actor in one person. Even the festival director from the Indian Garden City Filmfestival contacted me in order to invite Bruno to their festival. I am very honoured and I'm looking forward to hear more from the audience itself. In Atlanta the audience was ver impressed and showed a lot of emotion, so that festival director Jim Farmer decided to show the movie again.
Based on your experiences with Bruno, could you ever be lured back into the director's chair again? And/or other future projects you'd like to share?
I remember on the last day of shooting I said to my producer: 'I think I'm the happiest person on earth right now. This is what I wanna do for the rest of my life!' So 'yes', I am going to direct again! I am preparing a major theater project right now. It is going to be a cooperation between the US and Germany. And of course I will continue to direct my own scripts as well. I just finished writting Johanna, a spiritual journey of two women, who have to decide whether to live or die, but someone else will direct it, because I am going to play the lead role Ana. I will also finally play Lady Macbeth in a Shakespeare adaptation for the award winning production company Oblivion Films and I am very excited about it. And I can't wait for the release of Katie Fforde: The Perfect Match, which I shot with the well known director Frauke Thielecke in Boston. It is a TV series, that's going to be released in January and I starred alongside my famous colleague Diana Amft.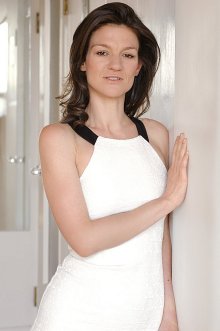 Your main claim to fame is of course as an actress - so what got you acting to begin with, and what can you tell us about your training as an actress?
When I was 3 years my older friend Gabi hired me for her circus and ever since I never stopped acting. I always did it and I love it and so I continue to do it. Acting is a combination of art and technique and I like to balance both. I train with famous coaches such as Susan Batson, who trains Nicole Kidman and Tom Cruise and I also studied with Larry Moss, who is Leonardo DiCaprio's personal coach. I learned a lot from them and I am very close with Susan, since we are working on producing a show together. I include a lot of energy work as well, which is a special approach, that helps me to be very authentic on screen and stage.
What can you tell us about your filmwork prior to Bruno?
The first short I directed in college directly won a price at the Filmfestival in Bavaria. As an actress, I've already started working on films when I was still in acting school and the first movie I starred in went to the famous Max Ophuls Awards. Schoenefeld Boulevard, which I did with the award winning director Slyke Enders was screening at the famous Munich Filmfestival and I am very grateful to have worked with her on this wonderful story.
At the same time as Bruno is screening all around the world, the webseries Storm of Knowledge, where I play a dedicated physicist, is nominated in the category drama at the Webfest in Berlin. And it also screens in another webfest in Dublin. My close friend, the aspiring Andre Jagusch directed it and we had so much fun working on set together.
Besides doing movies, you've also done your fair share of stage acting - so what can you tell us about your career as a theatre actress, and how does performing in front of a live audience compare to acting in front of a camera? And which do you prefer, actually?
I already started working for theaters in Germany while I was still in acting school. I starred in Homeland 24 and in Harold Pinter's The Lover. After I graduated I played the lead in Engagement in St. Domingo directed by famous Tobias Kratzer and I had a lot of fun with his experimental approach of the piece. Nothing better than smearing yourself with bodypaint, while dancing to loud music. The audience was stunned and I could feel it. I also loved working with Ingo Putz in Hildesheim, where I played the fairy in Dwarf Nose. I remember a specific moment, when I came on stage and all the kids started booing. In that second my heart broke, but at the same time I was very happy, because I knew I was convincing in playing the villain. I love being on stage, it is very exciting and can be a hell of a thrill when you forget your lines, but also incredibly funny when you have the right partner. Once I forgot to bring an important prop on stage and my colleague saw it right away. We both started laughing and couldn't stop during the whole scene. Well, we had to go on, that's stage. In theater you also rehearse a lot and I like that, because you can really experiment together as a group. In film I like that I can explore a scene very deeply and I don't have to worry, if I can get there tomorrow as well, because it is already on film. In general acting on stage or in front of a camera is very similar to me. I always look for the essence of my character and once I found it, I adapt it to the size of the room.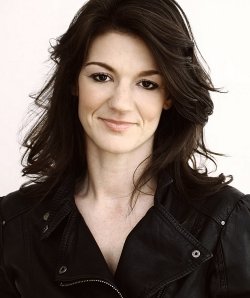 How would you describe yourself as an actress?
I am very well trained, I know my craft, I am incredibly passionate and sensitive and I have an open instrument. People who work with me realize this instantly. Once I fall for a project, I give everything I have and I don't stop until I explored everything there is. I just love acting, theater and film and I work hard to make a character come to live and be an authentic human being.
Actresses, filmmakers, writers, whoever else who inspire you?
The best theater performance I've ever seen,was Marc Rylance in Jerusalem on Broadway. He used his technique brilliantly and then opened up his whole soul and therefore delievered such an universal message. He touched me so deeply, that I started crying half way through the play and couldn't stop sobbing 2 hours after the show. I also spoke to him afterwards and he has such a humbled personality, that I can't help but admire him very much. I also love Jeff Bridges. He shows his personality with such a rare calmness in every single character, that I really adore him. My most favourite combination of actors in a movie is Sean Penn, Benicio del Torro and Naomi Watts in 21 Gramm. Naomi Watts also shows an incredibly huge range in Mullholland Drive, that she's just an inspiring colleague to me. I'm also inspired by Marina Abramovic, Bernie Sanders and Jesus. My favourite character is Aragon. I wish he would be real and marry me. And of course I wouldn't say no to Ryan Gosling, if he'd asked. I mean as an acting partner, of course.
Your favourite movies?
My favourite movie is Alejandro Inarritu's Amores Perros. It is such a well done piece of work, that I just love it! I also like Out of the Furnace. The movie is overlooked, but I have never seen someone act so realisticly on screen like Woody Harrelson in this one. For most parts I had to hide behind my pilllow, because I was so afraid of his character. My other favourite movies are Blue Valentine and Little Miss Sunshine. And I've recently seen Captain Fantastic, which is just an incredibly beautiful and smart independent piece of art. Please go and watch it!
... and of course, films you really deplore?

Feeling lucky ?
Want to
search
any of my partnershops yourself
for more, better results ?

The links below
will take you
just there!!!

Find Andrea Hintermaier
at the amazons ...

amazon.com

amazon.co.uk

amazon.de
Looking for imports ?
Find Andrea Hintermaier here ...
Something naughty ?
(Must be over 18 to go there !)

I rarely watch movies I don´t like. I either leave the theater early enough or I don´t pick them in the first place. But a recent movie that for me had a rather questionable approach was Whiskey Tango Foxtrott.
Your/your movie's website, Facebook, whatever else?
http://www.rw-management.de/model/andrea-maria-hintermaier/
Anything else you're dying to mention and I merely have forgotten to ask?
Thank you very much for the interview. It was a pleasure talking to you.
Thanks for the interview!