Your new movie Julia 17 - in a few words, what is it about?
It is reflecting a dark side of our society. Many of us are living almost unconscious to the fact that we are forced to invest most if not all of our time into working and so there is only a little time left which we can use to manage our own private life and probably spend our free time following our interests, and for our work we are not so much aware or we might not want to participate in the issues in this world. This has a very negative side effect because automatically there are only a few people left who are trying to take care of the problems of our society, but these can't do it alone. We must help them, we must recognize the problems, the issues and if everyone would just invest a bit of time, just a few minutes to think about a possible resolution and to have the courage to meet each other and to discuss and to do some action about it and to truly stand up for those especially the young people who are having major problems in this shady society, then we can provide the young generation not only the motivation but also the needed protection, support and we can offer them a better future. But this is a global project. And because we all are living on the same planet, we should be thinking much more about it. And not be ignorant or shy or silent. That's the worst reaction we can share if we hear or see someone in a critical situation. If we sense and we know that someone needs help or that there are negative things going on, then we must be actively involved in removing that issue and in helping others so we can also create for ourselves a safer and better life. If we can't join the Army then at least we should have the heart of a soldier. Action is what is needed so much more because we all want our children to be safe. And there is no future for humans without safe children. If we think about having a family, then we also must think about having a safe world. Please think about it.
How did the project fall together in the first place, and what made it so important for you to not only star in it but also co-write and direct it?
I wanted to create a project where I not only would have been involved as the director or the writer. I wanted to combine all of my filmmaking skills and acting plus my main interest to direct a movie about a deep message, a message to all of us about what we can do better. So I contacted all of those who I have thought would be the suitable partners for making my movie. Acting has always been a part of my "artistic" presence on stage or in front of the camera since the age of 3 years when I started the path of having my first photo shoot for an olympic career, and also had the first training at the age of 4. But I then decided that sports are not my interest. Not as much as being creatively involved on a theatre stage where I have played and danced, and also early on I have felt that the camera and the work from the crew and the directing and the writing interested me even more, and especially the fact that I always wanted to explore the world of film. So I studied filmmaking (directing, screenplay writing, acting) and managing where I met a lot of creative and interesting people during my travels around the globe. And also I had the chance to convince myself that the topic which I had chosen for my own movie is one of those which must be shown on screen, not only my screen but everyone's screen. And also my working partners realized that, so we all started my project right away which I am very grateful for. I had the possibility to expand my perspective in life during all my travels and this project. I'm very grateful for having the chance of working in this business even if it's a difficult one. But it is easier if we keep a clear mind and stay positively motivated as we must love our own body and our hearts and keep those strong. So if someone calls you a vampire or a monster because of your black eye color or any other physical aspects or any upsetting comment about your work, then just laugh about it. You'll meet those who know how to appreciate you for who you are and what you're doing.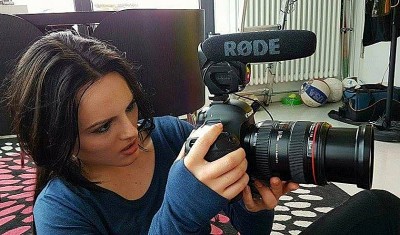 What were your sources of inspiration when writing Julia 17?
Well I read a lot, also when I travel I do read the local newspapers at the airports or the train station, and I have always read articles everywhere I had been and I saw news on television about this specific topic which I have shot my movie about.
You co-wrote Julia 17 together with veteran actor/director (and also co-star of your movie) Ulli Lommel - so what was working with him like?
He is a omniscient person because of his age and that's why I knew that he would be the right one to collaborate with for my project.
You have worked with Ulli Lommel before - so what can you tell us about your previous collaborations, and how did you two first meet even?
I had met him in Munich in January 2011 and then also around Munich. We had travelled Germany in 2013 to meet important people who would have been interested in my project. We then also have done a great interview for the movie FAME – Hunger nach Ruhm – which is a very interesting German movie for the French and German Arte TV, but also for European TV. And after that we worked on several other projects, including our highlight Campo Bahia.
How would you describe your directorial approach to your story at hand?
Not waiting for something to happen, instead always being active. Doing a lot of research, meeting the right people, writing scenes in the screenplay which haven't been shown that way yet, doing the best economical pre-production once the budget is set, having the right agreements and contracts so also having the prospective of the project what exactly is needed for, what will be needed for and drawing a plan for the budget, not going over budget but of course respecting everyone's work as for the payment, having all agreements on paper and not verbally (I recommend the agreements to be made in an e-mail, on paper and never during a conversation or on the phone), always being the head chief for the project and always having the power over your own project - nobody else should have that, starting the production which means being very focused on the budget, filming, crew, cast, locations, the companies you work with, the right equipment and logistics (you know that during the pre-production). If you're the director as well as the writer then you must be the supervisor of everything that's going on and also keeping an eye on the actors and always having an ear for them in case if they need your support, to understand your script better and of course you have to let them know that you know what you're doing (your job) and be calm towards them and always respectful as they're giving their best the same as you do. If something doesn't work out the way you want it to be then stop trying it non-stop and start thinking about a better solution (change the lights or the location or re-position your cameras in another angle or spontaneously change bits of the story) - just be like a magician on your own set and create something even better.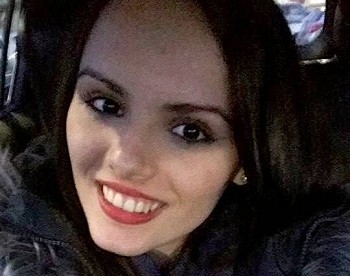 You also play the lead in Julia 17 - so what can you tell us about your character, what did you draw upon to bring her to live, and have you written her with yourself in mind from the get-go?
It's about a young woman who explores the world just as we all do and of course she has encounters with the wrong people and she has obstacles as we all do in life and that's why it's so necessary to be more focused on the young people. The engine of bringing her alive is the ignorance in this society. I always have on my mind the fact that many women are underrated or not respected just because they are women and maybe smaller and weaker than men, but women are the ones who have so much responsibility in their lives, who must manage their families and therefore being not respected enough in this society is just wrong. A man might have just one job or maybe work two to make enough money but the woman does as well plus she is capable to take care of the children and to give birth to children and to do so many other things. So we must support young women more and offer them a safe life.
What can you tell us about the rest of your cast, and why exactly these people?
I've had the honor to work together with a truly amazing cast and I'll mention some names: Wolfgang Flatz who is not only a important and famous artist but he also is a great person, then Berivan Kaya who plays my mother in the movie - she is a also a very talented German actress who knows exactly how to perform by using her own similar experiences from the past and giving the role she plays life, then the Jewish, German and American Mikael Schallock who was simply amazing in his role, and also Max Brauer who is a German stage actor and did a fantastic job.
Do talk about the shoot as such, and the on-set atmosphere?
The on-set atmosphere is always great if you (the director) prepare everything in detail.
I want to thank all cast and crew and of course the people who made this project and my working on my film possible. I had made a wonderful experience and it was only possible because everyone I chose to work with had respected me, despite my young age.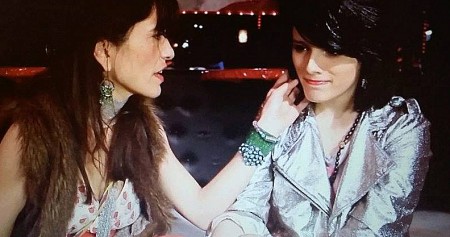 Andreea with Berivan Kaya
As far as I know there's a story behind translating the trailer of Julia 17 into English together with Idol Features' Chris Charles - care to elaborate?
I originally wrote the script in English, so Chris didn't help me with a translation, but rather he just made some edits to make a part of my script read perfectly while I was recording the trailer, which is what I wanted. Chris Charles wrote me that he "just needed to make some very minor grammatical corrections", he also reworded a few parts so they would fit better with some scenes in the film. Chris wants me to add his own words here as well, he writes "Andreea has helped me secure some interviews with some very interesting ladies in the past, as well as suggested some great topics for me to do articles on, so I was happy to help her out on this. In fact, the subject of an article I'm currently working on is how 12 ladies, all of whom I've interviewed in the past and one from each of the zodiac signs, are reflective of their individual signs. Andreea gave me the initial idea for that, and, of course, she is the lady for Libra!"
The $64-question of course, when and where will Julia 17 be released onto the general public, however tentatively?
This remains to be seen :-) Life is always full of surprises.
Any future projects beyond Julia 17?
I'm currently working on many other screenplays, I already have many screenplays since I started writing screenplays at the age of 13, so I've been writing scripts for almost nine years now - some of them will be my own projects, some of them will be the projects from other studios and of course I have some other projects as well.
I played Veronica in the movie Snapshot by Marcus Warren in UK and this one movie will come out soon, you can already google it.
So all of my credits are not on IMDb yet, but I will put them up soon
What got you into acting in the first place, and did you receive any formal training on the subject?
All I needed to act this role in my dramatic story was all my observations and informations I had captured in the past. Acting is only possible if you can reflect your own experience from your life through the role you play, this is what truly brings the character to life, so read the role and the scene and close your eyes and first of all remember a similar situation from your own life, even if it was for a moment and try to re-feel how you felt in that situation, then open your eyes and be that person from your own past in your now new role. You'll feel how real your spoken words suddenly sound like and how your emotions and your facial expression change because you start to truly feel the character your playing.
How would you describe yourself as an actress, and some of your techniques to bring your characters to life?
I studied Shakespeare at the Royal School of Speech and Drama in London and before that I studied the actors technique with the incredible Jack Garfein who did an wonderful movie with his ex wife Carroll Baker, and who was admired by Marilyn Monroe for his talent as acting coach. As I mentioned above it is important to try to re-live and to feel again the emotions you've had in a specific situation in the past and to let those emotions free once you're playing your character.
I think it's better if I let the audience judge me as an actress since we all have different opinions.
Of late, you've also done more and more behind-the-camera work, including writing and directing - so what prompted that step?
I like to be involved in a project as the leading person even if this requires of course a lot more responsibility.
Actresses, writers, filmmakers, whoever else who inspire you?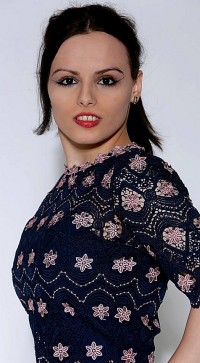 Feeling lucky ?
Want to
search
any of my partnershops yourself
for more, better results ?

The links below
will take you
just there!!!


Francis Ford Coppola, Steven Spielberg, Clint Eastwood, Tim Burton, Martin Scorsese, Al Pacino, Quentin Tarantino, Charlie Chaplin, Andy Warhol, Frank Capra, Judy Dench, Jane Fonda, Audrey Hepburn, Bette Davis, Elizabeth Taylor, Sophia Loren, Marilyn Monroe, Judy Garland, Lauren Bacall, Greta Garbo, Maria Callas, Frances Marion, Pyotr Ilyich Tchaikovsky
Your favourite movies?
All from the above mentioned directors and actresses but of course I'm a huge fan of the movies from today as well, and especially I like movies from upcoming directors, writers and actors. My favorite genres are drama, love and action.
... and of course, films you really deplore?
There are no such movies because as you probably know it is a complex circuit of making a movie and so much work, time, devotion is invested in every movie, and I respect everyone who participates in that. It is the director's decision how the movie turn out...
Your/your movie's website, Facebook, whatever else?
I have my Andreea Boyer fan pages on Facebook but also my Facebook account which is only administered by me. I'll set up an official website soon with all my contact informations when I have more time to do that. If anyone wants to contact me then send me a message to one of my Facebook fan pages.
Anything else you're dying to mention and I have merely forgotten to ask?
I'm a huge fan of the nature. My mother is my biggest inspiration in writing and in all I do. She is my personal critic for my screenplays. I love piano music. I'm not a person who loves to party but I go out once in a big while with best friends or if there would be someone special to take me out. I'm a realistic person and I like to be informed right away about people's intentions for me. I was born next to the vampire castle in Transylvania in Romania. I'm not a vampire and I don't like energy vampires.
Thanks for the interview!
And thank you for the interview. And special thanks to everyone who has read it. And to Chris Charles from Idol Features for getting me in contact with Michael Haberfelner [Michael Haberfelner interview - click here]. It's been my pleasure to answer to all the questions.