Feeling lucky ?
Want to
search
any of my partnershops yourself
for more, better results ?

The links below
will take you
just there!!!

Find Andre Perkowski
at the amazons ...

amazon.com

amazon.co.uk

amazon.de
Looking for imports ?
Find Andre Perkowski here ...
Something naughty ?
(Must be over 18 to go there !)

CUT-UP SLOW-DOWN SPEED-UP RUN-BACKWARDS: Slicing and Dicing into The Word and Image Bank with Andre Perkowski ...
Your William S.Burroughs adaptation Nova Express: Can you tell us in a few words what it is about (if that's at all possible)?
Nova Express is my loftily pretentious process, an eternal labor of largely lethargic love and scrupulous cut-up care churning and spurting images all over the fucking walls. It is an arch indoctrination film and digital spitball aimed at the control machine. In the beginning was the word and it was good: the novel shot electric bolts through my brain and possessed me from the second I picked up the neon green Grove reprint and got sucked into the whirling language cyclone of Burroughs' monstrous, epic word hoard. The cut-up trilogy and offshoot endeavors/films/recordings/manifestos consumed me on-and-off-and-over-and-over-again for the past 15 years or so, in between other films and fumbling pulp features I'd wander back into the wild space of WSB's world and chip away further at this stumbling homunculus collage feature I appeared to be making despite writing a script for it I never got around to actually shooting. It'd have been a pretty feeble film I'd still be trying to find the backing for if I stuck to that script, so I'm glad I just began the damn thing instead so there's some extremely itchy material to watch. Some days I wonder if it'll ever be finished, or if it's intended to be finished.
What's it about? Boy, there's a tough one. Ostensibly it's about Inspector Lee and the Nova Police battling the Nova Mob, it's about addiction to drugs/money/power/sex, it's about handy household tips on how you too can join the metaphorical fight.
Why William S.Burroughs, what do you find inspiring about him?
Besides being one of the towering, charmingly demented genius-types of the 20th century with a singular nasal snarling monotone that chews it's way through right to today, tomorrow, and whenever anybody decides arbitrarily when such things are relevant? His work is incredible, pulses with rancid swampy life through fungus-encrusted vestigial gills of iridescent pink flesh! Or something along those lines, I've been immersed in the man's potent bile-y brew of word and image electronic vaudeville for so long it's standard operating procedure and would advise anyone interested in such pulses and possessing of one go listen to the man.

On a visual level, Nova Express consists mostly of film- and TV-footage from creatively edited together. What made you take the patchwork approach to adapt the source material, and to what extent do you think it follows Burroughs' intentions, to what extent your own vision?
All the words barring some by Brion Gysin, some fragments of industrial film soundtracks, and WSB's original radio cut-up tape experiments are by Burroughs himself -- I wanted to keep it a sickeningly silky strict puree of pure Burroughs language for an extended period of time, with every extant scrap of his voice reading from the novel and associated texts whenever possible... really digging into all that meat and no potatoes of his singular, sexy 60s output. The visuals are my interpretation, trying to find to find a video parallel to his playing with found texts like pulp novels and medical journals. Thus the trashy SF and educational films cutting in and out, using Brion Gysin's cut-up technique to randomly find interesting juxtapositions and then massaging the results over and over again. Undifferentiated cut-ups can get a bit boring, but I'd be open to any interesting bits of random chance that would somehow sync just the right image to the soundtrack. Burroughs would cut-up a page and sometimes just extract a sentence, and it was quite similar editing the film.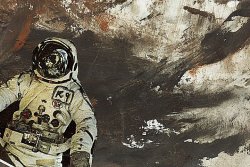 One very basic question: Where did you find all the footage, and would you like to talk about some of the movies, TV-shows, ads etc that you worked into the film?
The Prelinger Archives are the mother lode for this sort of thing, so a big thank you to Rick Prelinger for his incredible collection of ephemeral films. I've always been fascinated by those sorts of shorts, and it was really fun digging into really obscure shorts I hadn't seen before and cracking up at the charming goofiness of them... shrieking with delight at seemingly heaven sent images, marveling at how perfectly they slotted into sequences I didn't have pictures for yet. There's also quite a lot of material from Soviet science fiction films, stuff like First Spaceship on Venus and the wonderfully odd Nebo Zovyot (which was cannibalized to make Battle Beyond the Sun) as their incredible visuals and strange color palettes seemed ideally suited... plus they are public domain! There's a lot of PD features shredded and sampled, lots of creaky SF and gangster films. Then there's a bunch of my own material, weird video experiments... collage films projected on top of each other, randomly spliced together 16mm dug out of the trash, junk sculptures assembled from broken and reassembled toys... just good, wholesome family entertainment.
Over the years, you have made quite a few patchwork movies, including two silent Batman-shorts. What do you find fascinating about this kind of filmmaking?
It's difficult to pinpoint what first drew me to this sort of style or why, so let's just rattle off some names you folks should check out for yourself and see if the answer becomes clearer:
Kevin Rafferty's The Atomic Cafe was probably the first film in this style that I saw as a teenager, and it was immediately hypnotic, arresting, and deeply influential. I guess my love for cut and paste/dubbed movie-making began first from a comedy angle, with Rafferty's film joining Woody Allen's What's Up Tiger Lily, The Firesign Theatre's Hot Shorts, and J-Men Forever as some of my favorites. Then I got into the more experimental side of things after exploring the work of underground filmmakers like Bruce Conner, Ken Jacobs, Jack Smith, and Cary Loren... plus current practitioners in this arcane alchemy like Negativland and Craig Baldwin. Jean-Luc Godard's later work, of course -- I'd watch his Historie(s) Du Cinema over and over again until I almost made a bit of sense of them, and that was bound to have a strange effect on my brain. The cost of film being what it is, I'm often stuck waiting to pay lab bills or sobbing hysterically finding out labs like Black and White Film Factory have "recycled" or trashed huge chunks of my work, so to feed the filthy film addiction I'd slice up unfinished work or found material, deliriously delighted watching what happens when seemingly unrelated visuals magically sync up to audio.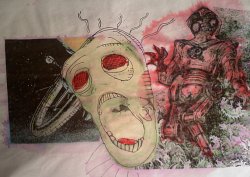 Nova Express also features quite a few collage paintings by yourself. Would you like to talk about those for a bit?
I've kept disturbingly extensive collage journals for about 15 years so far, a strange collection of dozens of bloated books and stacks of artwork that hum along in the background of my film work... it's all the same thing, really -- and in this case literally as the collage journals become the movie. Nova Express in particular features some pretty out there artwork, generally churned out completely blasted on psychedelics on a handful of occasions -- and boy, doesn't it show. I'd get worked up into a pretty demented state, serially churning out a hundred or so at a time, with dozens spread out across the floor worked on simultaneously. It's incredibly entertaining to spritz color around and layer in endless collage elements culled from old magazines, textbooks, and advertisements. I then randomly start drawing over them, as layers and layers are added on until it sort of congeals and looks right. Who knows what that is. This project seems to have a lot of latitude for experimentation, and I enjoyed pushing things to the breaking point and back to see what would happen. I wanted things organic, colorful, sinister, and almost self-generating -- without paying too much conscious attention to the process to see what would happen if I just let the paintings paint themselves. This is probably why my paintings are even less commercial than my films, if such a thing is even possible.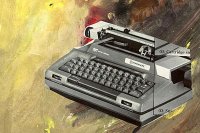 Over the years, William S.Burroughs body of work has been adapted quite a few times, mostly by underground filmmakers. Would you care to talk about any of the other adaptations?
I wish he was adapted quite a few times! I'd love to see more versions of Naked Lunch, you could make a dozen films out of that book and not repeat a single sentence. Cronenberg's film was a fun take on the period Burroughs wrote the book, with some great bits of business but it had almost nothing to do with the book. Gus Van Sant has threatened to make the The Wild Boys, I'd love to see that one on the screen and who would be left sitting in the audience. Apparently Steve Buscemi is going to do something combining Junky and Queer, and I can see something truly tasty coming out of a project like that -- there's a funny entry in Burroughs' journals mentioning Buscemi coming to visit him possibly to talk about the project -- Burroughs comments on his good "pimp hands" or somesuch.
Of the films that have been made, The Junky'S Christmas is pretty cute and should be screened in schools for the edification of our young people. It's certainly thirty times better than the 35mm version I was barely involved with at NYU in the 90s -- I wrote a screenplay adapting the story but thought it was too ego-maniacal to direct it as well, so it was turned into a horrible piece of anti-drug shit drained of all humor by some bozos who thought Burroughs' words were "beautiful on paper" but not nearly as good as adding some weirdass Catholic slant and taking out all the jokes. I sent Burroughs a copy of it in the hopes he'd get a morbid chuckle out of the whole disaster and he died a week or so later and felt incredibly guilty! It doesn't even credit him! No screenplay credit for me either and I learned an early lesson: direct your own work so you can only blame yourself.
Ah Pook was Here is fairly interesting but way too short. I haven't seen The Last Words of Dutch Schultz short, and I've heard rumors of another tax dodge version shot in a warehouse somewhere. Is this true? Somebody get in touch and let me know because the screenplay is one helluva piece of writing. The best were the films he made with Antony Balch, Towers Open Fire is just a gorgeous piece of work and deserves a lot more mentions from writers who should know better.
Does Burroughs' writing style in any kind influence your way of making movies, even outside of your Burroughs-adaptation?
Hell yes, it's impossible to get out from under El Hombre Invisible's shadow. Those cold, junkie fingers tug at the lapels of most of my work -- infecting the rhythm of my words with that odd carny black comedy vision. It's hard to escape his influence, and once I stumbled on Burroughs and Gysin's cut-ups, I knew I was in for life.
Stories/books by Burroughs and contemporaries that are required reading in your eyes?
Burroughs-wise, novices should pick up a copy of Word Virus: The William S.Burroughs Reader, which represents the scope of his work quite well and includes a great sampler CD of his readings -- the writing will make so much more sense once you hear that voice for the first time and understand his cadences. Or dive right in: obviously Naked Lunch and it's companion collection Interzone is a good place to start, but Junky is a great piece of straight writing if you're a bit scared of talking assholes and want to sample the waters with a bone-dry dose of Chandlerian pulp. Those willing to wade through extreme weirdness and have a high tolerance for difficult writing should definitely go through the cut-up trilogy: The Soft Machine, Nova Express, The Ticket that Exploded. If it's hard going, pick up The Third Mind -- a wonderful collection of essays and examples created with Brion Gysin that should be out again in a spiffy new edition if you don't feel like paying ridiculous prices. I'm a fan of the later trilogy, particularly the gorgeous sadness and eternities of The Western Lands... but my absolute favorite book of his has to be the first volume of his collected letters, brilliantly assembled by Oliver Harris -- such an inspiration for writers and artists of any kind, it forms such a perfect portrait of the man at his most vulnerable, open, and desperately needing human contact. It's an indispensable book and belongs on discriminating shelves the world over.
As for his Beat contemporaries, I'm a big fan of Jack Kerouac's Visions of Cody -- a huge, nostalgic, playful experiment with language digging into the brain of Neal Cassady. Doctor Sax, written in Burroughs' bathroom in Mexico City while smoking joint after joint, would make a helluva movie -- Kerouac thought so too, and wrote a screenplay based on it. As for Burroughs' eternal reader, Allen Ginsberg's Selected Interviews, Deliberate Prose, and Journals in general are the best things he ever did. Never mind Howl, go check those out -- boy, could that guy talk!
Besides Nova Express, you have also recently (as good as) finished your hommage to bad kung fu flicks, Belly Full of Anger, a film that seems to come from a completely different corner, genre-wise. Would you care to put the two films in relation to one another?
Belly Full of Anger is a film for teenagers and stoned people written with Christopher Roy, whereas Nova Express is a heartwarming children's film designed to give a wormy, golden apple glow to select folks and encourage them to pick up scissors, recordings, editing programs, and play around in the same saucy slice-up sandbox. And obviously, it's from the words of a substantially more interesting intellect than our own. I'm no Walt Whitman and don't have much capacity for containing many multitudes, but I think I can probably contain a super-8 kung fu movie and an experimental media virus in separate cinematic cabinets without substantial risk of cross-contamination. If you think these two projects come from completely different corners, you should see what else I have up my rancid sleeves!
Your and your movie's websites, Facebook, whatever else, and where and when will it be available?
http://www.youtube.com/user/terminalpictures#grid/user/380344E48166AB1F for excerpts from the film.
http://www.facebook.com/album.php?id=1348783559&aid=71715 for an enormous assortment of collage paintings and grimy images from the film.
Go ahead and friend me if you want to keep up with information on future screenings and really stupid youtube links.
http://realitystudio.org/interviews/interview-with-filmmaker-andre-perkowski/ for more information about the project, and realitystudio.org in general to make your life more pleasant and colorful. A big thanks to the mysterious supervert media empire, Jan Herman, Oliver Harris, James Grauerholz, Barry Miles, Carl Weissner, and so many other hideously encouraging fine folks! It's hard to make subterranean films without the kindness of strangers, you know.
Thanks for the interview!