Your upcoming movie A New York Story - in a few words, what's it going to be about?
Itís about a manís struggle with his past and how it affects his choices in life. Itís also about the cycle of revenge and how once that cycle starts, how difficult it is to stop it. Itís also a love story at the core of it all too.
With A New York Story being a crime movie - is that a genre at all dear to you, and some of your genre favourites?
To be honest I'd probably say itís more than a crime movie, but for ease of putting it into a digestible bracket, crime movie is fine. I do love the crime genre to be honest, I grew up watching particularly 70s American crime movies, like Straight Time, The Driver, Friends of Eddie Coyle, The Outfit, Serpico - those type of movies, and I liked the gritty realism of those movies and how they were mostly character driven scripts. I think the crime genre has lost that a little as of late, the more character driven movies I mean. I also REALLY adore sci-fi movies and who doesn't love a good horror!
(Other) sources of inspiration when writing A New York Story?
I began writing a love story about 3 years ago. It was about a criminal who couldnít describe his work to his wife and how that ultimately finished their life together, but the more re-drafts I did, the more it grew into what it has now become. The core of what was originally written remains there but thereís so many more angles of interest now. Inspiration-wise I'm not really sure to be honest. I wanted to write a love story because when I had finished The Psychiatrist I was drained. That took me to a lot of dark places in my mind and I wanted to do something lighter. As the re-drafts continued though it became apparent to me that the love story was underpinning the rest of the elements, it was a good platform to build drama upon.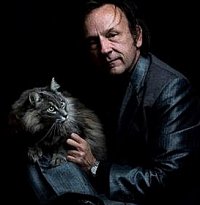 David Yow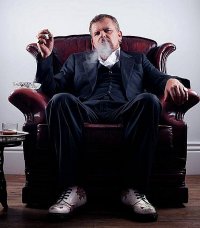 George Newton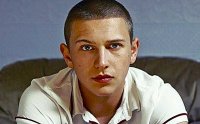 Robbie Conway
What can you tell us about your key cast and crew, and why exactly these people?
When I started to write this a few years back I had noticed that David Yow was taking more acting work. And when I saw his movie Walls In The City, I was so taken with his performance that I knew he was the man for the lead role. Heís got such a natural charisma and you canít learn that, itís either in you or its not. And I think heís gotten better and better each movie heís done. We also recently cast George Newton [George Newton interview - click here], and wow, what an actor, what a presence he has. His character has enhanced the movie in a way thatís beyond measurement. Goerge is one of the finest UK character actors out there now and I really do hope he gets to show just how versatile he can be because he really is a force to be reckoned with. Then we cast Robbie Conway who played a character in the TV series Shameless. When I watched that, for me, he was so good. He displayed great stillness, he acted from his eyes, and his face, the extremely subtle nuances in his work are incredible. He in less than five years will be a leading man in his own right im sure of it. We also were keen on working with David Hoyle again, he was amazing in The Psychiatrist and I know heíll be just as superb in this film. There isnít one single cast member that we didnít think long and hard about before approaching them so although thereís too many to mention here I'd like to say that ALL the cast are brilliant and we really all hope we can make not just a good film, we want to make a classic film that people will still be watching in 20 years time. And I genuinely believe with this cast and this project, we have a good shot at making a film that will be still held in high regard in years to come (laughs), maybe nobody will like it but weíd have tried, and thatís what it's all about.
As far as I know, A New York Story is still in pre-production as we speak - so what stage are you at, presently, and what's the schedule?
We are nearing the end of pre-production so weíre hoping to go into full swing mid August, of course that all depends on how the fates treat us. If I think the screenplay isnít ready im not going to rush this one, it deserves more than that. However things have moved pretty quickly so far but as there have been a few additional characters added, their parts are being ironed out a little, and this takes time. Plus, what was going to be just a £100,000 project and now turned into something more like a £500,000 project, so lots of new ideas are being incorporated. But in all honesty I canít see us having anything but the best start to the principle filming and yeah, weíre all excited by it.
It's probably waaay too early to ask, but any idea when and where the film might be released yet?
The plan is to finish filming before the end of this year, edit, etc, then place it into Cannes, Sundance, and a whole host of other film festivals first. And then, maybe this time next year weíll have a few very limited cinema screenings before we hand it all across to the DVD and VoD distributors to work their magic. So if you were asking when will it be out on DVD I'd say perhaps August/September of 2015.
Any future projects beyond A New York Story you'd like to talk about?
Eromeda Films have just started a working relationship with writer director Wade Radford, and weíre in talks to release his movies, and then thereís a gifted character actor/director/producer called Phillip Mulhern. Heís shot some interesting films and I've cast him in a really disturbing psychological drama called Inside Minded. Heíll blow your mind I'm certain of it. Oh and also, thereís a Zombie Trilogy I'm writing. I was asked to write initially just one Zombie Film, and then it turned into ďhey can you maybe do it as a trilogyĒ, which while on the one hand was very nice to be asked, it was and is a lot of work but the first two chapters of the three are written, so when I finish on A New York Story I'd like to finish those off. After that, maybe a holiday?
Your/your movie's website, Facebook, whatever else?

Feeling lucky ?
Want to
search
any of my partnershops yourself
for more, better results ?

The links below
will take you
just there!!!

Find Andrew Barclay
at the amazons ...

amazon.com

amazon.co.uk

amazon.de
Looking for imports ?
Find Andrew Barclay here ...
Something naughty ?
(Must be over 18 to go there !)

To keep tabs on A New York Story, the best place right now is the film's Facebook page at https://www.facebook.com/ANewYorkStory. There WILL be an official website and itíll be designed by a wonderful chap who works with us at Eromeda and heís a joy to work with, so hello there Anthony if youíre reading this.
Anything else you are dying to mention and I have merely forgotten to ask?
Hmm ah yes, the soundtrack, I canít say too much right now but the soundtrack for this film is going to be something special.
Thanks for the interview!
Youíre welcome and I hope you enjoy the movie when it's out.