First of all, why don't you introduce yourself to those of us who don't already know you?
My name is Andrew Bellware. I run the company Pandora Machine, which is the smallest micro-studio in New York City. We make science fiction movies.
I have two backgrounds: theater and sound. Sometimes I've done theater sound. I'm a founding member of a theater company here in New York called Manhattan Theatre Source, and my post-production studio is located there too.
Let's start with your latest film Earthkiller - in a few words, what is it about?
An android wakes up on a space station that's under attack. But her memory has been erased and she doesn't know which side she's on.
How did the project come into being in the first place?
Our writer, Montserrat Mendez pitched that idea to me. I thought it was awesome. He did three radically different drafts. But who doesn't love an android-on-a-spacestation movie? Nobody, that's who. So we mixed the drafts together and shot that.
For its limited budget, Earthkiller is rather effects-driven. Why don't you talk about the special effects of Earthkiller for a bit?
The visual effects are mostly of a model of the Earthkiller Station, which was designed and built by the brilliant Ian Hubert. We do all those effects in Blender 3d, which is an open-source 3D animation program. Henry Steady did the animations of the dino-bots in the movie.
A few words about your principal cast and crew?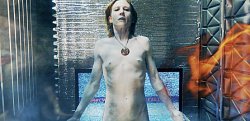 Earthkiller
We had Robin Kurtz playing the lead -- the android in Earthkiller. She trained for months to tone herself up for the role. Of course, she started in great shape. She's a fantastic fight coordinator. And she absolutely can beat you up.
Joe Chapman built all our sets. He devised a very complicated way of creating walls and floors and ceilings which could be folded up and lie flat on two pallets for when we had to pack up after the weekend of shooting. And the flats could unfold into a wide variety of sets. Really brilliant work.
We had an ensemble cast for this picture. Maduka Steady is both a member of the ensemble and a key member of the crew -- he was slate, sound, and then in post-production he handled much of the editing and visual effects.
Any idea yet when and where Earthkiller will be released?
Ha! No. I think maybe Thailand? I haven't been told yet.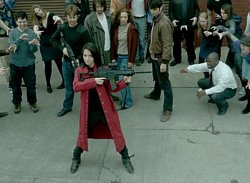 Battle: New York, Day 2
Your last released film Battle: New York, Day 2 - what can you tell us about that one?
Our producer's representative (which is like a sales rep for films), Ray Haboush at Halcyon Pictures International, told me that we needed to make a disaster picture. I pitched him the idea of a young woman in post-apocalyptic New York with a crazy drunk guy fighting zombies. He hated that idea. Then Montserrat Mendez (who wrote Earthkiller) said "How about 'Day 2'? On day 1, aliens take over the Earth, on day 2 we take it back." Thinking that idea was awesome I pitched it to Ray and he loved it. Of course then I just developed the idea of the woman and the crazy guy.
What I especially liked about Battle: New York, Day 2 were these weird giant wheels the invaders use - where did the inspiration for those come from?
That was entirely an Ian Hubert design. We needed giant alien robots. He said "How alien can they be?" And I told him to make it as alien as he wanted.
He came up with the notion of making the thing an enormous wheel.
Let's go back to the very beginnings of your career as a filmmaker: How did you get into filmmaking in the first place, and did you receive any formal training on the subject?
Formal training? None at all. But I've worked on many movies as a sound guy. I've always loved films, and I've always wanted to make movies.
Your debut feature was Hamlet, Prince of Denmark - what can you tell us about that movie? And why Shakespeare? Why shoot it on a Pixelvision camera? And why do it in just 5 days?
I went to that Dov Sieman's 2-day film class. You know the one? It was a pretty good class. He said "You have to have a great script. Not a good script. A great script." So I thought, what's a better script than Hamlet?
We shot on Pixelvision because I couldn't afford film and at the time the video camera which had the best "look" to it was that crazy Pixelvision. The image out of that thing was just dreamy and beautiful.
And we shot in 5 days simply because I couldn't afford to shoot any longer! But it was quite an educational experience.
A few words on Apostasy, which was, I've heard, based on Milton's Paradise Lost?
Here's a helpful hint to filmmakers out there -- your movie's title should not be something most people can't pronounce, much less understand. Yes, it was based on Paradise Lost. In fact, it has sizable chunks of Paradise Lost in it. Why would anyone do such a thing?
Then came Pandora Machine, which also gave your company its name. What can you tell us about that movie and its influence on your future output?
The biggest influence that Pandora Machine had on our later output was that the picture actually got sold! We just barely made our money back with that movie but we had a big sale to Blockbuster Video here in North America. That movie saw the very end of the "good times" in video distribution in the world.
Speaking of your company Pandora Machine - what can you tell us about the philosophy behind it?
Wow. No. I'm not sure I have a philosophy behind it. We try to make movies that are good. Is that a philosophy? As it turns out, making a movie that's good is really hard. I think we're getting better at it.
Pandora Machine the movie was distributed by the slightly controversial low budget film company The Asylum. How did that come about, and what can you tell us about your experiences with the company?
I like the Asylum guys. You know, most of the screaming on the internet has to do with how they make mockbusters. Which, ironically, they don't do as much anymore. Not deliberately at least. The irony is that essentially everyone makes mockbusters -- whether it's deliberate or not. Look at our movie Battle: New York, Day 2. That picture was just a straight-up alien invasion flick (with a couple twists) but it came out just as Battle: LA was going to video. Was it a mockbuster? Not on purpose. Did it get marketed as a mockbuster? Hell yeah. And it got us sales which I'm sure we wouldn't have gotten if it were just "Day 2".
The thing about The Asylum is that they're just not into laying on the healthy dose of BS that you get out of most film companies. So they don't spin their PR the way you'd usually get. And they're very refreshingly up-front about how their pictures are made and marketed. And of course, unlike most indie producers, they're still in business.
I'd like you to say a few words about each of your following films:
Millenium Crisis?
This was probably our most expensive movie to make. We had a great experience working with Ted Raimi. I really learned a lot from him. We shot a substantial portion of that picture (including all the days with Ted) in my parent's basement.
Solar Vengeance - and what can you tell us about that film's Western genre undercurrents?
This movie has a funny origin story. I saw that video by Muse -- Knights of Cydonia. And I thought "Ooh, that's what I want to make." Our producer, Laura Schlachtmeyer, said "Why don't we make a movie based on the musical Sweeney Todd?" Maduka Steady said "You know, Sweeney Todd is the Count of Monte Cristo." So we thought, hey let's make that. But, you know, in space.
And then playwright Mac Rogers wrote the brilliant screenplay.
If we'd known how much overseas buyers hated the Western genre we'd have re-thought doing the picture that way. But hey, even Joss Whedon had trouble with a space Western, right?
Alien Uprising?
This was a Josh James script. He's another New York playwright who's gone into screenwriting. It's a pretty neat script. If I knew then what I know now we'd have made the picture a bit better! The idea, which critics missed, is basically Aliens meets Assault on Precinct 13. It sure was a lot of fun to make. And we sold that movie right away, not for a whole lot of money, but right away.
This picture had a fairly large ensemble, which was a new experience for me. Sometimes shooting an ensemble can be a bit tricky because you have to find a way to get everyone's dialog on-screen.
Clonehunter?
Clonehunter was a script we picked up by Eric Ian Steele off of InkTip.com. It's a nice script. Well, actually, it was a nice BIG script but we made some of the situations smaller in order to shoot it. I was trying to make a comic book with that movie. I wanted it to have a painterly "larger than life" look.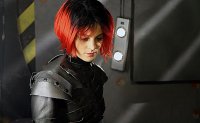 Android Insurrection
The upcoming Android Insurrection?
This picture was written by David Ian Lee and Nat Cassidy -- they're both playwrights and actors who have been in our last few movies. It's about a team of robot hunters who have to rescue an android. We shot this movie in a very documentary style -- almost every shot is handheld and we didn't care if the focus shifted during shots.
You are currently also writing a screenplay called Dragon Girl, right? Would you care to elaborate?
After the dragon apocalypse in New York, a teenage girl tries to find her brother. Armed only with a crossbow and her moxie. What else could you possibly want in a motion picture?
Any other movies of yours you want to talk about? Any future projects?
Our sales rep has told us explicitly to make a mockbuster as our next feature. I have zero idea what that might be. My fear is that it takes us too long to write a script. We'll see how that goes. Got any ideas? What big movies are coming out in 12 months?
A close ally in pretty much all of these films was Laura Schlachtmeyer. What can you tell us about her?
Laura is an awesome producer. She comes from the world of theater too. In fact, she won the New York Innovative Theater Award in 2011 for Outstanding Stage Manager. The job of producer is basically anything. If it means deciding the tone of a picture, then that's what the producer does. If it's a matter of deciding whether we have Chinese food or Italian food for lunch, then that's the job. Since she can basically do anything, she's perfect.
Any other frequent Pandora Machine collaborators you'd like to talk about?
Henry Maduka Steady is a huge force here. He's an actor, editor, animator, writer, director, cameraman, you-name-it. He has a huge influence on our work whether it's doing rewrites or making a sequence work in post-production. He did a bunch of second-unit directing on Android Insurrection. In fact, he made up a whole sequence where two guys get killed. Hmm... to tell you the truth, I haven't seen that sequence yet...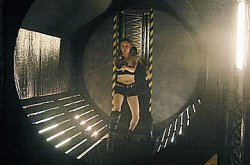 Earthkiller
Pretty much all of your Pandora Machine-movies are of the of the science fiction variety. Is that a genre especially dear to you, and why?
I enjoy science fiction. And since so little of it is produced at this independent level, we tend to get sales. Or at least we get more sales than if we did 18th-century costume dramas. Because don't think for a minute that if I could sell some Jane Austen movies I wouldn't jump on that.
But science fiction is my first love. My favorite part is building completely new and different worlds. I like the French term cinema fantastique.
While you are running a micro budget-operation, an effects-heavy genre such as science fiction seems to demand serious funding almost by definition. So do you find your budgetary constraints merely limiting or in a way also inspiring?
Well... it's mostly limiting. Ha! We do have to figure out how to make a movie interesting all the while staying indoors with a few actors. One thing which makes that easier is having excellent actors. It's probably easier for us in New York than anywhere else in the world just because there are so many awesome actors here. And playwrights too. And actors who are playwrights. Don't think we don't take advantage of the actors re-writing their own lines in order to make the movie better -- because we do!
Also, we do live in the golden age of what's possible. By that I mean that if you are an expert in computer animation it doesn't really cost you much in the way of cash to do computer animation. But that doesn't mean you don't have to spend all kinds of time both learning what you're doing and then doing it. Blender is open source and free. It can do everything you want it to. But you have to take the time to learn what you're doing. The same is true of cameras. We have great and cheap cameras now. They're everywhere. But you still need to know how to light and shoot quickly.
You also play in the band Tyrannosaurus Mouse, right? A few words about that project of yours?
We're a sort of old-school art-rock band. If you want to know way too much about the band and what we're doing, blog.tyrannosaurusmouse.com is the place to go. You can also listen to our latest record there.
Filmmakers who inspire you?
I have a soft spot in my heart for John Frankenheimer. I do love some big ensemble movies like Ronin. Of course Ridley Scott is awesome, so is John Carpenter.
Your favourite movies?
Let me give you two favorites that didn't do that well but I really liked. David Twohy's Below and The Chronicles of Riddick. I thought both of those pictures were fantastically written and executed.
... and of course, films you really deplore?

Feeling lucky ?
Want to
search
any of my partnershops yourself
for more, better results ?

The links below
will take you
just there!!!

Find Andrew Bellware
at the amazons ...

amazon.com

amazon.co.uk

amazon.de
Looking for imports ?
Find Andrew Bellware here ...
Something naughty ?
(Must be over 18 to go there !)

Wow I hated A.I. Artificial Intelligence. I felt like I was going to throw up when I saw Avatar in the theater in 3D but that's because most 3D makes me want to barf -- on home video (in 2D) it wasn't too bad.
Your website, Facebook, blog, whatever else?
I'm a big fan of "too much information." First of all we have a wiki, www.pandoramachine.com/wiki, which is where I try to keep all the information we need to make our pictures. It goes very deep into processes, naming conventions, all the boring stuff you have to do in order to make a feature.
My blog is blog.pandoramachine.com -- actually that's the official Pandora Machine blog. I had to split my blogs up because sometimes I really do put up too much information and it irritates my distributors. So my other blog at blog.pleasurefortheempire.com is my "personal" blog but it sometimes has Pandora Machine stuff although it's mostly pictures of cats and other things.
Anything else you are dying to mention and I have merely forgotten to ask?
I'm dying to tell people to watch more indie movies. And demand them at your local mom-and-pop video store! And if you still have any big chain video stores left, go to them! Every night! Sigh.
Thanks for the interview!
Thanks for having me Michael!