Your new movie Making Faces - in a few words, what is it about?
Making Faces is a drama/horror film that follows a young lady named Cassie who, as she is finding her place in this world, something is trying to find its way into hers.
What were your sources of inspiration when writing Making Faces?
I drew inspiration from Are You Afraid of the Dark's sense of telling spooky parables mixed in with my interest of continually exploring into 'identity'.
A few words about the "ghost photographs" in your movie, and how were they achieved, and how did you come up with the idea for them?
The aesthetic came from my surreal background where instead of illustrating ghosts typically as pale skin, dark rings under the eyes, and long black hair... I wanted to illustrate them more-so they were entities manifested from a nightmare; lost souls room. Jacob's Ladder and David Lynch films were building blocks.
They were achieved practically within camera by setting the shutter speed down to 1/10th. What happens when a subject moves is the light hits the sensor in such a way that it creates a trail effect. The actors and I had a good laugh because the process in creating the spooky faces is actually very silly as they are asked to wave their head and change emotions without prejudice. I told some of them for them to express every face we make when we step on a Lego brick - shock, pain, despair, agony haha!
Do talk about your movie's approach to horror for a bit!
This film certainly values in sinking in a somber, dreadful tone that slowly creeps up on you that takes an unassuming route into its third act. Even once the photos are introduced nothing spells out what to be scared of or what it may mean for the story, yet the audience is strung to be 'ahead' of the story. By the time we get to 'the reveal', Cassie's reaction reveals she knows something more than us, and suddenly we are 'a step behind of' what horror she is about to reveal to us. A dance of suspense terror more rooted in character development than physiological pop-up scares.
For Making Faces, you have limited yourself to only very few locations and just one on-screen actress who's mostly on the phone - so what were your tactics to keep things interesting throughout?
Yes I tend to go the one-actor show and play out premises trapped in their POV as the scenario unfolds. It's a certain direction, instead of taking the third-person 'God POV' approach, that brings its own opportunities, when done effectively, to have the audience become an active participant in real-time. That immediacy of gaining details and information can strike its own kind of cord with viewers to live out a situation rather than analyze.
What can you tell us about your overall directorial approach to your story at hand?
I'm compelled to integrate a sociological or emotional theme within the horror that both become symbolic of the two. It may take a second viewing for many because the first run through is the tier where we are emoting and trying to piece it together while I purposely withhold details and slowly feed the viewer until, what I hope, the audience shares with the protagonist a spooky a-ha moment. In addition the second viewing, now beginning to understand the context and how every detail is imperative to the plot, especially in Making Faces, it can bring a second scenario of different spooks.
Do talk about Making Faces' cast, and why exactly these people?
Back in May 2019, I screened Willow Mcgregor from our local community online hub and tuned in we were kindred spirits with what we value with cinema and craft. In fact to further spell out how kindred: more times than not when Iím screening actresses, Iíve gotten them to approach Angelina Jolieís Girl, Interrupted break down monologue because itís a challenging monologue that, for me, can show where someone is. In her case though, I decided to leave it open-ended for her to initiate whichever monologue she wished to do, and without me being first to recommend one, she already came out of the gate with Ďthatí monologue! Didnít take long via inbox to tune in that she has a great understanding for my material and is pure craft. I wrote the role of Mackenzie in our upcoming feature We Are The Missing with her in mind, which we've been winning the footage towards this month. Our collaboration late last year with Making Faces sealed the deal what I intuitively banked on, that weíd work totally fine together.
Myself I produce films in Ottawa, Ontario, Canada whereas Erin Kiniry (Lea Driver) resides in the US. We e-connected through osmosis: filmmaker Mitchell Slan came through 15 Second Horror Film Challengeís inaugural 2015 season, and then two years later he developed the acclaimed Balloon which headlined Erin, whose performance blew me away. Itís been a privilege to collaborate with her towards projects since then. In 2017 our 15 second horror film Making Faces (baring the same name as our 2019 short, but itís a different story) ranked 19th place out of 300+ entries. Itís a testament when I can digitally collaborate with international talent such as herself where despite our collaboration is through text, weíre able to grow an understanding, bounce takes back and forth, and hone in on what the story calls for. I wrote the role of ĎLea Driverí with her in mind because not only would Leaís sweet, warm aura play into her hand, but sheís got the uncommon ability to lift a character off of the page that the audience wonít have a face to put to the voice.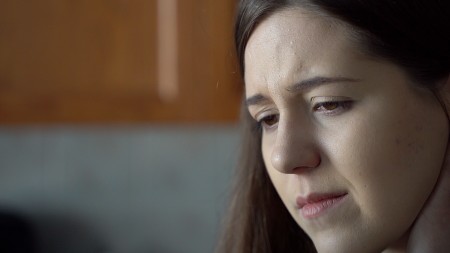 Gabrielle Banville headlined our 2018 short film The Becky Carmichael Fan Club, which she did outstanding work for and it was such a great experience to tackle what was, to date, my most vulnerable piece in terms of doubling down on such a focused characterization found in Becky. Gabrielle joining our film circles and becoming part of one of our flagship films was lighting captured in a bottle because she almost flew under my radar within the Ottawa scene and her time in Ottawa that summer was limited, but her deep grasp of the character and technical know-how brought a lot to the table. With Making Faces, I wanted to make the twist ending become a double entendre where: (1) itís scary to realize the cycle continues for another customer who was in Cassieís shoes and (2) if youíre aware of our film universe canon youíll recognize itís ĎBeckyí from our 2018 film who is about to face an untimely fate.
Our ghosts Amber Kirby, Arlana Gillis, Holly Bridges, Tristan Mcintosh, and Tyler Pope was a mix of my passion for testing out folks I havenít previously collaborated with face-to-face and pulling in folks who have contributed to our past work. Amber, Arlana, and Holly were ice breakersó very easy to work with and Iíve since aligned them with larger, speaking roles towards our next project We Are The Missing. Our collaborations started as far back as 2017 when he contributed voice over work towards Something Scary, but our next level work together was Gabrielleís co-pilot found in Jesse Carmichael in The Becky Carmichael Fan Club. Was very happy with his work and our overall fellowship that when I was coming back with Making Faces after almost a year long hiatus, I could depend on Tristan to be that rock. Our next stop is heís got a hearty speaking role in our next project. Tyler also has been going through the trenches where heís contributed voiceover work towards We Are The Missing during its first phase earlier last year. That mixed with his healthy reputation with our local film scene compelled me to finally formally work with him. Him and Tristan were great company after we shot their work towards Making Faces, and I look forward to pulling Tyler in with more on-camera speaking roles in the future.
A few words about the shoot as such, and the on-set atmosphere?
A mix of light-hearted and focused guidance from either finding the tone of each new set-up and frame by frame storyboards.
The $64-question of course, where can your movie be seen?
Anything you can tell us about audience and critical reception of Making Faces?
So far it's been well received!
Any future projects you'd like to share?

Feeling lucky ?
Want to
search
any of my partnershops yourself
for more, better results ?

The links below
will take you
just there!!!


I'm currently 80% completed filming my debut feature We Are The Missing, which is a drama/horror mockumentary following the Madisons' desperate search for their daughter.
Your/your movie's website, Facebook, whatever else?
http://youtube.com/workobeyfilms and http://facebook.com/groups/horrorfilmmakers.
Anything else you're dying to mention and I have merely forgotten to ask?
Honestly just wanted to thank you for your continued support and for providing this platform since we joined the international film scene back with Beauty Sleep in 2013! It's always been a light for us.
Thanks for the interview!