Your new movie We Are the Missing - in a few words, what is it about?
We Are the Missing is a drama/horror mockumentary chronicling the Madisons' desperate search for their missing daughter with an urgent warning that if it can happen here, it can happen anywhere.
What were your sources of inspiration when writing We Are the Missing?
Film-wise Lake Mungo (2008), Ghostwatch (1992), Pulse (2001), The Eye (2002), and Noroi: The Curse (2005) were all influences, but the emotional driving force to commit to this screenplay for three years was this need to touch upon themes of the pain of grief that comes from different forms of loss such as someone hurting over someone who's missing, the unknowns surrounding someone's demise, and how this 'black hole' continues to impact those who remain here trying to move forward. I can only draw from my own experiences with this type of grieving as well as harness all of the other real-life stories I've taken in.
What can you tell us about We Are the Missing's approach to horror?
The approach values an accumulating dread with purposeful forward-momentum. I always find it's just as important, in order to support the horror, is to play with levity and red herrings; to give the audience a chance to inhabit its world versus making it one scene after the other of shock. Amidst its definite revelations, there's a lot of seeds, sometimes unassuming by delivery, that excited me to blossom as all of these puzzle pieces and details coalesced.
You've chosen the mockumentary/found footage approach for We Are the Missing - in a word, why, and what are the advantages but also challenges filming a movie that way?
In the first two years of writing the screenplay, its story was originally being told in the traditional 'cinematic third-person' structure, however, as I felt what the heart of the story was, the mockumentary/found footage genre presented a whole other dynamic to engage the audience if done right. There's something very disarming when a character is telling the audience 'their truth', compelling them to become a participant in piecing together how to feel about the developments. Another advantage was outsourcing digitally. It opened up flexibility towards writing additional scenes and casting anyone non-union internationally to assemble.
A disadvantage to the genre is this type of genre is 'an editor's movie' where if a filmmaker underestimates how, truly, the magic happens in post-production, then it can become very overwhelming with all of the non-linear information you can stack up—that or it's easy to not take full advantage of what dots you could connect if you're premature with your footage. Myself I had to get many bad versions of sequences and subplots out from my system before feeling I've carved out a momentum that felt right. I know many filmmakers who hate editing, who try to just 'survive' and 'get through it'—but my passion for editing for me has always been synonymous with all stages, and if anything, even more so because it's just you trying to make the story better and better.
Found footage movies these days are pretty much a dime a dozen - so what do you think makes yours stick out of the crowd?
I feel there's not enough mockumentaries out there that pul from the visceral well that Lake Mungo did, there's not enough horror films that value developing empathetic dimensional characters that have a foot in reality, and to serve an overall theme. As time goes on, and as much as I love horror and judge many horror festivals, I find many horror filmmakers are trying to 'shock' or even 'anger' more than 'feel'. I find too there's many horror filmmakers who mostly watch 'horror films', but they don't draw from other genres or try to say something. That's always been my motivation with the genre: to keep trying to provide a very full experience with 'horror entertainment' and humanizing the characters. I love horror films like that.
What can you tell us about We Are the Missing's key cast, and why exactly these people?
As I've been filmmaking since 2013 each year, I've always treated short films as pre-requisite to feature storytelling—and each short has been its own testing ground to assemble a team to climb 'these' kind of mountains. Many of these performers come from past work we've done together who have been rocks. There's a mix of rocks and opening up room for many new faces, which I've been privileged to have really seize the opportunity. There's definitely a few 'heroes' who blew me away who I'd love to expand roles for in future projects.
From what I've read, We Are the Missing was still in production when the Corona lockdown struck - so how did you manage to finish the film during quarantine regardless?
Fortunately, given this format, I was able to fill in blanks, and even counter scenes that weren't shot with newly written scenes, with new subplots altogether.
What can you tell us about the shoot as such, and the on-set atmosphere?
For the in-house produced scenes, I've been fortunate to continue to work with some of my favourite human beings I've met, genuinely. Mutually respectful of each other's process (and every performer has their own different nuances, which it's my job to intuitively tune into), performers are given endless takes to warm up into their lines, and once they become versed, then in my mind that's when the 'character' starts to instinctually emerge. Certainly no shaming in not 'getting a take right'—it's succeed and learn. It's also of service to the performer, for me, to notice if there's ever 'rocks' in the wording or their interpretation of text and to be open to re-working it… if I feel like they're so close to 'flowing' yet there's something in their path. There's no use in hammering at something 'one way' until a performer grows fatigue or frustrated. It's best to be open, if the performer feels some tweaks is more tailored to them or how they see the character, to let that play out. It's truly a symbiotic collaboration where, through time, makes for a better end product and fulfilling process. We get into the nit and grit of the work, but it's also important to be lighthearted and decompress too, leading to great talks about anything inside-or-outside of the 'task at hand'. It's always appreciated when people feel comfortable to confide in me too with whatever is 'really' going on in their lives too; some of the unmasked moments I've had in my life with people—which is what I also love about the arts: the people behind it.
The $64-question of course, where can We Are the Missing be seen?
I've refrained from exploring distribution (I was offered two deals early on) and instead 'this one is on the house' for free on YouTube at https://www.youtube.com/watch?v=0KzEy91hsDY — I didn't want any pay walls etc to separate the community from our film.
Anything you can tell us about audience and critical reception of We Are the Missing?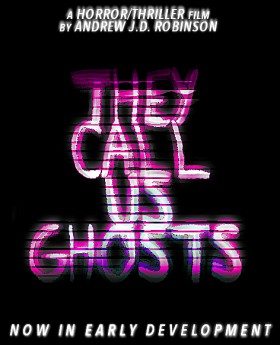 Reception has been very positive, which definitely is a vote of confidence for us to follow up with a sophomore feature effort. It's trippy to see reviewers give ratings to our debut film alongside other features. We've 'arrived' and are in the game lol. It's been a life-long dream of mine to make a positive transition into feature filmmaking, one I've had since my teens. Through all of my own ups and downs throughout life, the arts has always been my compass and one of my biggest draws to 'being here'—it's been one of my rocks to redefine my connection with people and my own humanity, truly… so to share this milestone in my life with all of you is truly a sentimental experience. I'm also excited to challenge myself and, like many filmmaker feels like, to 'show you' what I'm capable of that I can also do a third person traditional cinematic film as well. When you find something you're passionate for, that you're willing to sacrifice so much for, and something that nurtures you back, you feel very driven to keep raising the bar and keep treating each project to 're-introduce yourself' as both a storyteller and a human being. I feel with every film, someone has another opportunity to feel what my values are in life. It's my most honest way I know how to share myself and this world with others.
Any future projects you'd like to share?
I've been hitting the pen and pad, now that I've done considerably pavement pounding to get this film into the inboxes of hundreds of reviewers—the ball is in the cosmos' court—and there was one feature I felt more compelled to do 'earlier' this year, however, given the social justice climate, I actually feel like the themes I wanted to touch on have caught up to where society is right now—police brutality, empathizing for good police, injustice etc. I just feel right now it's 'too on the nose' and we're kind of 'living it' right now. What motivates me is exploring what is the 'future of horror'… what's 'next'… and there's one project in particular that's clicking for me that touches on other aspects of society that I don't see explored within the horror genre as often as I wish it was. It's a horror/thriller called They Call Us Ghosts.
Your/your movie's website, sodial media, whatever else?
This film and my portfolio is at http://youtube.com/workobeyfilms, and come join the community at http://facebook.com/groups/horrorfilmmakers which I've founded and admin. Engage with us and promote your work, festivals etc.

Feeling lucky ?
Want to
search
any of my partnershops yourself
for more, better results ?

The links below
will take you
just there!!!


Anything else you're dying to mention and I have merely forgotten to ask?
Definitely would just like to thank you for this opportunity. You've been one of our earliest supporters and platforms. I'd also like to gracefully express my gratitude for everyone who likes, shares, comments, tunes into our work, and continues to make the horror community a better place for everyone. We're gonna keep it interesting! I hope everyone stays safe and healthy inside-and-out during these times, and there'll be a light at the end of the tunnel—and if you let us in, I'll be there right with ya!
Thanks for the interview!