Your new movie The Becky Carmichael Fan Club - in a few words, what is it about?
The Becky Carmichael Fan Club is a slow burn fever dream of what horrors can creep up from how our place in this world can be re-written by unforeseen, unimaginable forces.
The Becky Carmichael Fan Club tackles some rather serious issues like cyber-bullying and online cults - so what triggered your interest into these subjects, and did you do any concrete research on them?
I've always been drawn to both subjects from watching various documentaries and TV specials, Catfish, The Imposter, and Jonestown, to name a few that really affected me—and unfortunately having hands-on experience with someone in my extended international film circles find themselves being a victim of cyber identity theft as it was happening. She had her photos ripped from her social media page and the person went off to create their own page where flocks of male users thought it was 'this girl' flirting with them. She was also only eighteen years old at the time too. Her and I conversed and we realized the page had blocked her so she wouldn't be able to report—so I did my percent and reported the page. Soon enough the page was taken down. That was one spark out of a few where… what if someone catfished you but it led to its followers who were being conned to finding the person they 'think' they're worshipping, leading quickly to, in my film's scenario, scary repercussions. So I kept a foot in reality and stretched that into a universal world of fiction.
(Other) sources of inspiration when writing The Becky Carmichael Fan Club?
On Facebook, I was starting to receive hundreds of friend requests from strangers—strangers who yes were connected mostly in some fashion with the international film industry. The horror writer in me imagined 'What if they THINK I am someone that they're really thinking I am, from somewhere else online?"
The themes of identity is a subject I continue to explore in my works, expanded as a mosaic in this story from the shadows that swallow us from past successes or statuses, how—to paraphrase Unbreakable (2000) "the scariest thing in this world is not knowing your place in it", and the untamed dragon of post-traumatic stress, actualized in this story with two siblings who are adult children of alcoholic(s)—which is stemmed from first-hand experience. With that topic, I felt I not only wanted to exercise a little bit there but also I find that there aren't enough movies that literally point out "ACoA". Not saying that this is the definitive or an accurate illustration of it—not at all—but I certainly extend sincerity to anyone who has experienced that and may feel like they don't recognize that identification in movies.
To what extent could you identify with your title character on a personal level, actually?
Asides from the ACoA aspect, my characters despite gender are spiritual echoes of a shade of myself, whether it's partly a representation of a fear or anxiety that I've felt or that I could feel if I fed into it long enough— that feeling of being off-course with who you were or what you thought the future would hold, only to remain a ghost of your own passionate pursuits. Her creative impotency is an artist's challenge. I know for myself when I was 'playing in the dark' in the wrong crowds in my earlier twenties, I had lost my ability to write for over a year and that was a LONG year for me. It ate at my soul because my heart wanted to create, but I barely could write, let alone have anything lead to making a movie. It was a living nightmare that only attacked my self-esteem and my worldly view was becoming cynical and defensive.
The LGBTQ dynamic which the character Amber introduces is me reaching out to the many folks in my expanding circles, folks from all walks of life, all kinds of preferences including religious followings and practices— as a compassionate portrait of anyone who is marginalized and faces daily prejudice of who they are and how they love.
The film also illustrates a fictionalized dark side of identity politics— what if the party's modus operandi that someone associated themselves with involved continually depersonalizing themselves from themselves, with a general air of "What better way to be yourself than to become someone you wish you were?"
Do talk about your directorial approach to your story at hand!
There are certain natural signatures that someone who watches my movies will catch on to that are just my 'aesthetic', but I do consciously decide to adapt my approach to what the story and whose eyes the film is being told through. This story is told through the eyes of Becky so we see the world through her—literally devoid of colour, of passion initially—which has an arc of its own, coming full circle. That thematically represents the movie.
There were some subtle choices like having the film predominately be hand-held until we approach 'the distress call' where the camera is static and far from the action. That was my way to represent Jesse's helplessness to being on the other end of the phone as Becky's situation plays out. That scene was a turning point in the story, so it had to contrast all the exposition up to then visually—even if it was subtle. Subtle with enough parts happening to give audience members a chance to kind of sink into the reality of the reality of the situation where… if this did happen to you, this is how it would look like—and the film became a fly on the wall.
What can you tell us about your cast, and why exactly these people?
It's true that casting is half the battle, and when you have a solid, class act cast to go to production war with to win the shots against all kinds of problem solving situations, it's a journey you'd quickly return to—a real joy in my life.
Gabrielle Banville (Becky) went through the ranks with me where I acquired a recorded monologue of her work after seeing her in our local actors Facebook page which I co-admin. How the cosmos would play out, we happened to catch each other at the right moment because she had her future written in stone where she would move out of Ottawa to continue her studies in Montreal, and may not be staying in Ottawa for as long as she had 'this summer' for a while yet. It was lightning captured in a bottle—she was a rock throughout, and like the other actors everyone was paired up with, was generous to each other within the process to have one another bounce off of. This is actually her first 'role-role' on film whereas her previous work were artistic films. My gut feeling came from her theatre background—that's usually translated very well with working with me. Maura Stephens (a staple of my work) also has a theatre background [Maura Stephens interview - click here]. Of course there's such a thing as 'bad experience', but it's one of a few dynamics I do consider—not a rule, but just something that I take notice while casting. She killed it.
She, like Tristan, were both hungry actors looking to find something to sink their teeth into, which I'll always take a second look at. That mixed with just genuinely good company has me sold to give them a crack at this. Intuitively, as the casting director, I tend to kind of put everything together— a mix of how they carry themselves, their 'skin in the game' whether it's links to work they've been in and/or a recorded monologue, and their general social media presence— and I'll get a hunch that they'll be great for the role. Sometimes I'll see work from all of theirs that spark me to daydream "I think if they had 'this type of role', this'll either compliment that energy I see in them, or I can see them doing really well with going 180 from what I'm predominately seeing."
See with Tristan McIntosh, for the most part, he has acted as 'the creepy, intense guy' but I had a feeling he had it in him to switch from the 'cold' to the 'warm', but perhaps that we just haven't had a chance to see more of it on-screen. I told Maura (my girlfriend), before I met Tristan, that he either is going to be exactly who we see in the movies—a very serious, intense person—or a really nice guy—and he was a really nice guy, haha. Tristan was one of many actors 'on my queue' of talent that I've always wanted to work with but, either it being the timing or my fault completely where I haven't written a role for them yet, we hadn't worked face-to-face yet.
Maissa Houri-Charron was also another one of those on that queue. I always had a good feeling about her, just how she carried herself online, and she was always pleasant to speak with via inbox—but it wasn't until her work in a local filmmaker's work called Vicious Circle by Kristian Lariviere that, at least from the work I had caught online (probably missed some stuff) that flexed a range of instinctual muscle that was a big vote of confidence for me to have her consider Amber. That role in particular needed almost the ability to have multiple personalities where she goes from completely sympathetic all the way to almost maniacal yet remain reigned in to that character's 'truth'. I admire actors for what they do, and when some worry whether I prefer another actor over another… for me there's no other "Maissa", there's no other "Tristan", there's no other "Gabrielle". Everyone comes with their own array of depth that you can't compare each other to. Many actors have talent, but when you cast certain actors to chosen roles, that chemistry combo creates its own experience altogether. If I cast the film any other way, there could be many enjoyable versions too, but 'this' was the 'sensibility' I wanted— and I hope it translates to an engaging experience for audiences. That backed with a strong cast of supporting acts helped to build an optical world. There's many folks in those supporting acts that I'll be working with again 'on that queue'—hopefully much sooner haha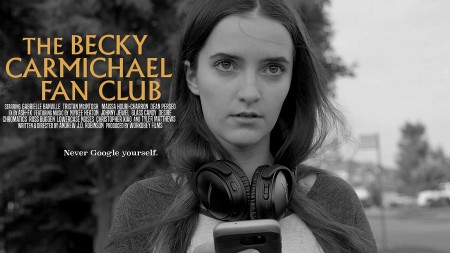 A few words about the shoot as such, and the on-set atmosphere?
On-set atmosphere is always light despite the subject matter. I always come in fully storyboarded, so we're rock and rolling through material. What's great is you're in the company of people who respect each other and only want to see each other succeed— not only for 'the whole picture', but just as civil human beings.
The $64-question of course, where can your movie be seen?
On YouTube at https://www.youtube.com/watch?v=u-FKqPI90kw
Anything you can tell us about audience and critical reception of The Becky Carmichael Fan Club?
The film just released on September 10th but so far I've received positive responses from my most immediate circles. Even then there's many folks in my circles that haven't seen the film who have been waiting for this to come out—but I suspect they'll find some kind of merit in this haha—I've received a few early positive horror reviews and am waiting to see what else comes down the pipeline! Gabrielle's family was very proud of her work in it, in which they should be—that impact alone means a lot. At the end of the day, we can have all our career plans, but what we'll be looking back on is not all that we had done, but how it all made us feel.
Any future projects you'd like to share?
I am currently in production of a Halloween-themed short film called We Know You Are Home. And then afterwards, I'll be full-time programming the 15 Second Horror Film Challenge, as it enters its peak season—October to December—as everyone's 'near the deadline' entries come in, and the judges' top 10 picks start to roll in starting in late October and on. A lot of editing, almost daily editing, haha it's a labor of love. I love celebrating the Halloween season like that, in the company of inspired people exploring the arts, sharing their love for the arts. After that, I'll be hibernating in the bat cave writing towards what I'm gearing up to be my feature-length debut. It's been an urban legend of mine that I'll mention throughout time but The Becky Carmichael Fan Club was personally my proof-of-concept that perhaps I feel like the right person to explore long-hand storytelling. Its production felt good and I'm ready to climb a larger hill. All those nerves convert into excitement now.
Your/your movie's website, Facebook, whatever else?
http://15secondhorror.ca/workobeyfilms
http://facebook.com/workobeyfilms
http://instagram.com/andrewjdrobinson87

Feeling lucky ?
Want to
search
any of my partnershops yourself
for more, better results ?

The links below
will take you
just there!!!


Anything else you're dying to mention and I have merely forgotten to ask?
Whatever you do, enjoy the doing! Life, although it feels long when you're not chasing your passions, goes by faster than you'd think. I used to have all kinds of plans of 'where I'll be' etc etc, but I enjoy the doing so much that it's become full-time outside my 9 to 5 landscaping/reno work. Before I thought I could only have the energy to do it on weekends, but if you can find a way to take care of your well-being and 'live' in your passion whether it's filmmaking, the arts etc etc… honestly for me, with everything going on in the world, it's been my center in which I've built out from that keeps me grounded—never losing 'a meaning' in it. Take from what you will from that for yourself—but turn those nerves into excitement—they're one and the same.
Thanks for the interview!