Your new movie A Killer Next Door - in a few words, what is it about?
It's a thriller based on the true story of John List, a man who killed his entire family and then disappeared for 20 years before being captured after an appeal on the TV show America's Most Wanted. His case was also the inspiration behind The Stepfather franchise.
Now I haven't seen A Killer Next Door, but I feel I have to address the elephant in the room right away: Reading the synopsis I can't help but being reminded of Alfred Hitchcock's Rear Window - now has that movie (and Hitchcock in general) at all been an influence on your film, and if so, in what way?
In the real life case a neighbour recognised John List many years after he killed his family despite him changing his name and appearance. The neighbour was instrumental in turning him into authorities, so when it came to writing the script that element seemed tailor-made for a Rear Window type scenario. I think it would be tough to make any kind of thriller without a Hitchcock influence considering he's such a pioneer in the genre.
(Other) sources of inspiration when writing A Killer Next Door?
Films like Body Double and Disturbia were also inspirations. Brian DePalma's early work in particular as there's a voyeuristic aspect to some of his thrillers and voyeurism is definitely a central theme in A Killer Next Door.
Do talk about A Killer Next Door's approach to the thriller genre as such!
I've made a lot of horror and B-movies which are often of a tongue-in-cheek nature. I've also done a few true crime films in recent years which were more serious, but this is the first film I've made which makes a conscious effort to work within the tropes of the thriller genre. It was interesting to play with some of those tropes as there are factors which aren't that far removed from horror, such as the need to generate tension. But I think the main difference is that in horror you can alternate tone, often between horror and humour, whereas in a thriller I tried to maintain a more consistent serious tone throughout.
A few words about your overall directorial approach to your story at hand?
I think the key thing is trying to make the characters interesting enough so the audience will care about the outcome of the story. The protagonist Stephanie has relatable relationships with her father and boyfriend which contrast well with a very sinister, controlling relationship the antagonist John List has with his second wife. I feel maintaining interesting character dynamics is just as important as plot when it comes to trying to get an audience emotionally invested in a film.
What can you tell us about A Killer Next Door's key cast, and why exactly these people?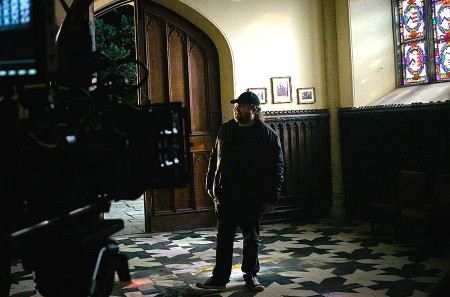 Andrew on set
I recruited quite a few actors on this one who I had worked with before because it's nice to have a familiarity and shorthand with people. That really helps when you have such a short shooting schedule. We shot this film in 11 days. William Meredith, who plays John List, did a fantastic job portraying Reverend Jim Jones in a previous film I made called The Jonestown Haunting. William is one of the nicest guys you could meet but he has a great talent for playing villains! Harriet Rees, who plays Stephanie, has worked on numerous previous films of mine and I think she will go on to great things in the future. I also got to work again with actors like Nigel Barber, Patrick O'Donnell, Phillip Roy, Ed Allenby, Jason Gregg, Tessa Wood and Derek Nelson. All very versatile and experienced performers who I can always rely on to bring interesting interpretations of a character to the table.
Do talk about the shoot as such, and the on-set atmosphere?
Although set in America (and we did utilise a lot of exterior footage shot there) we filmed most of our interiors for the film in the Pembrokeshire area of South Wales, which is one of my favourite regions as I spent a lot of childhood holidays there. I've worked with pretty much the same crew for the better part of a decade so there's always a family atmosphere on our sets. Every shoot involves unforeseen challenges and long hours, but our team is one of the hardest working and friendliest in the business so it's rare that we don't all have a great time on a shoot.
The $64-question of course, when and where will A Killer Next Door be released?
The film will make its debut in North America on 21st July. The DVD will be available at retailers such as Walmart and the film will also be available on digital platforms such as Amazon Video and iTunes. It'll be released in the UK and other international territories later this year.
Anything you can tell us about audience and critical reception of your movie yet?
We'll see the first reactions after the US release but I always find it's most interesting to look back on a film about a year after release to really assess whether it had legs commercially or critically. Most of my films don't get well reviewed, I think they are considered by critics to not be particularly classy and perhaps a bit calculated in their intention to be commercially appealing. But the vast majority of them generate excellent sales. In the UK for instance seven of my films have reached the Top 30 of the national DVD chart and twelve of them placed in the Top 5 of best selling Direct-to-Video titles in their first week of release. I think it's amazing that our micro budget productions manage to compete with much higher budget films in the mainstream market place all over the world. Ultimately the sales success of a film impacts my life far more than critical reception because generating a regular profit for distributors and investors is the main thing filmmakers need in order to continue to make more movies.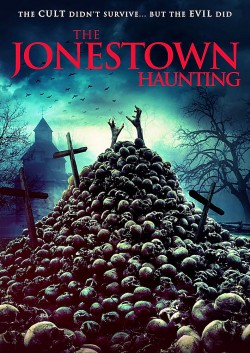 Another film of yours that will be released later this year is The Haunting of Margam Castle - so what can you tell us about that one?
The story focuses on a group of American parapsychologists who travel to Wales to investigate a haunted Castle and of course all hell breaks loose when they encounter the ghosts! It's our highest budget film to date and we were fortunate to be able to shoot at the historical Margam Castle in Wales which is the best location we've ever had access to. It gives the film a very gothic atmosphere. We had a great cast of established character actors such as Caroline Munro [Caroline Munro bio - click here], Derren Nesbitt, Jane Merrow, Vernon Dobtcheff, Judy Matheson, Garrick Hagon and Simon Bamford. It was really cool to work with actors I grew up watching in classic Hammer and Bond films. The film will be out on DVD and digital platforms later this year.
Any other future projects you'd like to share?
The Jonestown Haunting has recently been released in North America, the DVD is available at retailers such as Walmart and Best Buy and the film is also available on many streaming platforms. It's an often strange hybrid of true crime drama and supernatural horror so worth checking out if you like unusual films. It'll be released in the UK on August 17th.
What got you into filmmaking in the first place, and did you recieve any formal education on the subject?
I fell in love with filmmaking at a very young age when I first saw Friday the 13th and A Nightmare On Elm Street in the same night when I was five years old. I grew up in the 1980s when the VHS boom was in full swing, so I rented movies religiously. I always wanted to be a filmmaker but it didn't seem possible until the digital technology evolved in the early 2000s. I didn't go to film school, I pooled whatever resources I could, arranged film shoots and learnt from the experiences. I think film school and media courses are great things to do but there's no substitute for being on a film set gaining practical experience.
What can you tell us about your filmwork prior to A Killer Next Door?
I've made 28 feature films since 2012 and I'm proud of every single one because it took the blood, sweat and tears of a great team of people to make them. Creatively, every filmmaker is their own worst critic so there is an element of that, but overall I'm happy to have built such an extensive body of work. I'm particularly proud we managed to make a franchise out of the Robert the Doll character. To date we've made five films in the series and it's attracted a dedicated cult following all over the world. But most gratifying for me has been to have my wife Sharron Jones alongside me on this journey. She's fulfilled so many roles on each production over the years, going from being my assistant to being the costume designer and now a frontline producer on the projects. I wouldn't have managed to make so many films without her support.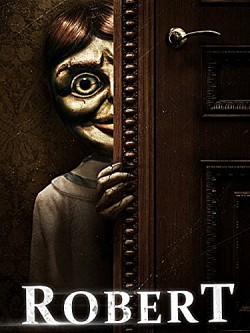 Going through your filmography, one can't help but notice that you never stray too far from the horror genre - so is that a mere coincidence, or is horror a genre especially dear to you, and why (not)?
I definitely have a personal love for the genre, it carries a great nostalgia for me having watched a lot of horror since childhood. The early experiences of seeing subversive things like the twist ending of Sleepaway Camp had a really profound impact on me! As a filmmaker I love the unique freedom the genre offers to veer between different tones and reflect some of the darker aspects of human behaviour and social issues. It's a very broad genre to work in.
How would you describe yourself as a director?
I see myself as a facilitator. I try to be the calm in the eye of the storm rather than a dictator. I aim to be a solid presence who enables the cast and crew to do their best work in a relaxed, creative environment, there to keep the ship steady and be collaborative. I love to hear new ideas from people and I consider the process of making a film to be a team game rather than an ego-led auteur scenario.
Filmmakers who inspire you?
My business model is very much inspired by Roger Corman [Roger Corman bio - click here] and Charles Band. Those guys are great inspiration for producers seeking longevity in the industry. They've both managed to evolve through different eras and stay the course. I'm not really into many mainstream directors, I find more inspiration in the guys who have worked in the independent and B-movie arena such as David DeCoteau, Fred Olen Ray, Greydon Clark, William Girdler and Jeff Burr.
Your favourite movies?
It's tough to narrow it down but I always want to champion underdog films that not many people appreciate. Rather than the mainstream version of a movie everyone knows I often prefer the rip-off mockbuster version! Also, so many people think sequels always fall short but I absolutely love them. Horror sequels became such a staple in the 1980s and I think many of them even match the quality of the original films such as Psycho II, Day of the Dead and A Nightmare on Elm Street 3. I actually really like the much maligned sequels like The Hills Have Eyes Part II and Exorcist II: The Heretic as well! I'd say the films I've probably watched most in my life are the Friday the 13th movies. I've been watching those for thirty years now and I still enjoy them.
... and of course, films you really deplore?

Feeling lucky ?
Want to
search
any of my partnershops yourself
for more, better results ?

The links below
will take you
just there!!!


Film is subjective so I don't really hate any film, some are just not my personal taste. But I do think when it comes to modern mainstream films you can tell with some that a lot of people had conflicting opinions on the direction of the material so the films don't feel like they have a distinct authorship, for better or for worse. I think you need a team of people on the same page creatively, otherwise a film can end up feeling like it lacks a soul.
Your/your movie's website, social media, whatever else?
For updates on my film projects people can follow me on Twitter - https://twitter.com/AJonesFilmmaker - or at my production company North Bank Entertainment's Facebook page: https://www.facebook.com/NorthBankEntertainment
Thanks for the interview!
Special thanks to Richard S Barnett, founder of IIWYK!!!