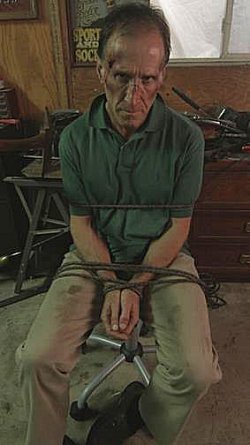 Jodie Moore
Your new movie Suburbanite - in a few words, what is it about?
Suburbanite is about making decisions and then having to live with the consequences. In life, whether big or small, decisions really shape our time and enjoyment of whatever life develops out of those decisions. So itís about putting someone in a position where the decisions really have a cause and effect and see what happens.
What were your inspirations when writing Suburbanite?
There are two main inspirations with Suburbanite. Iím a big noir thriller fan, both in films and paperback. Thereís just something about jaded or broken people that you both love and hate interests me. And second, would be more the actual behind the scenes logistics of films that you hear about in a lot of first time director films such as the always mentioned Tarantino Resevoir Dogs, or Rian Johnsonís Brick. The way that people had to be creative to use their money wisely and prepare for long periods of time.
Do you actually identify with any of the lead characters of Suburbanite, and why?
Iím still not sure who the lead character of the film is (laughs). I think that I identify with all three leads as one character and see myself reflected in all of them. With John (Joe Nemmers) I see a family man, that I envy a little, with the steady job, frantic-less life. With Mack (Jodie Moore) I see a little bit of my passive aggressive, sometimes disappointed, and yet humor filled personality, as well as the more introspective side. And with Rick (Frank Mosley) I see the bizarre over the top personality that I sometimes imagine other people see when they look at me.
As far as I know, this is your debut feature film - so how did the project fall together in the first place?
It is my first.
Suburbanite began as just spec job. A director/producer/mentor/friend of mine asked if I could write a simple script that could be shot with the fewest amount of people, cast, budget, locations, etc. Three weeks later was the rough, then three years later we talked and he gave me the go ahead to make it on my own. After a couple redrafts while working as a lighting technician for a living, a failed online funding campaign, and then a car wreck that paid for principal photography (basically I just didnít buy a new car after mine was totaled), we hit the ground running.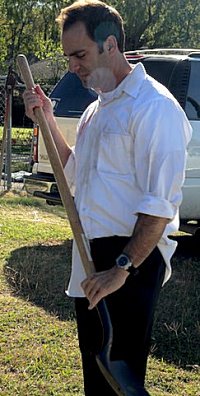 Joe Nemmers
What can you tell us about your directorial approach to your story at hand?
Itís important to be flexible. But at the same time have a plan. If there is no plan, no forethought, then itís wild west shooting from the hip. And when you have barely enough money to shoot for 11 days with a 90 page script, and a very small, but devoted, cast and crew, there needs to be a plan that is realistic and achievable.
We had some amazing meetings, the cast and I that is, over Mexican food, coffee, greasy spoon breakfasts, and phone calls where a lot of the rehearsing happened. Sometimes even reading the script and finding the little ticks, and the moments of silence, the looks, the repetition. On the day, there werenít a lot of questions or working things out. We had discussed ways to play the characters, and after a take one or two would adjust nuances to allow the actors to breath in those moments. It really helps when you can trust your cast, and be confident that they are playing the part from the heart.
At least for me, Suburbanite does have a humourous trait to it - would you at all agree, and if so, what can you tell us about your movie's brand of comedy?
It definitely has some slapstick humor with the amazing Bob (Max Hartman). But its amusing how we all seem to know someone that just never gets it, and tries so hard to seem like they get it. It needed something, and your never sure when you write something you think is ďfunnyĒ if it will translate. The majority of the humor comes from the actorís honest representation of awkwardness in these moments. Jodie Moore has this great humor in darkness that shines through in real life that he brought to this role.
Rick (Frank Mosley) although is definitely a bit more warped and in tune with my own off humor. Frank was so good at flowing with some of the unnatural wording, and coming up with his own twisted sayings, that Rick just feels off. My favorite line still that he adlibbed, at least I donít think I came up with it was ďCheer up buttercupÖĒ while stroking Jodie Mooreís face. Kills me every single time.
Suburbanite is set mostly in a garage - so do talk about this location for a bit, and what were the advantages and challenges filming there?
The garage, oh the garageÖ Actually it worked out great. A dear friend basically read the script and then decided I needed to shoot in his garage, so he cleaned it out over a weekend, or two, and we began walking through the paces.
With short schedules, time is your mcguffin. By not having to leave once we moved in the garage until we were done there, it allowed us a mostly walk away set like being on a stage. The exterior did not match what we needed, so we let the windows blow out, but under control. It definitely boxes you in and makes you think of creative ways to cover your scenes. It was almost a ballet. Letting the story move from one part of the garage to the other opening the world and characters up. Most of the props in the garage were just the things that didnít get moved out before we started filming, so perfect spot. Only downside was the car didnít fit, so itís trunk basically hung out the garage door the entire time we shot in there. Giving us a 180 world to shoot in.
What can you tell us about your key cast, and why exactly these people?
This castÖ what an awesome group of people. I met Jodie Moore years ago, and we kept bumping into each other on movies. He was always acting, me lighting, and we just developed a fun friendship. When the new drafts began, he just came to mind and fit right into the spot of whom I would love to see in the role of Mack.
Joe Nemmers and I met on a television show that shot in Dallas, The Good Guys, it was a slapstick action show. But Joe showed a lot of heart when guest appearing on the episode, and we ended up hanging out at the season's wrap party, and got to know each other during an altercation after (long story that ends less exciting than it begins). During that altercation I saw a father figure, someone protective, and someone that could be dangerous, and it just clicked for me that he could make John real.
And Frank, I believe I met when he was doing a Gary Oldman impersonation on another comedy television show that hasnít been released yet. He has the ability to play normal characters really well, but he also plays the quirky and disheveled ones a little too well.
Once we all started talking the characters and fleshing out the details, it just all clicked. I canít imagine anyone else having played these roles now, because they just felt as close to real as I could have hoped.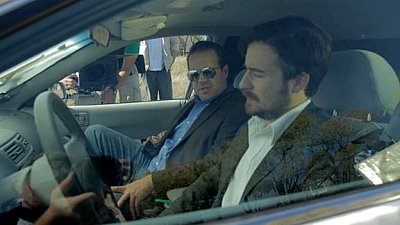 Max Hartman, Frank Mosley
Do talk about the shoot as such, and the on-set atmosphere?
For the most part it was industry friends and family, and the personal relationships between all of us kept things lighthearted. Despite our breakneck 10.5 day schedule everyone came ready, and if I remember correctly we only had one super long day that I think ended up around 14 hours. The others seemed to be 10 or less. I think the first two days we ended at 8 hrs.
Iíve always enjoyed a set where people know when itís time to work, and when to laugh. Some sets are just so filled with tension and it's no fun.
I remember during the bar scene at the beginning of the movie, when Mack (Jodie) hands Rick (Frank) the manila envelopeÖ I believe Jodie had photoshopped either his head or Frankís head on a picture of a female body builder. So when Frank opened the envelope to check the contents during the take, he got an eyeful of that. He laughed in character, which was great, but it has this sincere quality to it.
I think also at one point Joe Nemmers put on some ridiculous 4th of July sunglasses and Jodie was able to continue performing through it, but his facial expressions again made it in the movie.
The $64 question of course, when and where will the film be released onto the general public?
Maxim Media is releasing it November 15th domestically. I have not received all the details yet. And then I guess, on the foreign side, Acort International has it out in a few East Asian countries, and hopefully more on the way.
Any future projects you'd like to share?
I am ready for anything. Lately been taking some opportunity to works as cinematographer. I love lighting and working that side of the camera just as much as the directing side. Iím just making a living doing one while funding the other. Itís been great just learning and getting opportunities to stretch my experience. I think having been around lighting and shooting helped me organize Suburbanite in a very efficient manner.
Specifically Iíve been re-drafting a couple noir drama thrillers, more complicated than Suburbanite. It would be nice not to stay in one location for so long on the next one.
But there is also a cartel movie, a western, a sci fi, and you name itÖ thereís a script. Most of the scripts that are written and those still in development, are character studies. People that you love and hate at the same time, or at least hate decisions they make but still love them. Iíd love to do more ambitious work, but for the time Iím still learning what my voice is saying, subconsciously and purposely.
I think Iím more interested in pushing myself further with the next film and being able to let go of a few responsibilities so I can focus in on the actors and lighting. Getting time to really develop a visual language along with the performances has really become a desire of mine.
As far as I know, you entered the filmworld as a lighting technician, so do talk about that aspect of your career for a bit! And how did it prepare you for directing your first feature film?
Itís amazing. A college buddy referred me to a Dallas Tx, rental house. MPS, awesome people, and I basically knew nothing and they took me in. After a while I needed some more challenges, thank you attention deficit disorder, and just eased into set work as a technician. It just kind of steamrolled. Had some great chances to work under amazing key grips, gaffers, and even some awesome ASC cinematographers. In all this Iím watching, listening to what directors are saying, watching art department work, and the problem solving. Listening to everything, absorbing everything. Getting to work as both a grip and electric, key grip and gaffer, sometimes camera operator, and a few times art and even boom op has given me a very broad learning career.
I know that Suburbanite would not have been possible without those experiences, both the good and bad ones. Sometimes the bad ones teach you the most. What no to do, is so much easier to learn out there than what to do. Because sometimes what to do is this analogousÖ is that the right word, I think it isÖ analogous mythical creature. Because you donít know if it works until you see it. But you definitely know if it doesnít work while your watching it happen.
I think it has also given me a great respect for everyone, and an interest in communicating with everyone.
What can you tell us about your filmwork prior to Suburbanite, in whatever position?
Itís all over the place. I love it all. Fast and Furious 7 was ridiculously big and the first major movie I worked on, Ainít Them Bodies Saints was a dream come true literally, and dozens of indie films. Itís been such a great ride. It does feel weird; I donít want to sound egotistical so itís hard to talk about your work experience. IMDb makes it easier because you could just look up my name. Me listing out some favorite ones, and more widely known ones just feels weird.
Filmmakers who inspire you?
Itís a mix of directors and cinematographersÖ
Tarantino (of course) with his amazing ability to combine so many genres and film references. And his dialogue, oh my goshÖ
Roger Deakins (cinematographer), if you donít know him you should.
Bradford Young (cinematographer), get to know him!
David Boyd (director/cinematographer), one of the most amazing men I have ever met and had the pleasure of working for.
Sam Mendez, Denis Villeneuve, Ben Affleck, Shane Black, Rian Johnsonís work on Brick was utterly awesome, Alex Garland, John McTiernan, Richard Donner, J.J. Abrams, Michael Slovis, David Fincher, Guy Ritchie, Robert RichardsonÖ and the list goes on.
Your favourite movies?
Kiss Kiss Bang Bang, Brick, Momento, Resevoir Dogs, Prisoners, No Country for Old Men, Nightmare Before Christmas, Face Off, Die Hard(s), Lethal Weapon(s), Indiana Jones, Star Wars, Warrior, Jackie Chanís career!!! Lol! 13 Warriors, David Fincher's career!!! Bad Boys 1 and 2.
... and of course, films you really deplore?

Feeling lucky ?
Want to
search
any of my partnershops yourself
for more, better results ?

The links below
will take you
just there!!!

Find Andy Lohrenz
at the amazons ...

amazon.com

amazon.co.uk

amazon.de
Looking for imports ?
Find Andy Lohrenz here ...
Something naughty ?
(Must be over 18 to go there !)

UhmÖ I kind of have this thing for finding something good within every movie. Because I feel like almost everything has things to teach, even if itís what not to do. I guess movies I didnít like, but I thought were genius might be a better question. I did not enjoy Napoleon Dynamite at all, but I recognize its amazing impact on people. I donít necessarily like Michael Bayís newest stuff as much as the old, but I think he is an amazing filmmaker that gets some amazing stuff. Episode 1-3 of Star Wars depressed me a bit, but I still found the effects amazing.
Your/your movie's website, Facebook, whatever else?
No website yet, but we are on Facebook.
Anything else you're dying to mention and I have merely forgotten to ask?
UhmÖ support your local indie filmmakers, and reviewersÖ lol.
Thanks for the interview!