First off, do you mind giving people a little bit of background data on your life and who you are?
Well, I am a Pastorís Kid and grew up on stage in some capacity. Whether playing my clarinet, singing duets or solos, speaking or in dramas, I seemed to be a performer by the mere fact of the position I held as a Pastorís kid. I actually was a very shy kid and didnít really like much lime-light. However, as an adult, I found myself on my church drama team and grew to realize that being in front of people was really a part of who I am and desire to excel at. After more than a decade of being in church plays, doing improv during sermons, and monologues and skits at various conferences and banquets, I began my journey of being in films and commercials just a few short years ago, in 2007. By trade, I am a realtor. I have a wonderful husband and 3 awesome kids. We live in Kansas where many film projects are beginning to emerge. I hope to continue being a part of the film community in Kansas, but also beyond.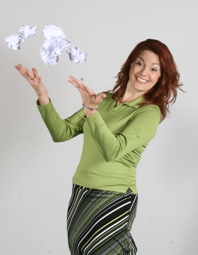 As of now you only act part time, correct? Do you ever see yourself doing it full time?
I guess you could say I act on a part-time basis. However, I think that itís how you define part-time. I currently am working on things that make it almost full-time, though. Iím working on writing my first film, developing my first TV show, auditioning for various projects, building my reel, making connections for more auditions, and working on projects. So, the fruit of my endeavors seems to be part-time, and yet I feel like Iím working full time. I hope that makes sense.
Yes, I do see myself reaping a full time life-style of this industry, whether it be hosting my own TV show, acting in more film projects or commercials, producing films, or a combination of it all.

Did you study acting for film at any school or just pick it up as you went along?
I have not studied acting for film. Read above. Since I started out in the film side of the business in 2007, Iíve taking some coaching, and several film classes - no formal degree, though.

Perhaps you, yourself, should take all the time you want with this question and tell people about your past films ...
| | | |
| --- | --- | --- |
| The Steve and Kathy Show (Emmy Award Winning) | Various roles | World Revival Church, Dir. John Eschanbaum |
| Works in Progress | Anita | Never 2 Late Productions, Dir. Steven Pruitt |
| Last Ounce of Courage | Woman in funeral | OutPost, Dir. Steve Marks |
| Kansas City After Hours TV Show | Interviewer | KC TV 5, Dir. Darron Story |
| My Step Dadís a Freakiní Vampire | Secretary | Find the Light Studios, Dir. David Matheny |
| Barely | Teacher | Forever Films, Dir. Andrew Holden |
| All in One | Young wife | Phillips Productions, Dir. Doug Phillips |
| Soulmate 2 | Supporting | BackCorner Productions, Dir. Carl Adams |
| Bonnie & Clyde vs. Dracula (Award Winning) | Faux Bonnie | Big Atom Productions, Dir. Timothy Friend |
| The Hunter | Victim | Queqebo Productions, Dir. Jake Jackson |
| Angel of Music | Secretary | Lighthouse Limited Prod, Dir. John Woosley |
| The Initiation and On Second Thought | Host & Waitress | FootPrintz Prod, Dir. P. Campbell, T. Tolbert |
| The Groom and The Apology Dance | Guest & Zookeeper | Devinshire Jamestown Pic, Dir. Jason P. Hunt |
| Mixed Martial Arts | Supporting | Jennifer Davis, Dir. Dac Lam |
| Bitter Sweet | Caroler | SenoReality, Dir. Patrick Rea & Kendall Sinn |
| Heartland Horrors Series: Riley | Mom | SenoReality/GunnPark Enter, Dir. Jeff Chitty |
| The Ticket and Knock Knock | Psychiatrist & Wife | S. Studio Pictures, Dir. Babir Sultan |

Of these, which are you most proud of?
Really, Iím proud of all of them, for one reason or another. The reason being is that I have learned something about this industry, about myself and what God is doing in my life, or about other people. Each project has been instrumental in helping me grow and be not only a better actress, but a better person.

Future projects?
I have been cast as a missionary's wife on the project called The Snare. It is currently in pre-production, with the shoot in April. You can read about it at http://www.cfm.globalfilma.org.


Curiously, you are one of the Christians and while we have some logging on to this page, many other readers are not. Trust me on this. I am sure they wonder, as a Christian do you have any conflicts with taking secular roles, such as say, even a horror film? If so why and if not why not?
Being a Christian actor, in my mind, is not necessarily always about what role you take, but about your LIFE in general, both on the set AND off the set. Yes, there are certain roles that I am not comfortable doing. I am not comfortable with love scenes, for example, and Iím not comfortable being nude. However, I take each opportunity and weigh it against my acting code and let my heart and gut be my guide. I have been in several horror films, one being Bonnie and Clyde vs. Dracula. I am very proud of that film and am excited at the exposure that itís getting. The people who worked on it were awesome and the director/producers were amazing and really wanted to bring a fun project like this together. I was honored at being allowed to be a part of it. However, there are other roles in horror films that I have turned down. So, depending on the content, language, and overall premise of the film, I gauge my decision on those things. I will work on secular films, as most of the projects I have worked on are secular. I believe that God can and will open doors and I want to be ready for those roles when the opportunity knocks. I also believe that sometimes the roles we take will allow us to be on set with others who are not Christians. What a great way to be a light. But, honestly, as I grow in this industry and as a Christian, I realize that I will need to be more selective in my projects.

What is your favorite genre of film and why?
I like action films and thriller films. I think the reason is because of the emotion that is involved. I like being emotional in my characters and love watching emotion on film. For instance, the Little House on the Prairie films still make me cry. I love a good story and love the action involved in them. I like thrillers because of the strength that the hero must portray.

Your least favorite and why?
I know I may sound a bit hypocritical here, but honestly, horror films are my least favorite. Despite the fact that Iíve been in a few of them, I donít like watching them and in my journey, have decided to not be in any more unless I feel a strong leading of the Holy Spirit. (Unless some of you Christian Film makers can redeem this genre, Iíll be in one. Hee hee). Iím really not too fond of crime films, as Iím really not a gorey person and donít like watching that style of writing.


Do you have a web age, my space or place where people can find more about you at?
www.myspace.com/anitacor, Iím on Facebook, and IMDB at http://www.imdb.com/name/nm2718789/.

Any interesting behind the scenes stories to tell concerning the film world?
Well, I have a funny story to tell. I went to an audition for a film and had my lines ready to go. I had taken a friend with me on this 3 hour drive to the audition. When we got there, we were told that we needed to sing a song, and they pulled out the karaoke machine. I COMPLETELY froze. I mean Ė my mind went completely blank. I could not think of anything to sing. The director handed me that karaoke book and I began looking on every page for something that was recognizable. NOTHING. NADA. My friend got up, grabbed the mic, and belted out Like a Virgin by Madonna. She danced, smiled, and really put on a show for them. This only made it worse for me. MY TURN WAS UP. So, I stand up, still not knowing what I was going to sing. I grabbed the mic and the director and I had a few sentences dialogue and I opened up the book to The 12 Days of Christmas. He said ďJust sing thatĒ. So, he turned the music on, and I sang ďOn the first day of Christmas my true love gave to me ....Ē Sang up to about day 7, really trying to make 5 GOLDEN RING be funny and dramatic. Talk about flopping an audition. We laughed most of the 3 hours home. Needless to say, I didnít get the part. BUT, neither did my friend. Itís great to be able to laugh at yourself.

Feeling lucky ?
Want to
search
any of my partnershops yourself
for more, better results ?

The links below
will take you
just there!!!

Find Anita Cordell
at the amazons ...

amazon.com

amazon.co.uk

amazon.de
Looking for imports ?
Find Anita Cordell here ...
Something naughty ?
(Must be over 18 to go there !)

Do you ever go to any of the Indy film conventions or shows held around the USA?
Since Iím new to the film side of the business, I have not yet been to a film convention. However, I want to in the near future. I would love to go to even the book writing conventions to meet not only producers, but authors as well.

Anything else you would like to touch on before closing?
My heart is truly to excel in this industry and connect with film makers, actors, directors, and as many people as I can. Letís go make a film or two.

Closing comments?
I would just encourage those actors, Christian or not, to walk with integrity in all that you do. Stay firm to your word and be a positive asset to all on set. Be an example of someone who can be easily looked up to and be a joy to all those around so that they will WANT to work with you again, as well as want to refer you out. Remember, we are judged, not by our intentions, but by our actual actions.
Thanks for the interview!