Your upcoming movie Crisis Function - Awakening - in a few words, what is it about, and what can you tell us about your character in it?
Basically, Crisis Function - Awakening goes deeper into the story of Andrea Knight. If you recall, Andrea is thrown into a world of people chasing her as she tries to find out who killed her best friend in Crisis Function. So in the sequel - Crisis Function: Awakening - we begin to understand why she is being... hunted and even more about her past.
So Andrea is a bit stronger in this one and even more determined to find answers to what happening to her and why. Which I love!
What do you draw upon to bring Andrea Knight to life, and since you already played her in the first Crisis Function, does this make it easier or harder for you to get into the right mindset - and that said, how closely related are the two movies?
Well, as you recall from what I said earlier, in Crisis Function - Awakening, we are finally getting some answers as to how Andrea ended up in the situations she found herself in for the first film. So this one is answering the questions and developing the characters even further.
To bring Andrea to life..... well I guess it is more like I am finding out the answers as well. Remember in Crisis Function, none of us were made completely aware of if we were good or bad. And I was never told why my character was being chased. I didn't have a script and my scenes were improv from what the other characters were scripted to say. So in Crisis Function - Awakening, everything Andrea is finding out... so am I! LOL! So I guess the emotions to be seen are real because I find out more about my character each time I get the next scene we are shooting!
From what I've seen, your role in Crisis Function - Awakening is physically rather demanding - so do talk about the action scenes in the movie for a bit, and how do you prepare for them?
For me, I just consider the action scenes fun! I mean I do have a background in boxing and hand-to-hand combat and this films allows me to actually use those skills more regularly! The only thing I do say I have to prepare for is the healing time in between shoots! LOL!
We do not have stunt doubles in this film so we are all doing each action scene. Needless to say, there have already been a few nice bruises created due to this film! But the body heals and we continue to move forward!
Crisis Function - Awakening is directed by your frequent collaborator Nathyn Masters [Nathyn Masters interview - click here] - so what's your collaboration on this particular project like?
Well, for this project, I feel I've taken on a somewhat bigger role. Yes I am the lead but Nathyn made a promise (with the first one) to make Type One Diabetes another character in the film! And that is where I get to give input and advice and such while Nathyn is working out the scenes and what a T1D would or would not do.
This (of course) makes me happy because this is the second film in which me being a type one diabetic is not hidden... it is embraced and part of the story because Andrea is a T1D and has to find a way to manage her diabetes while trying to understand why everything that is happening to her is happening!
As far as I know, the film's still in production as we speak - so what can you tell us about the movie's status, and what has filming been like so far? And any idea when the film might be released yet?
We are still currently filming Crisis Function - Awakening. When do we hope to wrap.. I can only say we hope to wrap up soon but we still have a lot to shoot! So while we are still filming, we will be releasing the official trailer to hold over the fans. We hope that when the film is released, those that followed us for the first will be even more excited and pleased with where we went/are going with this sequel!
Another upcoming project of yours is Lorelei - again, do let us know what the film's about and about your character in it?
Lorelei is the story of Trinity who is a prostitute who suffers from a split personality disorder (Lorelei is her other personality). And this webseries tells the story of Trinity/Lorelei and her encounters and her closest friends.
Zaylee Welldone is one of Trinity's closest friends who knows about the split personality Trinity suffers from. So she is kind of like that motherly best friend we ALL have that looks after us and protects us yet isn't afraid to give us the truth when we need it!
In Lorelei you play a transgender person - so how do you prepare to do such a role justice, and how much of Anita Nicole Brown can we find in Zaylee?
NONE of Anita Nicole Brown is in this role!!!!! LOL! Well, not really. I mean I am that motherly type of friend who will look after you and give you the truth even if you do not want to hear it! But as far as being transgendered... Yeah... that part is taking some research. But from what I've done thus far, I don't really feel as if the gender of Zaylee would have changed the person she is. I feel she ALWAYS had the personality she has as Zaylee and even after her surgery, the only part about her that would change is the physical.
How did you get involved with the project in the first place?
I went to audition for a different character. Aveline was the character I originally went in to audition for. Now, while at the audition, I was also given the opportunity to audition for Zaylee and even Greg Miller (yes, male role), and (if I recall correctly) even Trinity/Lorelei!
It was some time later that I was offered the role of Zaylee Welldone. Initially, I was going to just say no to the part because I knew nothing about playing a transgendered person and I was worried about how such a script would be written about such a character! But then I thought about the challenge such a role might be able to provide me and I said, this is something I have to do! So I said yes!
What's the actual status of the movie as we speak?
We finished shooting the pilot not too long ago. In fact, I believe it was on the 28th of February. So now it is in post and I'm sure after they see what they have, we will know when we will be returning to set to finish shooting the series!
You also have to talk about the T1D Exposed project for a bit, which I'm sure is also very important to you on a personal level!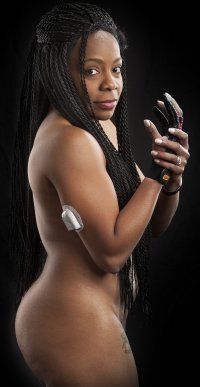 from the
T1D Exposed Calendar photo shoot


Feeling lucky ?
Want to
search
any of my partnershops yourself
for more, better results ?

The links below
will take you
just there!!!

Find Anita Nicole Brown
at the amazons ...

amazon.com

amazon.co.uk

amazon.de
Looking for imports ?
Find Anita Nicole Brown here ...
Something naughty ?
(Must be over 18 to go there !)

WOW! Now that was a very special project that I was so blessed to be a part of! I mean I was drawn in by the fact that they were looking for Type One Diabetics to be models!
Kat Reed and Tara Layman (the creators of the T1D Exposed calendar) reached out to me to see if I would be interested in being a part of such an interesting project! After they explained what they were looking for and why they created such a calendar... I was in 100%!
So basically the 2016 T1D Exposed calendar showcased type one diabetics of all ages, sizes and different types of insulin therapy doing what they love without allowing their being T1D to stop them! And that was what made this project such a joy to be a part of! I would also say the added bonus was the fact that ALL proceeds from the calendar goes (went) towards Type One Diabetic Research! Now how amazing is that!
The extra blessing was that I was able to attend the release party for the T1D Exposed Calendar in San Francisco in December and what a blessing to be in a room full of T1D's just enjoying life and not letting it stop them and their dreams! It was such a blessing having parents of T1D's come up to me and tell ME that I am such an inspiration to them and their children! So I think that was an amazing way to end my year! That and knowing I was selected as the month of January in the 2016 calendar!
Any other future projects you'd like to share?
As of now, there are a few projects I have been approached about being a part of but as of now, nothing officially confirmed as of yet! However, I am working with Nathyn Master [Nathyn Masters interview - click here] again for Wages of Sin: Special Tactics (trailers seen here: https://youtu.be/6fDEu3nQnKI) and I will be competing in a modeling competition out in LA in May of this year! So those are a few of the things I have up my sleeve thus far!
I can only hope that this is just the beginning of another AMAZING year for me!
Your website, Facebook, whatever else?
Website: http://anitanicolebrown.com
IMDb: http://www.imdb.me/anitanicolebrown
Facebook: https://www.facebook.com/AnitaNicoleBrown
Twitter: https://twitter.com/AnitaNBrown
Instagram: Anita_Nicole_Brown
Thanks for the interview!
Any time and as always, THANK YOU so much for having me!