Your film One Hour to Die - in a few words, what is it about, and what can you tell us about your character in it?
The plot starts when a group of people, related in various ways, come together for a birthday celebration. But the cake comes with a surprise, and from then on, the film lives up to its title. My character is Toni Scariot; well to-do, polite too, and I arrive with my brother Nate, but our lives are not quite as it seems.
One Hour to Die was pretty much improvised upon a pre-set concept in one single take - how much of a challenge was that? And was this concept something that drew you to the film or rather made you second-guess your decision?
It was scary, exciting, challenging; and pretty fantastic to be a part of. As an actress, we traipse along to a weekly acting lesson where we probably get a few minutes of 'screen time' doing an improvisation of sorts, but this was a whole weekend of it; and pretty much non-stop too. We had rehearsals, and yes, we did do the film in one take, I'm proud of that.
How much freedom were you given in creating your own character? And to what extent could you identify with your character to begin with?
Yes, we had total independence when creating our characters, we were given the scenario and from then on, she was mine! I can relate to her outward personality quite easily, she's nice, has some morals, likes to dress well, and good in company, but the twist regarding her relationship with her brother? No. Definitely can't relate to that!
What can you tell us about your co-stars and the on-set atmosphere? And how much of a strain did it put on all of you to actually get the thing done in one single take?
The atmosphere during the rehearsal and filming was pretty tense most of the time. Philip Gardiner [Philip Gardiner interview - click here] keeps you guessing so that you don't know what to expect next, and because I didn't really know much about him or his company at that stage, I was really nervous; we were also in the middle of nowhere, no phone reception to speak of, so if anything weird had happened, we had nowhere to run to! The cast were all lovely, we are all very different, and we had some interesting conversations that's for sure, but we were definitely a team and are all still in touch.
A few words about your director Philip Gardiner [Philip Gardiner interview - click here], and what was your collaboration like?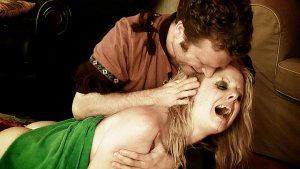 Rob Ireland, Anna B.
Philip Gardiner is a bit of an odd character - I don't think he'd mind me saying so. He kept his cards pretty close to his chest about the way he was going to film it, I think so that he could create the tense situation that mimics the scenario in the film, and it worked. Pretty much until the end of the film, I didn't know whether to trust him, whether he was filming us in the down time or not, whether there were extra cameras dotted around (there were as it turns out); but then when it was all done, and everything had gone so smoothly, it gave me a completely different perspective on him; he is a very clever and cunning director, who manipulates the acting space in order to bring out the best in his actors. I wouldn't say it's a comfortable way of working, and he warned us that it wouldn't be, but it got the results.
Let's go back to the beginnings of your career: What got you into acting in the first place, and did you receive any formal education on the subject?
I've been acting for about 2 years, so not long really; just started an acting class for fun and ended up getting cast in an advert; and that grew and now I'm doing what I love, which is films!
Do you still remember your first time in front of a movie/TV camera, and what was that experience like?
Being in front of the camera is petrifying; until you get used to it, it's as if you're a different person; I remember watching it back and not being able to bear it; I thought I was awful, really over the top. I'm comfortable now, which has only come with practice, and hopefully you find me a lot more realistic.
You are also in the brand new zombie film Eschatrilogy - you just have to say a few words about that one and your character in it!
Eschatrilogy started off as three short films and has turned into an epic feature film. My character is Joanne, and she leaves the house to pick her boyfriend up one evening... I won't tell you the rest because it would ruin it, but it's a pretty special film which has been shortlisted in some huge festivals in the US, so we're all excited about it.
Any other movies of yours you'd like to talk about, any future projects you'd like to share?
Yes! Nightfall is a film directed by Jeremy Sladdin where I play PC Long, who is investigating a disappearance; it's a film which uses a lot of CGI, so I'm interested to see it, I think the trailer's out at Halloween.
Another film we're in the process of working on is Where's Saltaire by David Thompson. I play a feisty young woman called Bridget who encounters a few fools on her journey to love. That's being filmed this autumn.
And then finally I've been chosen to play the lead in a short called We're All the Same, directed by Bob Griffin which is being filmed in the beautiful Midland Hotel in Bradford; a bit of glamour which makes a change from zombie blood!
How would you describe yourself as an actor, and how do you usually approach your characters?

Feeling lucky ?
Want to
search
any of my partnershops yourself
for more, better results ?

The links below
will take you
just there!!!

Find Anna B.
at the amazons ...

amazon.com

amazon.co.uk

amazon.de
Looking for imports ?
Find Anna B. here ...
Something naughty ?
(Must be over 18 to go there !)

I always get cast as a strong woman, so I guess I must be quite forthright and confident. I try to put myself in my character's mind, try to really think - how would I feel in this situation, and it's brilliant when it works, such a buzz; but inevitably, a bit of me comes through in every role I play; I guess that's hard not to.
Actresses (or indeed actors) who inspire you?
Not the obvious ones, I really like Kelly Reilly who played in Above Suspicion; she's a quiet actress, she doesn't throw her character at you, and the audience is interested because of that. Suranne Jones is pretty awesome too; I think TV drama acting can be grittier, and more real than movies, and that's what I'd like to bring to feature films.
Your favourite movies?
French ones; I love Pierrot Le Fou and A Bout de Souffle. Romantic, beautiful, touching and so many layers to them; it's like literature versus 50 Shades, there really is no comparison. You notice different things every time, and in a really self-centred way it makes you feel good about yourself, it's that feeling when you are being challenged and learning at the same time. And they don't waft around without a story making art for art's sake; they've got plot too. Love 'em!
... and of course, films you really deplore?
Most things with Adam Sandler in.
Your website, Facebook, whatever else?
Website is www.theroxby.com, or you can follow me on Twitter - @theroxby.
Thanks for the interview!