Your film Ghostkeepers - in a few words, what is it about?
Thanks for your interest in Ghostkeepers – it came out rather quietly in October 2013, and seems to have been immediately overshadowed by my newest film, Phantom of the Opera. I love Ghostkeepers – it's very close to my heart. It's an original story about a podcaster who rents an old house where his favourite film (the fictionalThe House Where Evil Was Born) was shot 25 years earlier. He assembles the film's two leads, a tech assistant and a local medium to record a special episode, and over the course of the evening a frightening ghost story unfolds. I love a good haunted house tale, and I hope that we've made one!
What were your inspirations when writing Ghostkeepers?
The film was based on the first draft of a play script that I wrote a few years back, which I updated to the present day. A podcaster myself, I have a very strong relationship with the fan community, being such a fanboy of classic horror myself. The film is a love letter to classic horror, and those classic horror actors that I grew up idolizing (Vincent Price [Vincent Price bio - click here], Peter Cushing, etc). It's also a homage to my very favourite film of all-time, The Changeling (1981).
What can you tell us about your writing partner Bill Bossert, and what was your collaboration like?
Bill Bossert turned my career around when he stepped in and produced my first acquired feature, Terror of Dracula. A listener of my podcast, he reached out to me when he got the bug to start producing. Not only has a great business / professional relationship come together, Bill is like a brother to me – one of the dearest people in my life – we've become such good friends. He also has the uncanny ability to improve my work. I write a draft, Bill goes in and makes a few changes or offers suggestions – he's a great script doctor, and an invaluable resource in my filmmaking kit. As Sherlock Holmes once said: "I'd be lost without my Boswell" – that's Bill to me.
Two of your film's main themes seem to be modern vs. old school horror, and today's fanboy culture - care to elaborate on those for a bit?
That's something I'm passionate about – celebrating classic cinema while we move forward. I co-host a long-running podcast (Horror Etc) and often appear as a guest at horror conventions. Somehow, I seem to have some minor gravitas when it comes to an opinion on the subject of horror. I think the genre has become very cruel, too violent --- horror used to be delivered with a twinkle in the eye… it used to be FUN to go to a horror film! We're coming back to that now thanks to the recent turnaround of intelligent and subtler horror (thank you to James Wan's The Conjuring!) – but for a while there, there was an ugly procession of these cruel and cold horror films (Saw, Hostel, etc) that left me feeling betrayed as a life-long fan of the genre. I'm a fanboy myself, and I love the culture! Horror fans are unique --- back when I was coming up (before the internet), we were loners who camped out in dark corners of our parents' basements to watch these dusty old video tapes we found on the racks at the local rental shops. Now, post-internet, horror fans are united have come together in a major way… horror is the most profitable genre of film, although it still seems to have to fight for recognition within the industry. My character in Ghostkeepers, Victor Brimstone, is very much the embodiment of my sentiments on horror.
How would you describe your film's look and feel, and also your approach to horror?
My approach is an indulgent one, LOL! – I make films that I would enjoy watching. Ghostkeepers needed to embody both the modern era and the past, and I achieved both with a freestyle shooting technique combined with Bava-esque lighting [Mario Bava bio - click here]. It's fairly gothic (I think), and yet it's very contemporary in that it's a story about the culture of today's youth… misfits in particular! I feel a great kinship when amongst misfits ;-)
Your character, horror actor Victor Brimstone - have you conceived him with yourself in mind, what did you draw upon to bring him to life, and how much of Anthony D.P. Mann can we find in Victor Brimstone?
There is a great deal of Anthony D.P. Mann in Victor, as well as those great actors that I have drawn inspiration from. Vincent Price [Vincent Price bio - click here] and Peter Cushing have been two of the greatest heroes in my life. Victor initially appears as almost a caricature when he's in "Brimstone" mode – but by the end of the film, we discover his weaknesses and fears… every actor has to struggle with burying those fears behind the façade of the public persona. Of course we differ in many ways as well… but how romantic a notion to find myself a has-been at the end of my days, living on the convention circuit and the ghosts of yesteryear ---- ?
Do talk about the rest of your cast for a bit, and why exactly these people?
A wonderful cast of players, mostly new to the fold!
- Christian Pawlowski plays the podcaster, Barry Bird – the main fellow who sets up this whole excursion into terror. Christian is a very talented young actor, and I think he has a bright future ahead of him. We met while doing a production of The Woman in Black on the repertory stage – how befitting, no?
- Jennifer Verardi plays Raike, and this is really her film. She is a very versatile actress who is a bit of a chameleon – she is far more glamorous in real-life than the frumpy character she plays in Ghostkeepers. She is such an amazing talent, and is always headlining a stage production in this part of the world. She immerses herself into her characters, and brought far more to the role of Raike than I ever dreamed possible… I lucked out with that one!
- Jenny Costanzo plays the psychic, Amber, and I adore Jenny. She's such a fun gal to hang-around on-set with. She is a total horror fan-girl herself, and an amazing team player. But she is also dedicated to her craft, and when it's time to call "action", she is prepared and ready to deliver… and boy, does she deliver in this one!
- Sherri Paterson plays Victor's ex-wife, Vera Sunset… I should be so lucky! Sherri is a sweetheart in real life (even though she plays a bitter and vile character in the film). She is a dedicated professional, and one of the quirkiest people I know. We're good friends off-screen, and I'm enjoying finding new ways to challenge her as an actress (she appears in a very different role in Phantom of the Opera).
- Barry Yuen plays the part of Hatcher in the film, the caretaker of Marlowe House. Barry and I first met during auditions for Terror of Dracula (in which he plays Renfield opposite my Dracula). We became fast friends as Barry is a life-long fan and collector of all things horror. We watch a lot of movies together and also play music together at pubs from time to time. He is an incredible character actor, and someone who needs little-to-no direction. He loves the classics as much as I do, so Barry immediately "gets" what we're trying to do. He's a mainstay in all my films right now… another "brother" I've met throughout this celluloid odyssey!
- Young Declan Spellman appears in the film as well, although I don't want to ruin the surprise. Suffice it to say this this young fellow has been an actor since he was a toddler (commercials and such), and has such an amazing eye for detail --- he even pointed out a continuity error on-set that could have jeopardized the entire production! Great lad, and we've used him again in Phantom of the Opera… and man oh man, can he play creepy! (His sister appears in the film, briefly, as Raike's younger self… a talented family!)
What can you tell us about the shoot as such, and the on-set atmosphere?
We shot Ghostkeepers over the course of a month in 2012 in Gananoque Ontario, a charming little community in the heart of the 1,000 Islands region. The house that stood in for Marlowe is actually called Brittain House, and once served as a bed & breakfast in the town. It's this wonderful towering old building (century-plus) that provided us with all we could ever need to pull-off this little chiller. The house itself has a few ghosts of its own, I'm sure! It was a cold shoot, but a fun shoot – the cast was dedicated, and we really moved chop-chop-cop (likely on account it was so cold). The house itself is a major of the film – really, thanks to the backdrop and some creative lighting, it was a very easy shoot.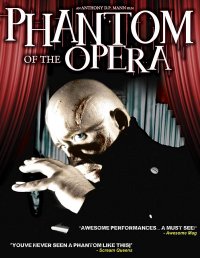 Feeling lucky ?
Want to
search
any of my partnershops yourself
for more, better results ?

The links below
will take you
just there!!!

Find Anthony D.P. Mann
at the amazons ...

amazon.com

amazon.co.uk

amazon.de
Looking for imports ?
Find Anthony D.P. Mann here ...
Something naughty ?
(Must be over 18 to go there !)

Do talk about your movie's critical and audience reception for a bit!
Ghostkeepers hit DVD and VOD in October 2013 (Reality Entertainment), and seems to be doing quite well. It's a different, quirky little film, and audiences have been very kind. There's a lot of humour, some decent chills, and also a great deal of heart to be found within… that seems to translate. I really hope more people keep discovering it as time passes!
Any future projects you'd like to share?
Phantom of the Opera is the next big one, and is currently appearing at festivals / conventions / select cinemas between now and it's official release on DVD and VOD in autumn. We actually had a distribution deal on this film before a single frame was shot (courtesy again of Reality Entertainment), and also ran a four-part TV reality series (TVCogeco) to cast our Christine. It's the most ambitious and most-anticipated film I have yet helmed, and I am optimistic that it's going to do very well. We've enjoyed several screenings thus far, and response has been fantastic. It's another one of those stories that I wanted to tell in my voice as writer / director / actor – I do play the Phantom in this… I've often been told I look fabulous behind a mask ;-)
Your/your movie's website, Facebook, whatever else?
www.anthonydpmann.com is the portal for all that we do… www.horroretc.com for the podcast I host with King's Town Ted… and look me up on Facebook (Anthony D.P. Mann) for the most up-to-date news!
Anything else you are dying to mention and I have merely forgotten to ask?
I'm a huge Roger Whittaker fan – I have over 200 of his albums, have flown over to Austria and Germany to see him in concert, I've met him on several occasions and even interviewed him once on television. There – bet you never saw that coming!
Thanks for the interview!