Your upcoming film This Film Hates You - in a few words, what is it about?
The story follows a hardboiled detective as he's investigating the murder of a young woman. It also follows the murder victim, as she and the detective separately but simultaneously hunt down the killer. Of course, that's maybe 35% of the film, but that's about the most concise it's gonna get!
What were your inspirations when writing This Film Hates You?
I think that I wanted to take films like Mulholland Drive and Un Chien Andalou and force them to breed. Lynch and Buñuel were definitely in the back of my mind, but until I finished the script, I hadn't really started seeking out a lot of their other great works, like Inland Empire or The Discrete Charm of the Bourgeoisie. And I hadn't even begun to experience Jodorowsky ... The Holy Mountain, anyone? Those late discoveries will definitely be influencing things later.
Would you care to explain the film's title?
There's not really a way I can explain it any better than simply re-stating the title—this film really does hate you, the audience.
This Film Hates You is described as a surreal, avant-garde mystery. Care to elaborate?
A lot of films have surreal imagery or camera-tricks borrowed from avant-garde and experimental filmmakers. But that's not good enough for us. We want to actually tell a story in a surreal way. We want to treat the medium of moving pictures in some bizarre fashion. We want the experience to be engaging, and we're not talking 3D "immersion"—we're talking a confrontational presentation. Maybe the mystery is a murder. Maybe it's not.
Why a mystery in the first place? Is that a genre at all dear to you?
What better a way to explore a strange and unusual world where typical logic is thrown out the window and all the rules are vapor than by having the characters slowly treading into a murder mystery? The audience and characters both get to explore at the same pace.
How do you plan to approach your film from a directorial point of view?
This is a more visual film for me than what I'm used to. Normally, I'm pretty improvisational, but this time, I'll be planning out some of my scenes a little more carefully. I really like to collaborate with the actors, with the crew. I'd rather their expertise advise the production than anything. Surround yourself with good people, and you'll always look like a great leader.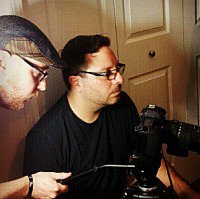 Anthony Kilburn, Jeff Compton
Your cinematographer Jeff Compton - what will he bring to the table?
Jeff's eye is amazing, and he knows how to get great images out of his camera. He's shooting the film and helping me produce it. We're on the same page, he and I, and it's pretty cool to start describing an idea for a shot or a look, thinking it's obscure or something, and then he just casually acknowledges exactly what you're thinking like it's common knowledge. That's synergy.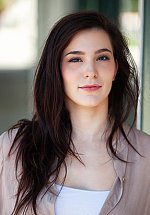 Krystyn Tsagarakis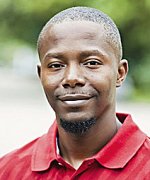 Walter Colson
What can you tell us about your film's projected cast?
Most of them haven't done film before, which is pretty cool for me, 'cause I love the trust they all have and the lack of cynicism. Krystyn Tsagarakis comes from dancing and aerial arts, kinda circus-style performance on silk ribbons. She's incredibly talented, and almost more excited about the film than I am. Seth Langner and Christina May both have extensive theatre experience, which is fantastic, 'cause I tend to run my productions like stage plays anyway. And WalterColson, mister superstar, is coming off a starring role in Velvet Road, which is a short film that's gobbling up awards on the festival circuit. So, he's, well, better than all of us.
As far as I know, This Film Hates You is still in its fundraising stages - so what can you tell us about your fundraising efforts?
We're cashing in all our favors around town, and all that we can't beg for or borrow leaves $8,117 to get the production off the ground. So far, we've raised about half that budget with a little over a week to go, so things are looking pretty good. And we've picked up new fans that we didn't have before. And we've got momentum building. And we got to meet you, Mike!
http://www.kickstarter.com/projects/killacozzy/this-film-hates-you-an-avant-garde-mystery
Once the fundraiser has succeeded - how do you plan to proceed? And any idea yet when the film might be premiered/released onto the general public?
We'll continue pre-production through mid-January 2013, rehearsing, planning, booking locations. Then we shoot for five weeks, and we wrap production the third Sunday in February. We've accounted for six-to-eight months of editing, audio-magic, scoring, napping. We anticipate a release around this time next year, but that will also depend on the festival circuit and several other factors.
Any future projects beyond This Film Hates You?
Don't scare off my backers! One idea is enough for now ... But, yeah, I've got a bizarre sci-fi idea I've outlined, but haven't written, and I have the beginnings of a weird unreliable-narrator-type piece. Not much, but it's intriguing enough to keep on the back burner.
Let's go back to the beginnings of your career: What got you into filmmaking in the first place, and did you receive any formal training on the subject?
Star Wars. I wanted to re-create my own version, though. I would make up movies like Galactic Battles. Or Demons of the Dolls when I was on my horror movie kick. Those were dark times, horrible films.
I went to the Motion Picture Institute of Michigan after high school, but never really did anything with the training and let years go by without any mention of making a movie. My wife got me back into it, forced me to work on a local contest, against my objections. She's obviously wiser than I.
Would you like to talk about your previous films Chiaroscuro, Baby and Gore-e-ography: The Making of Death Harmony for a bit? And what can you tell us about your evolution as a director?
Chiaroscuro, Baby was my '60s-styled ode to Warhol. "Sex, drugs, and art" went the tagline. It was very personal to me, and it was my first directorial effort. But it's a peculiar work. I made some choices in that one that others didn't get or appreciate, like purposefully mixing noise into the audio, shooting in black and white. I didn't want a glossy little film. I wanted grit.
Gore-e-ography was our improvised mockumentary that followed amateur filmmakers making a terrible horror film. My wife and I'd just had our first child, so my time was limited, but I hadn't touched a camera in a year. So, I got with the local improv comedy troupe, Mad Cowford, and we shot over two weekends with literally zero budget. Trial by fire, I guess.
I'm to the point now where I've gotten my "self-important film about myself" out of the way, and I did my reckless experiment already. So I'm ready to take the experimentation and the nanobudget and take this story about archetypes and take them into a crazy world. The control of Chiaroscuro, the freedom of Gore-e-ography.
How would you describe yourself as a filmmaker?
Definitely very broke.
I find it funny, actually. I really think that when I come up with my ideas that they're too derivative, unoriginal; my metaphors or symbols are too transparent, clunky. I don't feel like my work is complicated or smart or anything. But people will sometimes tell me I'm quite simply weird as shit, complex, intellectual. I don't get it. I look at my first film as a cheesy rom-com. I guess others don't see it that way.
Directors who inspire you?

Feeling lucky ?
Want to
search
any of my partnershops yourself
for more, better results ?

The links below
will take you
just there!!!

Find Anthony Kilburn
at the amazons ...

amazon.com

amazon.co.uk

amazon.de
Looking for imports ?
Find Anthony Kilburn here ...
Something naughty ?
(Must be over 18 to go there !)

Lynch, Buñuel, Jodorowsky, Godard.
Your favourite movies?
The Scorpion King, Ghostbusters, American Beauty, Taxi Driver.
... and of course, films you really deplore?
Magnolia, Independence Day, Clerks, anything by Tarantino (except Kill Bill: Part II).
Your/your movie's website, Facebook, Kickstarter, whatever else?
Kickstarter: http://www.kickstarter.com/projects/killacozzy/this-film-hates-you-an-avant-garde-mystery
Facebook: http://www.facebook.com/ThisFilmHatesYou
Website: http://www.amalgamcinema.com/thisfilmhatesyou
YouTube: http://www.youtube.com/killacozzy
Anything else you are dying to mention and I have merely forgotten to ask?
I need a cigarette.
Thanks for the interview!
Anytime!