Your upcoming movie The Wall of Lyon - in a few words, what is it about?
The prelude to a series long in development, the primary instalment of The Wall of Lyon considers the nature of fantasy and brutal reality; what we want, versus what truth might be.
Based on the first act of The Wall of Lyon novel we follow Cassini, a disparaged young woman, in her desperation to find a place within the world; yet she finds herself chasing the tail of the unknown. Believing herself to be the descendant of an ancient mythical species named ĎThe Fallení, and caught asunder in affliction not hers; reality soon alters.
Also considering you're rather young of age, how did the project fall together in the first place?
I am a great believer in the notion of hard work cultivates good luck, The Wall of Lyon and its subsequent volumes have been a long standing project of mine. Due to ill health as a child I was unable to further mainstream schooling and thus I became lost in the world of fiction. At the age of 12 I started cultivating the plot for The Wall of Lyon and itís universal setting to paper; and since then I have been working doggedly to try make the fantasy series a reality. It is only now, seven years later am I beginning to see the results of many years of hard graft on the cinema screen!
What were your sources of inspiration for writing The Wall of Lyon?
When going about initially fleshing out both the scripts and novelizations for The Wall of Lyon I was determined to craft something contrary to that of the stories we are surrounded by today. Thus instead of turning to my DVD collection and extensive collections of fantasy novels (the likes of Harry Potter and Lord of The Rings come to mind) I turned to the epics and classics of centuries past.
The igniting spark to The Wall of Lyon had begun in the final chapters of writing my science fiction trilogy, I wanted to create a prelude, set millions of years in advance, that upon initial glance, was set in an entirely different sub-universe; though still remained within the overall timeline of the epic plotline I was trying to achieve.
Important references and inspiration for The Wall of Lyon has been taken from the Popul Vuh, The Pyramid Texts, The Prose and Poetic Edda, The Zend Avesta, The Kojiki, the Greek classics such as Hesiod and Homer, The Epic Of Gilgamesh, The Old and New Testament, and though not a piece of mythical or religious reference, Danteís Inferno.
With The Wall of Lyon being described as "dark fantasy" - is that at all a genre dear to you?
I wouldnít say I was particularly attached to dark fantasy as a genre, as my root interest in the majority of film, TV and books is of science fiction (the likes of Star Trek, Hitchhiker's Guide To The Galaxy and Alien for example). Whilst The Wall of Lyon isn't a perfect fit for the fantasy genre it contains all of the essential ingredients; mystery, majesty and an innate wonder of the fictional world around paired with an epic quest, it simply was too darn spooky! As much of the storyline centres around her downright outlandish character and her search for ĎThe Fallení who just by design were too fiendish for pure Fantasy.
I like to think of The Wall of Lyon as a combination of horror, fantasy and a suspense thriller, as fantasy as we know fantasy today has been established from a great deal of influence from Tolkien, and by association Norse mythology. Though this makes the genre instantly recognisable, it makes it fairly limiting to work with, which I find contradictory to the nature of fantasy. Thus instead I tried to focus on taking influence on mythologies with a very different tone and structure to counteract the heavy influence from Norse mythology that we currently see in the fantasy genre.
You've also written the score for The Wall of Lyon - so do talk about the music in your movie for a bit! And how did you fall into composing in the first place?
I have spent many hours ruminating on the score for The Wall of Lyon which I am still in the process of developing and perfecting! My particular style of composing (and this is also relevant to my writing) is hugely atmosphere based, thus as a result I have never been too overtly concerned with the likes of structures or technicalities of the music I write, I just want the audience to really feel it! I really believe, and this is often overlooked by many writers, directors, producers, and filmmakers alike, the score makes up at least 50% of the feeling of the film. A scene that might have left an audience cold can be transformed with a good composer, and as a director I feel itís important to acknowledge this.
Having written the script and been intricately involved with all the film's characters for the past few years, Iíve found having such knowledge of their lives within the story and their personalities is hugely beneficial in crafting themes, signature sounds and picking up on an atmosphere in a scene.
My approach to this score is to combine ideas from various world cultures and combine them with the ideas already established in film score, I want to avoid an overly produced sound thus I am in the process of hiring session artists to perform various arrangements.
Music and in particular film score has always been a fascination of mine. It first gripped with the last cue of Harry Potter and The Philosopher's Stone entitled Leaving Hogwarts, released in 2001 which would have made me about four or five years of age. Strangely I initially became taken with world music, mostly African and North American tribal music until turning to every genre I could find to influence the scores I would practice with, until finally landing my first real composing job on Time Lapse (2011).
Iíve always thought film score to be hugely undervalued, and with this in mind I am in the process of writing a concept album based on The Wall of Lyon novel, combining thematic ideas from the score with a more popular form of music such as rock, pop and the various forms of electronic music that has arisen in recent years. I am hoping that this may connect an audience more to the film score.
What can you tell us about the look and feel of your movie?
I was wanting to create something largely atmospheric, thus cinematically we have lots of darkly lit, lowly exposed shots combined with one point perspectives. I wanted to concentrate on the use of circles within shots to symbolise infinity, as this is a theme often referenced to within the film. Symmetry was also hugely important within the visual language, simply from a stylistic standpoint as though I want to see fluidity in the performance from my actors, I do adore the discipline of a well composed image.
Talking about genre once more, I do think the atmosphere, look and feel of The Wall of Lyon is distinct for a fantasy, if I were to compare it stylistically I would say it is more akin to a film such as Blade Runner or a Wes Anderson film.
Do talk about your key cast, and why exactly these people?
I was extremely lucky to work with a truly talented and affable cast, not only did they demonstrate complete and utter dedication to their work and characters but they also completely submitted to the roles, and held nothing back! I felt hugely proud to be working beside them, and look forward to furthering The Wall of Lyon series with them.
I held the auditions in two sections, a UK audition held in Herefordshire and BFI Southbank, and an online worldwide audition. Both in the live auditions and video streams there was many vivid talents to choose from, and I really was spoilt for choice. I had interest from the late and great Alan Rickman in becoming a cast member, which I have to say, was a real milestone in my career!
However Iím sure every director has the experience that when the right actor walks through the door, you just know that they are right for the character.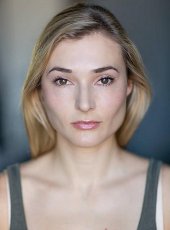 Monica Miles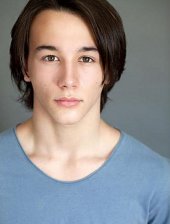 Daniel Barber
I met our Cassini, Monika Miles (War Games, Taggart) at the Herefordshire auditions who instantly stood out with great screen presence and a real understanding of Cassiniís inner world. She completely enveloped herself in the scene, connecting herself to Cassiniís surroundings in a way I hadnít seen the
other actresses do, and I was very impressed. We ran through a few exercises and I soon realised that Monika had a wealth of personal resources to draw from, and would easily be able to craft Cassini into a dynamic yet subtle character.
I also met Daniel Barber (47 Ronin), who I cast in role of Fenri at the Herefordshire auditions, and I remember being extremely shocked by his likeness to the character! I was completely taken aback by it in fact, as I was suddenly confronted with meeting someone I had known for quite a few years, but only in my head! I was thoroughly inspired by how he quickly brought Fenris's emotions to the surface and completely brought him to life. He quickly connected to all the direction given and brought great dedication to the set, being the youngest member of the cast and crew he was a great example to everyone.
I cast Monika and Dan together at BFI Southbank, over the course of the shoot they furrowed a really great dynamic both on screen and off of set, they were thoroughly entertaining to be around and I would work with them as a pair again and again. I hugely enjoyed working with all members of the cast and can only wish them the best in their careers.
The Wall of Lyon also seems to be highly dependant on good locations - so what can you tell us about yours, and what were the advantages and challenges filming there?
Yes, with any film where it is mostly shot externally, location is everything! Without the luxury or money of affording a studio and designing sets we were wholly reliant on good location scouting and hoping that the weather would hold out!
I was truly lucky to stumble on some breathtakingly gorgeous locations, from the mountainous Llyn Y Fan Fach in the Brecon Beacons to add majesty, to obtaining permission to film in the sacred crypt of Worcester Cathedral; making us the first film crew ever to film there! Amongst our filming in the Brecon Beacons also included wading into a sub-zero lake, though we had filming the next day, hypothermia would not stop me!
We certainly were afforded many challenges as a crew, mostly in keeping the actors and ourselves warm in freezing temperatures.
We used old abandoned railway tunnels to give the effect of a subterranean world, misty greenwood for the otherworldly forests, courtyards and cathedral corridors to depict the Knight-Commanders Keep.
Filming in the interior locations certainly allowed for an easier workflow, allowed us to get through more setups and more control over set and atmosphere. Whereas filming externally allowed for more grandiose images, and experimentation.
However one of the funnest challenges had to be getting through 30 setups as well as juggling an interview with the BBC, that certainly was a hectic day!
As far as I know, you're still shooting The Wall of Lyon - so what's the schedule, and what can you tell us about the shoot so far?
We have passed the main production of the initial installment (The Wall of Lyon: The Short), which was all shot back in March. However as with many productions I am still planning reshoots for November. I would say my directing style is very particular, and as a result I was not satisfied with lighting and camera technique in certain scenes, thus I wish to refine them further in the reshoots.
Any idea when and where the film might be released yet (even though I know it's probably waaay too early to ask)? And any future projects beyond The Wall of Lyon?
It is still early days to talk about the initial release, I'm intending for The Wall of Lyon as a saga to be released on to the big screen in the next three to five years, as for the series debut I'm currently working on I am aiming for it to be hitting the festival circuits by spring 2017, and do look out for the novel to follow suit!
As for future projects, I have them coming out of my ears! The Wall of Lyon in itself spans in to various book, film, TV and game projects but beyond that I will want to release my science fiction trilogy, of which
The Wall of Lyon is a prelude to. I have high hopes for it as it cultivates and expands on all the ideas established in The Wall of Lyon but takes them to the next level on an even more vast and exciting scale.
Beyond The Wall of Lyon and the science fiction trilogy I will then move on to the final two segments of the four part saga that makes up the timeline of my work, thus I believe I'm going to be rather busy for the next few years!
What got you into filmmaking in the first place, and what can you tell us about your filmwork prior to The Wall of Lyon - in whatever position?
It was actually the act of writing the science fiction trilogy that inspired me to pursue working behind the camera professionally. I had always had a great passion for films and filmmaking, and as a result had spent many hours creating short films on my parents camcorder. Having become completely enveloped in the world of the story I was crafting I desperately wanted to see it before my own eyes; so I set about turning that into a reality and pursuing a career in film.
I cannot tell you the exact moment I became a filmmaker because it's something I have always done. There was never a day that went by in my childhood where I didn't have the camera in my hand, or wasn't sat at the computer editing.
Though The Wall of Lyon is my professional directorial debut, my first semi professional position on a film set took place on The Pyramid Texts, I had met the writer Geoff Thompson a few weeks previous and he had kindly invited me to the set to assist. It was a fascinating process to observe, and I quickly felt that the film set was where I belonged.
After that my experience in film went from great to better, I received a nomination for BAFTA mentorship through the BFI, was selected for the National Film and Television School's residential program, obtained a place onto the BBC induction scheme and the list went on, I even tried my hand at acting in The Black Prince.
You've also been writing on a science fiction trilogy since age 12, right? So you just have to talk about that project for a bit!
Ah this is a card I like to keep close to my chest for the time being, as I have big plans for it in the future. Even though The Wall of Lyon and the trilogy can be watched and read as two wholly different entities, they are intrinsically linked to one another and are essential to one another's overall storyline and meaning. Just watch this space!
How would you describe yourself as a director?
The notion of being self aware can be a tricky thing whilst directing, as it is essential to immerse oneself in the fictional world to create a sense of reality in a scene. Thus I can only guess at how I must be as a director! I would describe my approach as a balance between the meticulous and the accepting, I have very strong ideas about what I want to create, and though I will deviate from an original idea, I am very keen on perfecting every detail. My primary focus is that of the character's life on screen, as the most captivating stories are the ones with great performances and great connective stories; ones everybody in some sense could relate to, and by the end of the film could have gained something from.
When on set I try to create that world that the characters are living, so the actors can actually live the scenes as opposed to play them. So instead of calling myself a director I think I would describe myself a storyteller, as no matter who I may be working with, the actors, the camera department etc, we are all working towards the same objective, to tell the story.
Filmmakers, writers, musicians who inspire you?
Ultimate writing inspiration has to be William Shakespeare, one simply canít beat that style of writing, the wit and the originality! Other than Shakespeare I would say I have very few writing inspirations, particularly of the modern era (despite Douglas Adams, all hail Douglas Adams!)
Throughout my life I have very rarely found inspiration from absorbing others' works, though I immensely enjoy them I have never found them to ignite that spark of ambition in me, it has always been through experience of life and random moments that I have gained inspiration.
I certainly admire many filmmakers, the likes of Wes Anderson as I find his compositions deeply satisfying to my OCD, Spielberg for his grand ideas, Del Torro for his originality and ability to craft atmosphere.
Your favourite movies?
With such a wealth of award winning, and prestigious films produced over the past century itís certainly a difficult choice! However despite this, I would have to go with the likes of Panís Labyrinth, Blade Runner, Memento, 2001 or simply for the love of the story-universe the likes of the Harry Potter series.
However as a die hard Star Trek and Hitchhiker's Guide To The Galaxy fan, I have to include them here. Though they may not be known primarily as films I cannot talk about media and writing without mentioning them!
... and of course, films you really deplore?
Once again a tough question, though I have seen films that I have thought to be atrocious I donít believe I have ever hated a film. Iím of the opinion that everything is an opportunity to learn, thus even the worst films can be great in this regard! As they often hold the most tips on what, and what not to do.
Your/your movie's website, Facebook, whatever else?

Feeling lucky ?
Want to
search
any of my partnershops yourself
for more, better results ?

The links below
will take you
just there!!!


Follow us on Facebook and Twitter and keep up to date with the production via our website:
https://twitter.com/thewalloflyon
https://www.facebook.com/thewalloflyon/
Also a link to my directing reel (please note it only works on PC and Mac!): http://ashleighharley.com/wbro_sUb3_f113/
Anything else you're dying to mention and I have merely forgotten to ask?
With the upcoming reshoots planned for November 2016 I am looking for additional members to our crew (UK based), so if you are a DOP, camera op, sound recordist, runner, AD, and looking for work please drop us an email at info@thewalloflyon.com, we look forward to hearing from you!
Thanks for the interview!
Special thanks to Richard S Barnett, founder of IIWYK!!!