Your new webseries Casting Directors - in a few words, what is it about, and what can you tell us about your character in it?
Casting Directors is a new web series documenting Cindy, the owner and operator of Cindy Smiles Casting, and a weekend of casting her latest project. She is working with her assistant Billy to help bring Simbaís new work off the page. Letís just say that while she is enthusiastic about the project and the actors sheís brought in, not all goes according to her meticulous plans.
Cindy is a professional, first and foremost. She is a die-hard believer in new works for talented individuals regardless of their look or profit margin. She is also not the best at dealing with stress, and she is under a lot of it.
What did you draw upon to bring your character to life, and how much Ashley Rose Kaplan can we find in Cindy Smiles, actually?
I spoke with Casting Directors's creator Anthony Vander [Anthony Vander interview - click here] a bit on Cindyís background - her past on the other side of the table, her relationships with the other characters - and her enthusiasm is what really shone through to me. She wants so badly for actors and writers to produce new work based on talent and truth, instead of ďthe lookĒ or the money. Thatís something I want too. More roles need to be written for women of any shade and shape; where we arenít beholden to 2 dimensional stereotypes or victims of body shaming. Not every plus sized women needs ďfatĒ to be her story. Cindy wants it so bad, but she doesnít always phrase it to her advantage.
I definitely drew on some aspects of me, but Cindy is different. We both want to be as professional as possible, but she tends to act before sheís thought it all through. Her words donít always reflect her intentions as clearly as she believes. Sheís also extremely self confident, which I am still learning for myself. We do have the same taste in clothes, so far.
I'm taking a wild guess here that as an actress, you might have attended the occasional casting yourself, right? So did any of those remind you of the goings-on in Casting Directors, and some of your personal worst casting experiences?
Iíve been auditioning since I was around 10 years old, so Iíve run the gambit on the best and worst things to hear. Sometimes you can have a lot of fun in an audition, and sometimes it can be not so fun. My best auditions have been when you simply clicked with everyone in the room, and sometimes the actresses waiting in the hall too. Iíve had auditions where people would walk into the room mid-way through my piece on a cell phone - similar to Billyís little chat - wondering if I continued or start again. Iíve even had someone tell me that I acted like a leading lady but as I didnít look like one they would pass till I lost weight.
An actor must remember that you can only really control one part of the audition process - yourself. So prepare your work, stay adaptable, and get comfortable with the uncomfortable. These are my mantras.
How did you get involved with Casting Directors in the first place?
I met Anthony Vander and Lawrence Watling [Lawrence Watling interview - click here] through Distortion Actors. Anthony held a Casting Director workshop where Lawrence and I were able to work directly with a group of actors from different training backgrounds on material and speak directly with a casting director. It was an invaluable experience, and we kept in touch for future workshops.
After that, Anthony contacted me to read for a project he had written - a mockumentary where improv and comedy were essential. I loved the idea and Cindy as a character. Though with my first read of her I was worried about her choice of vocabulary. I sent over a tape, and kept my fingers crossed.
To what extent can you relate to Casting Directors' brand of humour?
The comedy of this piece comes from a real place. The tension of the audition room is real, and the energy can be felt. Simbaís bravado gets him into more trouble than he comprehends. Billy is a sieve of private information, and Cindy is desperately holding it all together. The brilliant actors who came in as actors, warming up, making audition mistakes, and even bursting into someone elseís time slot was a comedic ďwhat not to doĒ as and actor. I loved it. It was like Smash and The Office had a baby, and all you could do was watch it and hope it did not turn into Tammy from Parks and Recreation.
What can you tell us about your director (and co-star) Anthony Vander [Anthony Vander interview - click here], and what was your collaboration like?
Anthony as a director is extremely collaborative. No idea is too silly or small, and everyone can be open on set to suggest ideas or play. He wrote each of the characters, but as we improvised more and more, we all felt free to experiment. He was never precious about the work, but open to making it better and stronger. As a co-star, he is captivating to watch when Simba is in the room. I got to watch all the takes for the individual interviews and I could barely keep it together. We all trusted each other, which is vital. It made those two days amazingly fun.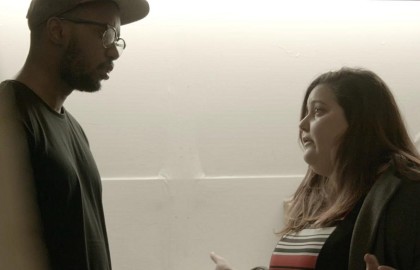 Ashley with Anthony Vander
What can you tell us about the shoot as such, and the on-set atmosphere?
The atmosphere on set was two solid days of energetic joy. The time flew so fast that I wished we had had more to shoot. I kept getting to set really early, and it was really cold, so whenever we stopped shooting I kept dancing around - which was great when Nick Tuck joined in. Everyone was comfortable, and we all clicked really well.
Any future projects you'd like to share?
Iím currently working with Anthony and Nathan for their latest feature film Scales, as a production designer. Itís been great working with them behind the camera. Iím also writing a web series, and hopefully that project will be ready soon. All I will say is the same the same question that sparked this project: ďHow does someone accidentally become a stalker?"
What got you into acting to begin with, and did you receive any formal education on the subject?
I started acting around age 15, but before then I was studying opera and musical theatre since 1994. It was a total accident that I was cast in my first straight play - BJ Steele in A Piece of My Heart by Shirley Lauro. I was convinced that without my singing voice I would be no good on stage, but my cast and I worked really hard. I loved every second of it and I even won an award for best supporting actress. My time at Stagedoor Manor meant the world to me, and I love seeing my camp-mates' successful careers popping up all over the industry. I split my last 2 years of high school at 3 schools - in the morning academic school and in the afternoon I attended the Long Island High School of the Arts [LIHSA]. From there, I got my BFA in Theatre performance from Adelphi University in NY. During my junior year, I studied for a year in London at the London Dramatic Academy [LDA], where I fell in love with Londonís theatre scene. I knew I wanted to perform from the age of 4, but after I broke my foot at 20, musical theatre was no longer a full option. It has taken a lot of time, but I feel like Iíve found a new avenue forward in my career.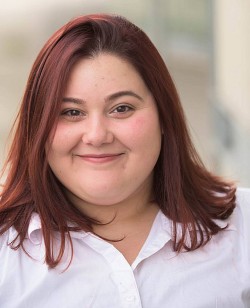 What can you tell us about your filmwork prior to Casting Directors?
Before Casting Directors, I have worked both on and off camera.
My first professional film project was Mina Martin, written and directed by Anthony Petrucci. I worked as the special FX makeup department, boom operator for 1 day, & an actor. I was still recovering from foot surgery so I was hobbling on crutches in the scene, and then painting Scott Kalberer ís face with a paint brush covered in blood. I loved every minute of it. After I settled in London, I worked as the art director on Future Got No Past, written and directed by David Cordon [& Annabel Bates]. I had experience in the prop department and set construction before, but building all the sets from scratch was amazing. I learned so much about film, and had a brilliant time with all the cast and crew. So much so that when Kjetil Alexander Gudmestad needed some actors for a music video, I jumped at working with him again. I had never worked on a music video before, and Dance to Death by Gaygirl was stuck in my head for weeks after. That project was brilliant - dancing over and over again in a damp basement, surrounded by lights, wires, and a group of energetically possessed actors. Acting can take you to strange but really memorable places.
How would you describe yourself as an actress, and some of your techniques to bring your characters to life?
I do not follow one method of acting technique. When I was training I took everything as gospel, which did not help me. I realized that if I cherry-picked what worked for me, and harnessed that into my own techniques I could find a more truthful place for myself and the character. I actually write down any technique I find useful, helpful, or even difficult, in a notebook I dubbed my ďActorís ToolboxĒ. I donít leave home without it. I try to find the truth of their world, their physicality, and their language to let them use me as a vessel. the best example I can give was something a great tutor of mine once said. ďJuliette is quicksilver, a puff of smoke. let her fill you for a time, walk through you, and then let her go. You will never be Juliette, but she can be you.Ē
Actresses (and indeed actors) who inspire you?
I have a lot of people in this industry who have inspired me over the years. Robbin Williams has always been a touch stone for joy and depth, for example. Recently I have been cultivating my own path outside the existing routes in the performance world. The artists I aspire to be like are Rachel Bloom, Whitney Avalon, Kathryn Hahn, John C Reilly, Nick Offerman, Tara P Henson and Donna Lynne Champlin. Long list, I know - and yet what connects them is their drive and creativity. These individuals honed their craft, created new & captivating work, and their performances are simply beautiful. The range of projects each have under their belts, and their approach to life inspires me to be myself through this world and through my art.
Your favourite movies?
Ahh thatís too hard! I watch tons of movies, but if I had to hall of fame my go to choices? They'd would have to be:
Walk Hard or The Goods - for when I need a really, really good laugh.
Americaís Sweethearts - I seem to watch it at least once a year. If it is on TV, Iím planted to the channel.
The Birdcage - the comedic, farcical nature mixed with really true moments of vulnerability and love. Who could ever get tired of this film?
Repo! The Genetic Opera - For when you want some horror gore with your musical.
And lastly, Funny Girl. Classic Streisand.
And of course, films you really deplore?

Feeling lucky ?
Want to
search
any of my partnershops yourself
for more, better results ?

The links below
will take you
just there!!!


I donít hate it, but I can never seem to get through the Fugitive. Iíve tried for years, but I always fall asleep before the midway mark.
Your website, Facebook, whatever else?
IMDb: http://www.imdb.com/name/nm5446374/
Website: https://www.facebook.com/ashley.r.kaplan
Twitter: https://twitter.com/ashleyrosekap
Casting Call Pro: http://www.castingcallpro.com/uk/actor/profile/ashley-rose-kaplan-robson
Backstage: https://www.backstage.com/u/Ashley-Rose-Kaplan/
Anything else you're dying to mention and I have merely forgotten to ask?
You can watch season one of Casting Directors here: https://www.youtube.com/playlist?list=PLOj2hrUI3u9HEW-UYb4BNXC9CiQNITLmV
Thanks for the interview!