Your upcoming The New Family - in a few words, what's it going to be about?
The New Family is a thriller-slasher set in the sleepy town of Murdoch, where an unknown assailant is killing pregnant women. Our lead is expecting, and as the audience we follow her as she begins to unravel from paranoia.
With The New Family being a slasher movie of sorts, is that a genre you're at all fond of, and some of your genre favourites? And what do you think will make your film stand out of the crowd?
I wouldn't call The New Family a thriller, but thatís not to say that Iím not fond of the slasher genre. Some of my favorites include Black Christmas 2006, Friday the 13th, Slaughter High and Terror Train. With our film, so much of the script is dedicated to establishing the characters and their relationships. In many aspects itís very much a slow burn film. However, it is incredibly violent at times and thatís where slasher elements are introduced. But one thing we are not doing is showing gore for gore's sake. Every kill is necessary in driving the plot forward. To me, with this kind of movie, a death scene for shock value simply does not work. And in today's market, where the audience is spoon-fed every bit of information, I think that will make our film stand out. At its core it is a who-dun-it mystery.
Other sources of inspiration when writing The New Family? And why having your killer go after pregnant women?
The House of the Devil was an enormous source of inspiration to me. That film took its time building to the climax, but the payoff for those that stuck around to the finish was worth the wait. Another source of inspiration is John Carpenterís Halloween. Murdoch and Haddonfield have some parallels, and I think that will come across in the finished film. Theyíre both small towns that harbor dark secrets.
Itís a primal instinct for a mother to care for her young. A madman trying to break that bond in the worst possible way is a true monster. Our lead doesnít only have to fight for her own survival, but for her unborn baby. We felt it would make a compelling story. Although not intentional, the concept gave The New Family its own niche in the genre. Jason Voorhees kills camp counselors. Michael Myers kills his family. In The New Family pregnant women are the targets. Of course thereís a bit more to it then thatÖ
What can you tell us about your writing partner Reece G. Donnell, and what's your collaboration like?
Reece and I keep each other grounded. We bounce ideas off one another. Iím thankful to have a writing partner because the work constantly has a fresh pair of eyes.
As far as our process goes, Reece will write a few scenes, email them to me, then Iíll do a pass. Then I write a few scenes, email them to him, and he will do a pass. Then we put it together and edit. In order for that to work we have to be on the same page, which fortunately we are. We have everything planned before we sit down to write. With The New Family, we were both passionate about the characters and story. They became fictional friends. Having someone to share the writing experience with makes the story stronger in my opinion.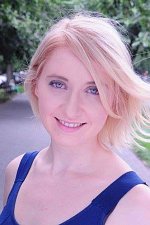 Anne Leigh Cooper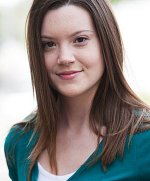 Nicole Ogden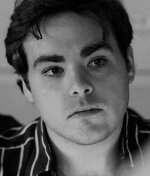 Chris Moore
Slasher movies aren't always entirely violence-free - so what can you tell us about that aspect of your movie, and is there a line you refuse to cross (for other than budgetary reasons)?
There is no line we refused to cross, either for creative or budgetary reasons. There are a number of deaths in the film. It is insanely violent at times. But weíre not doing anything for shock value. As I mentioned previously, I see that as the downfall of modern cinema and what has rendered many current horror films problematic. In my opinion, itís much creepier when left to your imagination. Blood splattering on a camera lens does nothing for me. But a shadow passing across a wall and a floorboard creaking lets the audience create their own horrific image.
What can you tell us about the intended look and feel of the movie as such?
Weíre filming in the winter months, so very desaturated, sterile, and barren. Long panning shots and symmetrical set-ups have also been written into the script. When something is overly balanced it can create a false pretense of security. I want the viewers to feel safe and protected when they arrive to Murdoch, as if it were their hometown. Then, as the story unfolds, weíll hit them even more where it hurts.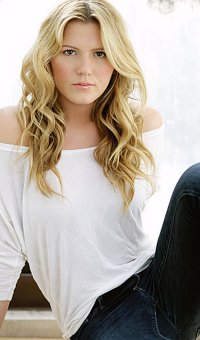 Genvieve Johnson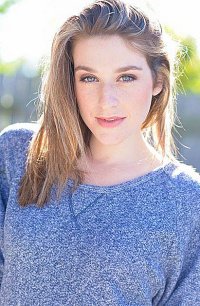 Blair Dinucci
Anything you can tell us about your key cast yet, and why exactly these people?
Anne Leigh Cooper, Genvieve Johnson, Nicole Ogden, Blair Dinucci, and Chris Moore are attached to star. When we saw their audition tapes we were blown away. We didnít write the script with actors in mind. But these people fit the roles perfectly.
As far as I know, The New Family is still in pre-production as we speak - so what's the schedule, and even if it might be waaay too early to ask, any idea when and where the film might be released onto the general public?
We're currently doing a crowd-funding campaign, which you can find here: http://igg.me/at/thenewfamily/x/1210.
Other than that, weíre targeting a 2016 release. Weíve been working on the project since July 2013. Everything has to come together perfectly before we move forward, because we want to deliver the best film possible.
Any future projects beyond The New Family?
Right now our focus is on The New Family. Reece and I have started on a script but itís still in its first trimester.
What got you into filmmaking in the first place, and did you have any formal training on the subject?
When I was younger my grandparents lived down the street from a video store. I would rent Halloween 4 and Halloween 5 on a regular basis. From that point on I became engrossed with not only the Halloween saga but also the entire genre. I knew from an early age that this is what I wanted to do. Over the past several years Iíve read numerous screenplays to get a feel for how to write one. On a technical level, my formal training is in graphic design. But I feel that going to school for this art form has made me more aware of compositions, color, and how to get the most out of very little.
What can you tell us about your filmwork prior to The New Family?
Iíve never been behind the camera. However, I have been responsible for advertising several films. I was hired to do the Halloween 2012 re-release poster for Trancas International Films. A year later Malek Akkad approached me and asked me to handle their Halloween 1, 4 and 5 campaigns. That included the posters and web advertisements. Iíve also done graphic design work for other up and coming studios, including Slasher Studios and Dark Sunny Entertainment.
Filmmakers who inspire you?
John Carpenter and Wes Craven.
Your favourite movies?
Halloween, Jaws, and Suspiria.
... and of course, films you really deplore?
Anything that is overhyped, such as Annabelle.
Another thing that bothers me are independent filmmakers who cut corners. When you make an indie film everything matters. Even the poster and advertising are a big deal. There are a few indie films that will begin crowd funding soon that I follow. Itís obvious the filmmakers, who probably have no graphic design training, made the posters that are promoting the film. Itís a shame. One thing I have learned is to not rush ANYTHING. So I guess you could say that I hate any film that is a rushed job.
Your/your movie's website, Facebook, whatever else?

Feeling lucky ?
Want to
search
any of my partnershops yourself
for more, better results ?

The links below
will take you
just there!!!

Find Austin Hinderliter
at the amazons ...

amazon.com

amazon.co.uk

amazon.de
Looking for imports ?
Find Austin Hinderliter here ...
Something naughty ?
(Must be over 18 to go there !)

Of course the big thing is the launch of our crowdfunding campaign on June 26th! This movie will not be possible without fan support. So please check that out! We have some great perks being offered- t-shirts, posters, stickers, DVDs, and walk-on roles in the film: http://igg.me/at/thenewfamily/x/1210
Like our official Facebook page for updates:
https://www.facebook.com/thenewfamilymovie?ref=hl
Anything else you are dying to mention and I have merely forgotten to ask?
Another exciting bit of information is that The New Family recently made RottenTomatoe's "40 Creepiest Posters of All Time List"! To be in the company of Jaws was a huge honor.
Keep checking back for updates and more updates too! Some exciting announcements are on the horizon.
Thanks for the interview!
Thank you!