Unfortunately, since the below interview was conducted, the AWESOME Film Festival has suffered a severe case of permanent cancellation!
November 24th will see the first ever AWESOME Film Festival - so what can you tell us about the event?
It's a one day film festival in Nottinghamshire, England accepting films from all over the world, whether short or feature length, documentary or narrative. It's open to everything and there are no restrictions because we want to see real creativity blossom without any barriers.
What gave you the idea to launch a(nother) film festival in the first place? And in your eyes, what makes the AWESOME Film Festival special, sets it apart from other festivals?
There are tons of film festivals and rightly so. I wanted to make one that had no restrictions, one where you could enter anything at all. I'm not so much interested in the big movies, I'm interested in the indies who are incredibly creative. There are some amazing filmmakers out there and with the bonus of having Awesome Magazine being read by thousands of people from all over the world, it just made sense to give them some extra promotion. Having some great connections in film distribution we can also help them get their films out there!
As far as I know, AWESOME Film Festival accepts submissions from around the world - so what kinds of submissions will you accept, what kinds of movies do you want to showcase, and what can you tell us about submission fees, deadlines and the like?
We want anything that is creative, awesome. Yes budgets will be low, yes, some production values won't be stunning, but that does not mean there isn't heart and soul in these films. We want to see everything! There is a submission fee, but that is simply to help cover the cost of the venue and a little celebrity cost to help boost the promotion for their films. We will give people amazing publicity through all our magazines, Facebooks, Twitters and more, so it is much more value for money than people will realise.
Any films scheduled yet?
We've only just announced the event but we have two in already.
You'll also hand out awards during the festival, right? So what can you tell us about your award categories, and what will the winners be awarded with?
We've tried to make sure everything is covered from best actor to writer. We'll be giving out special certificates, we'll run big features in the magazines and promotions, we'll give them a special goody bag of stuff as we'll and get them pictures and video footage of the event to show them off.
Related to that: Your panel of judges - who's on it, and why?
I have not yet decided but a certain Mr Haberfelner would be very welcome on the panel.
Any events planned in addition to the screenings and the awards show?
If I told you that, I would have to put a hit out on you.
At events like this, people just love to see stars - any you can whet our appetite with yet?
There are some very real celebs coming to the event, but until I have absolute confirmation I'm keeping quiet. Celebrities are notoriously useless. All the stars from films such as Lady of the Dark, Dark Watchers, Dead Walkers, Exorcist Chronicles etc will be there. It will be great for networking.
What can you tell us about your projected venue?
Medium-sized but very posh! And a bar, there has to be a bar.
So with quite a few films to show and an award ceremony in the evening, what will the schedule be, and how do you plan to pack all this into one day?
We're going to show the winning entries during the day and have the awards ceremony in the evening.
What's the entry fee for a regular audience member, and where to get tickets from?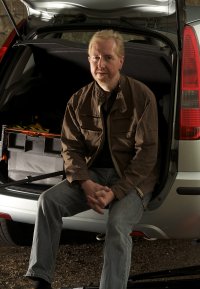 Philip Gardiner
At present we are having to restrict numbers because I want free space for the fillmmakers, so tickets are £30 and it will be first come first served. People will get free DVDs, a drink or two and other stuff. We're not aiming to make a profit, in fact my forecast is that it will end up personally costing me an arm and a leg.
Should the AWESOME Film Festival become a success (and I'm sure it will), any plans to expand it in the next years, or take it to the next level (and I have no idea what that might mean either)?
If it's a success, then we'll do it every year and possibly some other more specific events (horror etc).
Any future projects besides the AWESOME Film Festival?
A ton of films, auditions for actors to get into the amazingly popular Awesome Talent Agency and, well, that's enough for my small brain at the moment.
The festival's website, Facebook, whatever else?
The details for the event are on www.awesomeonlinemagazine.com.
Anything else you are dying to mention and I have merely forgotten to ask?
Yes, thank you for helping to promote the event, and please folks, any questions contact us, we want this to be YOUR event, we want to HELP support your hard work in any way we can.
Thanks for the interview!
No sir, thank you :)