Your upcoming movie A Bad Luck Guy in a Bad Luck Town - in a few words, what's it going to be about?
Kyle Johanessen: First I want to say thanks for the interview! It's great to get to talk about this project and get the word out. A Bad Luck Guy in a Bad Luck Town is a fantasy film-noir comedy about a low level hitman for a mob run by witches and wizards. He wakes up one day to a horrible string of unforeseeable bad luck that leads him down a path that he's not ready to walk down. The whole movie really has a Sin City meets Who Framed Roger Rabbit vibe to it. It's dark and gritty, yet charming and funny at the same time.
Diana Porter: It's a noir detective film set in a world where magic is real and our main character is having a really bad day.
Chris Goodwin: It's a film about a low level criminal who finds himself having the worst day of his life. So bad that he thinks he's been cursed. And to get to the bottom of it he scours the depths of the supernatural underworld to find the truth.
A Bad Luck Guy in a Bad Luck Town is based on a short story by Joe Botsch - so what attracted you to the story, and how faithful will you remain to your source material?
Kyle: Joe is a great friend of mine and has an amazing eye for story telling. He's also a terrific comic book artist and has a great line of horror comics that you can see here www.donotreadcomics.com. Now that I got the shameless plug out of the way, it was just a very visually compelling story and written in a unique style that really grabbed me. I heard the story literally the day I wrapped up Devil May Care and as he was reading it to us, I thought "this is my next project." It's been a bit of an up and down struggle to get it up and running, but I think we've really nailed the script and style and it's going to be unlike a lot of short films that get made these days.
As far as faithfulness, it's really close to his story. We've had to add some things, and subtract some others, but it's really close to what he wrote. He's obviously given me his seal of approval to move forward, which was really important to me. If he wasn't happy with how the script turned out, I wouldn't have moved forward.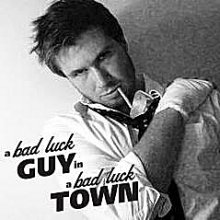 Diana and Chris, how did you get involved, and what attracted you to the project?
Diana: I had such an amazing time working on our award winning film Devil May Care that I have spent the last 6 months bugging Kyle to pick his next project so I could work with this amazingly talented team again.
Chris: I was contacted about the project by Kyle who I had worked with before, acting on his other film Devil May Care. He sent me the script to check it out and I loved it. Had this real old school noir feel, plus it had these sci-fi elements that really made it stand out from other scripts I've read.
Do talk about your characters for a bit, and how do you prepare for your roles?
Diana: Our characters are siblings so mostly I'm going to be concentrating on that relationship and also, practicing my stunt!
Chris: I play The Guy, a thug who knows what he is and doesn't aspire to much more than being left alone to do his job. He is the narrator of the story and whose eyes we see this downtrodden hell of a city through. The man has done a lot of bad things in his life, is aware he has this bad luck coming, but it doesn't stop him from trying to find out what did this to him and make whoever it was pay. I've been preparing by going over several noir films and books to try and get an authentic voice for the character that stays true to the text. The script does a great job of fleshing out this character through narration and action and I'm just doing my best to put as much work as I can into portraying him onscreen the way the writer had intended.
What can you tell us about the rest of your key cast, and why exactly these people?
Kyle: Casting hasn't been finalized, as we are still working out how a few characters are going to work. I expect we will really dig into casting the last few key members in the next few weeks. And of course there will be the obligatory director's cameo.
From what I've read so far, A Bad Luck Guy in a Bad Luck Town seems to relie on strong locations quite a bit - so what can you tell us about yours?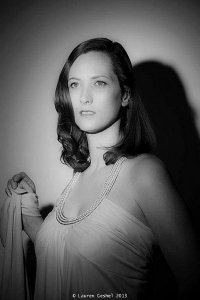 Kyle: You're right that locations play a key role on this project, and we have some great ones. Most of our exterior work is going to be shot in Providence, Rhode Island. It's a small city, but offers a wealth of different architectural styles that really lend itself to what I'm looking for on this picture. I really want the film to have a timeless quality to it, and there are modern buildings and businesses right next to hundred year old buildings all over the place in Providence, but it all blends so well together. There are so many visually compelling alleys and streets that just fit in perfectly with the world we're trying to build. There is this one amazing street that still has really tall buildings, all in a 1920s-30s style, but looks as though its tucked away and hidden from the rest of the world, and that is exactly what I'm looking for.
A few words about the film's intended look and feel as such?
Kyle: Film noir all the way. We are going to make it look as much like an old detective film from way back as we can, black and white, heavy shadows, it's going to look fantastic. Mikel J. Wisler, my director of photography, and I have a really clear vision on how the movie is going to look and feel and we're really flexing our visual muscle on this picture. Devil May Care looked amazing, this is going to look even better. You won't see a lot of films, especially shorts, with this sort of look.
Chris: It's got a definite noir vibe that also brings in a lot of comedic and sci-fi as well. From what I've been told so far they are looking for a dark tone to the film and may or may not be in black & white. Which, for a pale ass person such as myself, is not a bad time at all.
As far as I know, A Bad Luck Guy in a Bad Luck Town is currently in its fundraising stages - so what can you tell us about your fundraising efforts?
Kyle: I can tell you my hair has gone a few shades greyer, but it's going well and we're hoping that it continues to go well. Places like IndieGoGo are an amazing resource for independent filmmakers to find the necessary funds to make shorts they normally wouldn't be able to make.
Chris: We are using IndieGoGo as the means to raise funds for the film. Kyle, Greg and Justine are constantly promoting the project online and throughout the local film community. We are hoping with a little help that we can make this thing with the tools and talent that the script warrants.
http://igg.me/at/ABadLuckGuy/x/2435034
Once the funds are raised, how do you plan to proceed - and any idea when the film might be released yet - though I know it's probably waaay too early to ask?
Kyle: The campaign ends only a few weeks before principal photography starts and we're making the film no matter how much we raise. After the campaign ends, it's all systems go. We're aiming for a Christmas 2014 release.
Chris: We got an amazing post production team lined up for this project, so whenever they deem it ready and fully polished, I suppose. I do know that they are looking to shoot principle photography in the coming months and after that, I guess we shall see.
Any future projects beyond A Bad Luck Guy in a Bad Luck Town?
Kyle: I know Chris and Diana have a lot on their plate, and Transparent Frog Films has a wealth of ideas for the future. We're hoping to do two or three films next year, with our first feature, hopefully, following the next year. There's a plan in place for our future projects as we learn and grow with each project.
Diana: Kyle and I started working on a story concept I came up with about 5 years back. I'm hoping we can tackle that one next.

Feeling lucky ?
Want to
search
any of my partnershops yourself
for more, better results ?

The links below
will take you
just there!!!


Chris: You can catch me starring in the upcoming feature comedy The Angry World of Brian Webster and directing another feature. Truth Cocktail which will be premiering in the fall.
Your/your movie's website, Facebook, IndieGoGo, whatever else?
Kyle: You can follow me on Twitter @tfrogfilms, the film itself @ABadLuckGuy, we're on Facebook at www.facebook.com/ABadLuckGuy and most importantly, you can find our campaign at: http://igg.me/at/ABadLuckGuy/x/2435034
We have lots of amazing prizes like DVD's and an original comic from Joe Botsch set in the Bad Luck Guy Universe! You can even take a whack at a piano with a sledgehammer!
Obviously we'd love donations, but if you can't donate please share the page to Facebook or Tweet it out! Spreading the word is just as important as donating!
Diana: My new website www.DianaMPorter.com should be released before September! Also you can follow me on Twitter: @DianaMPorter
Thanks for the interview!
Kyle: Thanks again, Michael! I really appreciate it!