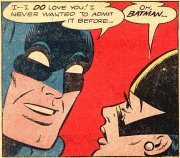 Batman #153 (1963)
It's maybe not too well-known a fact that 2013 marks the 50th anniversary of Batman admitting to Batwoman (in Batman #153, 1963) that he loves her. Before we get any deeper into this, could you give us a synopsis of the events that lead up to this declaration of love in the story Death from Beyond?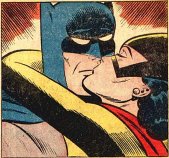 Batman #153 (1963)
This issue involved an alien stealing silver which he called "vaux". Batman, Robin, Batwoman and Bat-Girl try to stop the creature from causing havoc. In the course of the adventure it appears Batman and Batwoman will die. Batwoman says to Batman, "Hold me close! If I must die I want it to be in your arms. Oh Batman, you know I love you. Dying wouldn't be so bad, if I knew you loved me too." Batman's eyes widen and he replied, "I-- do love you! I never wanted to admit it before." Batwoman kisses Batman.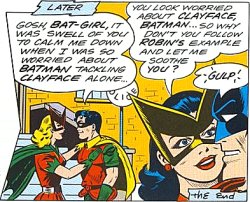 Batman #159 (1963)
What can you tell us about the effects the declaration of love had on the Batman-continuity?
Well naturally the crime fighters do not die and Batman tells Batwoman he only admitted he loved her to make her (supposed) last moment's happy ones. It really did not affect continuity although Batman seemed to warm up to her a bit more in the stories which followed. It actually made more of an impact on the relationship between Robin and the original Bat-Girl (Batwoman's partner). Prior to this story Robin stayed clear of Bat-Girl's romantic advances. They also kissed in the same story and unlike Batman Robin did not deny his feelings for the blonde haired teen-age crime fighter.
Given Batman's cold reaction to even his own declaration of love to Batwoman, it's interesting to note that Batwoman was initially introduced to counter allegations of homosexuality between Batman and Robin in the comicbook. So could you please elaborate on Dr. Fredric Wertham and his accusations wielded in Seduction of the Innocent for a bit?
Wertham asserted in his 1954 book Seduction of the Innocent that "Batman stories are psychologically homosexual." Not much to elaborate on that statement. Every girlfriend Batman had turned out to be a short-lived relationship. Yet, Robin was always there for him.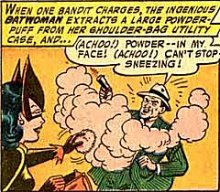 Batman #105 (1957)
Given this background, what can you tell us about the creation of Batwoman, including her costume and her introduction into the Batman-universe?
While the homosexual thinking might have been a factor in Batwoman's creation, DC Comics was also looking for new ways to attract a wider readership to Batman. This might have been an attempt to grab the female audience. Batwoman first appeared in Detective Comics#233 (1956) in the lead story, The Batwoman written by Edmond Hamilton and illustrated by Sheldon Moldoff. In her first adventure Batwoman proves, except to Batman, she is a capable crimefighter. Batwoman uses feminine-style weapons to combat criminals which include an expanding hairnet, power puffs filled with sneezing powder and charm bracelets which are actually handcuffs. Batman discovers she is Kathy Kane a former circus performer and now a wealthy heiress. The Masked Manhunter convinces Kathy to give up being Batwoman on the theory if he discovered her secret identity crooks could do the same (but are crooks smarter than Batman?)! Batwoman's first story was used to see if readers warmed up to her. Apparently they did because Kathy's self-imposed retirement was short-lived. As for her costume design this was perhaps Moldoff's female version of Batman's attire. Her costume did have a carnival style and Kathy Kane was a onetime circus daredevil.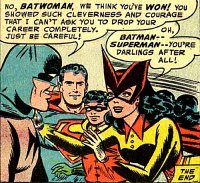 World's Finest #90 (1957)
Initially, Batman's reaction to Batwoman is probably best described as cold - would you like to elaborate on that, also in connection with 1950's mores?
Batman's "cold" reaction probably had to do more with a rival not only upstaging but saving his life. Throughout Batwoman's first adventure Batman kept expressing his concern for her welfare. This was undoubtedly tied in with society's mentality at the time that women belonged in the kitchen. At the conclusion of The Super Batwoman (World's Finest #90, 1957) Batman welcomed her to the fold but half-heartily. For example, in Batwoman's New Identity (Batman #116, 1958), after the trio has captured the Funny Face Gang Batman says to Batwoman, "Don't you know crime-fighting is too dangerous for a girl?"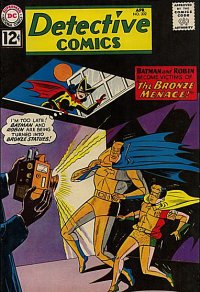 As the late 1950's rolled into the early 1960's Batman accepted her aid and complained less. With all the crime rampant in Gotham City you would think he would welcome the help from someone who seemed able to handle herself well. This would be a good time to dispel the notion, often mentioned by critics; Batwoman always needed rescuing by Batman and Robin. It is true the Caped Crime fighters did come to her rescue as seen in The Plot to Destroy Superman (World's Finest #104, 1959), The Web of the Spinner (Batman #129, 1960), The Doomed Batwoman (Detective Comics #286, 1960), The Super- Batwoman and The Super- Creature (World's Finest #117, 1961) and The Challenge of the Cat-Man (Detective Comics #311, 1963). Conversely she saved both Batman and Robin's lives in The Secret Life of Bat-Hound (Batman #125, 1959), The Return of Bat-Mite (Detective Comics #276, 1960) The Menace of the Firefly (Batman #126, 1960), The Bronze Menace (Detective Comics #302, 1962) and The Terrible Trio (Detective Comics #321, 1963). One needs only to witness Batwoman's heroics in The Return of Bat-Mite to stiffen thoughts she was not a capable crimefghter. Batwoman uses her feminine styled weapons, imagination and fists to stop a criminal gang. Later she dives into a pool saving Batman and Robin from a watery grave.
Later Batman-stories actually show Bruce Wayne and Kathy Kane dating. What can you tell us about the depiction of their relationship in the comics, and how was it welcomed by the audience?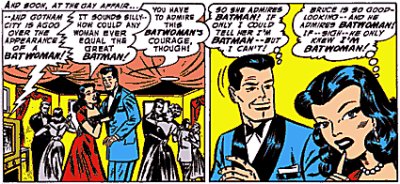 Detective Comics #233 (1956)
Bruce Wayne and Kathy Kane were seen dancing together in Batwoman's first adventure but the romance seemed to flare up a notch when she began dating Ted Carlson who is secretly the criminal Firefly. Kathy falls for Carlson when she believes he is Batman! Upon hearing Kathy call Carlson "darling", Bruce Wayne says to Dick Grayson, "After all Kathy is attractive... Bah! As if The Firefly isn't giving me enough trouble, now I've got a rival to worry about!" On an occasion where Kathy looked ill Batman said "I hope Kathy will be all right!" Robin added, "Hmm.. I've never heard you talk about any other woman with such concern. I guess Kathy means more to you than you care to admit." I am sure the romantic relationship was welcomed by the audience or it would not have continued. These 'quiet' moments made the kiss they shared in Batman #153 much less of a shock and more a pleasant surprise.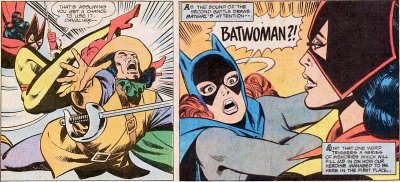 Batman Family #10 (1977)
Batwoman was eventually dropped from the Batman-continuity in 1964. Why, and what can you tell us about her and her alter ego's rare appearances past 1964 and prior to her actual (first) demise?
Sales on both Batman and Detective Comics were poor and editor Julius Schwartz was brought in by DC Comics to salvage the series. Gone were the bizarre science fiction themes and the majority of Batman's supporting characters including Batwoman. She did appear in one more new adventure in Worlds Finest #154 (1965) in an imaginary story but her subsequent appearances were in reprints.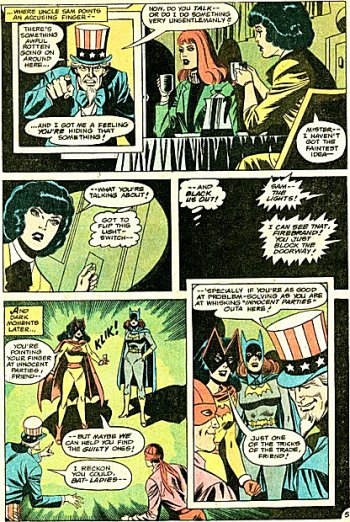 Freedom Fighters #14 (1978)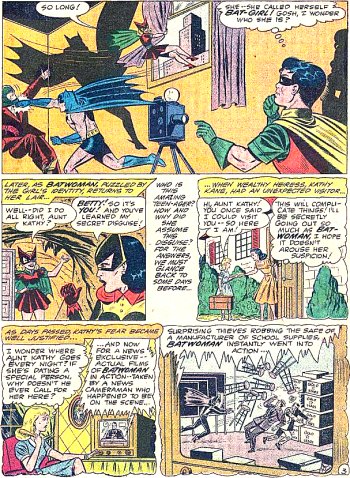 Batman #139 (1961)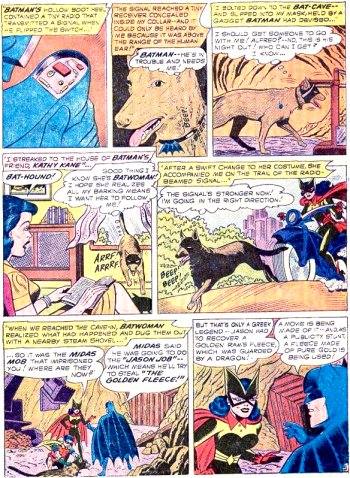 Bat-Hound in Batman #125 (1959)
It was not until 1977 when Kathy Kane was revived, due to reader demand, in the pages of Batman Family. In the story Those Were the Bad Old Days (Batman Family #10, 1977) Batwoman teams up with Barbara Gordon as Batgirl to battle Killer Moth and The Cavalier. We learn Kathy Kane had left Gotham City to run a traveling carnival. In this story Batwoman, wearing an updated costume, relied on her fists and acrobatic skills rather than weapons. Readers were thrilled and Kathy Kane/ Batwoman subsequently returned in two more adventures in Batman Family #14 (1977) & #17 (1978), though not playing a prominent role in each, and Freedom Fighters (#14 & #15, 1978). In the two-part Freedom Fighters adventure she teams up with Batgirl and a band of heroes to battle an alien invasion.
I guess when talking Batwoman, we also have to talk Batgirl - so what can you tell us about Batgirl's creation, and her (as compared to Batwoman) longer life in the comicbooks (even if in different incarnations)?
According to various reports the creation of Barbara Gordon's Batgirl was due to the producers of the Batman television series wanting to add a new female character to the program. They asked DC Comics to come up with a new personality and Batgirl was born in early 1967. Batgirl's costume had more of a 'bat' design than Batwoman. Of course, as this was the more liberated late 1960's, Batgirl used judo and karate to battle criminals and relied less on weaponry. Batman tried to discourage Batgirl from a crimefighting career as he did Kathy Kane. However once the Masked Manhunter saw how she handled herself he relented by the end of her first story and "welcomed" Batgirl's aid.
Batgirl later had her own series in Detective Comics but, like Batwoman, was retired when her popularity waned. Barbara Gordon became a congress woman and moved to Washington. She made only occasional appearances as Batgirl until she co-starred with Robin in the popular Batman Family magazine. Of course Barbara Gordon was later shot by the Joker and put into a wheel chair and forgotten for awhile. She returned as Oracle who battled criminals with her computer expertise. More recently Barbara's mobility has been restored and she is Batgirl once more.
Prior to Barbara Gordon Kathy Kane's blonde niece, Betty, was Bat-Girl on the occasions she visited her aunt. She was created as a female counterpart to Robin and as another way to attract more readers to Batman's stories. She departed, along with The Batwoman in 1964, but was briefly revived in Teen Titans beginning with issue #50 (1977). Other women adopting the guise of Batgirl were Cassandra Cain and Stephanie Brown. The most popular version remains Barbara Gordon's Batgirl in terms of longevity and licensing.
What can you tell us about some of the other additions to the Batman-family in the late 1950's/early 1960's - and why did DC Comics think it was such a good idea to Bat-crowd the Batman-universe?
As I mentioned before Batwoman and Bat-Girl were added to attract more readers to Batman's adventures. This was also the case with the creations of Bat-Mite and Bat-Hound. DC Comics was emulating the successful 'family' formula which was working on the Superman titles. Personally I enjoyed seeing these characters and feel it was the glut of science-fiction related stories which dulled Batman's appeal.
Batwoman was maybe the first major character in the DC-universe to be killed off in 1979 (something that has since become quite common). So what can you tell us about the story leading to her demise (both in the comicbooks and behind the scenes at DC Comics), and about the repercussions this had on the Batman-continuity?
Kathy Kane was murdered by two members of The League of Assassins when they invade her circus. She manages to fend them off with Batman's aid. However The Bronze Tiger arrives and knocks Batman out with one blow. As Batman blacks out he sees the "rise and fall of shining steel" as Kathy is stabbed to death, thankfully, off panel. The next day Batman appears more concerned he was knocked out by one blow than the loss of his close friend, one-time girlfriend and ally.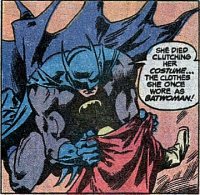 Denny O'Neil, who wrote The Vengeance Vow (Detective Comics #485, 1979), denies lack of reader interest in Batman had anything to do with Kathy Kane's demise but the facts state otherwise. The infamous "DC Implosion" led to the cancellation of several titles in 1978. Batman's Detective Comics was on the chopping block. Instead management merged the title with the better selling Batman Family. In the letter column section from Detective Comics, which initially discussed Kathy's demise the editorial department stated this dramatic decision was approved to get readers more interested in Batman's adventures. In other words Kathy Kane turned out to be a scapegoat. During the story arc it is never revealed exactly why Kathy was targeted other than to get Batman involved with another battle with The League of Assassins. This quote from the review of Batman: Tales of the Demon, which reprinted the story arc involving Kathy's murder, takes an interesting look at this topic: "The last trilogy begins with the (literally) senseless murder of Kathy Kane (Batwoman from the '50s and '60s) but despite titles like The Vengeance Vow, Batman seems surprisingly unmoved by the murder of his onetime friend, ally... lover. Since it was under O'Neil's subsequent editorship that Batgirl was crippled, perhaps O'Neil just has a pathological dislike for women who don Bat-costumes." Kathy's death had virtually no effect on subsequent Batman continuity. As Barbara (Batgirl) Gordon had become her close friend it would had been natural to get her involved but she was not. Her death was never mentioned and the name of Batwoman only came up years later when Batman discussed the origins of The Cat-Man and his feelings for her.
So what can you tell us about Batwoman's return in The Brave and the Bold #182 in 1982, and subsequent Earth-II adventures?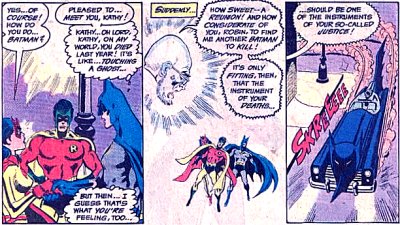 Brave and the Bold #182 (1982)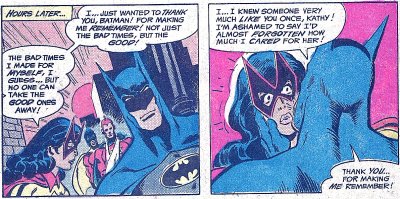 Brave and the Bold #182 (1982)
Some 'quiet' moments stick with you and discovering there was an Earth-2 Batwoman was one for me. I was in my local comic book store searching for the new issue of Popeye and a few spaces away I saw what appeared to be Batwoman on the cover of Brave and the Bold. Her cape was colored in blue by mistake and this threw me for a minute. Immediately I started reading the entire comic and was overjoyed she was included in what has become a classic tale in the history of comic books. The story had the Earth-1 Batman struck by lighting and transported to Earth-2 where an older version of him had died. Crazed and crippled scientist Hugo Strange, who was one of Batman's first foes, has returned to destroy Gotham City. Earth-1's Batman teams up with Earth-2's Robin and Batwoman to defeat him. The action elements take a back seat to the emotions brought forth in this story. Robin resents Batman as he is a reminder of the deseased Bruce Wayne from his Earth. Batwoman is not only "spooked" by Batman but is reminded how she ignored her Earth's version of the Caped Crusader upon deducing he had gotten married (to Earth-2's Selina Kyle, the former Catwoman). Earth-2's Batwoman is not very different from the one readers knew except she was married with two children. I asked the writer of this story, Alan Brennert, why he included Batwoman and did it have anything to do with the lack of dramatics involving her Earth-1 counterpart's demise. He replied: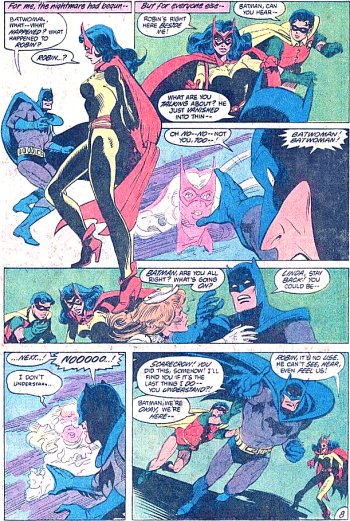 Brave and the Bold #197 (1983)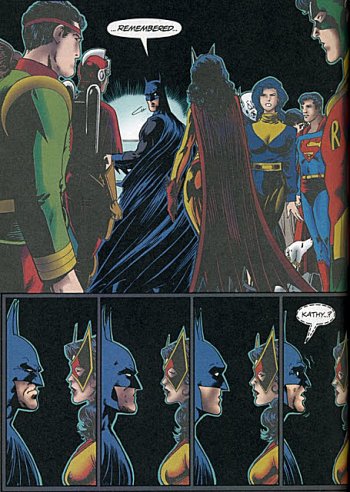 The Kingdom: Planet Krypton #1 (1999)
"Since I was focusing the story on the Earth-Two Batman Family, it seemed logical to include Batwoman. Plus it had never been established that there was an Earth-Two Batwoman and I thought that would be kind of cool to do, so that at least she was still alive somewhere.
If you're going to kill off a character that cast as much of a shadow as Kathy had at one time, at least make more of a big deal out of it. But in all fairness, when Denny O'Neil wrote that story killing off Kathy Kane, I think there was probably some uncertainty at DC over how many of those 1950s stories actually happened to the then-current (Earth-One) Batman, and did he really have the romantic attachment to her that the 50s-era Batman did? I chose to think that he did, but I can also see how Denny might have thought, eh, not so much. Was the Neal Adams Batman really the same one who fought "The Alien Boss of Gotham City"? I think Batwoman just brought up a whole lot of associations the creators of the current Batman were uncomfortable with, understandably so."
Brennert later included Batwoman in another tale set on Earth-2 in Brave & the Bold #197 (1983), The Autobiography of Bruce Wayne. She made a cameo appearance involving the details leading up to Batman and Catwoman falling in love. This was a tale filled with emotional conflicts and has become another classic.
Let's move on to Batwoman's next demise in Crisis on Infinite Earths (1985), her afterlife, and her sort-of resurrection in Infinite Crisis (2005-06)? And has any of the romance between Batwoman and Batman survived?
Crisis on Infinite Earth was DC Comics' attempt to get rid of the multiuniverse concept. The universe was started anew and the original 'Golden Age' version of Batman and anything related to him were wiped out. In this new universe apparently a 'Kathy Kane' existed but was never Batwoman. She was murdered by The League of Assassins due to her friendship with The Batman. Thanfully we have yet to see this story which also involves The Bronze Tiger. Betty Kane's first name was changed to Bette and fought crime as Flamebird.
In The Kingdom: Planet Krypton #1 (1999) Batwoman, as she appeared during the 1950's, is one of the "Hypertime" ghosts wandering in a restaurant. The term Hypertime referred to characters no longer part of current DC continuity. Batman has a brief but emotional encounter with this Batwoman ghost and gently says to her "Kathy?" When asked if he knows this woman Batman denies it saying it would be "impossible".
Yet another 'new' universe was created following the events of Infinite Crisis and writer Grant Morrison re-worked Kathy Kane's Batwoman back into Batman continuity beginning with a flashback sequence in Batman #682 (2009). Batman Incorported #4 (2011) featured her in a leading role. Batwoman was illustrated as she looked during the 1950's & 1960's. Here is the Wikipedia entry on this latest take on the character: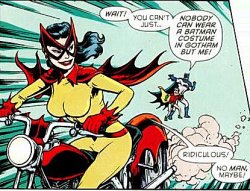 Batman Incorporated #4 (2011)
It was established that Kathy Kane was born Katherine Webb, and that she had been an aspiring independent film director prior to marrying a millionaire named Nathan Kane, the son of Roderick and Elizabeth Kane and brother of Martha (Kane) Wayne (mother of Bruce Wayne). The two were madly in love with one another, and it was Nathan who ended up buying Kathy her circus as a birthday present. After Nathan's untimely death, Kathy was approached by a young man known only as Agent-33, who recruited her into a covert spy organization called Spyral. As part of her first and only assignment, Kathy was tasked with tracking down Batman and discovering his true identity. Donning a female variation of Batman's costume in order to gain his attention, Kathy embarked on a career as a costumed crime-fighter, all the while attempting to get close to Batman. Though her plan succeeded, the two eventually fell in love with one another, despite Kathy legally being Wayne's aunt due to her marriage with Nathan Kane, though past this they are not related in any other way and share no similar DNA, and as a result Kathy refused to reveal his identity to her superiors at Spyral. Eventually, Kathy was confronted by the head of Spyral, a Nazi supervillain named Dr. Dedalus. Dedalus claimed to be Kathy's real father, and threatened to expose Kathy to Batman unless she continued her mission. Heartbroken, Kathy broke off her relationship with Bruce in order to save him from Dedalus' plan.
Apparently people at DC Comics must love the image of Kathy being murdered by The League of Assassins because this is what also happened to Katherine Webb years after her last encounter with Batman. This story has yet to be written and it remains a possibility she is in hiding somewhere.
Your thoughts about The New 52's Batwoman, and to what extent does she remain true to the original concept?
Truthfully I have not really followed the career of the Kate Kane-Batwoman character other than her relationship with Bette 'Flamebird' Kane. Other than the shape of her mask, similar civilian name and moniker she has nothing to do with the original version. They were created in two very, very different time periods. It would be nice if this Kathy Kane/Webb character was still alive and could appear as an occasional supporting player.
Your favourite Batwoman-stories?
My favorite Batwoman story was The Return of Bat-Mite because, as I mentioned, it proved beyond her origin story she could capture criminals on her own and later saved the lives of Batman and Robin. Others include The Menace of the Firefly, The Bronze Menace, The Great Clayface-Joker Feud and of course, Death from Beyond.
Anything else you are dying to mention and I have merely forgotten to ask?
Although I ran across Batwoman towards the end of her original run in 1964 as a kid I was reintroduced to her from the book Batman From The 30's to the 70's (Bonanza Books, MCMLXXI) She was seen in six stories and three with Bat-Girl. In 2004 I contacted Sheldon Moldoff and asked he draw an original Batwoman sketch for me. He outdid himself drawing myself on the back of Batwoman's bat-cycle [picture below]. I was touched and thrilled.
Batwoman was a unique character who survived during a time when it was highly unfashionable for a woman to be performing what was perceived as a man's job. Her costume and choice of weapons were unique and effective. Fans of the serious and brooding Batman may discard her association with The Masked Manhunter but Kathy Kane/Batwoman has a loyal following to this day.
Thanks for the interview!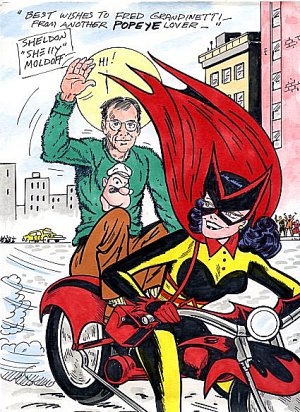 Fred Grandinetti and Batwoman, as drawn by
Sheldon Moldoff