Your film iCrime - in a few words, what is it about?
In this modern age, actual human interaction is so rare. All the social media communities and inventions in the realm of convenience communication (email, cell phones, texting, IM) have only added layers between really knowing each other. iCrime is about that modern phenomenon, that we never really, truly know anybody anymore. Add to that fact the glitzy sheen that Hollywood gives everything, and it becomes even more difficult to find the truth about people.
What were your main inspirations when writing iCrime?
I know a lot of people right on the cusp of breaking in to the entertainment industry, so I hear a lot stories that sound both ridiculous and heartbreaking. However, the main inspiration came when I directed and co-wrote/produced a web series. We were doing what countless aspiring artist do these days, creating all these fake identities to "vote up" our videos and hopefully get noticed. People started friending and interacting with these fake identities. One of my fake identity's "friends" met another "friend" on-line and started a real relationship in the real world. And then those two apparently they got in a tragic car accident and both died. And this particular video-sharing site was all a flutter with tearful tributes. Only it was all fake, because I called the hospital where they were supposedly taken and there were no such people. So I exposed them. But I did it in a video. Using one of my fake identities. The irony was not lost on me, and the lead character of iCrime, Carrie Kevin, was born.
Especially towards the ending, iCrime twists and turns quite a few times. Was all of this in the script, or did some plottwists develop during shooting?
No, that was all in the script. It had to be, we were on too tight of a shooting schedule to discover much in the moment. Also, I'm a bit of a control freak, so I make the sure the script is "done-done," before the writer part of me goes away and the director shows up.
Your film takes a satirical look on the blogosphere, internet celebrities and "leaked" sextapes. Your personal views about all of this, and your "favourite" internet celebrities?
The internet has allowed anyone to achieve stardom, or at least it pretends that is that case. Does anybody really believe the Numa Numa guy is a star? Is he going to be the next Spider-Man? Sex Tapes certainly allow people on the edge of fame to catapult themselves to the top (all Kardashians, Paris Hilton). And the public's obsession with reality shows plays right into this. No one actually has to have any talent anymore, they just have to be "good edit." I don't think I have any favorite cyber-lebrities, but I do enjoy a lot of short humor pieces (like on Funny or Die, or College Humor) that I don't think have much of a market without the internet. I REALLY enjoy memes, especially those involving cats or bears with guns.
In my opinion, iCrime is in equal parts conspiracy thriller, mystery story of the girl detective variety, and Hollywood satire. A comment you can at all live with?
Absolutely. Although I've been told we needed more car chases or fight scenes to really be a thriller. It's sort of an old-school mystery (like The Sting or The Spanish Prisoner) set in the digital age. And the setting really became a character in the film: Los Angeles, our perceptions of it and its reality. A lot of films are described as a love letter to New York, or Paris or some other city. This is sort of my break up letter to LA.
How would you describe your directorial approach to iCrime, and in what way have your key topics influenced your style?
From the very beginning we knew we had to bridge the gap from the computer monitor to the motion picture, so we filmed a lot using the cameras that the characters would actually be using (mini-handhelds, consumer camcorders and even the camera in your laptop). Also we wanted the backdrop to really inform Carrie's journey. She's not from LA and her view of it will be ours, so we wanted to get some archetypical locations and experiences in there (Griffith Observatory, the LA River). And then there was stylization of the footage in the edit, with spilt screens and such, like all these internet videos where people want to try out every effect in their iMovie toolbox.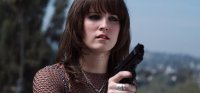 Sara Fletcher
A few words about your main cast, and why you chose them for your roles:
Sara Fletcher as the "girl detective"?
iCrime was written with Sara in mind as Carrie Kevin, and she read every draft of the film as I developed it. Many of her own feelings and observations ended up in the film. She has so many online projects under her belt, like Secret Girlfriend, which went from cell phone download to internet video to cable television show on Comedy Central. Also Sara manages to stay sane in the insane grind of this industry and her perspective was sort of exactly what I was looking for with Carrie Kevin.
Leah McKendrick as the internet celebrity?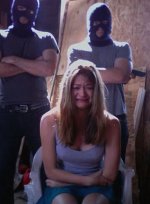 Leah McKendrick
and friends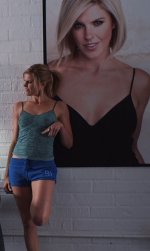 Kelly Noonan
Leah came in to an audition and just sparkled with this sort of saccharine energy that no one knew if it was real or if she was already playing the character. Once I saw her, there was really no one else to consider.
Christie Burson as the emo sidekick?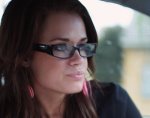 Christie Burson
Christie had worked with Sara in another film prior to this, we asked her to play Raychell93 at my writer's group reading. She brought a lot of depth to this very complicated character who is playing so many lies on top of lies we never even learn her real name. I have to admit that Raychell93 has most of my favorite lines in the film. Also, she would have you know she's more "scene" than emo. Whatever that means.
Kelly Noonan as "the model"?
Steffy was the hardest role to cast in the film, she had to be drop dead gorgeous but also really be able to act, something surprisingly difficult to find in Los Angeles. I think we saw 200 models and/or actresses until Kelly quit her day job on the same day she showed up and read for us. The chemistry between Kelly and Sara as cousins was apparent the first time they read together.
A few words about the rest of your cast and crew?
We had such a great ensemble in the film, everyone really brought a lot to the shoot and made small parts really feel like they had a past life. Since we've covered so many women, I must mention that all the men on the film also really nailed their roles. Travis Brorsen (Zeffer), Griff Furst (Parker), Alex Petrovitch (Aphid818), and Brad Fletcher (GavinOfScotland) were great to work with and really settled into a film with a decidedly female emphasis. Alex was in Lost, my favorite television show of all time disregarding the final season, so that was a personal highlight.
My Director of Photography, Matt Egan, was really fantastic because he was such a pro and knew what he wanted to do and how to do it, I could focus on what I wanted, getting great performances out of the actors and telling the story visually without worrying about how to make that happen (or what lens to use). My closest collaborator on the whole project was editor Jon Alvord, who sat side-by-side with me for a whole summer of oppressive heat in Austin really making the film into something special. I don't think I really knew what iCrime was until Jon and I shaped it.
How easy or difficult was it to get a project like iCrime off the ground?
It was surprisingly easier to get the project off the ground, but it was far more difficult to get it finished. I know our budget went up as the project progressed, and there were all these costs and details associated with delivery of the final version that were far more involved than anyone had anticipated. But all the praise goes to producer Richard Ford for getting the movie going, and for producer Scott Bridges for getting it past the finish line.
What got you into filmmaking in the first place, and did you receive any formal training on the subject? And what can you tell us about your work in the business so far?
My training is in theatre. I have an MFA in directing from Indiana University and have directed like 50 or so plays. I got tired of putting all this energy into something that only a few people would be able to see over a few weekends. Also, the idea of selecting the best of an actor's performance in an editing studio appealed to the control freak in me. And of course all the things you can do with the footage in post, like we did in iCrime.
Any future projects you'd like to talk about?
I just finished a short that I wrote and directed, starring and co-produced by Sara Fletcher, called The Secret Keeper. It's sort of a sci-fi mystery set somewhere in a future that looks vaguely like the 1940's. I think it's a great film festival piece, which is something I've never really done before.
Directors who inspire you?
I think it will be obvious by watching the film that Steven Soderbergh is a big influence on me. But the people who made me want to make movies were Whit Stillman, Ed Burns, Richard Linklater, and Doug Liman. Any film released prior to 2000 by those artists became a sacred text to me. Directing the plays of Harold Pinter, Patrick Marber, Mark Ravenhill, and David Mamet taught me how to tell a story through character and dialogue. Pixar and Blake Snyder taught me structure.
Your favourite movies?

Feeling lucky ?
Want to
search
any of my partnershops yourself
for more, better results ?

The links below
will take you
just there!!!

Find Bears Fonté
at the amazons ...

amazon.com

amazon.co.uk

amazon.de
Looking for imports ?
Find Bears Fonté here ...
Something naughty ?
(Must be over 18 to go there !)

Demolition Man. Seriously. Have you seen it? One of the most underrated films of all time. That cast is amazing and it's so funny. Do you know how to use the three seashells? Kicking and Screaming (the Noah Baumbach film) is the movie I go back to again and again and show people when I want to share something of myself with them. And Fight Club changed my life.
... and of course, films you really deplore?
I'm just tired of superhero movies. And any film where the climax involves a CGI character fighting another CGI character. And Synecdoche New York - biggest cinematic disappointment of my life that did not involve the words "country", "bear" or "jamboree."
Your website, Facebook, whatever else?
As much as I write about the internet, my presence on it is intentionally small. But people can follow me on Twitter @bearsfonte.
Anything else you are dying to mention and I have merely forgotten to ask?
Question: What's the name of the sequel going to be?
Response: iiCrime.
But seriously, if readers of the blog have any questions about the film, tweet me (yeah, I just said that) and I'd be happy to respond.
Thanks for the interview!