You have worked as a model and an actress in Spain before moving to America, correct?
That's absolutely correct. I used to earn some money posing in adverts and worked in all sorts of productions in Spain. It was a blast, but it was also a bit difficult as there weren't that many projects back when I was doing that!
What have been some of your films?
You can see me in Witching and Bitching by Alex de la Iglesia, PROXIMA by the great Carlos Atanes, a professional and a friend, The Expanse of Heaven by my friend Karlos Alaustrey, who's on a roll right now, Roca Bon: Searching the Sublime also by Karlos Alaustrey, Cosmética Terror by Fernando Simarro (which is now in post production) and The Lady of the Damned Forest,by amazing!! director George Karja. I have also acted in incredibly professional short films like Dust and Bullets by Pablo Lapastora Martin, along with a great cast and crew.
In California, you now are producing your own things, correct?
I am! I'm investing in an English producer's projects as I love English talent but I'm also writing my own things with the help of my amazing friend Gabriel García Mingorance, who has done nothing but support me ever since I got here.
Have you seen any vast differences between the industry in the USA and Spain?
Oh, well... where can start... ever since I came here, I've been working as in Spain I'd been doing nothing for months... it's very difficut for actors to work in Spain right now... but there is a big market for Spanish speaking and looking actors like myself in Los Angeles... I have done so many auditions and I feel truly blessed.
The Spanish cinema was once known for producing horror films. Is this now on the decline?
I don't think so! Look at my friend Sergio Morcillo, all about horror... He recently directed his film You're Gonna Die Tonight. My friend Roberto Lolo also directed and produced Mi Osito de Peluche, another horror film... it's just that the people are very young and need to be recognised, because there is a lot of talent and new actors and directors and producers out there.
Many of the directors like De Ossorio, Molina and the like have died. Are there any horror directors on the current scene who might fill their shoes?
Carlos Atanes is a good example and I'll always be forever grateful that he chose me to do Princess Io in PROXIMA, which is not horror but Spanish sci fi. Nevertheless, Carlos has done a lot of horror.... You don't know how many young entrepreneurs are rising in order to fill those shoes. And here too. I already did auditions for many horror films and I'm still waiting for news! Wish me luck!!
Where did you learn acting?
I studied audiovisual communication in Madrid while I acted as well. I was in the Complutense University drama group where we learnt a lot. While I did that, I also went to many auditions and got jobs. I did a master's degree in TV persenting which involved a lot of drama. I worked with a great playwright called Paul Adkin for five years. He taught me a lot about Grotowsky, Meyerhold and Bertold Brecht. I also studied with Fernando Piernas and Marta Rubio and now I'm studying here in Los Angeles.
What made you decide to move to the USA?
My husband and I won the Green Card Lottery and as he works in the industry as well, we both decided that our place to be would be Los Angeles... and so far it's working out great for us... I have already worked in a couple of productions and my husband is currently about to start working with a producer as a special prop maker. He's very good. (Not that he's my husband!!)
Do you have any web pages where people may find out more about you and your projects?
Of course! http://www.beatrizurzaiz.com
What are your future plans?
I think we should stay here for a year or so and see how our luck goes. As I said, I'm also studying at the Anthony Meindl's Actor's Studio (AMAW) and I'm learning a lot and I'd like to stay here in order to learn more from what Hollywood has to offer.
From your career, do you have any interesting stories to share with the readers?
I remember a very funny one... we were right in the middle of The Lady of the Damned Forest production and we were all driving to our location, a beautiful forest in the north of Madrid. We went to a gas station to check the cars' gas and I went out of the car I was in in order to go for a walk a breathe a bit. Suddenly, I turned around and there was no one there!! They had all left and gone without me! I had a laughing fit but didn't know what to do... thank goodness George Karja, the director, realised and turned around and came for me... we were all laughing so badly and still laugh so hard every time we remember... it just makes the people closer, you know, things like these... also, I remember when we were shooting PROXIMA with Atanes, we were in the Minas del Río Tinto, a beautiful extraterrestial looking place in Huelva... there was a very dangerous place where no one could go to but it was a perfect location for the film. There was a sign that clearly said "STAY AWAY FROM HERE ESPECIALLY WITH RAIN" and there went all the crew... and... yes... it rained... I though they were all so brave! I have many fond memories of PROXIMA as it was one of my first features and I wasn't too experienced, but Carlos Atanes and the great crew really made me feel at ease.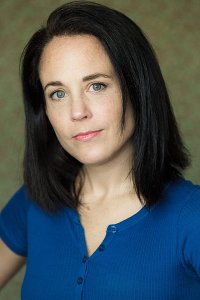 What about modeling? Did you go to modeling school?
I didn't! I feel that modeling is very much intuition and I guess that I'm full of it. It's just feeling good in front of the camera. And that's something I feel somehow. Don't ask me why, but my dad was a very good photographer and I always insisted on him taking pictures of me when I was a little girl! My mother keeps those pictures with her in Spain! The are like a treasure for her!
Do you anticipate returning to Spain to do more film work any time soon?
I think we might stay in Los Angeles for a while now... I mean, we've only been here for five months and that's nothing... I've had to change my look in order to look more Spanish (there' was a lot of work for people who looked like me here with my old look) as I used to be ginger haired and looked quite American, but this producer called Stefan Jacobs told me that it would be better for me to go to the latina sector. So I'm letting my hair grow, I dyed it dark brown and got new pictures. Of course, that took some time so until I got my new headshots, I had to wait a bit and after that I started submitting to latina roles, where I have my niche. It's only now that I'm working. Also, I'd like to produce some animated material with some ideas I have in my mind and it will take time. My friend Gabriel whom I mentioned above is going to help me too.
Do you have anything you would like to add in this interview?

Feeling lucky ?
Want to
search
any of my partnershops yourself
for more, better results ?

The links below
will take you
just there!!!

Find Beatriz Urzaiz
at the amazons ...

amazon.com

amazon.co.uk

amazon.de
Looking for imports ?
Find Beatriz Urzaiz here ...
Something naughty ?
(Must be over 18 to go there !)

I'm so grateful to this country who has given my husband and I so much in such a little space of time... it is really an amazing nation... I hope I can only repay and give it the love it has given us.
Closing comments?
Thank you so much for the interview! I hope that next time we do an interview I can tell you that I'm working full time on my dreams!! Which is pretty much what I'm doing now but my husband and I need to work more and at least be able to make a full living out of this. I'd like to go SAG in order to make that happen, but we still have plenty of time in front of us to see our dreams come true!!
Thanks for the interview!