Feeling lucky ?
Want to
search
any of my partnershops yourself
for more, better results ?

The links below
will take you
just there!!!

Find Bill Baggs
at the amazons ...

amazon.com

amazon.co.uk

amazon.de
Looking for imports ?
Find Bill Baggs here ...
Something naughty ?
(Must be over 18 to go there !)

It is fair to say that most/all of the material you produce with your production company BBV is somehow related to the popular BBC sci-fi-series Doctor Who. Could you please explain your fascination with the series ?
I grew up with it, like many kids here in England, and I can't remember a time when I was not watching it. I pretended to have my own sonic screwdriver or getting in and out of the TARDIS, ... yeah, I grew up with it.
Could you please tell us when and how BBV came into being ?
BBV came in into being after I did Summoned by Shadows. As soon as I had just done one film and realized I could do more and wasn't gonna get sued by the BBC for doing something similar, I set up my own company ... actually it wasn't my company, it was my wife's trading name: BBV stands for Bill and Ben Video. Back in 1991it was just a vehicle for making covert Doctor Who.
The first video you put out was Summoned by Shadows, starring former Doctor Who Colin Baker as the Stranger, a Doctor Who-like role, with Nicola Bryant, his companion on the program, playing his assistant. Objectively speaking, Colin Baker was not the most popular actor to play the good Doctor. What made you choose him for the role nevertheless ?
Well, actually he wasn't my first choice ... bless him.
I approached a number of actors - and you can probably guess who I approached - and Colin ... actually I didn't approach Colin, I approached two, and of the two Colin was the one who said yes. And also I was arrogant enough to think, given Colin didn't have a good tenure as the Doctor, being such a cool director I could do something with his character and give him a chance to show his acting talent ...
Summoned by Shadows soon got 5 sequels, More than a Messiah, In Memory Alone, The Terror Game, Breach of the Peace and Eye of the Beholder. What can you tell us about the Stranger-series as a whole and the individual films ?
Obviously you get a whole range of experiences when making a film.
About Summoned by Shadows, I remember filming in a quarry, and the cameraman getting stuck over night 'cause we couldn't get his Volvo-car out, and I had to go back the following day to help him get out. He nearly wrecked my Ford Fiesta trying to pull his Volvo out of the quarry. But about Summoned by Shadows, the overall memory was that there I was making Doctor Who with actors from the show that I kind of admired ... and I was shit-scared, but also excited.
With More than a Messiah, I think I bit off more than I could chew ... I think I was completely unrealistic as to how much we could film in a day ... normally you have about four scenes to shoot in a day, I had something like 20 ... and I still hadn't really got the hang of how much footage you can realistically shoot in a day without exhausting your cast, pissing off your crew and just doing your head in yourself.
In Memory Alone was great, it was very atmospheric because or the railway station. Shooting at night at that railway station was extremely romantic and these enthusiasts who ran this steam train would just to anything for us, even though it was a major effort just getting that train in and out - and they were happy to do that a couple of times, so, that was really exciting.
Setting fire to the BBC is the other significant memory about In Memory Alone. We were filming in a cave under the old BBC Nottingham, and I dropped some matches, I tried to create this smoke effect, they were smoldering, so I kind of kicked them through a hole in the floor to the level below thinking they would go out ... and the next morining I had a phone call from one of my colleagues at work saying "I don't wanna alarm you Bill, but we've all been evacuated and they're saying it's you ..." The firebrigade was called and it was me, but luckily the building wan't burned down, it was just full of smoke.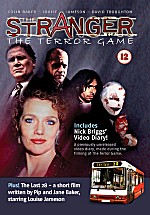 Terror Game was like the beginning of something new, we were trying to do something different from Doctor Who and changed the character completely so instead of a hero he's kind of an anti-hero ... so that was quite exciting, giving Colin something to do that was not typically Doctor Who, completely against the character he normally played. And working with David Troughton was very exciting, and Louise Jameson as well. It was like grown up filmmaking and gritty and I kind of got into my stroke with it ...
The same with Breach of the Peace, that was a rip-off of The Bill. I was taking the new character that Colin has become, and just put him in a very earth-type setting, and a very real, believable situation where he's hooked up with some woman to try and hide, get away from Egan and Saul, but then they find him and the woman who he's shacked up with, he's trying to hide behind is then threatened. So it was getting away from the sci-fi and more to the gritty drama, so that was interesting.
And again the same with Eye of the Beholder, that was just a real stretch. If I would do Eye of the Beholder now, with all the technical stuff and CGI, it would be a completely different film. What I remember is these loud guns going off and everybody had to wear these ear defenders, which gouverned the whole filming process, everything had to be safety first. And Alison Troughton was in it, and in one scene a gun goes off pretty near her face, and some kind of shrapnel came out of the gun and struck her face. Which was really scary, but she's alright.
Would you ask me what my favourite is, I'd probably say ...
I like In Memory Alone a lot, it's very atmospheric, but I also like bits of Terror Game, there are nice sequences in that. The same for Breach of the Peace.
In 1993, Doctor Who celebrated its 30th birthday, and for your film The Airzone Solution, you managed to get 4 actors who have played the Doctor (Jon Pertwee, Peter Davison, Colin Baker and Sylvester McCoy) to appear. What can you tell us about the film, how did it come into being and what is it about ?
The Airzone Solution is about 60 or 70 minutes long, and it was my answer to The Edge of Darkness, a political thriller. I originally approached Philip March, he actually works here at BBC radio drama and has written a couple of episodes for Doctor Who, and I liked his scripts. So I approached him to write me a special, multi-Doctor story and when he delivered the script ... I didn't like it, so in the end I got a friend of mine, Nicholas Briggs, to write me something completely different - The Airzone Solution.
It's basically an enviromental thriller. It was like the first mega-production I did, I had quite a decent budget. I was also lucky because I knew Colin (Baker) and have worked with Sophie Aldred on More than a Messiah, and Colin knew Peter Davison, so he called Peter Davison, and Sophie called Sylvester (McCoy), so I had inlets to these other actors ... I remember being in my flat in Nottingham, on the phone to Peter Davison, using my Bill-Baggs-charm to convince him that he actually wanted to be in this movie. It was like hedging around the subject, but eventually, he just agreed to do it. When I put down the phone, I really flipped out with excitement (that shows you how sad I am). And the funny thing was, I had Peter, Colin and Sylvester, Nicola Bryant was in it, Alan Cumming was in it, I have worked with him before in a BBC-drama, and while we were already shooting, Jon Pertwee got to hear about it from Sylvester, and he phoned me up about the film, saying "So, you are doing this film. Why am I not in it ?" and I didn't have an answer, so he basically forced me to put him in it ... which of course I was really pleased to do.
Nick apparently had expected this phone call so he already had an idea how he would introduce Jon and give him a couple of scenes, and that worked out really well. It was a really nice day actually when we had all four of them together doing the last few scenes. And there were so many fans turning up to be in the audience which made a really big difference ... we had over a hundred for the last sequence of the film, and it was like running a Doctor Who convention, with the actors from the show and the fans ... it moved on from being a film into being something more. I'm really proud of that one.
In 1994, you made The Zero Imperative, which would ultimately become the first in the P.R.O.B.E.-series, in which Caroline John is featured as Liz Shaw, a character she also played on Doctor Who in the early 1970's opposite Jon Pertwee (who incidently is also in the cast of The Zero Imperative). What can you tell us about this film and about the P.R.O.B.E.-series ?
P.R.O.B.E. is a bit of an injoke from Mark Gattis, who wrote it, - and I let your imagination work out what the injoke might be - but it does stand for Preternatural Research Bureau, and that's how Liz Shaw's (Caroline John) career had developed, she heads up this company investigating into the supernatural or paranormal.
Back then we were testing some new ideas, and Zero Imperative was the first - I didn't know wether I'd get permission to use the Liz Shaw character, but the BBC agreed (which surprised me). So we shaped this department around her, and investigating Zero Imperative was kind of a multi-Doctor story (that was kind of the idea of that one), a sort of follow-up to The Airzone Solution, but not using the same characters. Mark Gattis always looked at it as our own version of Carry On, with the same actors in a different concept, and that worked pretty well.
We took over a mental hospital in the middle of Absom and this basically was converted into our own studios ... it was also meant to be a mental hospital, but we built sets for all sorts of stuff in there, pulling walls down and erecting walls and stuff.
Zero Imperative was also the last film that Jon Pertwee ever did before he died. Before filming he actually had a major operation and his wife didn't want him to work, but he insisted on coming to the set and doing his stuff. It was interesting to see how much he got out of just being there and getting all the attention. His health seemed to actually improve through the day.
The P.R.O.B.E.-series was scripted by Mark Gatiss, who later became enormously successful with the series The League of Gentlemen and would ultimately wind up to write for the new Doctor Who TV-series. What can you tell us about him, and how did he get involved with BBV ?
Mark and I worked really well together. He has always been a Doctor Who-fan, he has written Doctor Who-novels and now for the new series on TV. Gary Russell recommended that I use him, and he had some quite big ideas and has an obsession with horror, which comes out in the P.R.O.B.E.-series and other bits and pieces he has done.
The collaboration was very good, he's very different from me, that's all I can say.
Then, in the late 1990's, came the Auton Trilogy, a cooperation with Reeltime Pictures, another company specialised in Doctor Who-related material. How come the two companies joined forces, and what can you tell us about the Auton-films as such ?
Keith, who runs Reeltime Pictures, and me have been running in tandem for years, knowing each other and working together on and off on various bits and pieces. He has made some dramas and he wanted to make the first Auton film and had asked Nick (Briggs) to write it, but somehow I ended up being offered it and I was happy to take it over. What was interesting for me was that it was the first time that I gave up the reign of directing and I just produced it.
On the first one, that was a really tough thing for me to do, to reliquish that control, so a lot of the time I made sure to stay away from the set just so I wasn't interfering. But it was really frustrating just watching from the wings and saying "That's not how I would do it", and just letting go was a really difficult experience - but I am glad I did it. ...
I think Auton, which we will soon release on DVD, is really atmospheric, though I think in the first one there could be more shocks per se to make it more dramatic and fast-paced. It's a good story though, very atmospheric.
The Autons are monsters which originated in a Doctor Who episode from 1970, Spearhead from Space (incidently also the first Doctor Who episode starring Jon Pertwee). How come you can use actual, copyrighted Doctor Who-monsters (and characters in fact, speaking of Liz Shaw) ?
There is a lot of stuff concerning Doctor Who - characters, monsters, ... - of which the copyright is not vested with the BBC. The Autons, among many monsters created by Robert Holmes, are owned by his estate. So the BBC had to go to his estate to get permission to do the Autons-story (Rose) they did at the beginning of the new series. And that's what I did. Sometimes they say yes, and sometimes they say no, so it's a very simple process of asking.
In 2000 came Cyberon, featuring aliens somehow resembling the Cybermen from Doctor Who. What can you tell us about this film ?
Cyberon in a way is my favourite film because I put a lot into the directing of it based on everything I had done before. It's a very atmospheric story, but also a love story that goes wrong. On one hand it's one man's obsession with a life-enhancing drug, and on the other about a Doctor who is championing the cause for the mentally ill. These two characters and their worlds collide, and you can see the impact of that collision. It has twists and turns and it's quite romantic, challenging, and ... silly
2001's Do You Have a License to Save this Planet marks a departure from the usual BBV-product, inasmuch as it is a spoof starring Sylvester McCoy as a character called The Foot Doctor. What can you tell us about this film, and why did you choose to do a parody ?
I was egged on by Paul Ebbs who thought a spoof would make more money, and I thought why not. Actually, my first spoof was The Auton Diaries, a ten minute short for a company involved with the Auton-films, which I thought was quite funny, so I thought why not do something a little longer. It was also an opportunity to try out some heavy duty CGI-stuff, like the scene where the carpet goes away and the Foot Doctor and the License Holder are floating in space - that was Steve Johnson's efforts in CGI and it was fun. It was something a bit different, but honestly it wasn't something I felt terribly comfortable to do ...
Purist fans might find the parody sacrilegious, but there is the whole aspect of fandom that likes doing these things. With License, you either love it or hate it, but if you watch it after having had a few beers with some of your mates, it is a bit funnier than when you watch it stone-cold sober.
As far as I know, Do You Have a License to Save this Planet is your last (released) feature film to date. Any film projects for the future ?
There's plenty more going on in my head, but it probably won't be Doctor Who-related - unless somebody offers me lots of money ... although I was thinking of doing a Stranger follow-up, who has kind of moved away from Doctor Who.
So yeah, I would like to do something new, but it depends on the right opportunity at the right time.
Besides feature films, you have also done some documentaries on Doctor Who. A few comments on those ?
I did five documentaries. I did the Stranger than Fiction films, which accompany the films that I have made, which kind of explore the work I have done. The one I'm most proud of is Acting up, which kind of analyzes the process of acting with Peter Davison, David Troughton and Alison Troughton, it's a bit of an insight into different approaches to acting.
Then there was Bidding Adieu, which accompanies Sylvester McCoy to Canada, talking about making the new film (Doctor Who: The Movie from 1996) and handing over the role (of Doctor Who) to Paul McGann, but also his experiences in a new country with dramatic scenery. I was quite pleased with that one, and it did very well.
The Doctors-documentary was a bit controversial because I gave Colin (Baker) and Peter (Davison) and a numer of actors the opportunity to quite openly talk about what they thought about the series rather than just being positive, so you get an insight into what they didn't like or what didn't go as well as other things
And then you have also produced a line of audio-plays. Would you like to talk about those ?
Before I did any films I was part of the Doctor Who Fanclub in Hampshire and after watching loads and loads of episodes we experimented with making our own Doctor Who audioplays, which became known as audiovisuals and had a massive following - which was amazing considering the show was also on air at that time - so we were very proud of those. So I thought, after making a few films, it would be a good opportunity to exploit the audio-medium too, so I convinced Sylvester (McCoy) and Sophe (Aldred) to recreate their roles of The Professor (= Doctor Who) and Ace ... but I got into a bit of trouble with the BBC on that one when they tried to stop me do it
Having learned about your films (and audioplays), the 64 Dollar question is, where to get them ? Could you give us your URL and tell us what your website is about ?
In 2005, the BBC launched a new Doctor Who-series. Your thoughts about the new series ?
My kids like it ...
I don't really know what to make of it, it wasn't designed for me, I can only watch it through their eyes. Some of it is good, but some of it is not something I would choose to watch - and I don't know what it is, it's just kind of weird how it came back after such a long time and I'm not left feeling satisfied by it.
How does the new series affect BBV, and does it generate renewed interest in your product ?
No. It affects BBV in neither a positive nor negative way.
The series does help selling toys tremendously, but not films and CDs. Fans rather want what they see on TV and not the spin-off stuff - I would say.
Thanks for the interview !