Your new movie Mother's Day Memories - in a few words, what is it about?
A woman's Alzheimer's is the eye of the storm of family conflict swirling around her.
Now how did the project come together in the first place?
I conceived this project as a way to honor my mother and her love - despite her decline. Hallmark had my original script in development meetings, and suggested I add the character of the caregiver. But they never moved forward, so I decided to produce it myself.
Being an actor first, what made you pick up writing and producing for Mother's Day Memories - and is that something you could be persuaded to do again?
I've always loved writing, so that part came naturally. Further, as a screenwriter with an acting background I can visualize and "hear" the dynamics of the relationships. I also figured I could use Mother's Day Memories as a showcase for my acting AND writing.
What were your sources of inspiration when writing Mother's Day Memories, and is any of this based on personal experience?
Practically ALL of this is based on personal experience with my mom! The incidents that happen and even much of the dialogue are drawn from her story. Jody Jaress [Jody Jaress interview - click here], who had played a woman similarly affected by the disease in Fragile Storm, suggested Mother have a burst of anger - hence her aggression toward the caregiver. Only after my sister saw the completed film did she reveal that our mom had once pulled a knife on her attendant! Apparently she had sneaked it off the dinner table and hidden it - but fortunately it was only a butter knife!
With Alzheimer being one of the central themes of Mother's Day Memories, what kind of research did you do on the subject?
I didn't have to do much research. The character is so true to the way my mom actually was. One of the heart-rending lines she delivers is one I overheard her say to reassure my father, who'd been such a stern taskmaster at trying to get her to remember: "It may not seem like I love you, but I do." You know, Mike, this really applies more universally, too: How often is our love for someone tied to our expectations of them?
What can you tell us about your co-writer and director Matthew Michael Ross, and what was your collaboration like, both during writing an on set?
Matthew was great to partner with! He offered to help me polish the script, which entailed not only adding dialogue, but letting me know the original version didn't grab him. He wasn't specific about WHAT he didn't like, so I reworked it, then reworked it again. I was starting to get frustrated, then finally hit on including "the elephant in the room" - the Father character! Yes, at last the unseen presence would be seen from Mother's AND John's perspective. Matthew's dissatisfaction with the earlier versions led me to soul-search and come up with the answer!
On set I worked well with Matthew, too. I wore only my "actor" hat as much as possible, deferring to him as the "director" who's in charge of the set. And Matthew's direction to each of the actors was spot-on!
Matthew's post-production skills in editing and music and creation of a trailer were perfect for the project. He really "got" exactly what I was looking for! I absolutely felt I was in good hands!
What were the challenges of bringing Mother's Day Memories to the screen from a producer's point of view?
I made things tough on myself by planning a first-rate production AND handling so many details myself, as a learning-by-doing experience! (Usually it's either one or the other!) Also, I learned later that a director generally hires cast and crew, not the producer. Oops! Anyway, here were some challenges:
My first project as an executive producer
Being my own line producer - handling locations, catering, craft, sending call sheets, tax & DHS forms, etc.
Hiring a veteran director AND cinematographer
Hiring veteran costume designer, hair/makeup, and others
Becoming a SAG signatory producer (paperwork!)
Paying actors up-front, not "deferred"
Using a payroll company (paperwork!)
Using an insurance company (paperwork!)
Establishing Uber business account
Arranging lead actors' transport
Chief cooking and bottle-washing
You also play one of the leads in Mother's Day Memories - so do talk about your character, what did you draw upon to bring him to life, and did you write him with yourself in mind from the get-go?
Yes, I know John because I am John! It felt weird to me: walking the line between documentary and narrative. Gotta say, I didn't have far to go to feel, as an actor, what the character is feeling! Familiar yet strange. The main difference is the ending - which was not drawn from my life. Spoiler alert: John is adopted!
What can you tell us about the rest of your cast, and as a writer/producer, how much say did you have or demand in casting Mother's Day Memories?
I asked Jody Jaress [Jody Jaress interview - click here] to play Mother, based on the recommendation of my friend, veteran actor Hal Alpert. Jody was ideal to work with - and conveyed so well Mother's emotions of love and confusion. Matthew recommended Kat Kramer [Kat Kramer interview - click here]; the three of us had lunch and were simpatico. Kat was "the perfect wife". She recommended Conrad Bachmann - the embodiment of a man more comfortable with actions than emotions. And Jacky Park (Doris) was recommended by my great acting teacher Abbie Cobb. Everyone did an outstanding portrayal of their character - and the interactions were just right.
Do talk about the shoot as such, and the on-set atmosphere!
We had a three-day shoot at three locations in Highland Park, Los Angeles. It was a good feeling on set. We knew what we had to do, and everyone was part of the team. We had one accident when a lighting "barn door" dropped on Kat's head, drawing blood. She COULD have insisted on medical treatment. The insurance I'd purchased covered this - but it would have put us behind schedule. But Kat was a real trooper; she cleaned up and insisted on carrying on!
The $64-question of course, where can Mother's Day Memories be seen?
Ah, your readers are in luck! For the time being there's a link on the website - https://mothersdaymemories.com
Now, where's my $64?
Anything you can tell us about audience and critical reception of Mother's Day Memories?
The reaction has been universally positive. For example, whenever a macho-type guy approaches me quietly after a screening to tell me he cried, I know we're doing something right!
Any future projects you'd like to share?
Check out my ongoing podcast But You're Not Funny! on YouTube and all audio podcast platforms. It's entertaining, informative interviews with experts on useful topics: sexuality, relationships, self-defense, building community, and finding purpose in life - https://butyourenotfunny.com
What got you into acting in the first place, and did you receive any formal education on the subject?
I began doing Gilbert & Sullivan and other musicals in community theater in Boston. That got me excited; I wanted to learn more and do more! So I studied at Actors Workshop, the Institute of Contemporary Dance, and singing-voice at the Boston Conservatory of Music, then (after I was in SAG) SAG Conservatory, plus commuting to classes in NYC ... After I moved to L.A. I took classes here, and continue to do so: Second City (Rob Belushi), AFA Studio (Abbie Cobb), Kimberly Jentzen, and TVI (Ron Orbach).
What can you tell us about your filmwork prior to Mother's Day Memories?
Back when, I had a couple comedic scenes as a paramedic in a cult favorite, One Crazy Summer. Here in LA I've done a slew of short films: USC and AFI student films and independents, couple features, Tosh.0, TV movie for Mark Brown (Barbershop), virtual reality, couple music videos, and a web series (S.K.C.) written/directed/produced by Matthew.
How would you describe yourself as an actor, and some of your techniques to bring your characters to life?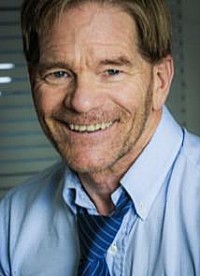 Feeling lucky ?
Want to
search
any of my partnershops yourself
for more, better results ?

The links below
will take you
just there!!!


There are two stars I sometimes get mistaken for: Byan Cranston and William H. Macy. I've been described as combining Cranston's intensity with Macy's quirky edge. If I can even partially live up to those comparisons, I'd be honored.
Actors, writers, filmmakers who inspire you?
Steven Zaillian, Tom Hanks, Jodie Foster, Steven Spielberg
Your favourite movies?
Schindler's List, Forrest Gump, Avatar, Star Wars.
... and of course, films you really deplore?
Reefer Madness, maybe? I'm not sure; I was high at the time ...
Your/your movie's website, social media, whatever else?
Mother's Day Memories site above, Facbook.
Bill Hoversten: https://billhoversten.com, also Facebook and Instagram.
Anything else you're dying to mention and I have merely forgotten to ask?
You forgot to ask me about Jess Franco - but hit me up another time!
Thanks for the interview!
J