Your upcoming movie Abaddon - in a few words, what's it going to be about?
Basically it's about a good guy, Remington, who's been persecuted by the prison system in a different galaxy (charges like those against Richard in Casablanca). When he gets out of jail on Dargonia (a planet in said galaxy that's a fantasy nineteenth century-esque version of a planet similar to earth) his bounty hunter girlfriend Linda (Kaylee Williams [Kaylee Williams interview - click here]) and him head to an abandoned carrier ship he heard about while in the joint that is supposed to have a shipment of cannabis aboard in order to pay to get his ship out of impoundment. When they arrive at the derelict spacecraft and begin gathering up the loot, an Izan warship appears and boards the cruiser. Linda kills the soldiers and hauls ass from them. In the process of pushing the capabilities of the steam-powered vessel, she hits a wormhole and the two are shot 53 years into the future. Now a wasteland, the planet that they once occupied is under the rule of the Aesir, the same theocratic government that took over earth a couple hundred years ago and eventually depleted all of its resources. Under the rule of the Aesir, women don't count as citizens unless they are married (and sex before marriage is a capital offense). Driven underneath the surface into the caves, a rebellion against the ruling power has begun and Remington Troy and Linda Lux end up leading an assault with the terrorists in an effort to free the citizens.
What were your sources of inspiration when writing Abaddon?
Other than history, I really had no inspirations while writing Abaddon. I wanted to tell a story of a civilization overthrowing a tyrannical government in my own new steampunk setting, and have an indifferent but good-natured prisoner forced to lead the rebellion.
With Abaddon being a steampunk movie - what were the challenges to get this specific look just right?
Costuming has been the most difficult issue. Old power plants and 3D printers have made things quite easy to create the exact look I have wanted for miniatures, props, and locations, but costuming has been very difficult because wardrobes have been pieced together and many have had to have specific parts made. Most props that are practically created have just been built by things from hardware stores - gauges, valve stems, pvc pipe, epoxy and spray paint have become staples in my arsenal, as has corn syrup and red food coloring, of course :)
I even built the flame thrower with stuff from the hardware store.
From what I hear, Abaddon took quite some time and effort to make it onto the screen - care to elaborate?
It's been a six year journey from script to screen. I originally wrote it as a straight space opera like Star Trek, but then I felt that not only had it been done so much before, I also felt that I needed to say something as well as take the story in a new Monumental Pictures direction - it now has testicles being electrocuted and a man being force-fed feces. So principle photography began in Washington D.C. in 2015.
You will actually release a documentary, Farts of Harshness: Making Abaddon, about the making of Abaddon along with the movie - so what was the idea behind that?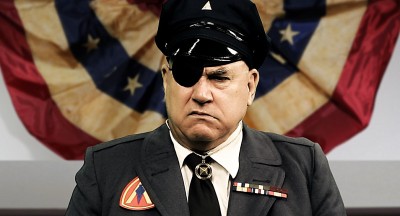 Since the film has taken so long to make as well as having been shot in so many different places, the idea for Farts of Harshness came about when I was shooting the explosion of the pyramid scene. Beginning at dawn, I filled a plastic kiddie pool with sand, lit it with all of the lights, mixed chemicals, set blasting charges, etc. By the time that I finally got the finished shot, the day was over. So, like a fart, a shot that will last a second or two in the film was surprisingly harsh, as it took all day to do. Aside from the fun play on words about the Apocalypse Now (Joe Estevez voices some of his brother's monologue in that film and is also in Abaddon) companion doc, I thought it was a story people would enjoy to hear, especially because people had been pushing me to share all of what I was doing with Abaddon. So the documentary began production. The show will be chock full of bloopers, behind the scenes footage, and interviews and will premiere alongside the completed cut of Abaddon on July 4th 2018.
Could you describe your approach to making the documentary for a bit, and its inherent tone?
It's going to be totally straight - just slices of life; moments in history documented. There is no specific agenda like many documentaries. This is just a (mostly) fun portrait of a film being made.
Back to Abaddon - what can you tell us about your directorial approach to your story at hand?
As relaxed as possible, I take my time and shoot until I get what I like. I can also really only create when I am inspired - otherwise it doesn't turn out right like my music, painting, or any other artistic work.
Abaddon is also described as a comedy - so do talk about your movie's brand of humour?
It's very, very dark satire that I think might hit a little too close to home for some, but there are some quirky oneliners and many of the characters have fun with the situations. They often treat horrible situations like they just don't care because they assume that they're going to die anyway.
What can you tell us about Abaddon's key cast, and why exactly those people?
They are all just fabulous people in my opinion. I pick people that I think closest represent the character's in my script (Ron Jeremy is "The Minister of Medicine," for instance and his character's job is to inspect hymens' to ensure that they haven't been corrupted).
The $64-question of course, when and where will Abaddon and Farts of Harshness: Making Abaddon be released onto the general public?
I can't answer the location part of that question for certain as of now, but it will be on July 4th of 2018.
Any future projects you'd like to share?
Psychtronic Fiction: The Movie is now in post production and will be released soon. I feel that people really need to laugh right now, so I made a feature length version of Monumental Pictures' popular comedy series that compiles bizarre, random, and obscure footage into a story, often re-voiced, titled, and edited. What is special about the movie though is that it is going to feature a lot of footage from lost films of mine that were never finished, including Secret Bonfire starring Tiffany Shepis circa 2006.
Lucidland is still filming. A trailer for it will be released soon. It's a very dark, full length stop-frame animated fantasy picture that I am very excited to share with the world.
Trilogie De Tragedie will be playing in New York on September 26th at 6 p.m. as an official selection of the Buffalo Niagara International Film Festival. Tickets are available here:
http://thebnff.com/film/trilogie-de-tragedie/
The popular 2012 video game Love Gun 2: Knee-deep in Poon is available for PCs for free on Gamejolt:
https://gamejolt.com/games/love-gun-2-knee-deep-in-poon/202149
The link is also on the website.
The cult films Insignificant Celluloid and The Death of Hollywood are now streaming for free for Amazon prime members:
My new science fiction novel is available for pre-order on Amazon:
https://www.amazon.com/Immanent-Verity-Blake-Fitzpatrick/dp/1545395810/
And I'm working on a new album, the other two can be found on the website.

Feeling lucky ?
Want to
search
any of my partnershops yourself
for more, better results ?

The links below
will take you
just there!!!


Your/your movie's website, Facebook, whatever else?
http://officialblakefitzpatrick.com
Anything else you're dying to mention and I have merely forgotten to ask?
Our star-studded film Hazzard that is based on the true life serial killer Linda Burfield Hazzard is on the lookout for a fresh producer, so if anyone interested wishes to talk about it and read the acclaimed screenplay, you can reach me though the websites.
Thanks for the interview!