Your new movie The Cabining - in a few words, what is it about, and what can you tell us about your character in it?
The Cabining follows Todd & Bruce as they try desperately to write a satisfactory screenplay that will please their investor, Toddís wealthy stepdad, Sarge. Bruce convinces Todd that they need inspiration and will find it at Shangri-la, an artist retreat set out in the woods. They find the inspiration theyíre looking for, but whether or not theyíll survive long enough to complete the scriptÖ well, thatís another story.
Bruce, uh well, where do you even start; heís very much a type-A personality with hints of narcissism that are about as subtle as a jackhammer at times, but underneath it all I always saw him as an eternal optimist. He just believes that everything will work out and doesnít waste his time with worry. Like he read a synopsis of The Secret and said, ďYeah, that sounds good. Iíll go with that.Ē
Of course, Bruce has made being a freeloader an art form, and therefore knows Todd will take care of the ďresponsibility stuffĒ at Shangri-la. That allows him to focus his attention on 3 things: Fun, hot girls, and fun with hot girls. All the things a growing Bruce needs!
What did you draw upon to bring your character to life, and how much of Bo Keister can we find in Bruce?
Bruce really jumped off the page for me. I could just feel it, and ideas for him began playing in my head immediately. The script alluded to Bruce not really having anyone in his life other than Todd, and itís clear that whatever he had in the past is gone. Rather than get down about it, he chose the opposite path. Thatís what clued me in to his optimistic nature. He lives his life driven completely by his desire to have fun, free from worries of the past. From there, I just began adding layers, going with improv ideas on set that worked, and let him breathe. But I think finding his optimism is what really made the character work. He sort of becomes this loveable man-child. You like him, but also want to strangle him at times.
As for the amount of ďmeĒ in the character, I would say it depends who you ask! There are certainly similar traits. I like to think that I share his optimism, but Iím not nearly as narcissisticÖ at least I donít think I am! I can relate to his party animal side too; a throwback to my college days. Even today, at nearly 40, I can still raise hell with the best of them and love having a good time. The one part I hope comes through, and that I tried to consciously add, was an element of charm. I felt that without it heíd come across unlikeable. Without that, Bruce canít ďget away withĒ the things he says and does, so I knew that was going to be paramount in playing him.
How did you get involved with the project in the first place?
Mike Kopera found me through IMDb, believe it or not, and called me about coming on as an executive producer. He said there were a couple of cop roles that I might fit, so I was eager to give it a look. He emailed the script, and the more I read, the more Bruce just kind of called out to me. It was a character type Iíd been waiting to play for the longest time. So, I asked if the role was filled, which it wasnít, and I asked for a shot. The rest is history.
What can you tell us about your collaboration with the Kopera brothers, the driving force behind The Cabining [Mike and Steve Kopera interview - click here]?
Mike and Steve are just amazing to work with on so many levels. They each know their own strengths and weaknesses, as well as each others; just a perfect one-two punch on set. You can feel the trust they have in one anotherís abilities, and that provided a great tone for the shoot.
Mike is a terrific actor, but heís also one of the best producers Iíve ever seen, hands down. No matter what the situation, he seemed to flawlessly handle it, never getting ruffled. Even if he did, it didnít show or carry over to set. Thatís an incredible feat considering the number of hats he was wearing throughout the shoot. Heís a beast!
Steve, as a writer, had put together a clever script, but more importantly, as director, he had a very clear vision for it. He knew exactly what he wanted from each of us, as well as our characters, and communicated it well. As you mentioned in your review, his directing style was very subtle. He trusted us as actors, giving us the latitude to discover and create in the moment. That allowed the characters we built to come alive, while Steve acted as more of a guide to keep us within the framework of the scene. To me, thatís what great directors do, and Steve is in that class.
With The Cabining being a slasher movie of sorts, is that a genre you can at all identify with?
You mean aside from the two dead bodies in my basement? Absolutely!
Iím a child of the 80ís, so I cut my teeth on all the classics. Jason, Freddy, Michael Myers, all of them were part of my formative yearsÖwhich probably explains a lot. Finding such a love for the horror genre at an early age opened me up to exploring Hitchcock, Kubrick, and others. If I hadnít been so into horror, I probably would have overlooked them and I would have missed out on some great films.
What can you tell us about the shoot as such, and the on-set atmosphere?
It was just awful! Having to go film every day in a mansion, on a beautiful lakeÖhow horrifying!
Nah, I know itís clichť, but it was very much one big family. The majority of the cast were all staying together in a huge house, so we were always together. I think you really see those bonds and relationships translate to the film. Also, on the few nights off during the shoot, everyone would get together over great food, adult beverages and guitars. It was one of best shoots Iíve ever done and I canít wait to get another one going with the same group, cast and crew, everyone was amazing to work with.
Any future projects you'd like to talk about?
Yes. I been very fortunate to have several projects come my way and, like all actors, I hope it continues.
Most imminent is a new comedy/drama series called Assets, which will start shooting in Georgia this fall. Iíll be playing ďPeteĒ, the limo driver/bodyguard of the lead character, Quintessa. Not sure if heíll be a series regular, but definitely recurring.
Iím also developing The Lycanthropist with Blu de Golyer [Blu de Golyer interview - click here] and David Mun [David Mun interview - click here] from House of Good and Evil. Originally, it started off as a feature film, but the opportunity to turn it into a series came along and was more appealing, so weíre getting that put together now. Itís going to be a terrific new spin on the werewolf genre.
There are several other films that are in various stages of development or pre-production too; primarily The Puzzle Jug and The Tomorrow Saga. Lastly, Reunion 108, a baseball comedy I shot last year, has completed post and will hopefully be premiering soon. Lots of great things going and I feel truly blessed. Of course, Iím always looking for more, so fingers crossed that the offers keep coming my way!
What got you into acting in the first place, and did you receive any formal training on the subject?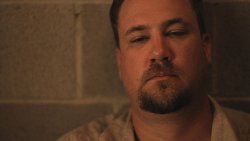 I grew up loving movies, but being from a small town in Virginia, Hollywood was a pipe dream. So I went to college to study criminal justice instead. I had myself convinced that I was going to go into the Secret Service and guard the President one day. No idea why, I guess it just seemed cool. Anyway, I came to find out that my eyesight would prevent me from ever achieving that goal. It was at this point that I had to figure out what I wanted to be when I grew up. The only other real love I had was movies, so I did some research and my parents suggested I check out Wilmington, NC. It was the 3rd largest film market at the time, so I jumped at the opportunity. I drove down, checked it out, and moved the following week. I didnít know a soul. All I knew was ďstart with extra workĒ. Two days later, I was on my first set. From that point, I began making connections and studying with my first acting coach. After a couple years of busting my hump in classes, booking small roles, and getting in the union, I took off to LA and trained my ass off under numerous coaches. I moved back to Virginia to be closer to family in 2006, after my first son was born. Luckily, thanks to the internet and a team of agents that work their hearts out for me, Iíve been able to work consistently and remain relevant.
Can you still remember your first time in front of a movie or TV camera, and what was that experience like?
My first speaking role was on, wait for itÖ a horror/comedy! I played ďJ.T. StricklerĒ in a film called Vampires Anonymous. Funny enough, Iíve never even seen the film. I remember being nervous at first, but I eventually found my groove, and made friends that I still have to this day. Honestly though, it was so long ago, I canít recall much else.
What can you tell us about your filmwork prior to The Cabining?
I suppose the most recognizable role would be ďKip TylerĒ in Remember the Titans. Iím the guy that breaks ďRevísĒ arm and talkís trash to him, then ďSunshineĒ comes in the game and takes me out. Other than that, Iíve done several indie films that are hopefully finding their way to distribution soon. Where I Begin is one that comes to mind. Iím particularly proud of my performance in that film, which is a gritty, southern drama. Iíve done a boatload of commercials too, and I currently host the top rated show on The Sportsman Channel, Gallery of Guns TV.
You also run an acting school, right? Do talk about that one if you can!
Well, I used to run one. I really loved doing it and helping train beginning actors. Both fortunately and unfortunately, I just got too busy with film work to keep it going. I still coach privately as I have time, so itís not entirely dead in the water. And Iím proud to say that I have several students out there booking roles.
How would you describe yourself as an actor, and some of your techniques to bring your characters to life?
I like to think of myself as an everyman archetype, because my look is adaptable to numerous character types, but my physical size usually puts me in line with playing the bad guy. I think thatís why ďBruceĒ was such a must for me. He gave me a chance to show Iím not a one trick pony. Donít get me wrong, I love playing dark characters. Thatís my wheelhouse. Itís just nice to find roles where I can show my range as well.
When it comes to technique, I typically work from the inside out. A lot of actors wear a character like a suit, whereas I like to let the character wear me like a suit. To me, itís more about finding what makes the character tick internally; the core emotion that drives them and why. Once I find that information, the rest just seems to flood my brain. My big thing is that I never focus on ďhowĒ a character acts, says a line, etc. If you understand the who, what, why, and where of your character, how happens all by itself. My strongest attribute, however, is probably my work ethic. That comes from my parents and my upbringing, and probably the thing I love most about myself. I donít get the whole diva thing. Youíve been hired to do a job that most people would kill for, so knuckle down and do the work. As I like to tell myself, ďFind another gear!Ē When I walk on set Iím ready to go, and I give 110% every take, even if the camera isnít on me, because it helps other cast members performances and the scene/film as a whole. I believe thatís why so many directors Iíve worked with want me on other projects. They know Iím going to bring that to set. No matter how successful I may become, thatís one aspect that I will never change.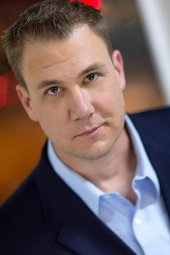 Actors who inspire you?
Oh, wow. Iím glad you made that plural, because Iíd never be able to narrow it to one.
I guess Iíd have to start with Kevin Spacey & Geoffrey Rush. Not merely for the roles theyíve played, or how well they play them, but more for the fact that they really had to fight to get their shot. Both of them kept at it until their opportunity came, and when it did, they let it rip. I think every actor dreams of that moment in their career.
As for others, Iíve always admired Tom Hanks & Ed Norton. Tom Hanks primarily for his ability to play such a multitude of characters; heís really a true ďevery manĒ and he has the ability to make you feel every emotion his character feels. Ed Norton has those abilities as well, but I love how gutsy he is with his character choices. He takes risks on edgy characters and makes them work, even when they should be unlikeable.
Lastly, Iíd say Anthony Hopkins & Meryl Streep because, well, theyíre Anthony Hopkins & Meryl Streep.
Your favourite movies?
HmmÖprobably my favorite, for personal reasons, would be Big Fish. If Iím in the mood for a laugh, This is Spinal Tap is a great choice, along with anything from Monty Python or Mel Brooks. Horror fave will always be the original Nightmare on Elm Street, but Night of the Living Dead is a close second. And, it may come as a surprise to some, but Iím a huge fan of Richard Curtisí work. I love his character driven, intertwined stories, like Notting Hill and Love Actually, heís an amazing storyteller.
... and of course, films you really deplored?

Feeling lucky ?
Want to
search
any of my partnershops yourself
for more, better results ?

The links below
will take you
just there!!!

Find Bo Keister
at the amazons ...

amazon.com

amazon.co.uk

amazon.de
Looking for imports ?
Find Bo Keister here ...
Something naughty ?
(Must be over 18 to go there !)

In all honesty, I try to take away at least one positive from every film I watch. Not sure there are any that I completely despise. If I donít like them, I just turn them off. In some cases, the fact that I turned them off and didnít have to finish watching is the positive that I take away!
Your website, Facebook, whatever else?
Facebook: http://www.facebook.com/BoKeister
Twitter: @BoKeister
IMDb: http://www.imdb.me/bokeister
Anything else you are dying to mention and I have merely forgotten to ask?
I have to send out some love to my family; my wife, Cyndi, my two boys, Hayden and Seth, and my parents too. No way could I do what I do without all their support.
Also, to the kick ass cast & crew of The Cabining, you guys rock! Love you all and canít wait for the sequel!
There WILL be a sequel! Right, Steve???
Lastly, House of Good and Evil made it's Video On Demand debut here in the US, so check with your provider and tune in!
Thanks for the interview!