Your new movie Wichita - in a few words, what is it about?
Wichita is about a woman who runs like hell to hide her affair!
What were your sources of inspiration when writing Wichita? And how did the project come into being to begin with, and how did you end up as one of the film's producers?
I grew up in Wichita, KS. Most people outside Kansas don't know it, so I thought it would be fun to write a scene where characters talk about Wichita like it's London or Paris. Only instead of Buckingham Palace or the Eiffel Tower, they talk about Cowtown and the first Pizza Hut. Stuff only locals know. So I wrote it. And it sat around for many years. Until last year when Sergine Dumais rescued it and made it happen! Sergine is my longtime collaborator. She is a terrific music theater director and she wanted to make her first film. She asked if she could shoot Wichita as her debut. I was most flattered! I offered to produce.
What can you tell us about Wichita's director Sergine Dumais [Sergine Dumais interview - click here], and about the movie's cast?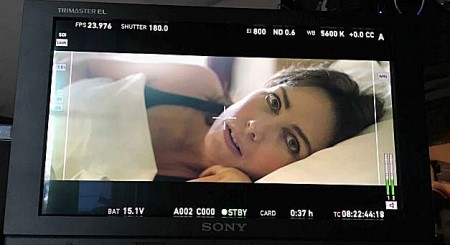 Sergine delivered the talent. She recruited phenomenal performers to play the leads: Maxim Roy and Jeremy Sisto. Plus a spectacular cinematographer from Quebec, Serge Desrosiers, and the rights to a Quebec hit song from 1990. What began as inside baseball about my hometown now had world class talent! It was exhilarating. She worked with Maxim and Jeremy Sisto before, and that's why they agreed to do this short film. She's terrific with actors! You gotta see her in action. She has a theater background and you can see it here. The shots are held a very long time. 30 seconds apiece. But it's always moving. The camera is moving and if the camera isn't moving, the actors are moving TO the camera. (She taught me in theater this is the only "close-up".) My favorite bit is when Maxim Roy runs down 53 stairs, towards camera. When she's finally *DONE*, Sergine has her hold just a beat. Maxim found a way to make it work while still being in a hurry.
What were the challenges of bringing Wichita to the screen from a producer's point of view?
Figuring out the logistics for: Maxim Roy getting dressed, hauling ass outside, down 53 stairs, down the street, and to another house and breaking a window. Sergine and I shot this on a phone and timed it out and adjusted the script so it would land. For Jeremy Sisto we only had a five hour window on a weekday between 9am and 2pm, so we planned everything to shoot on Day 1, and left Day 2 entirely for him. He knocked it out in 45 minutes!
A few words about the shoot as such, and the on-set atmosphere?
God threw us a bone. It rained every second that week — except when we shot. Maxim Roy hobbled brilliantly around the puddles, and ran up and down 500 stairs. Thank you, God! Maxim and Jeremy Sisto have *chemistry*. It was exhilarating to watch. To have talent at this level delivering lines about my hometown was the thrill of life. To quote Mick Jagger: My heart was beating louder than a big bass drum.
The $64-question of course, where can Wichita be seen?
Please see our website wichitafilm.com
Anything you can tell us about audience and critical reception of Wichita?
People seem to really like it. We had a few in-person screenings early this year, and it was terrific fun to see the reaction in real time as the twists piled up…
Any future projects you'd like to share?
We are currently adapting Wichita into a feature film.
What got you into the filmworld to begin with, and did you revieve any formal education on the subject?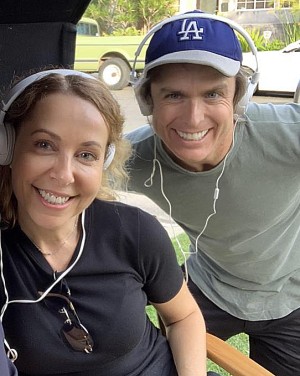 Bo with director Sergine Dumais on set
I spent my childhood in Wichita riding my dirtbike to Showboat Video and rented every R-rated movie they had on Beta. Vacation, Breakfast Club, St. Elmo's Fire, Nightmare on Elm Street, Revenge of the Nerds, Porky's. If it was possible to to have 1% of the fun making movies as I had watching movies, I was in. I later went to film school at Kansas University and N.Y.U.
Over the years, you worked on numerous positions in filmmaking - so what do you enjoy the most, what could you do without?
I love the camaraderie of creating. My buddies and I made movies when I was a kid. It was so *FUN*. Replicating that, on any level, past age 16 is euphoric.
I could do without so much cocaine.
What can you tell us about your filmwork prior to Wichita, in whatever position?
I've done a lot of editing.
How would you describe yourself as a screenwriter?
I hope I write pages that are fun to read.
Screenwriter, writers, filmmakers who inspire you?
Stanley Kubrick, Martin Scorsese, John Hughes, Liz Phair.
Your favourite movies?
Goodfellas, Vacation, Christmas Story.

Feeling lucky ?
Want to
search
any of my partnershops yourself
for more, better results ?

The links below
will take you
just there!!!


Your/your movie's website, social media, whatever else?
Zoner Productions: www.zonerproductions.com
Anything else you're dying to mention and I have merely forgotten to ask?
Maxim Roy won best actress at Global Shorts!
Thanks for the interview!