Your new movie Attack of the Unknown - in a few words, what is it about?
Attack of the Unknown is basically SWAT meets Assault on Precinct 13, with a little bit of I Come in Peace/Dark Angel tossed into the mix. A hard drinking and hard living SWAT team takes down a cartel boss then literally the next day has to fight aliens alongside the boss. Talk about a rough couple of days, right?
Alien attackers seem to be a recurring motive in your movies - any explanation for that, and what makes them such attractive villains?
As a generation X kid who grew up with Aliens, Predator, and a number of other modern classics from that era, I think it's sort of hardwired into me now. Of course it's not all I'm into – I love John Woo, Ridley and Tony Scott, true crime stories and more - but I definitely find extraterrestrials entertaining, and simply put, there's literally a vast array of storytelling avenues you can take with them, since – for lack of better words – it's unknown what aliens really are, should they exist.
What were your sources of inspiration when writing Attack of the Unknown?
You could really say it's a culmination of growing up on 80's and 90's action films. There's a lot of near parody-worthy machismo and oneliners. It isn't a deliberate throwback like my previous sci-fi movie Crossbreed was, but the influence from that era was definitely there.
Attack of the Unknown is based on a concept by the film's producers Michael and Sonny Mahal - so what was your collaboration with them like when conceiving the movie?
They provided the initial set up – an alien invasion where various utilities etc are incapacitated, and then I added the characters and elements to drive the story on top of it. For he alien villains, I used the plot of a short story I wrote as a teenager about an alien species that discovers human blood is a miracle cure to a disease ravaging their planet, and inserted that as the motivation for the invasion. That story was called, quite unspectacularly, "Blood is the Cure". The first version of the script was structured more like a Transformers movie and had a different protagonist (who ended up being shaped into the "Dallas" character in the final movie). There was potential but it wasn't where it needed to be yet. It needed tightening and focus.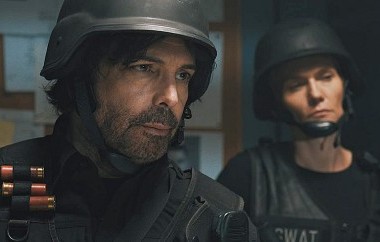 The SWAT team we follow in the final film were there in this draft as mercenaries but were very supporting characters. Richard Grieco's character was present in a different form, as a recently retired cop who was kind of a loner. At this point the script was called "Extinction Event" which the Mahal Brothers eventually renamed Attack of the Unknown. Like I said, there was potential, but it wasn't quite right. It needed to be lean and mean and a lot tighter, which is what led to the Assault on Precinct 13-style structure with a majority of the action taking place in a jail of some sort.
Beyond that we needed a reason for the main characters to be there. I reworked a police stakeout scene from an unproduced script of mine I had the rights to which was cancelled a week before it was to have gone into production (which is an interview unto itself for another time). I updated this scene to include Richard's character and the mercenary characters but changed them to be a cohesive police unit tasked with arresting and transporting/guarding a Cartel boss to a county lockup in order to escape death threats. Once I nailed this, the rest of the writing process was pretty organic. There were more bits that came from my old short story and some parts that came from resources we had available, but all in all it was a pretty straightforward process.
What can you tell us about Attack of the Unknown's approach to science fiction?
It's not meant to be high art or anything, but a rollicking good time. It's a police action movie with science fiction and horror elements stirred into its genetic makeup. I didn't want to re-invent the wheel or anything, but for the viewer to have fun. Of course, you have to make the viewer believe the world the movie takes place in could exist, so I gave the characters a sort of meta sense of humor and a lot of heart, which hopefully comes through.
You just have to talk about Attack of the Unknown's wonderfully retro aliens for a bit, and to what extent were you involved in their creation?
There was a loose description in the script – basically that they're the more real, horrific version of the alien grays people have reported to see for years. I figured that could make them tangible, like the reason we've been seeing these same creatures over the years is because they were here harvesting blood. I was actually on my honeymoon when the designs came back, in the middle of the Mediterranean Ocean. I gave the thumbs up pretty quickly! Designer Vincent Guastini has done some great work over the years, including but not limited to the creature effects in Dogma, so he got it and fit right in.
A few words about your overall directorial approach to your story at hand?
From past features I've found that you tend to get the best results when you make people feel involved, whether or not their input necessarily ends up in the final product or not. Some things ultimately work and some things don't, but if you at least gave it a shot, people are generally happy. This was a big crew and a HUGE cast, so this approach was necessary. I've been tougher on previous sets, but it really just made sense to approach this one as a team effort. I encourage a lot of improvisation from the actors (as long as it makes sense).
I have to give tremendous props to director of photography Michael Su and his team. Funny story - Michael and I worked together almost a decade ago on an Insane Clown Posse music video and forgot we knew each other. Okay that wasn't too terribly funny. Anyway, Su is able to easily adapt to the style of different directors. I have a particular camera style which he really understood well. He easily slid into my (in his words) "Tony Scott by way of Michael Bay"-vibe and kept his crew running quickly. Sonny and Michael Mahal have used him on each of their recent productions, and with good reason. I could really go on and on and I don't want to make it look like I'm playing favorites. Stunt coordinator Jason McNeil is a friend who I've had on a number of films going back to House of Manson (as an actor). Composer Scott Glasgow is a fantastic musician who I click with really well who I've wanted to find a good project to work on with and thankfully Michael and Sonny allowed me to bring him on. 1st assistant director Adam Werth and 2nd AD Tamara Rhoads should really be on every movie just as make-up department head Katie Jacobs should also be – really everyone who worked on this movie did a fantastic collaborative job on it. Sonny and Michael assembled a great crew – some from my past features, some from theirs, some entirely new - and it shows.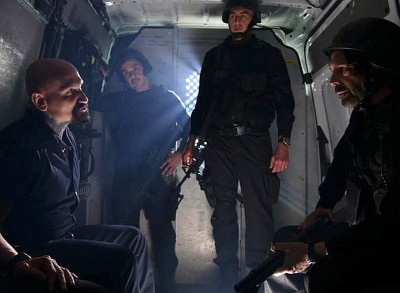 Do talk about Attack of the Unknown's key cast, and why exactly these people?
Richard Grieco was there early on, once we had a script we felt was ready. I love how much pathos he was able to bring to the character, sort of a matured, world-weary version of some of the cop roles he's known for. Douglas Tait (Hellboy 2019, etc), Jolene Andersen (Agents of SHIELD, Hellraiser Revelations), Gerardo De Pablos, Clay Trimble, Paul Gunn and numerous others came from audition tapes. With each one there was usually something interesting about their performance I'd hone in on and build the character from, usually something non-verbal. For instance in Jolene's audition, she did the read twice, but it was some nervous pacing between reads that really nailed it and showed me who the character could be with her.
Robert LaSardo we were familiar with and was the obvious choice for his character once we narrowed it down. Tara Reid, of course, has appeared in numerous movies the Mahal brothers have produced. Johnny Huang, who plays the podcasting gamer Dallas Zhang and has some of my favorite bits in the movie, I took a character from the first draft and tailored to him. Each actor had something interesting about them that stands out. None of them really look like the next one. I like to have that sort of variety in a cast and thankfully they all had great chemistry. There's a scene where Richard and Doug are having a heart-to-heart discussion at a bar – they didn't know each other before that day but you'd think they did! For me, at least, this is a reason I like to encourage actors to improvise – it tends to loosen them up and create chemistry.
What can you tell us about the shoot as such, and the on-set atmosphere?
We just had FUN. The somewhat lighter tone of the movie really helped drive things and when the scenes took a dramatic turn (as they do – you have to have a balance) we had plenty of "HELL YES" moments when an actor really nailed a scene or those amazing unexpected things happened on camera that always end up working.
Anything you can tell us about audience and critical reception of Attack of the Unknown?
I don't know about the audiences yet, but so far there are a number of critics who seem to really get what we were going for here. This isn't supposed to be a think piece, it's supposed to be fun! I think people need that right now.
Any future projects you'd like to share?
Under normal circumstances yes – but Covid-19 put a number of projects I was in talks for or about to sign onto earlier this year on hold. Some of them are starting to come back around again, but nothing yet is to the point where I can really discuss it yet. It'll be interesting to see as the months go by what movies go and what movies stay on hold as the world works itself out.
Your/your movie's website, Facebook, whatever else?

Feeling lucky ?
Want to
search
any of my partnershops yourself
for more, better results ?

The links below
will take you
just there!!!


Unless I'm promoting a movie I don't put much on Facebook these days but you can hit up facebook.com/brandonslagle or facebook.com/brandonslagle2. If you want endless cat photos look up brandonslagle on Instagram. Attack of the Unknown's Facebook page is facebook.com/attackoftheunknown.
Anything else you're dying to mention and I have merely forgotten to ask?
Only that I hope everyone can be back to making movies soon! I'm hoping there's a real creative outburst once everything resumes production fully. It could end up being quite an exciting time!
Thanks for the interview!