BEG, which was only a short at that point, and reached out to Kevin to see what it was all about. It was then that he informed me that he wanted to bring me on for the role of Detective Ryan for the full feature.

What can you tell us about BEG's director Kevin MacDonald, and what was your collaboration like?

Kevin is as true a fan and student of horror as you will find anywhere. Kevin not only is a strong writer, but is also an excellent director, and the environment he and his wife, Shanna, create for the actors is nothing short of a family atmosphere. The star power he attracts is a true testament to his scripts, and every name that came to set was immediately impressed with how Kevin worked. I recall Michael Madsen calling him a *expletive* genius one time when we were shooting The Witching Hour.

Kevin is extremely approachable, and I felt it very easy to approach him with questions or concerns about my approach to the character, and often ideas would be thrown around while watching dailies that would manifest later in the film. Speaking of dailies, Kevin is the only director I have worked with that actually sat down every night after shooting and went over the dailies WITH whatever actors wanted to be there to watch. I can't tell you how much it helps to see playback of what you do, and how much you can take from that into your next performance. The entire filming experience was like a huge intensive workshop for me.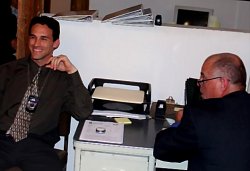 with Tony Moran
In BEG, most of your scenes are with genre veteran Tony Moran. What was it like working with him?
Like I mentioned before, Tony really took me under his wing. He isn't some diva who needs to have his pomegranate Rock Star energy drink, or runs off to his trailer to go eat lunch in seclusion. He is a regular guy who has done some extraordinary things, but remains true to who he is and how he treats people. He is a father and a mentor, and is someone I am very proud to know and have worked with several times now.
The first day we spent on set together, he complimented me on my work in Spilt Milk, but noted I still had a ways to go. From there began my training… stretching until the early hours of the morning, Tony drilled me constantly about my character's background, went over script and not just ran lines with me, but asked me WHY I would make the decisions I (Steve Ryan) made in the script, and more importantly, what in my past would have led me to make those decisions. The sheer amount of time and care Tony put into those first several hours with me, and subsequently through the rest of the filming, gave me a huge tool that I now use in all of my acting projects. Furthermore, he always gave me honest feedback, and let me know honestly and openly how I was performing, and showed an honest sense of pride when I shined on screen.
With Tony Todd, P.J. Soles, Tiffany Shepis, Debbie Rochon and Michael Berryman, BEG features quite a stellar, almost iconic horror cast. Was that at all intimidating, or what can you tell us about the atmosphere on set?
Intimidating… that puts it lightly. I honestly am not one who gets starstruck, I am a military man, and I never got into this business thinking that this is how I want to make my living, so my stress level stays pretty level. The only time I get stressed acting is when I get concerned that my performance will not be up to par with my cast members, and when the cast features such big names… well, there you go. I had one scene that was just me, Tony Moran and Tony Todd. Now c'mon, I grew up with Candyman and Michael Myers, so this was already surreal. However, like Tony Moran, Tony Todd is an amazing person to work with, easily approachable, and he had his own methods of bringing out my A-game.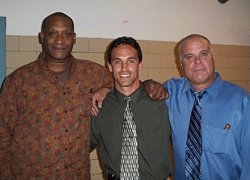 Tony Todd, Brandon Stumpf, Tony Moran
I recall sitting in the break room with the two Tonys, and Todd asks if I want to run lines with him. Keep in mind that the two Tonys are good friends… so that can never be good for a rookie like me. I unknowingly agree, and we begin to run lines together. Aside from the typical ad-lib here and there, things were smooth, until the end where Todd continues to stay in character, drilling me for interrogating him and so on. I had to constantly roll with him, and my occasional glance to Moran was met with a sly look and "You're on your own, kid." It was brutal, and Todd didn't let up for what seemed like a good five minutes. There are not many actors who can say that they have had that experience around here, and I am eternally grateful for both of the Tonys for giving me the challenge I needed to raise my game. Needless to say, the scene went beautifully.
Any idea when and where BEG will be released, tentatively?
BEG saw it's theatrical release recently at the Rhode Island International Film Festival, pitted against 50-60 other horror films from across the globe. We were voted best feature, and Tony Moran won for best actor. Again, Tony congratulated me on a job well done and how much I grew through the filming, and was proud to inform me that the director of the festival had actually voted for me for best actor. That alone is an honor in itself in my book, being put right up there alongside some of my childhood icons.
At this point, Kevin and Shanna are working on distribution for BEG. There is a lot of work that goes into getting a film out in the market, and they are working hard to get the distributors what they want.
Let's go all the way back to the beginning of your career: What got you into acting in the first place, and did you receive any formal training on the subject?
I will credit my kid brother, Ben for giving me the acting bug. I never really knew that this was even an interest for me until Ben went to NYC for college. He is a voice actor and writer/comedian/musician, and I was impressed with how much fun he was having and the types of projects he was involved with. I personally have had no prior experience at this point aside from a small part in my senior class play in HS, and had never had the confidence or desire to pursue anything in the acting or modeling professions. I had been told by people before that I should look into modeling, but again, confidence was always the issue.
I am an Art teacher by profession, and am involved in my school's drama club, but for set design. I like my job, but there was something about what Ben was doing that really sparked an interest, and I decided that before it was too late, I needed to see "what if" rather than end up saying it someday. I set up a TFP shoot with a local photographer in MA, and submitted the shots to every acting and modeling agency I could find in the area.
Getting into the modeling agencies was a great experience, and for this area I stay as active with that as I do acting around here. My first "acting" experience was for an independent film called First World by Mark Lund and Adam Starr. I was really just an extra, but it confirmed that being involved with film was something I wanted to pursue. From there the extra work came pretty regularly, with films like The Game Plan, Dan in Real Life, 27 Dresses, etc. flooding the NE market. It doesn't take one long, however, to realize that (as important as it is to film making) extra work is NOT real acting, and inevitably one hungers for the lead roles.
Publicity has been a huge part of making this happen for me, and Fred Grandinetti has been instrumental in getting me international exposure in various publications and websites. I never knew what was really out there and who would be interested in me until Fred started handling my PR, and submitting my name and photos for publication. I did a skit for his cable access show Drawing with Fred, and he really took me under his wing. He is an amazing, selfless person who devotes more time than I can imagine trying to help myself and another young actor, Cuyle Carvin [Cuyle Carvin interview - click here], get a foothold in this industry.
What can you tell us about your first on-camera experiences, and how do you think you have evolved as an actor since then?
My first principal role in a feature was on Brandt McGuire's film D.I.D. - it stands for Dissociative Identity Disorder, and is a good indie thriller. Brandt McGuire is another of those writers who favor the old school style of suspense and forces the audience to use their imagination rather than fill the screen with blood and guts.
Back at that point, I was more concerned with timing and remembering my lines, but I had no experience adding anything personal to the experience. For me, a lot of my delivery was me throwing lines back at my counterparts, rather than developing a realistic conversation with them on screen. It really wasn't until my experiences with the Tonys that I understood how to prepare and develop a character. I feel like I can take on a broader range of roles now, and actually long for those characters who are outside my typical typecast of military-type personalities. I want to be the bad guy, the geek, whatever, but something I can't just wake up, look in the mirror and say that it is so much a part of who I already am. Part of the fun of acting is exploring the parts of ourselves that are more repressed, or being allowed to act in ways that either society or moral conscience prohibits us from giving in to.
Let me just pick a couple of films from your filmography and ask you to say a few words about them and your characters in them:
Blink?
This is a fun sci-fi short that I worked on with the team at Baker Street Productions for a 48hr Film Project. They have a very professional team at Baker Street who knows how to get the job done, and do it well. They were brought on with BEG as well.
Suicide Girls Must Die?
Wow, what an experience there. I auditioned for Troy Miller, who is largely known for directing several MTV Movie Awards skits, and his HBO series Flight of the Conchords. Of course, I had no idea who he was when I auditioned for him, but when I told my brother in NY who he was, he flipped out! A lot of Conchords was filmed right near his apartment in Brooklyn.
This film was an interesting take on horror, and another experience that forced me to adapt on the fly. At the audition we had a script, and were asked to improvise where we could. I had a good experience, and Troy cast me for a Sherriff role for the film. Little did I know the whole film was being shot as a reality horror film, and that there WERE NO scripts to be had for the actual film! The entire experience was improvised, and the entire time I was there we had no interaction with the girls in the house, and were only brought to set when events dictated we needed to be there. That was one of the most nerve-racking things I have ever done; not knowing what I was walking into day after day, what had happened already, and having to read the girls and adjust to what was happening real-time. But again, I am better for it today, and despite the project leaving Dakota Films' hands, it was distributed. I picked up a copy at my local Best Buy, and actually had a few colleagues say they saw me on Showtime. All in all it was a worth-while experience.
Bridge Crusader?
There are not enough good things to say about John Hartman and Zee Zarbock. John is an artist through and through, and has a sincere love for classic storytelling and bringing artistry back to the digital age. He works with little to no budget, equipment that is nothing short of antique, and produces some of the most visually captivating stories I have seen in a long time. His love for film infects everyone he works with, and his kind and genuine persona puts everyone at ease and fills the air with genuine enthusiasm. Zee is equally inspiring, and makes sure everyone is well taken care of. It was an amazing experience working with not only them, but with fight choreographer and filmmaker Leo Kei Angelos. Leo is a young superstar, and I guarantee you will see many great things from him. If you look up the book trailer for The Black Prism you will see some truly amazing work, and one of the best book trailers I have ever seen.
You are also the cover model of the Lawson-vampire novels, which, if I understand correctly, are currently also being turned into a TV-series, The Fixer. What can you tell us about that project of yours?
The Lawson series of books is a remarkably fun series about the adventures of a vampire secret agent called a "Fixer". The vampire world is a carefully secretive one. Things are kept in what is known as "The Balance", and it is this delicate relationship between the vampire and human societies that Lawson has been sworn to protect. Any time that this balance is threatened by someone's actions, be it human or vampire, the local Fixer is dispatched to "correct" the situation. Threatening the balance is a capital offence, punishable by death, and the Fixer disposes of the problem and a cleanup team takes care of the rest.
Working as both the cover model and star of the series has been a great experience so far, and is one that I see as a physical and mental challenge as well. I always strive to keep myself in great shape, but I want people to look at me as Lawson and say "Wow, this guy is serious!" I perform all of my own stunts, and take part in the stunt coordination and fight choreography, so I need to be able to perform convincingly. As for the mental aspect, I feel the need to marry my military and martial arts training with this new universe I have never worked in before. Jon has created a whole new vampire universe, with the roots of the society being intact, and re-vamping (pun intended) the mythology. Jon's vampire world is that of living vampires, with long, but mortal life spans and susceptibilities like anyone else. It is exactly the kind of challenge I am looking for, and having read all of the novels I feel prepared for whatever the series throws at me.
Any other films of yours you'd like to talk about, any future projects?
The big project right now is a web series I am starring in called Crossing Denver. The project is the brainchild of Brian Pickard, who is a VT native. Brian is an amazing writer and visionary, and this project is a perfect example of what he can do. We are taking the noir detective genre and marrying it with a character the likes of Mel Gibson in Payback. Denver is not the good guy, but he isn't the bad guy either. He is a man who does what he needs to do to survive, but retains at least some of the morals of the man he once was. Kind of where Jack Bauer was towards the end of 24.
Going through your filmography, one can't help but notice that you tend to play more than a fair share of cops or similar figures of authority in your movies. Any explanation for that?
Like I said, it is hard to escape what you are. I am a military man, and it comes through in my personality. I have also always kept very clean cut as well, so it didn't help. Now that I can grow out my hair and scruff it up I find that people can see me in different lights, and I can let my appearance change without having to worry about reporting for a drill weekend anymore.
Also, with your choice of movies, you never seem to stray too far from the horror genre. A genre at all dear to you, and why?
Honestly, I do like horror, but I am not a fanatic. These days filmmakers are too quick to rely on shock and awe to make their movies sell, and all too often there is little to no plot or character development. It can be a brainless genre at times, but the ones who do it well will always have my respect and admiration. I am a sucker for zombie movies, and projects like The Walking Dead really get me excited (and creep me out at the same time). I like what Romero started back in the day…the films had a message and he built a relentless sense of terror that you just couldn't escape. There is something about an enemy that doesn't sleep, doesn't stop hunting you… but at the same time there is always a sense of hope and perseverance that carries throughout the stories. It is a genre that if done correctly has a lot to say about humanity, both good and bad.
Besides acting, you are also a middleschool art teacher, right? What can you tell us about that aspect of your career and your love for art?
I love art, and the joy you can get from creating and exploring with different media and ideas. There is something to be said for artists in all fields, the level of ingenuity and problem solving it takes to be any sort of artist is something that many people don't fully appreciate, and I like trying to get my students to see that even in seventh grade art is not simply paint by numbers and craft making, but a process to explore one's imagination and a way to convey one's ideas, emotions and experiences. Middle school is tough, and the education system in the US needs an overhaul, but other than being a full time actor/model I can't think of anything else I would rather do with my life.
I also am able to coach quite a few of my students outside of school as well, and that is really my favorite aspect of being a teacher. I see anywhere from 70-100 students every day after school (yes, we have VERY large teams) on my Cross-country and Track teams, and the different kind of interaction I get to have, the level of fitness I can inspire, and the success I can and have repeatedly led them to experience has been nothing short of amazing for me to be a part of.
Actors who inspire you?
I have seen quite a few on set, and different people impact me for different reasons. I respect everyone's working style, but people's impression on me has more to do with what happens when the camera isn't rolling. Kathy Bates is an amazingly talented woman, and she is warm and smiling between takes. She looks like someone who appreciates what she is able to do for a living, and her energy is contagious. The same can be said for Keira Sedgwick. On The Game Plan she would break into song between takes, and the extras had a really fun time joining in and laughing with her. Steve Carell was very approachable on set, and when the day wrapped (and it was a LONG day) he didn't run off to his trailer and ignore everyone, he walked around, asked everyone's name, and personally thanked them for their time. That kind of caring goes a long way, in my book.
The usual names come to mind otherwise; DiCaprio, Scorsese, Depp, DeNiro, Eastwood… and so on. I love what they have in common, besides their respective abilities as actors. What that is, is their approach to stardom, something I would like to emulate in my own life and careers. These names are not ones you read about in the tabloids, with all of the drama and controversy. For the most part, these guys keep to themselves, and don't have the lust for attention so many young "stars" these days have. Today there are too many people being made famous for nothing more than being complete losers, and for some reason the American people eat it up. I want to have a successful career, and keep my family off the radar and private.
Your favourite movies?
Tombstone, Alien, The Usual Suspects, Taxi Driver, Platoon, Halloween, The Fifth Element, The Exorcist, Dawn of the Dead (original), amongst others. I will even throw Sucker Punch in there for multiple reasons. First off, it is really a fun, female driven version of 300 at its core, and really I think Snyder wanted that foremost. However, and this is what I think most viewers (and reviewers) missed, there are the underlying stories that course through the story, and the more one watches the film, the more you start to question what is really happening during these fantastical fight scenes or "dances" that Babydoll performs. There is an undertone of abuse and corruption that permeates the world Snyder created, and at first glance people don't always get that. The pacing could have been different, and there wasn't a lot of room for character development, but at the same time it creates a frantic vibe throughout the film, with the girls constantly being focused on the escape, and my reaction was no less sad at the conclusion because I couldn't care about the characters….quite the opposite. Many may choose to disagree with me, but this film holds a unique place in my heart regardless.
... and of course, films you really deplore?
Well, too many to list. Let me blanket most of my response to cover all of the smut horror films out there that simply fill the screen with blood and guts and leave nothing to the imagination… *cough cough… Hostel, Saw*. I wish people were forced to think more these days, and that filmmakers took more time to develop their ideas with that in mind instead of dumbing it down for audiences too lazy to appreciate subtlety and nuance.
Your website, Facebook, whatever else?

Feeling lucky ?
Want to
search
any of my partnershops yourself
for more, better results ?

The links below
will take you
just there!!!

Find Brandon Stumpf
at the amazons ...

amazon.com

amazon.co.uk

amazon.de
Looking for imports ?
Find Brandon Stumpf here ...
Something naughty ?
(Must be over 18 to go there !)

I am currently in the process of developing an official website, but for now I have an entertainment page that can be found on Facebook under Brandon S Stumpf. I am also on Twitter, although I am not that avid of a tweeter, and people can also check out the pages for my projects on FB as well. BEG, Crossing Denver, and The Fixer all have pages, and people can see any other projects I am involved with there as well, including some stunt footage and pictures and links to my commercial and film work.
Anything else you are dying to mention and I have merely forgotten to ask?
The most important part… my family. None of this would be remotely possible without the love and support of my wife, Jennifer, and the adoration of my daughters, Madison and Avery. No matter how hard of frustrating it gets working in this industry, I always know where my motivation lies. Everything I do is for them, to try to make a better life for us all, and that is what really drives me. I can only hope to make them proud and be able to give them the lives they deserve. Success is hollow if you don't have the right person or people to share it with.
Thanks for the interview!
Thank you, Michael. It was a pleasure to share my experiences with everyone. Keep your ears open, there will be more in the near future!