Your upcoming film Terminal Legacy - in a few words, what is it about?
Terminal Legacy is about a small team of scientists whose attempt at creating the ultimate miracle drug horribly backfires. Their patients begin too quickly display very adverse side effects to the drug, and they must race desperately to contain a potential "outbreak" that could kill every living thing. It explores themes of playing God and human corruption/manipulation. It's a sci-fi/action/horror hybrid.
Terminal Legacy seems to have an undercurrent that's pretty critical of the pharma-industry. Was that at all intended?
I think that's just something that came out in the writing as we kept revising the script. And luckily, it's not something that's overt; you're right in calling it an "undercurrent".
I could be dead wrong with this one, but I also sense shades of zombie cinema in Terminal Legacy. Is there any truth to this?
There is definitely a zombie slant, for sure. It's more of a "zombie origin" story if you will. If The Crazies had a prequel, this is what it might look like. It's not a "survivors on the run" story. We wanted to shift the point of view to that of the people responsible, and make the conflict, "can they prevent the apocalypse and how will they do it," instead of, "which surivor will live the longest, and do we really care?"
Any other sources of inspiration?
I think I've honestly taken more from my own contemporaries with Terminal Legacy. I've worked on a good number of small indie sets and I've seen how other indie directors work. You learn as you go and you apply what you like and what you don't. You learn how to make a little out of a lot. Of course, there are moments from lots of popular films that inspired moments in Terminal Legacy, but, overall, I think I was more inspired by my own peers and that informed what you see in Terminal Legacy.
You wrote the story of Terminal Legacy together with Kazy Tauginas [Kazy Tauginas interview - click here] and Michael Markham, both of whom are also in the movie. What was your collaboration with them like while writing the film, and subsequently on set?
Kazy and I came up with the idea together. The initial concept was pretty rudimentary, but it provided a great springboard; a couple of guys in gas masks picking people off in a confined facility and they have no idea why. From there, we just built upward. I wrote all the drafts, but, Kazy was always a part of the creative process. We butted heads a lot, but it was never counter-productive; we always arrived at a better place and ended up with a badass shooting script. There's a nice synergy there.
Mike is a good friend of mine who attended a table read for the script. He contributed a lot in regards to the science that we cite in the picture (it's actually real science). He suggested we use something that was real and new, rather than some gobbledygook that sounds intelligent - so we did. I'd also be remiss not to mention Will Johnson, who made a critical suggestion to us in regards to the structure of the film. Critical as in, it enhanced the script.
On set, it was pretty straight-forward. I was the director, they were the actors. They prepared their characters, and we all made sure we were on the same page. I think, if anything, it was more of a unique experience for Kazy, who had the job of divorcing himself from something he helped create and just perform his part of the story and I think he did that admirably well.
How would you describe your directorial approach to the subject on hand?
Telling the best story possible. You let the visuals, music, and sound enhance the story and acting. With Terminal Legacy, we used a variety of visual styles, depending on the setting. The first third of the film was shot in a particular way where we kept a lot of the action in the frame as much as possible, avoiding coverage when it wasn't needed. As a result, there weren't as many options in how to edit it, but that was intentional. In the middle of the film, the camera's very static with much more traditional coverage because everything is much more expositional. In the final third of the film, we combined the 2 motifs and you see a blend of approaches. We also used special lenses with tilt shifts to create perception distortion. It's employed throughout the film and in the right moments is very evocative.
In regards to the action/violence, I told Kazy and Mike Simmons (they choreographed everything) that I wanted the fight scenes to be visceral and messy. Meaning, people get tired and sweaty very quickly. They try to catch their breath. Fights go to the ground in a hurry. When someone gets punched, they get a black eye, that sort of thing. The violence is more akin to that of Fight Club than a traditional action movie. I felt it was much more appropriate for the world these characters inhabit. Plus, I don't like stylized fight scenes very much anyway.
The gorehounds among my readers will of course want to know: How far are is Terminal Legacy going in terms of violence and blood and guts?
This is a brutally violent movie, that I can assure you =]. There are times though, where we leave things to your imagination, which as trite as it sounds, can have a much deeper impact... .I just said, "deeper impact", didn't I?
What can you tell us about your principal cast?
They're incredible and professional, in equal doses. This was a very physically (and emotionally) demanding script, and, literally, everyone just dove in. We shot in a defunct morgue for 4 days; the conditions were rough. It was hot, filthy and dusty, but no one complained. They went full throttle. If anything, they used the conditions as part of their performances, and that's what you want out of your cast. My hats off to everyone. I love this cast.
I know your film was shot on a very tight budget, so what kind and size of a crew were you working with?
Our crew was equally as wonderful and talented as our cast. They all hustled and worked tirelessly. I'd say when we shot in NYC, we had anywhere from 18-22 crew per day, a lot of them working for free. When we shot in DE, we had a smaller crew of 13/14 a day, which made it tougher, but we pulled through. We had most of the major departments covered. What we didn't have was a full-time art department. However, we didn't need that as much in NYC, because the hospital already had everything.
Quite a large chunk of your film is shot at an actual hospital. Now how did you get this rather impressive location on your budget?
God's grace. Haha, Seriously. It was a miracle. Three weeks before principal was to start, our main location, a defunct engineering school (the one that inspired the film) fell through. It compromised the entire production. So, I scoured the city for 6 days, looking everywhere and anywhere, calling every building, warehouse, and hospital imaginable. Kings County Hospital was the only one that answered. I took the tour and knew right then it was perfect for this film. I was completely up front about who we were, what kind of (lack of) budget we had, and what we'd be doing. A couple days later we made an agreement and principal photography was only delayed by a week. They had been looking to get film crews in there and we were fortunate enough to get first dibs on it. They were beyond accommodating, especially when you consider how much effort it takes to accommodate a film crew. We ended up shooting there for 11 days. A miracle.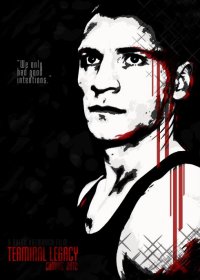 The $64-question of course, when and where will Terminal Legacy be released?
We'd like to have some advanced screenings here in New York and LA sometime in spring of 2012. We're going to start submitting it to festivals early next year. So, keep an eye out for it then.
Let's go back to the beginnings of your career: What made you go into filmmaking, and did you receive any formal training on the subject?
Filmmaking was not my original career aspiration. But, as a child, I always loved to tell stories. I wrote all the time. I even drew, quite terribly, my own comic books. When I was getting my undergrad (in marketing), I became enamored with the art of filmmaking and started to fantasize. Right after I graduated, I wrote a horror novel (more art as therapy than anything), but all of those storytelling efforts felt incomplete. I participated in a student film shoot at my grandparents motel in 03, and I think that planted the seeds. In 05, my best friend basically called me out and said I wasn't doing anything with my life, and it snowballed from there. I took the plunge, moved to NYC, enrolled at film school, graduated a year later (it was a hands-on, one year intensive program), and have been doing it for about 4 years now. I think formal training is always a good thing.
Terminal Legacy was your first feature film, but you have made a few shorts before. Would you like to talk about those for a bit?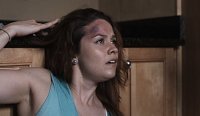 Dandi Lyon
I have a bunch of awful student films, and I've done 2 indie shorts prior to Terminal Legacy. The first is a crime thriller called Game Theory, and the second is a thriller called Dandi Lyon. Both them are online to view. I'm proud of both of them. They were necessary stepping stones to get where I am now. Each was a learning experience (so was Terminal Legacy). A good number of the actors in each of those films are in Terminal Legacy.
What made you take the step and go into feature filmmaking?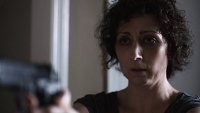 Elise Rovinsky in Dandi Lyon
On the last day of shooting the short Dandi Lyon, Elise Rovinsky (an amazing actress who is also in Terminal Legacy), said to me, "you're ready to do a feature." She was right. After that, I decided my next film would be a feature. I needed to work on a larger canvas. So, here we are now. =]
Any future projects you'd like to talk about?
I have 2 scripts that are ready to go that I would ideally like to be my next two pictures. One is a Hitchcock type thriller called The Complex I optioned from a pair of writers, Aimee Parrott and Tony Gangemi. It's just an amazing, thrilling script that piles up the tension and is wrapped around a very heart-wrenching, but redemptive story. The other is a gothic horror/film noir tale that I wrote, partially inspired by the likes of the Sam & Twitch graphic novels. I can confidently say it's a vampire story no one has ever seen before. After Terminal Legacy, I'm going to pursue both, and whichever catches fire first will be the one I go full throttle on.
Directors who inspire you?
David Fincher, James Cameron, Terry Gilliam, Steven Spielberg, Alfred Hitchcock, Christopher Nolan, and to quote South Park, "say what you want about Mel Gibson, but the son of a bitch knows story structure."
Your favourite movies?

Feeling lucky ?
Want to
search
any of my partnershops yourself
for more, better results ?

The links below
will take you
just there!!!

Find Brian Kazmarck
at the amazons ...

amazon.com

amazon.co.uk

amazon.de
Looking for imports ?
Find Brian Kazmarck here ...
Something naughty ?
(Must be over 18 to go there !)

In random order: T2, Aliens, 12 Monkeys, Dark City, L.A. Confidential, Minority Report, Braveheart, Spider-Man 2, The Fifth Element, Out Of Sight, Seven, The Castle, Rear Window, Casablanca, JFK.
... and of course, films you really deplore?
Armageddon, Alien Resurrection, Rules Of Attraction, Rollerball, The Life Of David Gale, Oldboy.
Your/your film's website, Facebook, whatever else?
www.terminallegacythemovie.com
www.facebook.com/pages/Terminal-Legacy/151777284874466

Anything else you are dying to mention that I have merely forgotten to ask?
I hope it's not too much to mention our kickstarter campaign. We're looking for a little bit of $$$ to put the final touches on the film. And also, just be on the lookout for the film next Spring, where you'll hopefully be able to see it at film festivals across the country and eventually on Netflix and itunes.
Thanks for the interview!
Thank you!