Your new movie Reaptown - in a few words, what is it about?
Carrie is freed from prison under the conditions of a work-release program in Reaptown. As she struggles to find her missing sister while working the night shift as a security guard, Carrie soon finds herself in the presence of evil.
What did you draw upon to bring your character to life, and how much Brooke Bradshaw can we find in Carrie?
There's a lot of myself in Carrie, my sad lonely self, but it's there. If we were shooting a scene that was "emotionally heavy" our director Dutch often would ask me questions about old loved ones, and what it felt like to miss them. We found that really helped get me in Carrie's headspace.
During most of Reaptown, you appear on the screen on your own, without any co-actors to play off of - so in what way did that influence your performance, and was that any extra challenge for you as an actress?
It was definitely a new experience. It really forces you to use what you have, to be present, to work the camera, and pay attention to your surroundings. The railyard and my flashlight felt like they were my scene partners to play off of. Often before filming I would walk up and down the yard alone. Just me, the yard, and my flashlight. I think this experience has really gave me tools that I didn't know I had in my actor's toolbox.
How did you get involved with the project in the first place?
Dutch Marich, the director, and I went to the college together in Los Angeles. I had a small part in a project he directed a bit ago and we had a great time together filming, really geled. A year later Dutch took me out to lunch and asked me to be Carrie Baldwin. I was thrilled.
To what extent could you identify with Reaptown's approach to horror?
I enjoy its approach. Keep it simple. It looks great, it sounds great, and has layered suspense. I've never been one for lots of gore.
Talk about Reaptown's director Dutch Marich, and what was your collaboration like?
My experiences with Dutch I always describe like dancing with a terrific partner. I trust him to get the best out of me, not all directors I've worked with have. Dutch has made me a stronger and more confident actress. On-set there is free flowing conversation about the character and the story, he knows what he wants, how to get it out of you, and always has time for your questions. I was really nervous at first knowing that my performance was the bulk of what we see in the project and that I would be alone, but that melted away after our first day on set.
Do talk about Reaptown's main location, the railway museum, for a bit, and what was it like filming there?
We filmed in Ely, Nevada. Dutch had been wanting to film the railyard for years because it's such an incredible space. It opened in 1905 and it is said to be haunted. Let me tell you as someone who spent hours traipsing up and down it in the wee hours of the night, it definitely is! It was often freezing and there were plenty of breaks just to get warm, but even with that said some of my favorite moments on railyard was shooting with the snow coming down on me.
What can you tell us about the shoot as such, and the on-set atmosphere?
The railyard is so full of character it made filming there so much fun! We were often pranking and scaring each other on set. At least once a night some screamed in fright only for it to be followed with gales of laughter. Never have a been a part of shooting something so stress free. The only tough part about the shoot was filming two weeks straight in the dark. When we wrapped our eyes were so sensitive to the light, we spent a night in Vegas and the flashing lights sent us into convulsions.
Any future projects you'd like to share?
I have another feature coming out shortly called, Happy Horror Days. It's a collection of short horrors surrounding the major holidays, I'm in the first short about New Year's Eve. It's about the legend of Father Time, something I had never heard about before. I also have a passion project, a YouTube show about my dog called Pugzytown. The audience is geared towards children and families, but animal lovers will enjoy it as well, I play her voice and myself in it.
What got you into acting in the first place, and did you receive any formal training on the subject?
There was a storytelling contest I was a part of in elementary school, and that's when I got the performing bug. I graduated from high school, moved to Los Angeles and attended the American Academy of Dramatic Arts where we studied acting, movement, voice, musical theater, Shakespeare and stage make-up.
What can you tell us about your filmwork prior to Reaptown?
I have been a part of a couple of TV projects that unfortunately never received a greenlight. I've been in several commercials. If you didn't notice in Reaptown, I am 6'3" and that often limits me from auditions that are in my age range and that I'm capable of playing. Dutch and our producer Daniel giving me the lead role in a feature is a rare opportunity that I'm very thankful for.
Besides movies, you've also done quite a bit of theatre work, right? So how does performing on stage compare to acting in front of a camera, and which do you prefer, actually, and why?
There's nothing like the thrill and rush of being on stage, the immediate satisfaction from performing. You get to be big, loud, and there's not a bunch of room for subtlety when the people in the back need to feel your feelings too. On-camera it's the total opposite, subtlety is your friend. As someone with an expressive face I've had to learn the hard way to tone it down, and I struggled with the camera more than I ever did on stage. If I had to choose I'd pick on-camera because of the way it has challenged me personally.
How would you describe yourself as an actress?
I feel I have evolved as an on-camera actress. In the beginning, I would have described myself as tight, too aware, and scared of the camera. Like anything though, you practice enough, notice your bad habits and work on them. Now I'm more confident, open, listen, and embrace the camera. It's a good feeling to see progress in my performances.
Actresses (and indeed actors) who inspire you?
Since I'm a tall blonde, I of course love Charlize Theron and Uma Thurman. Regina King in Watchmen last year was terrific. Nicole Kidman in the first season of Big Little Lies reminded us how talented she is, and since we've been talking horror movies I'm a big fan of both of Jamie Lee Curtis' performances in Halloween in the '78 and '18 version. And I've been really inspired by Steve Carrell since his performances in The Big Short and Vice.
Your favourite movies?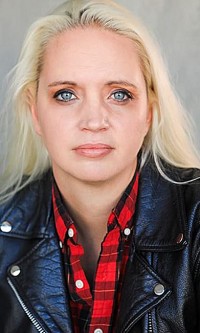 Feeling lucky ?
Want to
search
any of my partnershops yourself
for more, better results ?

The links below
will take you
just there!!!


I'm all over the movie spectrum: Pulp Fiction, Fight Club, Steel Magnolias, The Color Purple, Shawshank Redemption, Godfather ll, Anchorman, The Other Guys, Ghostbusters, Bridesmaids, Gone Girl, Eternal Sunshine Of the Spotless Mind, IT, Three Billboards Outside Ebbing, Missouri, The Cowboys, Far And Away, Kill Bills, A League Of Their Own, Thelma and Louise, Seven, Tombstone, Drop Dead Gorgeous. Toy Story and Toy Story 3. And on and on.
... and of course, films you really deplore?
Deuce Bigelow Male Gigelow, I've never actually watched it but have been tortured by people saying some very unkind dialog from it to me because of my height. Kids, it did its job too well, really bothered me. Dumb and Dumberer. This one is tough. I know as soon as we're done, the list will start flooding my mind. I hated all the Spidermans with Tobey Maguire.
Your website, social media, whatever else?
My Instagram account: @golongandblonde
Anything else you're dying to mention and I have merely forgotten to ask?
Filming Reaptown was a once in a lifetime experience, one that many actors won't get. Chasing the dream of being an actor is incredibly hard road that can often be unfullfilling. I recommend anyone pursuing it to start writing and developing relationships with filmmakers. And most importantly, be kind. One wrong sentence to the wrong person could ruin future opportunities, in this business you never know who can and will succeed.
Thanks for the interview!
Thank you so much for this opportunity to get my voice out there Mike. I really apprecaite it!