We have talked about this before [click here], but bring us up to speed: Your new movie The Lashman, what is it about?
Itís about 3 years late, is what it is haha. No, seriously, it's a slasher film with a nod towards the traditional tropes of the genre. Sex-starved youth, boogeyman in the shadows, violence and all that. A group of friends head for a vacation in a secluded cabin only to find that their campfire tales are the thing of nightmares.
The Lashman is going to have its premiere shortly - so do talk about that for a bit, and how do you plan to release your movie onto the general public?
Well it's funny because the distribution model has changed so much even in the past few years. DVD is a place where indie movies go to die now, in that once it's out on, DVD people kind of just file it on a shelf and stop talking about it. I am setting up screenings at film festivals and horror conventions obviously. And I am taking it to some non-traditional venues as well. Planning to play it in bars, and house parties. Anywhere willing to show it really. I want to let people in far off cities watch it, and I can live tweet or skype in afterwards to do Q&As. I just like the idea of going to wherever people are. Most movie theaters in the classical sense, charge and arm and a leg for rental with no guarantee you can recoup cost if the weather goes bad, or things like that. I just want it to live and breathe a little. Iím sure someone will bootleg it soon enough, and it will end up on the torrents. That doesnít really bother me as I want people to see it. However I would encourage anyone who steals it to show some love to me and other indie films by donating to Kickstarters, buying T-shirts, just anything that helps put money in pockets of film makers to make more of these things.
I do plan to take a more punk rock approach I guess, and just tour it like a band. One night stands in odd venues. Sometimes we charge admission, sometimes we might just pass the bucket around and hope to make enough to get to the next city. We havenít taken money from anyone yet via crowdfuning. It's all my cash on the line at this point. I'm not against that idea, but Im happy we were actually able to finish it without those kind of funds. It's much easier to ask when you have a tangible thing to give them back.
All that said, it would be nice if a distributor came along who really cared about it the way I do and was willing to throw some support behind it. But I donít expect that really. I mean who can love their children better than their own parent? Weíve had some offers from some great companies, but no one is going to love it like I do, and I donít want it to be just another movie piled on with a dozen other movies.
As far as I know, there have been numerous delays during The Lashman's post production - would you at all care to elaborate?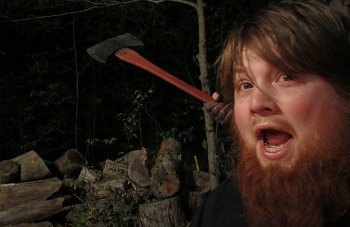 Cameron McCasland
Yeah, it has been a long time coming. I actually realized that we put the new trailer up 3 years to the day that the original teaser went up. That was kind of poetic, and at the same time heart-breaking. I wrote an open letter a while back outlining some of my personal woes that delayed the film. I had some health issues, and went through a pretty bitter divorce that started not long after we finished our principal photography. I have two lovely children, who live with me. They needed me at that moment, and honestly I was in a place where it was hard to focus on making movies and doing it right. I donít regret it at all. I'd rather be a good father than anything else. The movie got tied up in those court proceedings, and it just seemed like it would never end. We finally came to an agreement, and at that point I was ready to get back to work. In the long run, I think it was for the better. We (myself and the mother of my children) are amicable now, at least as amicable as anyone can be after these things. We are both committed to making our children happy, and thats the most important thing. And I'm happy. I have someone in my life who loves me a great deal, and my whole world view is better now. It was just a long hard road, and I'm glad I have finally come to the end of it.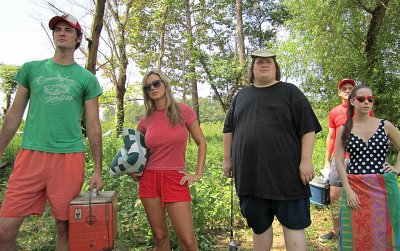 David Vaughn, Stacey Dixon, Shawn C. Phillips,
Jeremy Jones, Kaylee Williams
Sitting on the material for quite so many years, how has this at all changed your perception of the film, and maybe even the film as such?
Well it gave me a lot of time to mull over what we had accomplished, as well as some pitfalls. I did go back and shoot some pick ups in 2013 with Josh Ickes, who was my director of photography and editor on the movie. That I think added a great deal of terror to the film. We could have put it out without it, but I have grown a great deal as a filmmaker since we started this project, and I am glad we got those new pieces in. Making a movie is strange. You build this kind of family unit, and once the work is finished you all move on to other projects. Some people get closer, and some you kind of lose touch with. We all just have this moment in time where we were together and it was a special place. That part of it, the memory of it changes a bit once you forget how hot, or tired, you were. It's like summer camp in a way I suppose. I think most everyone in the cast is still talking to me at this point. I beat them all up, but only in the sense to get the best work out of them. I think this is a completely different type of role than people have seen Shawn C. Phillips [Shawn C. Phillips interview - click here] in, and Im proud of that. Same goes for Stacey Dixon. She shines so much in the last 15 minutes of the movie. I love her dearly for how vulnerable she became out there. It has been kind of nice as I showed it to some of the cast & crew a few weeks ago. I had showed them a work in progress cut in 2012 and they were amazed at the difference after all the post production had been done.
Lee Vervoort
With The Lashman being a slasher movie, how do you think your film will stand out of the crowd?
I love the slasher genre. I think there are some people doing good work even today. But I think what the genre has lacked as it has grown is the relationships between the main characters. The emphasis became so much about the antagonists that we lost site of the story. Everyone wants a cool killer, and the ridiculous kills. And that's fine, we have some of that as well. But this one is a bit of a slow burn. We let you get to know our campers a bit. And when death comes creeping in, it comes quickly. I think that is what is going to resonate with people. I wouldnít want to compare my movie to the stuff that came before it, as I have respect for those films, but we are able to stand on the shoulders of giants and dissect their tropes. The good ones, like Halloween, Friday The 13th, Maniac, etc. were all doing something in their current time frame. We are able to use all that hindsight and set our movie in the past. So you wonít see cell phones, or things like that. But we also wonít beat you over the head with bad dialogue, pop culture references, and goofy looking clothes that look like a high school girls 80ís party where everyone is wearing bright yellow, and has their hair all teased up. We just kind of let it breathe, and I think it feels like that moment in time even though it isnít.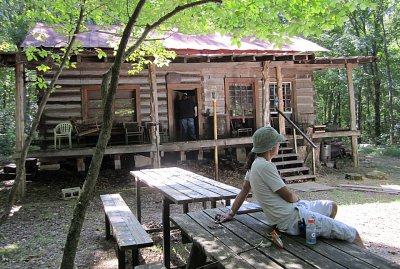 As slashers are rather sequel-prone, will there ever be a The Lashman 2 - and/or other future projects you'd like to talk about?
Well, I have a lot of ideas in my head that I want to get out. This movie has taught me not to reveal too much before it's ready as I donít want to disappoint my audience waiting for things that never come to fruition. As far as what is next? I just shot a documentary for the band Quiet Company down in Austin, Texas, and I'm currently piecing that together. I have a romantic comedy I would like to shoot, and I think I may do that before I get back into another feature length horror film. I really just want to make westerns.
But I am currently developing an anthology series, and we are just weeks away from starting production on that. It was going to be for television, but has morphed into this other thing where we will release some shorts and then pull them together collectively to make a feature film. My idea initially was to direct one short myself and then get some directors I am friends to take a turn while I produce. But I keep getting these stories that I just want to make, you know? Josh Ickes, who I mentioned was my D.P. on Lashman, wrote a story that he is going to direct for it. We do have a few friends from our Lashman cast coming back in one form or another. I'm really excited to see Josh take the helm for his portion. That's a scoop I suppose. So more horror movies are on the horizon for sure. I'm also doing a lot more producing these days. I worked with Lee Vervoort [Lee Vervoort interview - click here] last year on his movie The Truck, and worked on a movie with Matt Riddlehoover called More Scenes from a Gay Marriage. Matt has a new script he is putting together that is fantastic, and I'm planning to produce that here in Nashville later this year.
As far as Lashman 2 goes? I do have a few story ideas. When I built this world I left it open, in the sense that we could make movies with this monster in all kinds of time periods. I thought for a while about making a comic book or something like that. Or just doing a new Lashman short every Halloween. But really I think time will tell. If people latch onto this and want more then Iíve got a few ideas. I'm not sure if I would direct it myself or pass it on to someone I trust. I know that right now I have a lot of other things I want to do first. I will say that the best bet for more Lashman, is to go see this first one and show it some love.
Your/your movie's website, Facebook, whatever else?

Feeling lucky ?
Want to
search
any of my partnershops yourself
for more, better results ?

The links below
will take you
just there!!!

Find Cameron McCasland
at the amazons ...

amazon.com

amazon.co.uk

amazon.de
Looking for imports ?
Find Cameron McCasland here ...
Something naughty ?
(Must be over 18 to go there !)

You can find the movie at facebook.com/lashmanmovie and on Twitter @lashmanfilm. I'm on Twitter @CamMcCasland and I usually answer questions over there. I'm not hard to find if you go looking.
Anything else you are dying to mention and I have merely forgotten to ask?
No, I think we have it covered. But I will take this time just to say thank you both to you, and to all of the people who have supported the long road to The Lashman. I hope you all really dig the movie. Stay out of the woods. Lashman Getchya!
Thanks for the interview!