Get A Foundling on iTunes now:
https://itunes.apple.com/movie/a-foundling/id597983356?v0=9988&ign-mpt=uo%3D1
Your new film is called A Foundling. In a few words, what is it about?
Chinese cowgirls and aliens! Two Chinese girls are crossing the desert and come across a strange, crashed spaceship. There is a baby alien inside and they decide to try and take care of it.
You have two Chinese Americans play the leads in what is basically a Western. Why, and what can you tell us about the role of Chinese Americans in the American West?
Originally, I wrote the film for my Korean friend, but she had to go to law school and couldn't do it. There weren't many (any) Koreans in the American Old West, so I made her character Chinese/Native American. I did a lot of research on Chinese in the Old West when I was in college – I took a lot of Ethnic Studies classes at San Francisco State and one of the classes was Chinese in America so that gave me a lot of background. There were actually Chinese fighting in the Civil War – a lot of cool stories.
A few words about your lead actors Cindy Chiu and Tom Chiou, and how did you get them to act in your film?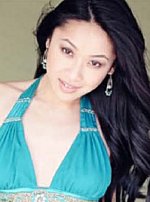 Cindy Chiu
We had a lot of auditions. Most of the actors we found using IMDB. My husband found Cindy when he was doing a search for teen movies. She was in Bring it On All or Nothing and we watched the film and saw that she had a lot of charisma. So we called her agent and asked her to come to an audition.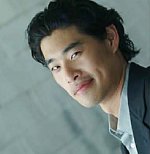 Tom Chiou
We also found Tim while searching on IMDB – he was starring in the Ed Sanchez film Seventh Moon which is a REALLY GOOD movie despite the low ratings on IMDB. Tim was far and away the best audition for Jim. He nailed it.
A Foundling is set in the Mojave Desert. Why there of all places?
I thought the desert was really beautiful. And I had always wanted to shoot a movie in the desert. Now I know better – shooting in the desert is MISERABLE. The weather keeps changing and everyone gets really grumpy. Next movie is going to be shot in and around Los Angeles so everyone can sleep in their own beds at night and not have to deal with crazy hot/freezing temperatures.
What were your main inspirations when writing A Foundling?
It just started with that first image of two Chinese girls on a horse crossing the desert and then you start asking yourself questions: Who are these girls? Where are they going? What do they want? What obstacles are going to get in their way? And then the characters start talking, and I just transcribe.
A Foundling is both a Western and a science fiction movie. What particularly inspired you to merge those two genres, and do you harbour a special love for both of them?
I don't really have any special love for either of those genres. In fact, Westerns – I think – are kind of annoying. But I don't really think of a genre"when I write. It usually just starts with an image or a character and then you let it unfold the way it wants to unfold. The only real sci-fi element in A Foundling is the alien. I like aliens – I think they are cute. It could have just as easily been a magic puppy. Which might make a good film. Why not?
As far as I know, A Foundling has played quite a few festivals over the past year. A few words about the audience reception, and when and how will it be released to a broad audience?
So far everyone who has told me they have seen it have really liked it (they could just be being polite – who knows?). They like the character-driven aspect of it – how it is mostly about the relationship between the two sisters and the alien is really this catalyst that brings out different sides of their personalities. Everyone loves David C. Smith's awesome cinematography and Pierpaolo Tiano's fantastic score. Nora Jesse also does a fantastic, nuanced performance as Mattie.
I'm going to release it on indieflix (possibly netflix) and amazon.com very soon. Check www.afoundling.com or do a facebook search for A Foundling for more details.
A Foundling is your debut feature film, but you have directed quite a few successful shorts before that. What made you go into feature length filmmaking?
I wanted to see if I could do it. A feature-length film is my Mount Everest.
How does making a feature film, including preparations and everything, compare to making shorts?
Everything. One: It's soooooo expensive to make a feature film. With a short, it only takes a few days to make, so you can get away with not paying people or not paying them very much.
With a feature, you have to HAVE to pay everyone (I wish I could have paid them more). This means, sadly, a lot of decisions are made based on money rather than on creativity.
With the shorts, I could spend several hours on just one scene working out really cool visuals and camera work to tell the story. With the feature, we had to hustle-hustle to cram as many scenes into an 8 hour day as possible because we absolutely could not go overtime (because of SAG rules) and we could not afford to add more days to the shooting schedule.
This resulted in a lot of snap decisions to just "cover" a scene without putting as much time into more interesting camera work. That said, the film still looked great because of David's cinematography skill, but in terms of the direction, it would have been great to spend more time working on more visual storytelling.
Let's go back to the beginnings of your career:
As far as I know you studied film at San Francisco State. What got you interested in making movies in the first place, and what can you tell us about your college years?
I went to San Francisco State for undergrad, and Chapman University for grad school and I continue to take classes at other schools.
I've always been interested in all types of art, theater, writing, filmmaking etc… So when I was in High School and deciding what I wanted to major in, it was really between art, film or theater. I figured film would be the most challenging and it would give me the opportunity to learn all the equipment and software in addition to skills I could apply to art and theater. It's a medium that includes so many other art forms and it's the most influential medium.
At San Francisco State I spent more time in the theater department than the film department even though I majored in Cinema. They had a great drama program but their cinema school was lacking (hopefully that has changed). We made films on actual FILM and cut the footage with razor blades and splicers and edited them on flatbed Moviolas and Steenbecks. Pretty old school!
At Chapman, I still shot on film – 16mm and 35mm but got to learn to edit with Avid. The Chapman program is great and I would recommend it to anyone going to film school. They have a lot of great equipment. I hope they switch to Final Cut Pro, though.
A few words about your shorts you have made since then:
Hardwood Floors?
I love this film. It's about awkward silences and uncomfortable situations. I was obsessed with minimalism and this started my trend of minimalist filmmaking.
Class?
Class is kind of a "part 2" of this minimalist trilogy. It's an agonizingly long, uncomfortable moment between two people who like each other but are afraid to acknowledge each other. It's pretty much my life, right there. If you want to know what I'm like, just watch Hardwood Floors and Class. I made a 3rd film dealing with awkwardness called Red Bench. It was shot on 35 but I never got a chance to edit it because I got so wrapped up in making a feature-length film.
Like Harwood Floors, and Class, this was shot by David C. Smith who is awesome. It was my most ambitious film of the time and had lots of sets and extras and horses. It's set in a fairytale world where everything is "Mediocre" and everyone aspires to "Mediocrity". Prince Charming feels like an outcast and he is shunned for being "above average". Then, he accidentally wakes up a Princess with a kiss, and she secretly loves him but she is afraid of being "above average" too. I'm really proud of this film and hope more people see it. It's on IMDB free to watch.
Any other films of yours (not necessarily directed by you) I've forgotten you want to talk about, any future projects?
I'm working on a post-apocalyptic novel right now. It is super long, like The Stand, and I think it will be the best thing I've ever done. I'm quite proud of how it's coming out.
I'm also really proud of the work I've done bringing awareness to the puppy mill issue. You can check out a lot of my current videos on my youtube channel: www.youtube.com/charmingfilms These are just made with me and a tiny camera – no crew. But they can give you an idea of what we are working on – I'm with a group that is fighting to end puppy stores in Los Angeles and hopefully end the puppy mill industry entirely.
You are also an animal rights activist. You want to talk about that facet of you for a little bit?
Animal rights is a huge part of my life. I'm part of a group that spends our weekends protesting pet stores that sell puppies from puppy mills. They've successfully closed down countless stores and have passed legislation banning the sale of puppies in stores. Our goal is to encourage people to adopt their pets from animal shelters and not "Breed or Buy While Shelter Pets Die". With 10 million homeless dogs and cats being killed every year in our nation's shelters it's a really important issue.
I'm also involved with animal rescue – fostering and transporting shelter animals to new homes.

Feeling lucky ?
Want to
search
any of my partnershops yourself
for more, better results ?

The links below
will take you
just there!!!

Find Carly Lyn
at the amazons ...

amazon.com

amazon.co.uk

amazon.de
Looking for imports ?
Find Carly Lyn here ...
Something naughty ?
(Must be over 18 to go there !)

Directors who inspire you?
That changes all the time. Right now Chris Nolan is hugely inspirational. Wes Anderson of course…
Your favourite movies?
Right now I am so in love with Inception and also Scott Pilgrim vs the World and Fantastic Mr. Fox. What else? Babe (the pig movie), The Sixth Sense, the Back to the Future-series (of course), Shawshank, Pulp Fiction, Amelie, The Shining, Moulin Rouge, Good Will Hunting, all of Chaplin's films, and all of Miyazaki's films – Spirited Away, Princess Mononke, Nausicaa etc…
... and of course, films you have really deplored?
Wow… Hmmm…. I hate The Aviator with a passion. And although I loved the first 2 movies in the Twilight series, Eclipse was so bad I had to walk out of it. I don't "get" The Godfather but I don't know if I "hate" it.
Your website, Facebook, whatever else?
Website: www.afoundling.com
Facebook: Just do a search for A Foundling and I'm the only one there.
Thanks for the interview!