Your upcoming movie Roxsy and Me - in a few words, what is it about?
Roxsy & Me is about an actress who retired from being her popular horror hosting persona to pursue a serious career in acting. The people who did the horror hosting with her are determined to torture her because they didn't want the show to end. The fans are hopping off of her bandwagon, and it turns out... Roxsy is alive as a separate entity who is determined to repossess the actress who created her.
You of course have to talk about your character Roxsy Tyler for a bit, and how was she created, and what do you draw upon to bring her to life? And related to that, what can you tell us about her show Carnival of Horrors, and why have you decided to put it to rest?
Roxsy was always this crazy little woman I've had in the back of my mind since I was a child. She's inspired by everything I love from movies to music to fashions. She's named after The Rock (my favorite wrestler at the time) and Steven Tyler from the band Aerosmith. The show started in 2010, shortly after I made my first on screen appearance as Roxsy on a show called Midnite Mausoleum. The basic premise of our show was that Johnnie 13 and I ran this broken-down horror carnival that we're both too lazy to maintain, so we watch horror movies all night. The story of each episode would be closely related to the story of the film we were hosting that night. The show was great. It had an awesome following but I believe it ran its course (for now). Christian Grillo (my husband) [Christian Grillo interview - click here] and I make films full-time now. Horror hosting is unfortunately a dying art now and the only way the show would have survived is if we made our own TV series that just revolved around us. I figure a film would be better for all of us including the audience.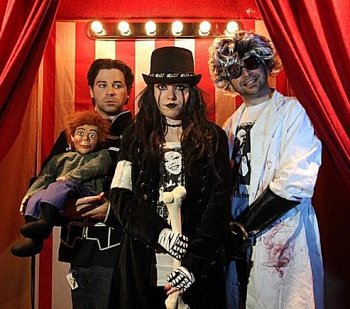 What were your inspirations when writing Roxsy and Me? And how easy or hard was it to write a good send-off for a character that must have grown dear to you? And why do you want to part with Roxsy to begin with?
The show ended very suddenly although I had been contemplating it for a long time. If the viewers of the show wanted closure, they are going to get it in this film. It's actually been really hard to write a script for it that I like but it's getting there. The plot was widely inspired by Craven's New Nightmare except this is going to be comedic. It's a mockery of our real lives. We're all playing ourselves and exaggerating our day to day lives outside of the show and how it effects us as people.
What can you tell us about the intended look and feel of your movie?
I can tell you the feel of the film is going to be silly and sarcastic. It's not intended to be scary at all. Just like the show, it's a horror-related comedy. We have horror things happening in funny ways.
As far as I know, Roxsy and Me will also have a humourous streak to it - so what can you tell us about the film's brand of comedy, and do you consider yourself at all a humourous person in your private life?
I love to laugh. Laughing is my favorite thing to do in this whole world. I don't take myself too seriously in my private life. I mean, I'm making fun of my private life in this film! Everyone who was involved in the show had a great sense of humor. I enjoy smart and slapstick comedy. The kind of comedy you would find with the Three Stooges and in Marx Brothers films. I try to bring that kind of classic cIomedy into every Roxsy-related venture.
Do talk about your key cast for a bit, and why exactly these people?
The people in the cast were the exact same people in the show. My two co-hosts Johnnie Howard and Chuck Maher will be in the film. Everyone is playing an exaggeration of themselves. My husband, Christian Jude Grillo [Christian Grillo interview - click here], plays the most extreme exaggeration of character in the whole entire film. Also, my stepdaughter, who usually does not like to be in front of the camera, will be in the film which brings more realism to my character. I was going to cast someone to play her but she wants to play herself. The rest of the casting will happen after our fundraiser is over.
As far as I know, you're currently running a fundraiser for Roxsy and Me - so what can you tell us about your fundraising campaign?
There's about ten days left in the fundraiser on IndieGoGo https://www.indiegogo.com/projects/roxsy-and-me. Since this is the last we'll see of Roxsy for a very long time I wanted to really go out with a bang. We're getting all kinds of Roxsy/Carnival of Horror stuff put together for the contributors to our campaign. Most of the perks include signed photos, T-shirts, and DVDs. For $100 you can be an executive producer on the film. We intend to actually give more than what's listed as perks on the campaign. So, if we can raise the full amount, the contributors are going to get so much more than what they expected.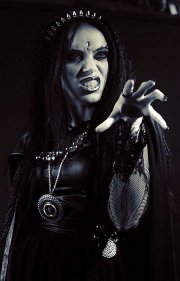 The Sugar Skull Girls
Once the funds are raised, what's the schedule? And any idea when and where the film might be released onto the general public yet (and I know it might be waaay too early to ask)?
It's too early to tell but I want shoot in August and I'm really hoping to have it shown to public by Halloween this year.
Any future projects beyond Roxsy and Me you'd like to share?
I'm currently working on me and my husband's new film, The Sugar Skull Girls,. In fact, I just wrapped on my scenes with Michael Berryman. I play a witch and Berryman plays my lackey. This is actually our first family friendly film we're doing and so far it's been an awesome experience.
What got you into acting to begin with, and did you receive any kind of formal training on the subject?
I fell backwards into acting. I originally wanted to be just a writer. I had been going to school for writing since I was a little girl. I never intended to start acting. Like everything else wonderful in my life... it just happened. I did receive private lessons for acting and every now and then I ask friends of mine who are veteran actors to coach me.
What can you tell us about your filmwork prior to Roxsy and Me?
My Roxsy show was the biggest chunk of my career and the thing I'm the most known for. My first film was called Booley, which was written and directed by Christian Grillo [Christian Grillo interview - click here]. Christian and I work on all of the films together so I get to be in all of the films as well. You can find two of our films, Booley and Apocalypse Kiss, on cable right now in the OnDemand section or you can buy them on amazon.com. I've done a lot of other projects with some other fabulous filmmakers. I make my own films as well. Roxsy and Me will be my third film I've written and directed. I actually just won an award for Best Actress for my film Death Follows. I wrote and directed that as well.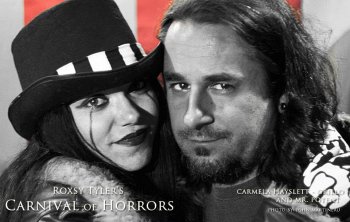 Carmela with Christian Grillo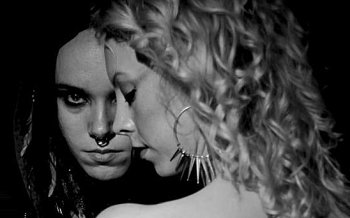 Apocalypse Kiss
One can't help but notice that you've made quite a few films with Christian Grillo [Christian Grillo interview - click here], with whom you're also privately involved. So what can you tell us about the man, your collaborations ... and how did the two of you first meet?
It's weird... people don't ask him about me but in almost every interview I get asked about him. We met at a costume party. I was dressed as Roxsy Tyler (ironic, isn't it?) and he was dressed as a police officer. The only thing I can tell you about the man is that his wife is very talented, very good looking, and the babies they make come in the form of films. *wink*
How would you describe yourself as an actress, and some of your techniques to bring your characters to life?
For every character I'll study the script for a few months. I'll write an essay on my character and who I think she is... why she does the things she does... and I also make a list of influences-- other characters and actors that inspire me to be this character. Sometimes it depends on the character too. My character in Apocalypse Kiss required me to have different coaches for different things.
Besides acting, you have also worked as a writer, director, producer and whatnot - so what can you tell us about these aspects of your career, what made you broaden your scope, and what do you enjoy the most, what the least?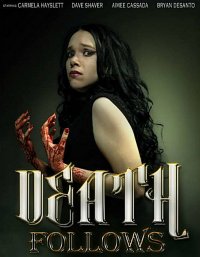 Feeling lucky ?
Want to
search
any of my partnershops yourself
for more, better results ?

The links below
will take you
just there!!!

Find Carmela Hayslett
at the amazons ...

amazon.com

amazon.co.uk

amazon.de
Looking for imports ?
Find Carmela Hayslett here ...
Something naughty ?
(Must be over 18 to go there !)

I've always been a writer. Writing, to me, is almost as natural as breathing. Directing is something I do not like doing. I rather follow orders than give them out but my husband pushes me to bring my visions to life. I've asked him to direct my films but he declines because he believes I can do it on my own. He says if he directs my movies they won't be my vision anymore. It's hard but I'm thankful for the tough love. Producing I have to do because we make our movies together. Since we're always around each other it just makes it easier to help produce the films. My favorite thing to do besides acting and writing is editing. I love being an editor.
Actresses, writers, filmmakers, whoever else who inspire you?
I can't think of anyone who inspires me. I'm mostly inspired and motivated through my passion. My passion for all the things I do and my desire for the end results I seek. That's what keeps me moving.
Your favourite movies?
Batman (1989), Theater of Blood, American Psycho, Hocus Pocus.
... and of course, films you really deplore?
I hate The Crow: Wicked Prayer.
Your/your movie's website, Facebook, IndieGoGo, whatever else?
Roxsy & Me campaign: https://www.indiegogo.com/projects/roxsy-and-me
Facebook: http://facebook.com/carmelahayslett
IMDb: http://www.imdb.com/name/nm3230686/
Death Follows trailer: www.youtube.com/watch?v=4MypOybISRo
Thanks for the interview!