Your upcoming movie Deimosimine - in a few words, what is it going to be about?
It's about a girl in her twenties who is a heroine addict, she faces a traumatic experience that ends in her best friend being raped and murdered. At this point she is desparate to get clean. She meets Dr. Winters, who has come up with a drug called Deimosimine. After getting a dose of the drug if an addict takes a hallucinogen they begin seeing strange things, almost like entering your worst nightmare over and over again. The drug is supposed to scare the patient straight. Well the girl, Cindy, has some issues and side effects with the drug and things don't end up going as planned, and things get a bit bloody.
How did the project fall together to begin with?
It's kind of funny. My wife actually pitched me the basic storyline and I loved it. I just had to make the movie at that point.
What can you tell us about your writer and producer Andrew Thompson, and what's your collaboration like?
We have a great working relationship. He is also co-owner and editor and chief of LeglessCorpse.com. So I can almost trust him with my life. But it was a fairly easy collaberation. I basically pitched him the storyline, told him some key elements I wanted to include and he just ran with it brilliantly. He brought in aspects that I would have never thought about and kept the story grounded in realism as best you can with a film like this. All motives and situations are based on things that make sense and if this situation were to arise, it makes sense logicalcally.
Do talk about your movie's approach to horror (as in suspense vs sudden shocks, atmosphere vs all-out gore and the like) for a bit!
I want to make a film that people will be talking about ten years down the line. Today's horror films are forgetful. We don't talk about them like we talk about films from the 80's and early 90's. As far as tone, it's a very dark story, very dark. But in every great horror film there is comedy or light-heartedness involved. So I want to keep the dark tone of the narrative, and bring the fun and some comedy aspect to the creatures and the gore, go totally over-the-top. I kind of compare it to Starry Eyes meets Evil Dead 2 in feel.
You of course have to talk about your creature Mr Ballz, and how is it achieved? And how much of a say did you have in the creation of your monster?
Oh Mr. Ballz... He is talked about a lot, he is what everyone wants to see, and is one of the major set pieces in the film, but there are more creatures in the film, he is just the biggest.
Mr. Ballz is being achieved by money, haha it's a pain making a full scale practical creature on a low budget film. But he's getting there. I actually enlisted a great art designer, Justin Talarski, to do some concept sketches, because I had no idea what the creature should look like. I just didn't want it to feel like a guy in a suit. Justin came up with an awesome design that is just gorgeous. So I didn't have much say in the design to be honest it was all Justin. I gave him some things that Mr. Ballz would be doing within the film and he came back with a design that I loved.
We have a great artist working on Ballz, John Harris and his company Magic's FX out here in Huntsiville, AL. Just the molding of the head is over 30 molds, so he is working his ass off and we are getting ready to get him on camera for the first time here SOON!
What can you tell us about the overall look and feel of your movie?
Dark!! A very dark film with a lot of crazy camera set ups. As a director shooting a film that has so many scenes based upon a hullucinary world, you have to be creative. You have to let the audience in on what's going on inside a character's head when they are tripping out. As I said earlier it's going to be dark with a lot of over-the-top FX set-ups that will be fun and those 80's and 90's horror fans will certainly dig. I want to paint a smile on their face with every creature and every kill. Bring them back to the Cellar Dweller and Pumpkinhead days, but at the same time drain them emotionally with the darkness of the narrative.
Do talk about your cast for a bit, and why exactly these people?
We set up traditional casting and some came in and met us, did the audition, and others submitted via video. I have to give Andrew credit on most of the casting. He really worked his ass off finding the perfect actors for most of the parts.
Our lead Rhianna Howell, who plays the lead Cindy, has this sarcasm about her that I loved and a dry humor that I really see Cindy having. Because as these things start happening to Cindy, she knows they aren't really happening but she just embraces the situation and goes with it, in a way. Rhianna is a fantastic actress and I know people are going to be blown away by her performance.
Tom Hagale, who plays the detective in the film, he just had the look. When he walked through the door I knew that was our Dectective Travis, and it works out that he's a fantastic actor as well.
For Chico, we got Richard Chandler [Richard Chandler interview - click here] to play. He's also a writer/director and his film Gilgamesh was the first film LeglessCorpse Films put out. He also acts in the film and his performance was so outrageous and fun, I certainly knew he would be able to pull of this total dick part with no problem, and he can look intimidating when he wants to which was huge for the part.
You are currently also still raising funds, and in a rather unique way, too - please elaborate!
Yeah we'll probably be raising funds throughout the production with all these crazy FX and creatures. But anyone who pre-orders anything from the film at www.deimosimine.com will not only get their item when available, they will be paid back for their investiment. Like a traditional film investor, which hand over a glob of money then get paid back their principle plus a percentage of the films profit, which is their Return On Investment. We are doing the same thing but just on a much smaller scale. The investor with us pre-orders a Blu-ray for $15 bucks, they get their Blu-ray shipped when it's ready and then once the profits start coming in they will be paid back either through PayPal or check. After all they are helping get the film made, putting their faith in us not only to make the film, but to create a film they will enjoy. We think that is worth something, and we think this is the best way to repay that. Not only will they have invested in the film production, but they are a part of the film at that point. They will be rooting for it to make money so they can get their money back and hopefully that will enthuse people to help promote and talk about it once the film is released.
So what's the schedule once sufficient funds are raised, and even if it might be waaay too early to ask, any idea when and where the movie might be released onto the general public yet?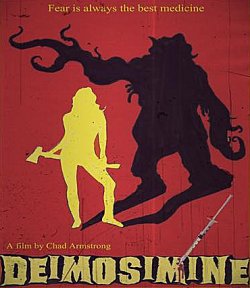 Well we are moving ahead with the production, regardless of meeting the funding. If we shoot the entire film and then have to wait and go back to shoot the expensive FX stuff that's what we'll do. We aren't going to rush anything, we want the film to be something great and not just rushing to get it done. However, I am set to get the film completed and shipping by the third quarter, that's the absolute latest I'd want the film to be complete. As far as where. Itwill be available at www.LeglessCorpseFilms.comm on DVD and Blu-ray and we already have distribution set for major VOD including ITunes, Amazon Prime, and Google. So it's not like we have to get the film finished and wait another year for distribution. Things will move quickly once we are finished up. Which is why we are offering the investment reimbursement. We already have distribution.
Any future projects beyond Deimosimine?
Yes, we have a few things coming up. I have a short film I'm currently shooting and Andrew has one ready to go. Plus we have another short film in the works, another creature film but much more managaible as far as budget. Then I have 2 features I want to shoot, both horror films and again wouldn't require the budget in scope as Deimosimine. Our goal is to shoot 2-3 features a year under the LeglessCorpse Films banner, with shorts in between. We decided to start out with Deimosimine because it would allow us to jump in with a bang instead of a wimper.
What got you into filmmaking in the first place, and did you receive any formal training on the subject?
Well I got interested in makeup FX before I was out of high school. In my senior year my cousin and I got hired on to Wayne Kramer's Blazeland as makeup FX guys. Being on that set is where I really fell in love with filmmaking. Seeing all those incredibly talented artsist all working together to make something. It was inspiring. So shortly after high school I did enroll in film school. But during going to school I went to a Fangoria convention where I met Robert Rodriquez, who was awesome and I talked to him for a while. He said, don't waste your money on film school. Take that money and spend it making a film, that will be the best film school you'll ever get. So I did, and I started shooting short films and just had a blast.
What can you tell us about your filmwork prior to Deimosimine?
I made many short films. I stopped making films back when I lived in California just because of the false promises of people and the bullshit involved. But all the films I made where pretty much within the horror genre. One was called Irreconcilable Differences, where a wife comes home to find that her husband has caught a burglar and is chopping him up in his bathtub, another is The First Date where a girl invites a guy over to her house for a first date but she knows he has killed her brother, and she's really a cannibal and actually has him for dinner. Yeah my stuff is always pretty much out there. I like weird, dark, and fucked up stories.
How would you describe yourself as a director?
Laid back haha. Making films is stressful, more so than must people know, it's not always fun and games, it's a job. A job that you really can't mess up on. But I try to take things in stride. I don't stress out. I mean with Deimosimine we lost some money with the first creature designer, and then right after that my father passed away, but I just went with the flow, took some time off to get my head straight and then jumped back in when I could focus. But I like to have fun as well, that's the main thing that everyone on set has fun. In indie filmmaking you aren't going to get rich, so you have to take away friendships, professional relationships and experience as your wealth from that particular project. If you have an asshole running things, you won't take any of those things away once it's done.
Filmmakers who inspire you?
David Fincher, Michael Walker (Chasing Sleep), Brad Anderson, Francis Ford Coppola, Marcus Nispel, and so many more.
Your favourite movies?
Anything by David Fincher, Sling Blade, Texas Chainsaw Massacre (2003), Cellar Dweller, Pumkinhead, The Borrower (by John McNaughton), The Thing, again so many more.
... and of course, films you really deplore?

Feeling lucky ?
Want to
search
any of my partnershops yourself
for more, better results ?

The links below
will take you
just there!!!

Find Chad Armstrong
at the amazons ...

amazon.com

amazon.co.uk

amazon.de
Looking for imports ?
Find Chad Armstrong here ...
Something naughty ?
(Must be over 18 to go there !)

Not going to touch that one. Because it's suggestive, and I don't want to piss anyone off, I'm a lover not a fighter haha.
Your/your movie's website, Facebook, whatever else?
Twitter: @Deimosimine
www.facebook.com/LeglessCorpseFilms
www.facebook.com/LeglessCorpseHorror
Twitter: @LeglessCorpse
www.facebook.com/HorrorInsideTheBox
Twitter: @HorrorInTheBox
Anything else you're dying to mention and I have merely forgotten to ask?
No I think you nailed it. Great bunch of questions!
Thanks for the interview!